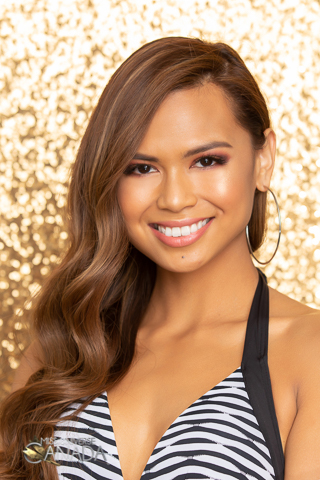 Height: 5'5
Hometown: Surrey, British Columbia
Languages: English, Tagalog
Occupation: Nursing
Gloren is a "dancing nurse" who lives her life to the fullest taking on all opportunities that come her way with courage and confidence. Gloren chose a professional career in nursing and currently works at a dementia and complex care home facility. She is a dance teacher, a model and a novice entrepreneur. In addition to these professions, Gloren connects to her community through volunteering and charity work.
In 2008, Gloren immigrated to Canada and became a Canadian citizen. She had been raised in a small town in the Philippines. Transitioning into a different lifestyle was challenging, but nevertheless, it has since motivated Gloren to work hard in achieving her goals. Hospitality has always been one of Gloren's strongest skills. From working as a server in restaurants and hotels, Gloren found herself engaged with people from different cultures. At the age of nineteen, Gloren graduated as a licensed practical nurse from Stenberg College. Being a nurse motivates her to be strong, and to face all avenues of life with positivity and compassion for others. Gloren discovered her love for dance when she moved to Canada, and eventually became a high school dance team coach. Currently, she teaches dance one on one to beginners and she believes that anyone can dance as long as they have the heart to enjoy it. Gloren became a member of the BC Lions "Felions" Dance Team in 2016. She travelled to the beautiful cities of Toronto and Ottawa where she performed at the Grey Cup Festival. Through nursing and dancing, Gloren established her desire to promote the value of health and fitness. She also stresses the importance of pursuing an education, being culturally aware, and to "pay it forward".
Upon receiving the title of Miss British Columbia 2016, Gloren uses her platform to bring together her local community to create a positive impact. After gaining the privilege to become a proud Canadian woman, Gloren believes that the best way to give back is to pay it forward to those who are in less fortunate circumstances. The biggest highlight for Gloren has recently been hosting fundraising events. Her most proud moment was bringing the community together to raise money for meals, groceries, and school supplies for a small elementary school in a rural city in the Philippines. Through being involved in community work and attending local events as Miss British Columbia, she was able to defeat her fear of public speaking. As having once been a new immigrant, Gloren understands the feeling of fear. She encourages others to face their fears by living in faith, recognizing privileges, and using the abundance of opportunities life has to offer.
Gloren's current project "#GlowInTheDark" is a global outreach that defies age, gender, ethnicity, for individuals to share their "glow in the dark" moment. She empowers and encourages individuals to step beyond their fears through social media. Gloren hopes to get more people involved in the movement. With Gloren's humbling confidence, her determination to make her dreams come true, and her love for Canada, she believes that she is ready to represent the "True North"!
Sponsors
Video
Q&A
What are your interests and what do you enjoy doing the most?
I'm interested in dance, fitness, reading self-help literature and indulging in arts and crafts. But out of all of these, dance is what I love most! I like choreographing for events or dance groups, filming my own choreography videos and most importantly, freestyling anywhere, anytime!
List any special training you have had (music, art, drama, dance, etc.)
Growing up, I was not financially fortunate enough to afford any extracurricular activities outside of school. Therefore, I didn't get to develop any "specialties" through official training. I ended up teaching myself most of the skills I enjoy today. I trained myself how to choreograph dance by watching YouTube videos and used other artists as my inspiration. Today, I take dance workshops to help myself improve. I am also a member of the International Toast Master's Club and train in public speaking. Lastly, I have a physical trainer to help me improve my health and fitness.
In what sports, if any, have you participated?
Dance is not only an art, but it's also a sport. I competed in dance competitions across British Columbia. I also performed multiple times in front of stadiums with the BC Lions "Felions" Dance Team. I was really happy to be part of the team. This proved to me that even if you don't have any formal training, as long as you are determined and dedicated to your craft, you can reach whatever you envision.
Name one person, other than your parents, who has had the most influence on your life. Why?
My family members, especially my mom will always have the most influence in my life. But if I were to choose one person outside of my family tree who has greatly influenced me, it would be a woman named Joyce Meyer. She is a charismatic, Christian author and one of the New York Times best-selling authors. She is a public speaker who inspires people all over the world. Her teaching empowered me to become a stronger and a more forgiving woman. Her story taught me that no matter how unfair life can be, as long as you have faith and believe in yourself, you will achieve whatever it is you want in life. Through her daily teachings, I was able to develop better communication skills and become more empathetic with others. Through this, I met mentors that helped me become the best version of myself. I strongly believe that I wouldn't be where I am today without women like her influencing my direction in life.
What is your proudest personal accomplishment (other than participating in this pageant)?
Having been the youngest graduate in a licensed practical nursing program at the age of nineteen is my proudest personal accomplishment. During my last, and most crucial year, my father passed away. Though I was coping with grief, I pushed through my nursing practicum while also having a part-time job. I'm very proud of myself for persevering through this difficult time in my life. I emerged through this with an even stronger mentality and pursued the title of Miss British Columbia and the BC Lions "Felions" dance team in the following years. I felt like I was Wonder Woman after going through all of it!
What is the most interesting or unique thing that has ever happened to you and/or what is the most interesting thing about you?
I can seem very proper and serious most times, but in reality, especially amongst my friends, I am very corky and goofy. I can keep my composure when needed but I also have the energy and giddiness of a 5 year old! Colleagues always tell me that my energy is contagious and that I never run out of fuel! I am also the ultimate corny-pun master- I like to think that I'm punny.
What is your career ambition and what are you doing or plan to do to accomplish that goal?
My career ambition one day is to own a multi-purpose dance studio, teach dance and be a registered nurse in maternity or in emergency. Registered nursing is on the back burner for now, as I am focusing on making an impact globally by committing myself to causes I'm passionate about. I'd like to become a public figure who catalyzes positive movements around the world. In order to prepare myself for this role, I have been taking public speaking courses. I have made small moves in my local community to give back and influence others, and am constantly pushing myself to become a healthier individual mentally and physically. I go to the gym, read self-help books, and seek guidance from mentors who help me check myself. Though multitasking can be beneficial, taking things on one at a time ensures that your full attention in on that goal or task at hand; therefore, crafting your best-quality work and outcome. I am focused on becoming that public figure the most out of all of my career ambitions.
What would be your "dream job" in life?
I am what people would refer to as a "multipotentialite". This is a person who feels they have more than one calling in life. Often times, society pressures us to choose only one career path. One of my best friends introduced me to this term through a TED talk video. I'd like to manage my own dance studio that will also offer many forms of guidance. This would be a place where you could seek counselling, mentoring, health advice with diet and fitness, and last but not least, train in different levels and genres of dance. Second, I'd love to establish myself further in the modelling industry. I'd love to become a brand ambassador for brands that I believe in. Finally, I'd love to fulfill my childhood dream of becoming Miss Universe!
Describe where you were raised and what your childhood was like.
I was raised in a small town in the Philippines. As an only child, it felt lonely to have my home in the middle of a fish farm, far away from the city where my school was situated. My grandpa managed hectares of fish farms and led a large group of fishermen. His leadership skills, and his personality of being a man of his word, taught me how to be fair and have integrity. My dad instilled in me the value of giving back. As a kid in the Philippines, I was always outdoors, climbing guava, coconut, and soursop trees! I was far away from other kids, only being able to play at school, and once a week on Saturdays outside of school. Most would assume it would have isolated me, or made me more of an introvert, but the truth is quite the opposite! As a result, I became appreciative of any friendship I formed in my life, and continue to cherish everyone of them today. My mom immigrated to Canada in 2002 as she wanted a better future for me. Though at the time I was confused that she wasn't around, when grade seven approached six years later, I was met with an extremely strong and independent woman when I came to Canada. Since then, I took on being reliable and independent at a young age. I started working as soon as I came to Canada. I have continued to work hard since then through the influence of my mother, who constantly motivates me to be the best version of myself.
List any interesting or unusual jobs you may have had.
I never knew how fascinating it would be to serve people in the last stages of their lives. At eighteen years old, I was exposed to taking care of someone who was slowly passing away before my eyes, through nursing school. When I officially became an employed nurse, I found myself gaining new perspectives on life through learning about my patients' life stories. I'm privileged enough to hear about how they came about their occupations, their life mottos, and the lessons they learned in their lives. I'm also exposed daily to the sight of family members caring for their loved ones. This act of love reminds me to keep my family close and appreciate them everyday, as they appreciate me. Even though death is expected and a common occurrence in my profession, I still find it difficult to witness a lifeless body, especially when I've made a positive connection with them. To be the one to see a patient pass, and to be the one to tell their family, humbles my heart and fuels me even more to help others.
List any volunteering you have done.
Community service encourages others to be compassionate. The more aware people are to the opportunities available in volunteering, the more likely people will participate! It's all about informing the public. Some of my volunteering experience consists of:
The Canadian Cancer Society
The Ronald McDonald House
BC Children's Hospital
SOS Children's Village
Variety Children's Charity
Terry Fox Run
Homeless food drive
Residential Care Homes
Day Care Schools
School supplies gift giving
Dodge for Cause fundraising event
Dance workshop fundraising event
Talent Showcase fundraising event
What is your most unusual talent?
I am known to combine words together and make up new vocabulary. Strangely, it comes out naturally! Sometimes it's really embarrassing, but funny enough, my close friends are understanding of my own lingo! An example would be the following: "let me know when you see the gasolation (gasoline station)". My friends and I then burst out laughing in an instant! I think I'm proud to also share that I can make my eyebrows move like a wave! It definitely takes skill to be able to make your eyebrows dance!
Where is the most interesting place you have been to?
Travelling the world is one of my goals in life. I haven't done much travelling yet, but for me personally, the most interesting place I have ever been is close to home: Vancouver, British Columbia. We are so blessed to be able to venture through hiking trails, scenic lakes, and see the mountains whenever we'd like. Downtown is just as mesmerizing as the outdoor views. The mixture of Edwardian and modern architecture is captivating. There is good food everywhere, and there is an abundance of diversity. Just a beautiful city overall! Coming in close is also the capital of Canada, Ottawa. Seeing the historic Parliament Hill blew me away! Having learned about it in history class made the experience even more impactful for me.
What do you hope to be doing in ten years?
There are various things I see myself doing in the span of ten years. I see myself managing my dance studio, establishing myself as a professional dance teacher, contributing to the building of a basic reading and writing school in a less fortunate community, investing in my own property, pushing for more positive movements such as "#GlowInTheDark" campaign, travelling to all of the seven continents, and starting my own family.
Is there anything you would like to add that we haven't asked?
To be a part of the Miss Universe Canada pageant is already a remarkable memory of a lifetime. If there is one thing I'd like to share with the readers at this moment, it would be this: Just go for it! Live your dreams by turning your aspirations into plans, because accomplishing your goals is more possible than you know. Do what makes you happy and do it with love! And do it now. Show the entire universe that you have your own inner glow!