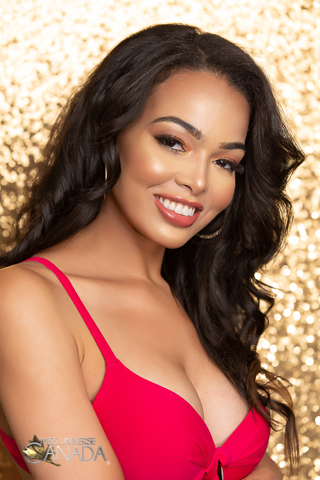 Height: 5'7
Hometown: Dresden, ON
Languages: English
Occupation: Freelance Producer and Videographer
Katherine is a woman who prides herself on setting goals and achieving them. She is a graduate of the Radio and Television Arts program at Ryerson University and strives to make a name for herself in television. While she was at Ryerson, she developed a passion for all things media related, and is dedicated to learning as much as she can about television production. Katherine is also passionate about creating more spaces for women in this industry, and through pageantry, has had the opportunity to mentor and encourage other young women to seek out leadership opportunities for themselves.
Born and raised in Dresden, Ontario, Katherine is a small town girl at heart. Growing up, she starred in dance recitals and plays, and began competing in pageants to gain confidence. In her spare time, she enjoys reading, tap dance, theatre, creative writing, cooking, travel, and spending time with family and friends.
Katherine is passionate about education and was fortunate enough to compete in the international Odyssey of the Mind creative problem solving competition. Katherine had the opportunity to serve as a trustee with the Lambton Kent District School Board for a yearlong term, and is a proponent for education and providing youth with the resources and knowledge that they need to succeed and become future leaders. She is also a recipient of the Lieutenant Governor's Award for Community service as well as the Helen Kavanaugh Nicol Scholarship.
Katherine is not new to the pageant stage, and has had the privilege of representing her hometown in the Miss Teen Canada-World pageant and Miss Earth Canada pageant, finishing as the first runner-up. She has also been featured in FLARE, Jet Magazine, and the Toronto Sun.
Katherine is dedicated to working with youth to help develop their self-esteem, and hopes to reach more young people through her platform; "Confidence is Queen". She is a strong believer that anything is possible through hard work and is excited and honoured to grace the Miss Universe Canada stage.
Sponsors
Family and Friends
Video
Q&A
What are your interests and what do you enjoy doing the most?
As a self-proclaimed book nerd, I enjoy reading in my spare time, as well as creative writing. I'm passionate about film and storytelling and I love watching movies, especially documentaries. Living in Toronto, I'm lucky to get to experience all that the city has to offer in terms of nightlife and culture, but I'm happiest when I'm at home cooking a meal with my family.
List any special training you have had (music, art, drama, dance, etc.) 
Acting (Walter Alza Studio)
Ballet, Tap and Jazz (Intermediate level tested – Dance Educators of America, International Dance Examiners Association)
Writing
Commercial Modelling
Piano
In what sports, if any, have you participated?
Although I've never been particularly gifted in athletics, I'm committed to living a fit and active lifestyle. I love swimming, running, and rollerblading, as well as any sports that can be done on the beach.
Name one person, other than your parents, who has had the most influence on your life. Why?
One person that has had a great impact on my life is my grade 12 writer's craft teacher. I think that teachers have an awesome ability to instill confidence within their students and having a teacher who is not only an educator but also a cheerleader, supporter, and friend is a really special thing. That kind of mentorship has really shaped me into the person that I am today.
What is your proudest personal accomplishment (other than participating in this pageant)? 
One of my proudest moments was being featured in Flare magazine last year. Having a platform to share my story was such an awesome privilege and has helped me to connect with some incredible women.
My goal throughout my pageant career has been to break stereotypes and to be able to pass on the same mentorship and advice that I have received from my fellow queens. I felt extremely proud to use my voice and I hope that I have encouraged other women to pursue their dreams.
What is the most interesting or unique thing that has ever happened to you and/or what is the most interesting thing about you? 
The most interesting thing about me is that I know how to drive a tractor! Although I live in the big city, I will always call Dresden, Ontario, my home. One of the very first jobs that I ever had was corn detasseling and that experience taught me a great work ethic that I've carried with me into adulthood! I'm grateful for my small-town upbringing because it has shared me into the woman that I am today.
What is your career ambition and what are you doing or plan to do to accomplish that goal? 
My career ambition is to one day work in broadcast television, My passion for media began while studying at Ryerson, and I continue to write, create and produce my own content. I consider myself to be a storyteller and I would love to have a platform to share new perspectives and ideas.
What would be your "dream job" in life?
I would describe myself as a perpetual dream chaser and I have always believed that no goal is too big or out of reach. My dreams for my professional life are constantly changing and evolving but my love for all things media related is unwavering. I'm happiest when I'm creating, and I'm passionate about bringing new perspectives and untold stories to life.
I think that this is such an exciting time for women because we have proven time and again that we can do it all. As women, we are so multi-faceted, and I think that our goals should reflect that.
Describe where you were raised and what your childhood was like.
I am from the tiny town of Dresden, Ontario and will always remain a small town girl at heart. My family has been farming in Canada for over 100 years, and growing up, I was taught the importance of work ethic and perseverance. In 2008, I had the privilege of representing my town in the CNE Ambassador of the Fairs competition, as well as in the Miss Teen Canada-World pageant the following year. I am extremely proud of my hometown and I hope that my small town values shine through.
List any interesting or unusual jobs you may have had.
One of the most interesting jobs that I have had was working as a tour guide at Uncle Tom's Cabin Historic Site. I was able to broaden my knowledge of Black History in Ontario, and educate people from all over the world.
List any volunteering you have done.
Dresden Agricultural Society
The Lambton Kent District School Board
Ryerson University Students' Union
The Red Cross
Youth for Human Rights International
The Gregg Zaun Foundation/ Wounded Warriors Canada
Free the Children
Operation Smile
What is your most unusual talent?
My most unusual talent is probably my knack for making macaroni and cheese! I don't consider myself a culinary wizard by any means, but over the years, I have fine-tuned and perfected my top secret recipe. I love taste testing every batch and my friends have dubbed me as "the mac and cheese connoisseur."
Where is the most interesting place you have been to?
The most interesting place I have been to (so far) was Paris, France, but my favourite city to visit is New York City! I love the energy and excitement of a big city and I can't wait to go back!
What do you hope to be doing in ten years?
Ten years from now, I hope to be doing more of what I love! Competing in the Miss Universe Canada program has ignited my passion for volunteerism, and that's something that I will continue to pursue. Throughout this experience, I've been able to really focus on skill building and personal development, and I've learned so much from the other women that I've met while competing in pageantry. Over the next ten years, I hope to grow those relationships and hopefully foster some new ones!
Is there anything you would like to add that we haven't asked?
I would like to sincerely thank all of my friends and supporters, as well as the Miss Universe Canada organization for making this experience possible. Preparing for this caliber of competition has been both a challenge and an incredible learning opportunity. I've gained confidence, self-awareness and leadership skills, and most importantly, I've learned to take big risks! I would encourage any young woman who is considering this opportunity to take a chance and believe in themselves!