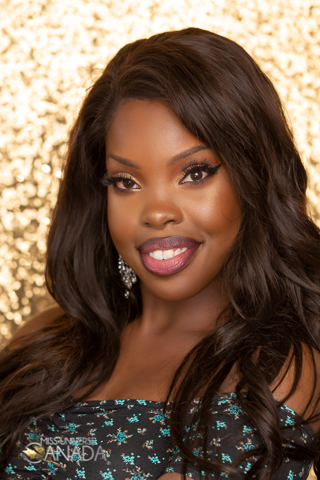 Height: 5'8
Hometown: Brampton, ON
Languages: English
Occupation: Civil Engineer Quantity Surveyor
Kaydee Elizabeth Guillaume (of Jamaican and Haitian decent) was born in Toronto, Ontario, but raised in Brampton for the majority of her life. Growing up in a strong cultured-loving home, Kaydee was always encouraged to believe in her dreams. Her ability to adapt to her environment and practice self-patience has allowed her to become the multi-creative person she is today. As a child through to her late teens, Kaydee was the type to bring home countless school awards and recognitions despite any obstacles she faced along the way.
Her father — a business owner, influenced her to use her talent to its potential. One of her earliest memories as a child was going to work for the summers with her father and siblings, where she quickly learned the ins and outs of construction/ renovation and waterproofing. Kaydee's passion of arts and construction, lead her to graduate as a Civil Engineer.
Kaydee is considered to be a hoarder of knowledge. No matter what the topic or activity is, she is always up for a challenge to learn regardless of the topic. Currently a working Civil Engineer Quantity Surveyor, juggling her life as an actress, model and a custom tattoo design artist, Kaydee learns how to balance her personal life and other important life responsibilities with a positive mindset and great organization skills.
As a Miss Universe Canada National delegate, Kaydee is grateful for the chance to hopefully become an ambassador representing a great country like Canada. She feels lucky to live in such a diverse country of people of all nationalities.
Kaydee will continue to spend her time volunteering, and spreading awareness for different causes. She will also continue to mentor millennials on the importance of adapting to future technological and global changes, and coaching the youth on STEM related careers. For Kaydee, the most rewarding thing about helping others is the positivity and hope you give them.
Sponsors
Family and Friends
Video
Q&A
What are your interests and what you enjoy doing the most?
My interests tend to fall into a mixture of spontaneous creativity and routine. As human beings, we are constantly learning new things every day. For this I enjoy drawing. This is an interest that proves my love for art has never changed since I was a child. Art allows me to escape reality and go to my own world with my ideas. Another passion of mine is cooking. I love to cook as much as I love to eat. I have made a variety of cultural dishes including Indian, Chinese, Guyanese, Jamaican, and Mediterranean. I also grew to love reading. I heard an excellent quote that "reading is to the mind what exercise is to the body". I believe everyone should take on new interests whenever the chance arises. Having personal interests helps us to develop our personalities even further. It's a vital trait needed for mankind's development and sense of self.
List any special training you have had (music, art, drama, dance, etc.)
I always participated in many extracurricular activities like dance classes, choir, drama (school plays) and after school art programs. My love for entertainment has grown over the years to becoming a performer.
In what sports, if any, have you participated?
I was very much into the benefits of daily physical activity. Whether it is heading to the gym or playing a sport, I enjoyed the way I felt afterwards. Throughout my high school years, I've participated in a variety of sports including rugby for a few years, basketball, badminton and soccer. If I had the chance, I would definitely continue playing rugby.
Name one person, other than your parents, who has had the most influence on your life. Why?
I am fortunate to be surrounded by a great amount of positive people in my life who genuinely care about me. From brilliant individuals, that I call my family to close friends who motivate me. The majority of my upbringing has been nothing but a journey. My younger sister Genevieve is one person who has been by my side literally through everything. We are only 2 years apart, yet she was the first female friend in my life. We are both very creative people. As a fashion designer, recent graduate from the nursing program, and many other achievements, Genevieve is the epitome of hard work. When she wants to get something done, she does it with ease. She understands the importance of completing priorities. She is an eccentric, kind, compassionate individual who always looks out for the under-dog. My sister is the closest person who shares the same views as I do. I am most proud to say I am a big sister who looks up to her little sister.
What is your proudest personal accomplishment (other than participating in this pageant)?
Graduating from the Civil Engineer program is my proudest accomplishment. I started prioritizing my responsibilities a lot more. I had to learn how to balance school work while competing in a pageant and extra-curricular activities. Being able to put myself through school, I know I had to give it my all and push through all semesters without falling behind. More importantly, it was one of the most important goals I've accomplished. Since graduating, I feel my life has gotten a lot better. The obstacles changed me for the good. And I'm glad I have the drive to always pursue any challenge without looking back.
What is the most interesting or unique thing that has ever happened to you and/or what is the most interesting thing about you?
The most interesting thing about me would be my passion to learn art history. Since I am so fascinated with learning, I would sometimes try to re-create the techniques used by the most famous painters centuries ago. My favourite would be Italian baroque art; an artistic style that uses the exaggeration of lighting, and intense emotions. I admire French painter Simon Vouet's Moses saved from the waters.
What is your career ambition and what are you doing or plan to do to accomplish that goal?
Just because the future is never certain, it doesn't mean you can't plan for it. The key is to live everyday like it would be your last. Success owes its meaning to hard work and goal setting. I am currently working on many projects, that all lead into owning an art business program very soon and learning how to grow it to its maximum potential. For that, I am taking courses with mentors and training that will help me to grow in this area. Along with many other talents I am putting to use.
What would be your "dream job" in life?
Anything that consists of traveling the world– aiding individuals with motivation and knowledge would be a dream job of mine that I am already working towards. By becoming that role model to people, it would be a great honour if I can impact lives on a more grand scale. I would love to help solve a lot of the issues in the world today that could be solved through mentoring and education.
Describe where you were raised and what your childhood was like.
I had a difficult childhood growing up. I spent my early years moving from many places and attending different schools up until the 4th grade where I finally settled in Brampton. My childhood was hard adapting to my new environments, and the occasional taunting from my own peers, however; I never let that bother me or let it affect my grades in school. There has never been a year since I started school until my college years where I've ever failed a grade or never went a year without getting at least one award of recognition. I loved school so much; I had perfect attendance for 10 years in a row. I was always creative little girl. Although I didn't have the perfect childhood, I knew I had a loving family, and I was grateful for the important things I needed. I never let the past affect my future endeavors, but it did mold me into the strong woman I am today.
List any interesting or unusual jobs you may have had.
Teaching assistant for kindergartens and pre-school children
Acting principle and background work
Bartender/ server at a few restaurants
Handy-woman
Telemarketing
List any volunteering you have done.
Heart and stroke foundation fundraising
Bringing the voices entertainment with artists
Operation smile
YMCA summer assistant
What is your most unusual talent?
I recently discovered a new talent when it comes to my creating my artworks. I draw using a giant mirror. It helps me to view my drawing in a different perspective—which in turn makes it easier to catch my mistakes.
Where is the most interesting place you been to?
The city of Toronto is the most interesting place I've been to. Although I was born right in this city—there countless things to do in this breath-taking city. I love the how busy it always is. With the millions of multi-cultural dishes and celebrations, it feels like I can experience other parts of around the world me. Another great trait about Toronto, Ontario is it's one of the biggest tourist attractions in the world. Even though I have never travelled the entire globe yet, I am proud to say my home is the most interesting place I've been too.
What do you hope to be doing in ten years?
I believe what makes life worth living is that, tomorrow is never promised, and the future is always changing. There are many benefits to goal setting when dealing with life's uncertainties. In ten years, I hoped to be a happy and healthy individual pursuing the development of my company to a bigger platform. I plan to continue volunteering for great causes and mentor the youth on the importance of career building into the right fields. Success is not only defined by materialistic things, but your happiness and self-acceptance of yourself and others you love around you. The world cannot be changed all at once. I learned the importance of why everyone should try living a fulfilling life. "Your legacy is every life you've touched" ~ Maya Angelou.
Is there anything you would like to add that we haven't asked?
Joining the Miss Universe Canada organization is a key that will lead to many different opportunities. The great thing is anyone can choose the outcome of it all. Holding the title of Miss Universe Canada is a woman who portrays a sense of well-being for who she is and who she wants to be. She is an open minded individual who is a true role model, and isn't afraid to break negative barriers. She is confident and grounded with or without the crown. A true Miss Universe Canada beauty carries the title not only for herself but for her entire nation.