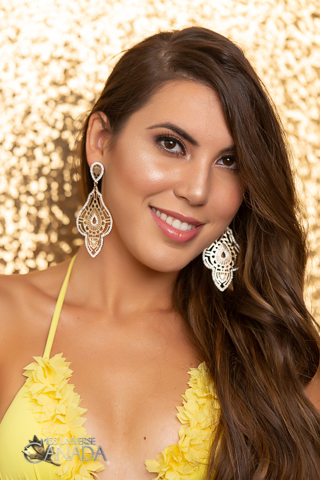 Height: 5'11
Hometown: Bolton, ON
Languages: English, Spanish, Italian
Occupation: Medical Aesthetician
Keyla is a 23 year old woman who is fluent in English, Spanish and Italian. She is originally from Venezuela where she was raised by her Venezuelan mother and has a Canadian father. At the age of 20, in light of the difficult political and economic climate of her home country, Keyla made a bold decision to move to Canada in search of a better life.
Although she had to leave her family and friends behind, she is grateful that Canada has opened its doors for her, and shown her its beauty and possibilities.
Keyla is a very happy, positive and outgoing young woman who enjoys helping others.
She believes humility is the best and most important quality a person can have, because anyone can need a helping hand at any time in life. In Venezuela, Keyla enjoyed singing, acting and modeling; she also taught younger girls how to runway model.
She has recently opened her own business as an aesthetician in Richmond Hill, Ontario. She believes her work is her best opportunity to demonstrate her passion for helping others feel good about themselves.
Every day, Keyla demonstrates that hard work, discipline and a good attitude can help anyone achieve their goals.
Keyla values courage most of all, and is open to being vulnerable and taking risks. For her, this is the best way a person can open doors for life's wonderful surprises. She is excited to participate in Miss Universe Canada, mostly because it will allow her to encourage other young men and women to embrace courage and follow their dreams.
Sponsors
Family and Friends
Video
Q&A
What are your interests and what do you enjoy doing the most?
I love listening to music, dance and spending time with my family and friends. I also like traveling and making people feel good.
List any special training you have had (music, art, drama, dance, etc.).
I have done singing, dancing, acting, runway, and skin care trainings.
In what sports, if any, have you participated?
I like to play volleyball and I also do boxing. I don't do many sports, but I love to watch them.
Name one person, other than your parents, who has had the most influence on your life. Why?
My sister because she is the complete opposite of me. All my weaknesses are her strengths and even thought she is my little sister she has thought me a lot and she is the one who inspires me to be the best version of me.
What is your proudest personal accomplishment (other than participating in this pageant)?
My proudest personal accomplishment was to move by myself to Canada without any family or friends. Canada has been an amazing country that opened many doors for me and I am proud to be Canadian.
What is the most interesting or unique thing that has ever happened to you and/or what is the most interesting thing about you?
The most unique thing that has ever happened to me was when I was on a boat and I saw a pod of dolphins and a big whale. It was an incredible feeling to been able to see all those beautiful animals free in their natural environment.
The most interesting thing about me is that I always laugh and I stay positive no matter what.
What is your career ambition and what are you doing or plan to do to accomplish that goal?
My career ambition is to have my own line of skin care products. I already opened up my business and to accomplish that goal I will keep working hard, and I will go to trainings and educate myself because the best thing is to never stop learning.
What would be your "dream job" in life?
I am proud to say that I am doing my dream job. I am an esthetician and the beauty of it is that I can help people to feel good with themselves not only on the outside but on the inside.
Describe where you were raised and what your childhood was like:
I was raised in Caracas, the capital of Venezuela. My childhood was the happiest always around good friends and a beautiful family that always taught me the importance of been humble and having good values.
List any interesting or unusual jobs you may have had:
I took care of 3 big dogs and 4 cats in the same house for 3 weeks. I love animals so it was a fun experience for me.
List any volunteering you have done.
I did volunteering back in Venezuela in a place for orphan kids, but in Canada I haven't had the chance yet.
What is your most unusual talent?
I can make people feel very comfortable when they are around me.
Where is the most interesting place you have been to?
Los Roques Archipielago. It is a beautiful place in the Caribbean Sea and its part of Venezuela. It is the biggest marine park of all Latin America and it has the biggest coral reef in the Caribbean.
What do you hope to be doing in ten years?
I hope to be successful on my career and I also want to have a beautiful family, to show them that with hard work and positive energy you can achieve anything you want.
Is there anything you would like to add that we haven't asked?
I would like to add that I am very happy to be part of Miss Universe Canada 2018 because I know it's a great experience that will help me grow as a person and learn new things.