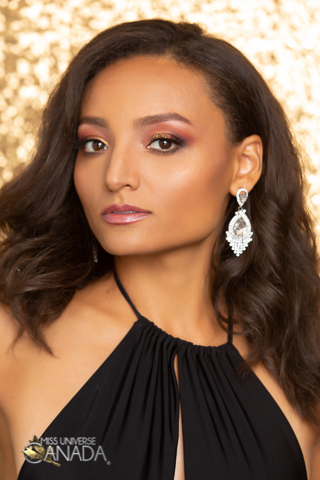 Height: 5'8
Hometown: Ottawa, ON
Languages: English, French
Occupation: Chartered Professional Accountant
Laura Cavé is a Chartered Professional Accountant. She consults clients in diverse financial markets across Canada and internationally. She has worked in the provinces of New Brunswick, Quebec and Ontario, the Territory of Nunavut, and the Republic of Haiti.
While in university, she won second place at JDC (Jeux Du Commerce), the nationally recognized commerce games in Canada. Laura completed her degree in Business Administration at the Université du Québec. She paid her way through school without contracting any student loans. She first worked as a teller for a bank and then as a finance officer for the federal government. Today she currently works as a senior consultant for KPMG, an internationally recognized accounting firm.
Laura is a supporter of youth empowerment. She believes that the children are the future and should have access to the tools to develop the skills to become the leaders of tomorrow. You can find her leading projects or in trainings honing her own leadership skills. As Miss Universe Canada, she would use the platform to be a voice for the cause by sharing her own experience in becoming a successful young professional.
Sponsors
Family and Friends
Video
Q&A
What are your interests and what do you enjoy doing the most?
One of my biggest interest is learning the skills needed to become a great leader. I read books and attend workshops that enable me to be inspired by other individuals who have done great things in their field and to learn from them. In my view, confidence is key in becoming a leader which is why it is so important to build self-esteem. I've recently followed a Women in Line for Leadership workshop in order to gain more confidence in my own abilities in becoming a leader.
List any special training you have had (music, art, drama, dance, etc.) 
While attending the Université du Québec, I won second place at JDC, one of Canada's most recognized business competition. The competition consisted in solving a business case and presenting results to a panel of judges from the fields of business and finance. In order to compete I went through a rigorous training. This training helped me improve my skills in presentation and public speaking. Since then, I've conducted several presentations and speaking engagements.
In what sports, if any, have you participated?
The sport that has the most influence in my life is volleyball. I played competitive volleyball in junior high and in high school. In my final year, my team won the city championship. I occasionally still play today just for fun.
I almost missed out on the opportunity of playing volleyball. When I was 12 years old, my gym coach at the time said that I should go to the tryouts. However I was scared of not being good enough and lonely. I had recently started at a new school and only had 2 friends who did not play volleyball.
I summoned the courage to go to the tryouts alone and I made the team! I continued playing volleyball for 6 years and was even named MVP a few times. Playing volleyball has taught me to be more confident in myself and to take risks even when I don't know what the outcome will be.
Name one person, other than your parents, who has had the most influence on your life. Why?
In recent years one person who I've come to admire is Mother Teresa. She passed away when I was a little girl but her legacy and the great work that she did lives on. It is inspiring to me to see that someone devoted their life to serving and helping the neediest of our society. What she did reminds me every day to be a more humble person and to do what I can to help others.
What is your proudest personal accomplishment (other than participating in this pageant)? 
My proudest accomplishment is becoming a professional accountant. It took 7 years of post-secondary education to make it and it was not always easy. Sacrifices had to be made along the way but it was well worth it. I now work on great projects related to my field of study.
What is the most interesting or unique thing that has ever happened to you and/or what is the most interesting thing about you? 
Something unique about me is my sense of curiosity. There is a quote from the Greek philosopher Socrates that teaches us: The only thing that we are sure to know is that we do not know everything. I live life taking every day as a learning opportunity.
What is your career ambition and what are you doing or plan to do to accomplish that goal? 
I am proud that my career has lead me to become a successful young professional in the field of business. Being a Miss Universe Canada National Delegate is allowing me to step out of my comfort zone. In doing so I am learning more about myself. I've come to realize that a cause that is very dear to me is youth empowerment. The Miss Universe organization supports giving back to the community which is a continued ambition of mine. I would like to empower the youth by sharing with them my story in gaining confidence to be a leader.
What would be your "dream job" in life?
My dream job would be to merge my passions which are finance and youth empowerment. I believe that knowing how to make a budget and save for the future are financial skills vital for leading an empowered life.
Describe where you were raised and what your childhood was like.
I was raised in a neighborhood where all the kids would play outside together. I remember going to the park with my siblings and playing on the swings. We did not always have the newest clothes or toys but my parents did their best to make sure we had what we needed and were happy. Now that I am a successful professional I would like to teach the youth that they can achieve anything they put their mind to.
List any interesting or unusual jobs you may have had. 
My first job was working as a cashier for Beavertail pastries in the winter time along the Rideau Canal. I was responsible for taking the orders and payments. You can say that my career in finance has progressed significantly since working along the world's largest skating rink.
List any volunteering you have done.
I am a Board Member of the Thirteen Strings Chamber Orchestra. The orchestra is a non-profit organization whose mission is to make great classical music accessible to all. Volunteering on the Board of Directors has allowed me to give back to the community. By using the skills I learned in business school to help the orchestra with decisions.
What is your most unusual talent?
My most unusual talent is my tutoring ability. In school, I would help other students understand subjects they had trouble with. I've been told that I do a great job at explaining complex matters. I am glad that I was able to help my fellow classmates succeed in their studies.
Where is the most interesting place you have been to?
My background is Haitian. I was born and raised in Canada and until I was a young adult I had never traveled to Haiti. I was always intrigued in going since I had heard so many stories from my family. I finally got to visit my grandparents' house in Jeremie, Haiti and saw where my father grew up. It was such a humbling experience to understand better where I am from.
What do you hope to be doing in ten years?
In ten years I hope to continue living life to the fullest and be doing what I love most which is spreading positivity.
Is there anything you would like to add that we haven't asked?
Being Miss Universe Canada is a great responsibility. Canada is a country known for its freedom and peaceful missions. I would use the platform of being Miss Universe Canada to promote peace, love and unity on a global scale thanks to the visibility the title will provide me.