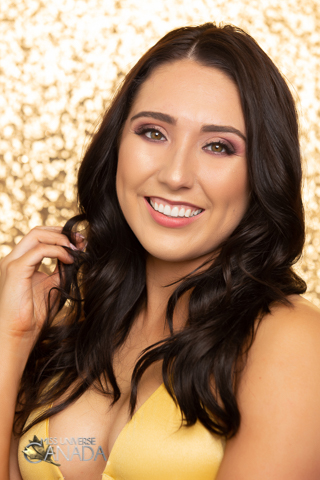 Height: 5'7
Hometown: St. John's, NL
Languages: English, French
Occupation: Student at Memorial University (Pharmacy)
Current Miss Newfoundland and Labrador, Mackenzie Dove, is very much looking forward to the chance to represent her home province on the national stage at Miss Universe Canada.
After being empowered through the Girls of Science, Engineering, Trades, and Technology Program (GOSETT) herself as a child, Mackenzie has become very passionate about providing this same early exposure to Science, Technology, Engineering, and Math (STEM) careers to young women. She feels the knowledge and experiences gained through her involvement in the program have lead her to great achievements and helped shape her career vision. One such achievement was her becoming the Pilot of the Clarenville High Robotics Team, which won the Ranger Class of the International Mate Underwater Remotely Operated Vehicle (ROV) Competition in 2014. A member-turned-mentor of GOSETT and a presenter with Memorial University's Let's Talk Science group, Mackenzie volunteers presenting to children of all ages on a variety of STEM topics.
In 2010, Mackenzie lost her grandmother and role model, Verley Matthews, to Multiple Myeloma – a cancer affecting the white blood cells. Inspired by her grandmother's legacy, as well as her early exposure and natural inclination for STEM subjects, Mackenzie chose to dedicate her life to working and volunteering within the Oncology field. She spends much of her free time volunteering with the Canadian Cancer Society in their "Living Room" providing and assisting cancer patients and survivors with wigs, turbans, scarves, and breast prosthesis free of charge. In addition to that, she became the Co-Chair of Memorial University's Relay for Life which raised over $100,000 throughout her time involved. Driven by the memory of her strong and generous grandmother as well as the strength of the people she met through the Canadian Cancer Society, Mackenzie is working to become a Clinical Oncology Pharmacist in hopes that she can support and strengthen the community as much as it has her.
Having been involved in student council and public speaking competitions in her high school years, leadership skills came naturally to Mackenzie. In 2014, Mackenzie attended her first Session of Newfoundland and Labrador's Youth Parliament which is a by-youth for-youth multi-partisan event and organization that brings together 40 young men and women from across Newfoundland and Labrador annually to discuss and debate issues and resolutions facing their communities, province, and the country. This opportunity opened her eyes to the world of politics and the importance of female involvement, engagement, and representation within it. Mackenzie was elected to be Vice-President (2015), and then Chairperson and President of the organization's Board of Directors (2016). During her tenure as Chairperson and President, Mackenzie led the Board of Directors in an outreach campaign which ultimately led to the organization's first Session in 51 years where there were more female then male delegates participate. Mackenzie continues to advocate for female involvement in politics and recently participated in Equal Voice NL's Daughters of the Vote event in commemoration of the one hundredth anniversary of women gaining the right to vote. In 2018, Mackenzie started the "Be Heard. Be Her." project with the goal of working to educate, encourage, and empower young women in her province to explore new opportunities and use their voices.
Mackenzie's hard-work, dedication, and generosity have earned her various awards and accolades. She was named the 2016 Young Woman of Distinction by the YWCA NL as well as the Student Volunteer of the Year by Memorial University of Newfoundland and Labrador in 2018. Additionally, she received a URock Volunteer Award from the Government of Newfoundland and Labrador (2015). Given her passion for working in the Oncology field, her most cherished award thus far is the Canadian Cancer Society NL's Inspirational Achievement in Volunteer Youth Leadership Award (2016).
In her downtime, Mackenzie enjoys hiking, spending time with her rescue cat, Oliver, mermaiding, meeting new people, and taking the time to be a "tourist at home" to explore the many beautiful communities in her province. Given her outgoing personality, strong drive, and pride for her province and country, she is eager and excited to have this opportunity.
Sponsors
Clarenville Lions Club/CO-OP, Always & Forever Formalwear Inc., Island Cosmetics Beauty, Daniela Fougere Jewelry, Eclipse Stores, Lightkeeper's Fudgery & Gift Shop, A Little Piece of my Art, The Carpet Factory, Get Lashed, Ben J King Photography, Family and Friends
Video
Q&A
What are your interests and what do you enjoy doing the most?
My family always loved being "tourists-at-home" – taking the time every summer to do a family vacation road-trip to explore new community or part of our province – so this has become one of my favourite things to do. Newfoundland and Labrador is such a unique, beautiful, and quaint part of our country with so many interesting and vibrant rural communities. A two hour drive has the ability to make you feel like you're in a completely different place. While exploring, I love to hike local trails, shop in farmer's markets and small, local businesses, and eat in locally-owned restaurants. Aside from exploring and studying, I also love volunteering, spending time with my rescue cat, Oliver, reading, and swimming in my mermaid tail when I have the opportunity.
List any special training you have had (music, art, drama, dance, etc.) 
Standard First Aid/CPR C/AED Certified from The Lifesaving Society
Mental Health First Aid for Adults who Interact with Youth Certified from the Canadian Mental Health Association
Professional Communications Course Certified – Toastmaster's International
Gender-Based Analysis Plus Course from the Government of Canada
Swimming Lessons from the Canadian Red Cross and Bronze Medallion Certification through the Lifesaving Society (2014)
Introduction to Mermaid Swimming (IMSIA Level 1) from the Philippine Mermaid
Swimming Academy
In what sports, if any, have you participated?
While I was never the star player of a sports team, I always loved the experience and friendships that were formed when playing as a part of a team. I was involved in a bit of everything growing up including basketball, soccer, volleyball, cross-country and downhill skiing, kickboxing, as well as a very short experience in ice and ball hockey. As I transitioned from high school to University, I now love to try new forms of exercise as a way to de-stress and keep my body healthy. Lately, I've been particularly enjoying hot yoga and spin classes along with regularly going to the gym to shake up my routine.
Name one person, other than your parents, who has had the most influence on your life. Why?
My grandmother, Verley Matthews, is my role model and has had a profound influence on my life. She was a kind-hearted, strong-minded, caring woman from a small Newfoundland community of about 500 who would always extend a helping hand and never expect anything in return. She was a working woman, a mother of 5, and a dedicated volunteer to her community as a member of their Lions Club. Even throughout her over 7 year battle with Multiple Myeloma, a cancer which affects the white blood cells, she maintained her gentle composure and compassion for others. She is the type of strong, confident, and kind woman that I aspire to be everyday and, through her life experience, was the influence that pushed me to pursue a career in the Oncology field, become an executive member of my University's Lions Club, and continue to work to give back to my community.
What is your proudest personal accomplishment (other than participating in this pageant)? 
In March 2016, I was awarded the Young Woman of Distinction Award from the YWCA – St. John's. This award is presented locally by YWCA's across Canada to recognize the leadership of women who contribute to the development and well-being of other women and to the overall improvement of the community. I received this award as recognition particularly for my work as the Chairperson and President of Newfoundland and Labrador Youth Parliament in 2015. In this role, I helped lead our Board of Directors to bring forward the first Session in over 51 years which had more women than men participate. This award also recognized my volunteer work with the Canadian Cancer Society's Living Room where weekly, I provide and assist cancer patients and survivors with wigs, turbans, scarves, and breast prosthesis free of charge, the Memorial University's Relay for Life Planning Committee, and my experience and involvement with underwater robotics in high school as a role model for others to get involved. To be honoured unexpectedly with such a prestigious award for simply doing things that I care about and love was truly humbling and it is definitely one of proudest personal accomplishments to date.
What is the most interesting or unique thing that has ever happened to you and/or what is the most interesting thing about you? 
In high school, I was a member of my school's Underwater Robotics Team. This team competed annually in the MATE ROV (Remotely Operated Vehicle) Competition in which we, as students, would design, build, and operate a fully-functional underwater ROV capable of completing the tasks set forth by the MATE Organization. One year when preparing for our Regional Competition, our Pilot (who was the team member responsible for driving our ROV in the competition and had been practicing with our ROV for months) quit our team a week before the competition. As the current co-Pilot, I was then thrown into the Pilot position with one week to prepare. After many long nights practicing that week in our Robotics Lab, I managed to get the hang of it and piloted our team to two Regional First Place wins, one 12th place International placement, and one 1st Place International finish over the following two years.
What is your career ambition and what are you doing or plan to do to accomplish that goal? 
When I was in the fourth grade, I remember my teacher asking me the question "What do you want to be when you grow up?" and while it wasn't the first time I'd been asked that question, I remember it specifically being the first time I really thought about the answer. I came to the conclusion, then and there, that my two goals in my career were to be happy and to help others. Over the years, my career ambitions changed from teacher to veterinarian to ROV Pilot/Technician to Engineer and back again, but those two personal goals stayed consistent. Through my early exposure and natural love for STEM subjects, the influence of my grandmother and those I met while volunteering with the Canadian Cancer Society, and my passion to use my privilege to improve the lives of others as well as my community finally led me to my career ambition of becoming a Clinical Oncology Pharmacist. To achieve this goal, I'm currently studying pharmacy at Memorial University and I am on track to graduate with a Bachelor of Science in Pharmacy degree in 2019. I have also continued my volunteer work with the Canadian Cancer Society and am a registered member with the Canadian Association of Pharmacy in Oncology (CAPhO) to help keep up-to-date with news and advances made in the field.
What would be your "dream job" in life?
Clinical Oncology Pharmacist
Describe where you were raised and what your childhood was like.
I was born and raised in Clarenville, Newfoundland and Labrador – a small community of about 6,000 people. I lived with my amazing parents, younger brother, and a consistent "funny farm" of family pets and foster pets. My days were spent outside playing with the kids on my street and exploring our town. I would leave the house before noon and not return until suppertime after a day full of adventures. It's the type of place where it's impossible not to know everyone but the strength and support that comes from that is indescribable. Although small, Clarenville is filled with community-oriented leaders and volunteers who worked tirelessly to provide opportunities to youth, like myself, and to better our community. My parents were two of these people. They are both largely involved with our local SPCA and are responsible for instilling their love of animals and passion for volunteering in me. I'm truly proud to say that I am from Clarenville and thankful for the amazing childhood and experiences that my family and my community gave me.
List any interesting or unusual jobs you may have had. 
At the age of 17, I concurrently held jobs as a Personal Care Attendant (PCA) at a local retirement home, as the Summer Roadshow Host for the 710 VOCM Radio Station, and as a Shift Manager at McDonald's. All three of these positions were extremely different from one another and not all typical positions for a 17 year old.
List any volunteering you have done.
Canadian Cancer Society Newfoundland and Labrador (2014 – Present)

Weekly "Living Room" Volunteer – assisting and providing wigs, turbans, and breast prosthesis to cancer patients and survivors free of charge
Co-Chair of the Memorial University Relay for Life Planning Committee
Planning Committee Member for the St. John's Relay for Life
Special Events Volunteer with Daffodil Days, Festival of Trees Gala, Outreach Events, Community Relay for Life Events, and the Daffodil Dash Fundraisers

Memorial University Trick Or Eat Campaign Organizer (2016 – Present)

Campaign to go door to door "trick-or-treating" on Halloween night but, rather than candy, collecting donations for the local food bank.

Memorial University Pharmacy Society (2016 – Present)

Social Chair responsible for planning events and outings for students in the faculty

Memorial University Campus Lions Club (2015 – Present)

Secretary on the Club's Executive Board – responsible for taking notes and recording club events/fundraisers as well as helping to plan and run bi-weekly meetings, events, and fundraisers

Volunteer with the Clarenville Area SPCA (2003 – Present)

Evening Shelter Duty Volunteer
Special Events Volunteer with the Annual Walk for the Animals Fundraiser and previous Gala and Thrift Sale fundraisers

MUN Let's Talk Science Presenter (2015 – Present)

Presenter to youth groups of all ages on different topics within the Science, Technology, Engineering, and Math fields

Newfoundland and Labrador Youth Parliament Board of Directors (2014-2016)

Vice-President (2015) and Chairperson and President (2016) of the Board of Directors – responsible for helping to plan, coordinate, and execute the annual event which brought together 40 youth from across the province to debate in the Provincial Legislature

Ronald McDonald House Newfoundland and Labrador (2014 – Present)

Just Like Nan's and Home For Dinner Program Volunteer where we'd bake some treats or cook a meal for the families currently staying at the House
Special Events Volunteer with the Red Shoe Crew Walk, Annual Lights of Love Tree Lighting, and McHappy Day.

Canadian Association of Pharmacy Students and Interns (2015 – Present)

Co-Chair of the National 2019 Professional Development Week (PDW) Conference Planning Committee – responsible for helping to plan, coordinate, and execute a National pharmacy student conference which will bring together over 400 students from across Canada to learn, network, and develop new skills pertaining to the pharmacy field.
Additional volunteer experience includes:
Big Brothers, Big Sisters Special Event Volunteer, Girls Of Science,
Engineering, Trades, and Technology (GOSETT) Member and Mentor,
Keynote speaker for City of St. John's Volunteer of the Year Awards, District
N4 Lions Club's Leo Convention, and the Community Sector Volunteer
Luncheon Kick-Off Event, Stella's Circle Run for Women Fundraiser
What is your most unusual talent?
I am a self-taught Accordion player who loves to play Irish Newfoundland music and I was trained in how to swim in a mermaid tail at the Philippine Mermaid Swimming Academy in Boracay.
Where is the most interesting place you have been to? 
Though I've been privileged enough to travel many places around Canada and in the world, Gros Morne National Park, located on the West Coast of Newfoundland, is by far the most beautiful and interesting place I've been so far. A place unlike any other on earth, Gros Morne National Park is home to stunning fjords with waterfalls carved out by glaciers millions of years ago, the unique sight of the earth's red exposed mantle at the Tablelands, and the beautiful views from the peaks of the Long Range Mountains. A UNESCO World Heritage Site, Gros Morne National Park is a truly one-of-a-kind, breathtaking piece of our country and world.
What do you hope to be doing in ten years? 
In 10 years, I hope to be an established Clinical Oncology Pharmacist spending my days counselling my patients on their medications and helping them through their cancer diagnosis. I hope to have a rescue dog (preferably a golden retriever or corgi). I hope that the "Be Heard. Be Her" Project will have grown into an annual provincial conference and skillbuilding weekend for young women in our province. I aspire to continue to advocate for the advancement and engagement of women in all fields – from STEM to Politics – and to be a role model for the advantages of exposing women to these opportunities at a young age. I also dream of and hope to continue to travel, see the world, and experience other cultures and lifestyles. Finally, above all, I hope to be happy and to be able to help to use my life and experiences to better the lives of others and better my community.
Is there anything you would like to add that we haven't asked?
Growing up, I never saw myself as the type of person who would become involved in pageants. However, after taking a leap outside of my typical comfort zone to enter one for scholarship reasons, I found out quickly how all stereotypes I'd heard about them were wrong. Pageants are empowering, motivating, open up a world of networking and personal growth opportunities and the girls who compete are strong, intelligent, confident, and dedicated leaders in their communities. I am so privileged, excited, and thankful to be participating alongside them all and to have the opportunity to hear their stories.