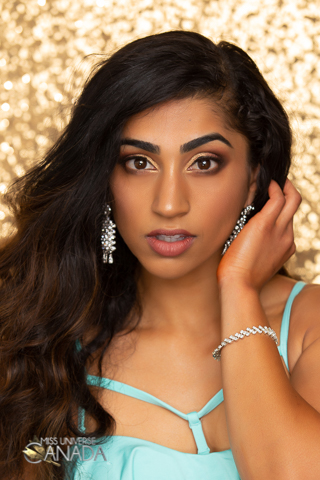 Height: 5'2
Hometown: Toronto, ON
Languages: English, French
Occupation: Marine Systems Engineering Officer
Nimmi Augustine was raised as a first generation Canadian. Despite the challenges of balancing two cultures, she grew to embody both the Canadian society she lived in and embrace the Indian heritage her parents strived to instil in her. She was fortunate to grow up in the multicultural haven of Toronto. Her love for diversity fostered a sense of compassion, equality and discovery that is manifested in a love for global food, art and travel.
At 17 years old she enrolled to become a Naval Officer in the Canadian Armed forces. She attended the Royal Military College of Canada where she graduated First-Class in Electrical Engineering, all while achieving exceptional physical fitness standards, bilingualism, and holding leadership roles during the academic year. On completion of her degree she moved to Victoria, British Columbia to continue her training as a Marine Systems Engineer where her training has afforded her opportunities very few 23 year olds can speak of.
Aside from the high demands of the military, Nimmi practices her own sense of a balanced lifestyle. Being an ambitious health and fitness advocate, she decided to challenge herself to a different degree. She began to compete in fitness competitions in the Bikini Class. She has competed in Competitions in the USA and in Canada Placing in all three. The sport encompassed a great deal of discipline and determination. Team sports have always been a part of her life, starting with soccer at age 4 for 8 years including a period where she played competitive and then transitioning to rugby where she played in high school and in university.
Nimmi's passions also extend to the arts as she joined dance at a young age and grew an interest for Hip Hop where she has danced competitively and has been part of a company. Upon moving to Victoria she grew an affinity to Brazilian Partner Dancing, Zouk. Her passion for mentoring led her to volunteer at Big Brothers Big Sisters as a Go Girls Facilitator, to promote healthy minds and healthy living to girls between the ages of 8-12 years old.
She is also has a dedication to international affairs and development as she is a member of the Canadian International Council where she takes part in discussions to address pressing problems in the world today.
Now she is making a new career transition as she is pursuing a Masters of Global Affairs at the University of Toronto in order to progress her career in fields dealing with international security and international development. She has a particular interest in peace and security of women and children in developing nations.
Nimmi believes her leadership skills, education, compassion, discipline, and determination will help her to make an impact in her community and hopes to make Canada proud as she takes the Miss Universe Canada stage.
Sponsors
Video
Q&A
What are your interests and what do you enjoy doing the most?
I always explore and try new things. I've always had an appetite for adventure so travelling is a significant part in my life. Having travelled to over 17 different countries I believe travelling creates a broader sociocultural awareness. Through travelling I've developed an interest in the culinary arts. I love experimenting and trying new recipes with friends and family. I've always loved working with children, having a large extended family, therefore I've always seek opportunities taking on mentorship roles such as being a Go Girls Facilitator for Big Brothers Big Sisters. I also love hiking, fashion, dancing, and writing.
List any special training you have had (music, art, drama, dance, etc.)
I've been a dancer for 10 years. I've trained in multiple styles however my passion is Hip Hop dancing. I've taken to the stage competitively and I was also part of a dance company in Toronto. Once I moved to Victoria I decided to stretch myself and explore Brazilian partner dancing which I've grown to love. Dance is my form of self-expression. It has helped develop my confidence and performance skills.
In what sports, if any, have you participated?
Sports have always been a part of my life I started in soccer when I was 4 years old. I soon transitioned to rugby where I played both on the varsity teams in high school and university. During university I got into the sport of bodybuilding, specifically Bikini class where I've competed in both the USA and Canada and have placed in all 3 participated competitions. It has taught me a lot of dedication and discipline as the most rewarding part is seeing the results of all your hard work.
Name one person, other than your parents, who has had the most influence on your life. Why?
It's hard to attribute my influence to be one person. I am very fortunate to have grown up with two older sisters. They've always been my role models, both successful in their own ways. They emulate the strong, positive, compassionate women that I strive to be. They've taught me how much you can empower someone through love. The woman I am today and the woman I push to become would not have even being realizable without their loving support. They've both have gone through their own unique set of adversities that they've not only conquered but overcome. I can't help but look at them like the starry-eyed four year old kid I once was.
What is your proudest personal accomplishment (other than participating in this pageant)?
My proudest accomplishment thus far would be receiving my iron ring. It was significant for me to graduating with an electrical engineering degree from the Royal Military College of Canada. While I was in school I was juggling a multitude of things such as maintaining my physical fitness, holding leadership roles within school, and also training for my bodybuilding competitions. In my class, I was one of three female students, therefore it was reaffirming to graduate with my class with first class designation. It gave the confidence to truly believe the results of hard work and dedication.
What is the most interesting or unique thing that has ever happened to you and/or what is the most interesting thing about you?
My family has owned a variety of unusual pets such as turtles, ducklings, lizards, hamsters, and birds just to name a few. When we were younger and these small animals would pass on, our family would hold elaborate funerals for them, including a makeshift cemetery.
What is your career ambition and what are you doing or plan to do to accomplish that goal?
I've always had a dream create an organization that focuses on reaching out to developing countries and providing tools for them to be self-sustainable. I would like to create global resource centers in remote areas so that people have free access to internet, education, training development for jobs, and financial aid programs. This would not only support the growth of communities across the globe but would also help to strengthen community cohesion. Currently I am transitioning from the military to further advance my education in global affairs. I intend to find job opportunities that increase my exposure in international development in order to build networks and increase the success of its implementation.
What would be your "dream job" in life?
My dream job would entail my passion for dance. I would love to travel and team up with various celebrity dancers from around the globe teaching women empowerment and embracing feminism through dance. This would be in the form of dance camps with the mission to build self-esteem and confidence.
Describe where you were raised and what your childhood was like.
I grew up in Richmond Hill, Ontario where I am the youngest of three daughters. My parents emigrated from India therefore they emphasized the importance of hard work and instilled a strong sense of morals and values within my sisters and me. Despite their upbringing they adapted a more progressive approach to ours. They supported us in all our endeavours no matter how big or how crazy. Even though I have a large age gap between my sisters and me, I matured rather quickly. Even though growing up our relationship may have not always been peaceful we developed a unique sisterly bond. As we travelled to many different destinations our sense of adventure and cultural awareness came from an early age. My parents taught us the power of unconditional love and support and stems behind the person I am today.
List any interesting or unusual jobs you may have had.
When I was 17 years old I used to work as a dancer for weddings and events. One event in particular was for a tribute event where I danced alongside a famous Bollywood Actress.
List any volunteering you have done.
Big Brother Big Sisters: Go Girls Program Facilitator
Sunnybrook Hospital: Daycare assistance
Good Shepherd ministries: Soup Kitchen
What is your most unusual talent?
I'm not sure how unusual this talent is but I can usually get a good read on people within the first couple of hours of meeting them. This means I have an understanding of their character, their upbringing, and possibly even some details they didn't even know about themselves.
Where is the most interesting place you have been to?
I had the opportunity to visit the Andaman Islands. This is home to the Andamanese indigenous people, a group who has maintained little contact to the outside world this day. The island is tucked away from technological advancements and the only internet access is in the town center. It allowed me to appreciate the island for its simplicity and charm. It also increased my awareness on the importance of minimizing our tourism footprint.
What do you hope to be doing in ten years?
In 10 years I see myself working abroad in charge of projects involving humanitarian aid and security through government/non-government organizations. I would like to have developed a methodology to effectively implement these projects and a framework so that other organizations could adapt to their unique needs and applications. This would overall generate a greater impact.
Is there anything you would like to add that we haven't asked?
The pageant industry has many stereotypes around it. The opportunity to participate in The Miss Universe Canada Pageant is chance to illustrate and celebrate the many unique and incredible women Canada has to offer. I believe it is a chance for women to take the lead and challenge stigmas by redefining what it means to be in a "beauty" pageant.
In the Media