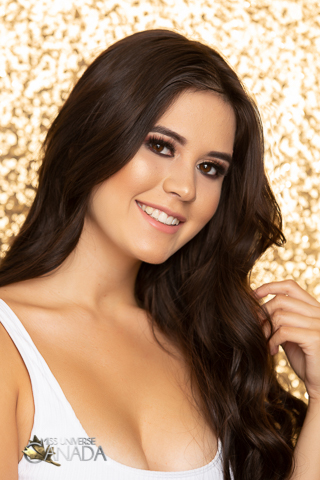 Height: 5'8
Hometown: Port Coquitlam, BC
Languages: English, Spanish
Occupation: Student at Simon Fraser University (International Studies)
Rafaella Enderica was born in Guayaquil Ecuador and left to Canada when she was just three years old. She spent some time in Toronto and ultimately her and her family moved to Port Coquitlam, British Columbia where she was raised. She graduated from Pinetree Secondary on the Honors program, she is currently 20 years old studying at Simon Fraser University majoring in International Studies where she hopes to later go to law school and start her own not-for-profit organization to help immigrants and refugees. Rafaella was an avid debater in school, placing in many debate tournaments provincially as well as nationally.
She created and ran the debate club at her high school along with her debate partner. Recently she stayed abroad in Ecuador for six months where she worked at a bank and took courses at a local college. While in Guayaquil she had the opportunity to work with a local charity and build a home for a family in need of shelter. Her parents have always led by example, explaining that whatever you may choose to do, you do it to your fullest capabilities.
In her spare time Rafaella loves to read novels on politics and watch the news, she also enjoys sailing with her family in the summer, and spending time outdoors like going for hikes or long walks. She found that moving to a new country took a toll on her own family, admitting that it occasionally felt very lonely especially during the holiday season. She hopes to be able to change that for new immigrants and refugees. She wants to help them on their journey to a new home while still maintaining their own cultures and values.
Rafaella is extremely comfortable with public speaking and developing her own opinion on matters; while still maintaining open minded and admitting when she may be wrong. Rafaella is a proud Canadian who hopes to honour her country by representing them on the international stage at Miss Universe.
Sponsors
Video
Q&A
What are your interests and what do you enjoy doing the most?
My interests are a large variety of things, I love to read and update myself on current events, I love to listen to music, and spend time with my family whether it be sailing on our boat or watching a movie all together. I particularly enjoy debate and discussing politics with other people. However, what I enjoy doing the most would have to be spending time outdoors once the weather finally gets nice, going for hikes or short walks.
List any special training you have had (music, art, drama, dance, etc.) 
When I was younger I took singing lessons for a while and took part in a school musical playing Dorothy, but later on I decided to focus on debate instead.
In what sports, if any, have you participated?
Growing up my school allowed the students to try out all kinds of sports; as a result I have had the opportunity to compete in track and field events such as long jump and relays. I have also played basketball, albeit not very well. I played soccer for many years on the select and gold team. I even got the great experience to play soccer in different states of the US. Later on I tried swimming for about a year, and I'm currently enjoying going to the gym.
Name one person, other than your parents, who has had the most influence on your life. Why?
When asked questions about my greatest influencers I immediately think of three people, both my parents, and Michelle Obama. What all three have in common is that they are hardworking, persevering people. I admire Michelle for being not only extremely well educated but in the fact that she helps educate others. Michelle has been able to ignite a flame in hearts of girls all around the world, to get up and learn. I only hope that I am able to do just the same not only with little girls but with anyone and everyone that needs a second chance.
What is your proudest personal accomplishment (other than participating in this pageant)? 
One of my proudest moments would have to be qualifying and being invited to participate and represent British Columbia at debate nationals. It was the first time I had ever been invited to represent my province anywhere and I felt very proud in that moment of myself and of my province. I am eternally grateful for the amazing experience and confidence debate has given me, I feel comfortable public speaking and developing my own opinions and arguing for them.
What is the most interesting or unique thing that has ever happened to you and/or what is the most interesting thing about you? 
Recently I just spent six months abroad in Guayaquil Ecuador, where I am originally from. I was born in Ecuador but left when I just three years old. I had the opportunity to go back to my birthplace and spend time with my wonderful family. While there I worked at one of the biggest banks in the country and took some courses at an English college. Spending time in a developing nation really put into perspective all of the amazing things we have readily available to us here in Canada. I believe that trip has made me much more grateful for every little thing I have.
What is your career ambition and what are you doing or plan to do to accomplish that goal? 
I have not always known or had a clear picture of what I wanted my career to look like. At first I thought maybe I'd like to go into finance, but it turned out to not be for me. Now after taking some time abroad and giving myself the freedom to think of options I know ultimately I want to leave this world in a better state than it was when I came to it. I want to make a positive impact in someone's life even if it is only slightly.
I have always loved politics and current events, and helping people. So I am studying International Studies and later hope to go to law school to study human rights law and eventually open my very own not-for-profit organization to help those who feel they don't have a voice. I want to create an organization that helps immigrants and refugees, those who may feel marginalized in society.
What would be your "dream job" in life?
My dream job in life would be travelling to different places whether it be in my very own country or abroad and listening to stories of people who need their voices heard, I want to give them a platform and a helping hand. Being an immigrant myself I saw and have firsthand experience of how lonely it can be to move to a whole new country and start a new life. My dream job would be to help those individuals find a job, learn English and have a fresh clean slate.
Describe where you were raised and what your childhood was like.
I was raised in Port Coquitlam British Columbia. It's a quiet neighborhood forty minutes away from downtown Vancouver. I loved growing up here because the community always felt safe.
I went to amazing schools where the teachers were always more than happy to help us with whatever may have been bothering us. We were taught to care about each other, and to care about the environment. Soccer was a big part of my childhood as most other kids who grew up here would say. We had a game every Sunday and practice two times a week. Our coaches were always someone's parents, which just goes to show how involved this community is. I have had the privilege to grow up in a place where I felt safe and free to be myself.
List any interesting or unusual jobs you may have had.
I'm not sure that any of my jobs can be classified as unusual but all together they don't really have one concrete connection. My first official and paid job was as a sales associate at Marks Warehouse, later my next job was at a Bank in Ecuador working with the administration helping pay bills, and now I am a hostess at a restaurant. These three jobs are all in vastly different fields but all three required me to be in customer service.
List any volunteering you have done.
Event coordinator at Pinetree secondary school for the me to we banquet
Public Relations and Advertisement coordinator for SurreyMUN
Summer camp team coordinator at the SFU summer camps
Hogar de Cristo building a home for a family in need
Volunteer at events for the Liberal Party
What is your most unusual talent?
I'm not sure if this counts as an unusual talent but I do tend to plan things out very detailed. Whether it be daily activities or plans for a vacation. I don't like to arrive late anywhere so I tend to plan things out to the tee so I can arrive on time which for me is early.
Where is the most interesting place you have been to?
I haven't had the opportunity to travel to too many places yet, I hope to travel much more and explore different cultures in the future. I would say the most interesting place I have been to or at least the most beautiful place I've seen so far would actually have to be here in Canada. I've had the opportunity to see some beautiful beaches in Mexico, Ecuador, and some places in the Caribbean; but two summers ago I had the opportunity to take a road trip with my family to Banff Alberta. I have to admit that it was breathtaking. The mountains and the lakes just glistened with the sun. The views looked like a windows screen saver. We don't have to travel far to experience something magical, it's right here in our backyard. I thought it was incredible how well preserved the park was and it made me feel very proud to be a Canadian.
What do you hope to be doing in ten years?
In ten years I hope to be running my own organization helping new immigrants and refugees feel empowered and give them a platform to feel heard. I hope to be helping families that had to flee their homes and come to a new country where they barely speak the language, I hope to help them integrate into this new society while keeping their own identity and norms. I want them to embrace being different because that's what being Canadian means to me.