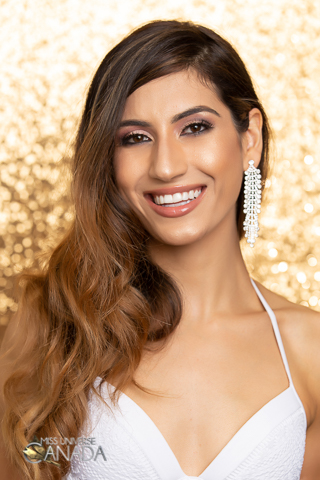 Height: 5'7
Hometown: Toronto, ON
Languages: English, Farsi
Occupation: Music Educator
Sara Tavanaie is a 26-year-old Music Educator who was born and raised in Toronto, Ontario. She is a proud Canadian who stays true to her Iranian roots. Her last name is a great representation of her personality. In translation, "Tavana" defines ability and "ie" means the person. This is exactly who Sara is, an individual who has the ability to accomplish anything once she puts her mind to it.
Sara is beyond grateful for her parents for everything that they have taught her throughout the years. Her parents immigrated to Canada with a desire for her to grow up in a land of opportunity, freedom and possibility. Shortly after, they got divorced and Sara was raised with her mother. When she was twelve, her mother was diagnosed with Multiple Sclerosis, a chronic disease that attacks the central nervous system. As a single mother, this was a very difficult time, both financially and emotionally. Sara learned the meaning of responsibility and maturity at a young age and has been her mother's number one supporter and caregiver ever since. Despite her parents failed marriage, her father has always been a supportive and great father figure. She credits her music exposure to him. Her father's influence, holding a doctorate degree as a classical guitarist definitely persuaded her into her field of study today. She began learning piano at the age of ten, which is much later than when the typical child begins. Her age was not a factor towards accomplishing her current title as a professional pianist, who completed all ten levels in the Royal Conservatory of Music. She took the skills she learned and applied it by working at numerous musical institutions until she built her own clientele. Her experiences in piano teaching allowed her to educate many diverse students, starting at the age of 3 up until 65. She has had exposure to teaching students with many exceptionalities, including autism, slight hearing impairment, learning disabilities and giftedness. These challenges only made her become a stronger individual and a better educator. Ultimately, she loves the impact she makes on each one of her students and is extremely gratified with bringing the gift of music into their lives.
Sara's love for music and teaching is what persuaded her to obtain her two Bachelor degrees in Music and Education. During her undergraduate studies at the University of Toronto, she explored her interests further and became a fitness enthusiast. She enjoys weight training, meal prepping, and living a healthy, active lifestyle. Occasionally she plays sports such as volleyball and basketball but prefers to coach her junior girls team instead. In the near future, she intends on expanding her teaching resume by achieving her Canfitpro certification to help personal train others to accomplish their fitness goals.
Sara has encountered many diverse teaching experiences. After several years of teaching in the heart of multiculturalism, specifically the Toronto District School board, she has been given many incredible opportunities. These opportunities and experiences also presented challenges that she had to overcome. Her title as a band instructor at her current private school involves teaching students how to play brass, woodwind and percussion instruments as well as recorder, vocal and xylophone to her younger students. Unfortunately, the ugly truth is that the instrumental program is slowly diminishing more and more as the years progress. School systems, parents and many disbelievers do not prioritize music as a fundamental subject, thus resulting in a reduction in funding. This common misconception about the Arts being insignificant is extremely unfair to today's children. Majority of schools only have students partake in the Arts once, maybe twice a week. Ms. Tavanaie's philosophy on music education is that it's an essential requirement for overall development in a child's life. Music brings joy, relief, emotional release, creativity and so much more. To not have the opportunity to enjoy such a remarkable subject to its fullest, especially since it's scientifically known to enhance cognitive development, is quite unfortunate. It is one of the few subjects out there that stimulate both left and right hemispheres of the brain simultaneously, thus challenging our students in both their analytic and creative thinking. The sole fact that this one subject incorporates multiple subjects; literacy, numeracy, science, languages, history, geography as well as everyday life skills such as responsibility, hard work, ownership and practice, are all more reasons to promote a well-funded, all rounded music education for our youth.
Sara is determined to make a difference within this pageant. She wants to tell the world that every child deserves a comprehensive sequential music education, especially because of the unfortunate reality of how the arts are not prioritized in today's school systems. Music is a universal language, enjoyed and studied by many. It is an integrated curriculum, with multiple subjects and concepts being taught. It gives individuals freedom to be creative, an escape from the stressful reality or helps people focus and concentrate on tasks. By applying her knowledge, passion, integrity and hard work, Sara is determined to make Canada, the most beautiful diverse multicultural nation proud on the Miss Universe Stage.
Sponsors
Video
Q&A
What are your interest and what do you enjoy doing the most?
I enjoy spending time with my mom, friends, loved one and my beautiful Persian cat. One may call me a crazy cat person but I love dogs as well, especially pugs. I like to go on adventures, see new places around the world, lay in the sun to get an amazing tan and relax at home. Since I'm not a picky eater, I enjoy exploring different cultural cuisines but my go to is Italian; can't resist a good parmigiana and tiramisu. I love going to the gym as a means to release stress and feel empowered. When I go under the barbell, in that moment, nothing matters except pushing myself, the weight, and gaining strength. I strive to enhance my body but do have my setbacks when work gets overwhelming. In addition, I obviously love music. I haven't composed any of my own material, but I'm a sucker for classics. I listen and play pieces from classical composers such as Chopin, but still enjoy my upbeat everyday jams, whether its electronic, old school rock, latin or hip hop.
List any special training you have had.
Successfully completed all 10 levels in the Royal Conservatory of Music for Piano.
Honours Specialist in Music
First Aid and CPR certified
Can teach the basics of any band instrument in the orchestra
Smart Serve license
In what sports, if any, have you participated?
I love swimming, especially at tropical destinations. Every summer you will catch me swimming to cool down after tanning. I've also coached junior girls and boys in volley and basketball. I occasionally play these sports in the summer.
Name one person, other than your parents, who has had the most influence on your life. Why?
Other than my parents, my undergraduate mentors and high school teachers. They persuaded me, believed in me, guided me and had confidence in me towards succeeding in my field of study.
What is your proudest personal accomplishment (other than participating in this pageant)?
Besides graduating, my proudest accomplishment would be achieving my current teaching position and working my dream job. It is extremely difficult to become a teacher in today's day and generation. I can't begin to explain how accomplished I feel when I see my students grasping concepts, academically growing and improving as time progresses. To think that my experiences, passion and teaching style are all factors that impact today's youth will forever be my proudest accomplishment.
What is the most interesting or unique that that has ever happened to you and/or what is the most interesting thing about you?
Entering this pageant. This is my first time ever pursing something like this. My mother was the one who had the confidence in me and sent in my application on my behalf. When I received the email of acceptance, I was perplexed, speechless and excited for this once in a life time experience.
What is your career ambition and what are you doing or plan to do to accomplish that goal?
My dream was to become a music teacher. Now that I accomplished that goal, I plan on continuing to take workshops and additional qualification courses to further enhance my education.
What would be your "dream job" in life?
I believe I'm already living my dream job, however, I would love to pursue a conducting degree and position. It would be a great change to lead a full adult orchestra compared to my daily conducting role with children and adolescents.
Describe where you were raised and what your childhood was like.
I was born and raised in Toronto. As an only child, I grew up with my mother and have a wonderful relationship with her. Becoming her caregiver during my adolescent years truly gave me the understanding of maturity, responsibility and hard work at a young age. I am grateful for both her and my father, as they are the driving factors in my life that have helped me pursue my passion in music education.
List any interesting or unusual jobs you may have had.
All the jobs I have had shaped me into who I am today. I enjoyed working in retail during my undergraduate years.
List any volunteering you have done.
MS Walk
MS Bike
SOS Children's Villages
Feed It Forward
We Walk For Water
What is your most unusual talent?
I am a really good Mortal Kombat video gamer.
Where is the most interesting place you have been to?
The most interesting place I've recently been to was Rome. I love the culture, history, architecture, cuisine and fashion.
What do you hope to be doing in ten years?
In ten years, I hope to open up my own music institution. This way I get the best of both worlds by pursuing an administrative role as well as a teaching role.
Is there anything you would like to add that we haven't asked?
I would like to thank the Beauties of Canada Organization for selecting me to compete in the Miss Universe Canada 2018 competition. I hope to make my friends family and students proud.