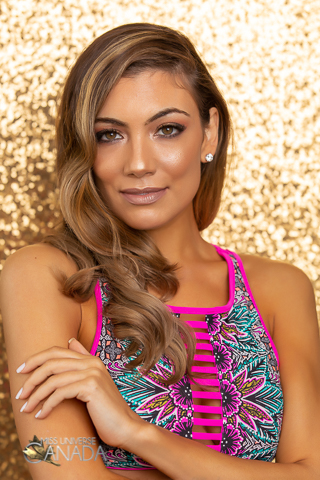 Height: 5'7
Hometown: Mississauga, ON
Languages: English
Occupation: Model
Sarah is a Canadian model born and raised in Mississauga, Ontario. She first discovered her love for modelling when she was just 10 years old, though short-lived she never felt quite done with the industry. She has had many careers since then but somehow she always had the dream of modelling in her heart. Sarah was working a corporate job when she decided to give modelling another shot. Her goal was to be signed with an agency in Toronto, and signed internationally thereafter. Not expecting things to move as quickly as they did, Sarah was signed in Toronto and within a month she was asked by an agency in Mumbai, India to fly out for a 3 month contract. She decided to take a huge leap and leave her full- time secure job to travel abroad and give her dream a proper chance. Though she was terrified of stepping outside of her comfort zone and risking a steady income she put her doubts aside and made a decision based off of faith. Since then Sarah has been modelling full-time and her last international contract was in Manila, Philippines which she just recently returned
from.
Somewhere between being signed internationally and working in Toronto she re-evaluated her goals and asked herself why she was chasing this dream and what it was that she wanted to get out of it. Of course she found modelling to be a fun job and it has allowed her to travel and gain amazing experiences. But she realized if she become a successful model that that wouldn't fulfill her on its own. She's always cared deeply about others and she realized she wanted to build a platform to be able to inspire and encourage people.
Sarah decided to focus on an issue closest to her-intentional self-development. She chose this topic because she struggled most of her life with self-esteem and lack of purpose, and she believes by sharing her story she can inspire others to radically turn their lives around just as she did.
Sarah is currently training to become a volunteer mentor with underprivileged youth through a program called StepStones For Youth. She also has workshops out on YouTube teaching others about self-improvement, emotional wellness, and life skills. Her long term goal is to have her own company as a life coach and to become an internationally known motivational speaker.
Sarah also has a background in Broadcast- Journalism and a passion for writing as well as creating documentaries. She plans to release a documentary on her personal testimony to encourage others and to write and publish her own motivational books.
Sarah gives everything one hundred percent and leaves the rest to God, she maintains that every big decision she's made has been led by God and that is what has led her to this competition.
Sponsors
Video
Q&A
What are your interests and what do you enjoy doing the most?
My interests vary from modelling, fashion and art to exercise, health, and wellness. However, I spend most of my time consumed with self-improvement. I immerse myself in motivational and self-help books, I listen to podcasts, and watch Ted Talks on these topics and I'm always interested in improving myself physically, mentally, emotionally, spiritually, and financially. I also love spending time with my parents they are my best friends and they truly enrich me with more wisdom every day.
List any special training you have had (music, art, drama, dance, etc.)
I chose to study Broadcast Journalism in post-secondary as I was drawn to the writing aspect of the field. During my studies I was trained not only to write but to produce news segments, film, edit, report, and interview. My favourite part of the course quickly became creating documentaries. I would love to start making documentaries again and incorporate that into my future career. The films would be based on confronting the pressures of beauty standards in our society as well as other societal issues, similar to the style of American Journalist Lisa Ling.
In what sports, if any, have you participated?
For most of my life I ran cross-country and participated in track and field events. I enjoyed track so much that I joined a team outside of school on the evenings and weekends. I would say my specialty was the 400 meter dash and high-jump, however I also competed in the 100 and 200 meter sprints as well as relay races. For fun my favourite sport to play is tennis which I wouldn't say that I'm great at but I really enjoy it! It's the first sport I learned to play which my Dad taught me when I was about five years old. I did try other sports when I was younger like baseball, soccer, and volleyball but I found I was better at individual sports and I stuck with my running!
Name one person, other than your parents, who has had the most influence on your life. Why?
Besides my parents, I think my biggest influence was my family friend Alice. Alice has been a close friend of my parents for many years, so I have known her for as long as I can remember. She was my greatest influence because of how she made me feel. She never judged me or anyone else, and she always seemed to understand me. When I was a child I could be shy and uncooperative, but she never tried to change me, she simply accepted me. think we all wish to feel that kind of acceptance. When I was 23 years old our friendship changed, she became a friend of mine as an adult individual, and that's when I truly started to appreciate her friendship. She influenced me because she didn't seem to have any doubts about the future, especially mine. I feel like she always saw me as the person I wanted to be and that gave me so much confidence. Alice passed away in 2015 but I know if she saw me now she would be overwhelmingly proud, she continues to influence me when I think of her.
What is your proudest personal accomplishment (other than participating in this pageant)?
My proudest accomplishment was when I lived and worked in India for nearly five months. I was working a very secure office job when I was signed in Toronto for modelling. Immediately after signing I was asked by an agency in Mumbai to fly out for a contract. I had never been to that part of the world before and I had anxiety of taking long flights, especially alone. Even though I was more terrified than I can even put into words I went anyways. I'm not going to say it was easy because I really struggled for the month, but I pushed through, stepped out of my comfort zone and actually ended up extending my contract. By the end of it I didn't want to leave and I felt like Mumbai was my second home. This is my proudest personal accomplishment because though I was more homesick than I even thought possible I still persevered. In doing this I gained a great amount of confidence and I proved to myself that I really can do anything.
What is the most interesting or unique thing that has ever happened to you and/or what is the most interesting thing about you?
I think the most interesting thing about me that people wouldn't guess is that I struggled with my self-esteem and confidence for my entire life. People may find this interesting because it's easy to assume that having a career as a model one would be confident, especially when it comes to physical beauty. But self-worth has no correlation to our physical appearance and once I was able to grasp that truth it changed everything for me. I'm now so focused on enhancing my inner beauty and I'm encouraging others to do the same.
What is your career ambition and what are you doing or plan to do to accomplish that goal?
My career ambition is to have my own business as a life coach and to eventually be known internationally as motivational speaker with my own workshops and television show. I'm passionate about teaching intentional self-development, emotional wellness, and life skills. I currently have workshops out on YouTube where my goal is to encourage and inspire others. I am also in the process of writing a book and a documentary that I plan to release on my own personal testimony to encourage others to be able to turn their lives around. I still want to continue modelling as well but I know my calling in life is to teach and help others.
What would be your "dream job" in life?
My dream job is to have a platform as a successful life coach, motivational speaker, model, journalist and advocate. I dream of being an encourager, and a role model for both men and women of all ages.
Describe where you were raised and what your childhood was like.
I was born and raised in Mississauga, Ontario and I grew up living with my Mom, Dad, and my older brother. I feel so fortunate because I have the most amazing parents I could have ever asked for. They were always so supportive of anything I've wanted to do, and they just poured love and encouragement into me every day. Despite all of this I could be a very difficult child because I was painfully shy and extremely sensitive in a way I didn't understand. I think to strangers I came across as quiet and moody, but when I was at home with my family or friends I would completely come out of my shell. My favourite thing to do was make people laugh and put on little skits or do impersonations. People who saw me when I was out in public around strangers would never believe how outgoing and funny I could be at home! I would by no means say my childhood was perfect, I struggled most of the time with my emotions since I was and still am a very sensitive person. I always felt different than others and my shyness held me back almost all of my childhood. Looking back at who I was then really made me understand who I am now and I've been rediscovering myself through my childhood.
List any interesting or unusual jobs you may have had.
I've had many jobs because I've been working since the age of fourteen. I always worked throughout high-school and college and I loved having multiple jobs at once. I've worked in hospitality, retail, grocery stores, corporate offices, television stations, golf courses, and probably some that I'm forgetting. I also worked as an Insurance broker for over four years where I was able to work from home which was amazing and very convenient! However I would still have to say the most interesting job I've had is as a brand ambassador/promotional model because you never know what's next. You won't know your schedule that week and then suddenly you are booked to work the grand opening of a hotel, or a concert of a band you love, or something completely unexpected but equally as exciting! Being your own agent and having to scout and book jobs is what makes it so fun, it's a lot of work but it's worth it.
List any volunteering you have done.
Some of the volunteer work I've done in the past consisted of working with the Red-cross, gift-wrapping around the holidays, and Breast-cancer fundraisers. I'm not sure if this is considered volunteer but I'm passionate about giving to World Vision. I have been sponsoring children from there since I was young and it's amazing to be able to communicate back and forth with your sponsored child through letters and photos and see the impact you have made on their life.
Besides that I am currently in the training program to become a one to one mentor with StepStones For Youth to help teens and young adults who have little to no support. This program is designed to keep youth off of the streets and the role of a mentor is to support the youth with goal attainment, the development of life skills, and to over-all be a friend and someone they can rely on.
What is your most unusual talent?
I'm not quite sure if this is a talent, but since I'm not traditionally good at singing or dancing I would say my biggest talent would be my empathic abilities. A few years ago I took a Strength-Finders test where you can find out your greatest strength and mine turned out to be empathy. At first I was a bit confused at how this was a strength but I learned to understand what it meant. That's also when I recognized that I was an empath which means I am a highly sensitive person who absorbs the emotions and feelings of others. The way that this translates into a talent is that I find I'm able to feel others emotions without trying and therefore can sense if they are struggling and in need of emotional support. It allows me to be there for others in need and offer my advice or more importantly to let them know someone genuinely cares. Another way this translates into a talent is in new relationships, friendships, and even in my career when I can feel the authenticity of others. I struggled with this trait for most of my life because I confused my emotions with the emotions of others but I soon learned it was actually a gift.
Where is the most interesting place you have been to?
I've been to a few places in Asia, many states in the US, South America, Europe, The Caribbean, and of course cities in Canada. But I would still have to say New York city is the most interesting place I've ever been to. I think anyone that has been to New York can agree it's difficult to put into words since New York is not just a place, it's a feeling. It's the energy you feel there, it's the characters you meet, it's the feeling of limitless opportunities.
What do you hope to be doing in ten years?
In 10 years I hope to be married and starting a family of my own. I hope to be thriving both in my career and personal life. I see myself travelling all over the world and making an impact with my organization. I believe I will have everything I've ever wanted and I'll be sharing it with the world.
Is there anything you would like to add that we haven't asked?
I had never thought to enter a beauty pageant until just last year. I was passionate about modelling and so focused on building a platform that I didn't recognize the opportunity in front of me to enter Miss Universe Canada. Last year I met a former Miss India and she was persistently asking me to join pageants. I started to ask questions about how I could get involved and shortly after I stumbled across the posting for Miss Universe Canada with just a few days left to apply. I don't think it was a coincidence that pageants came into my life and even though I've just begun this journey I feel it will play an imperative role in my future career.
No matter what happens in this competition I believe all of us women will experience such intense self-growth during this process and that in itself is worth it.