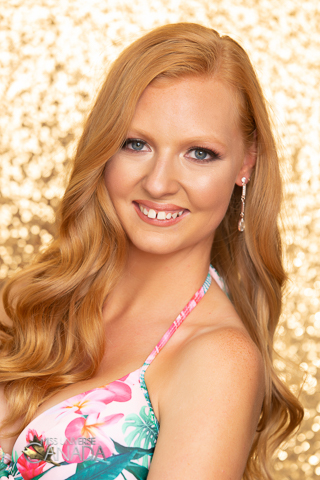 Height: 5'8
Hometown: Marwayne, AB
Languages: English
Occupation: Dance Teacher
Shania Kulczycki was born in Lloydminster Sk and lived in a small towns of Kitscoty AB and now on an acreage by Marwayne Ab. She graduated @ Kitscoty Jr/ Sr High School in 2014. She took 2 years off to teach dance and to try to find what she enjoyed the most. She is also Miss Marwayne for the 2nd year.
She is kind-hearted and caring. She is outgoing and not scared to try a new challenge that comes her way. She is always looking for ways to help out in her community and other local areas, by being on the local fire department and helping out other local events.
She is very hard working on any job and always gives 100%. She believes that all women have the same rights in the work place no matter what the position they fill. She also aims to help children even if she is not in the dance studio teaching. She is hoping to gain more self-confidence through this journey and to show that pageants are more than just beauty and glam. It's about self-worth and never gives up on ones dreams.
Shania finds most of her time dancing and teaching but she also enjoys working at her parents customizing truck shop. In 2013 she started modelling and recently was a backup person for a country band called "The Dirt Rich Band" for their new music video. She also has a passion for horses and the farm life as she owns 2 Clydesdales and a Quarter horse. She loves travelling and is looking forward to more in the future of seeing what the world has to offer, whether it be dancing (teaching or dancing herself), working and showing horses, modelling or working on a farm or customizing trucks. She has many passions and is lucky enough to be able to fit them all in at the moment.
Sponsors
Family and Friends
Video
Q&A
What are your interests and what do you enjoy doing the most?
Horse back riding, and spending time outside with family and friends
List any special training you have had (music, art, drama, dance, etc.) 
Dance and Figure Skating
In what sports, if any, have you participated?
Volleyball, Badminton, Soft ball,
Name one person, other than your parents, who has had the most influence on your life. Why? 
My sister, she has helped me though so much in my childhood and now with me growing more into my own person. She has always made sure I was safe in what I was doing and making sure I completely understood what was needed before saying yes to anything. She has also always been there for me if I just wanted to talk or had something wrong and couldn't tell anyone else.
What is your proudest personal accomplishment (other than participating in this pageant)? 
Becoming Miss Marwayne for the second year in a row and becoming a dance teacher.
What is the most interesting or unique thing that has ever happened to you and/or what is the most interesting thing about you? 
The most unique thing that has happened to me was joining the fire department in my home town.
What is your career ambition and what are you doing or plan to do to accomplish that goal? 
I'm not sure what I want for my life career. I have been keeping my options open and trying out different fields of work to make a more clear visual of my life.
What would be your "dream job" in life?
Coming a better dance teacher with my own studio
Describe where you were raised and what your childhood was like.
I was raised in a small town where everyone was close. It was a community that helped raised everyone's children. My childhood was always busy I never liked sitting around I always had to be out doing something. I always had the love and the support from all family members and friend so I could keep doing what I loved the most.
List any interesting or unusual jobs you may have had. 
Custom combining for friends during harvest.
List any volunteering you have done.
Fire and rescue
Dressed up as a princess for local street fest
Helped out at trade shows
Help with the kids in my high school
Where is the most interesting place you have been to? 
I have been to Shanghai in China for 2 weeks to dance at the tourism festival. Also been to the Olympic oval in Vancouver to dance at the championships.
What do you hope to be doing in ten years? 
Having my own farm with a family and possibly a rescue area for horses and other animals so they have another chance at a great life.
Is there anything you would like to add that we haven't asked?
I am very thankful for this opportunity since it has always been a dream, but also very proud to possibly be the next Miss Universe Canada representative.