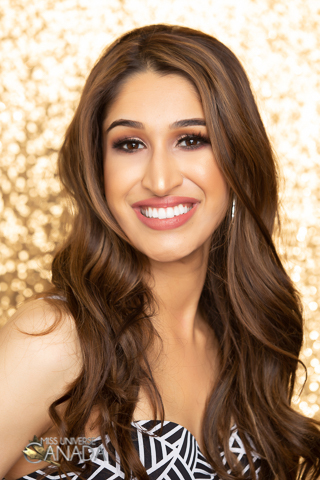 Height: 5'9
Hometown: Calgary, AB
Languages: English, Hindi, Punjabi, Urdu
Occupation: Financial Service Representative
Sheerin Hai moved to Calgary at a very young age , growing up she found herself extremely grateful to be a part of the Canadian multicultural and the profound diversity! She was able to turn her dreams into reality when she became a delegate of Miss Universe Canada. Sheerin is passionate about giving back to the community and would do so by volunteering.
Sheerin was always passionate about her career working at the bank, and had experienced varies roles of being within the bank, she now is an experienced Financial Representative. She is well known among her clients for her exceptional customer service as well as delivering outstanding performance. She is a recent business graduate, finished her studies in Business Administration – majoring in Financial Services at SAIT Polytechnic and now is determined to further advance her career in the banking world.
Sheerin strongly believes in the education system as it is a great asset to have and that is what drove her to take part in the United Way Campaign. Sheerin was determined to improve the lives of the high school drop out rates among youths , she took part in the campaign by being a mentor and also displayed this campaign at her workplace to raise awareness for this organization.
It's not just about her smile but rather her motivation, her courage and her confidence that makes her an enthusiastic individual. From an early age Sheerin was determined to accomplish everything on her own and that is what drove her to becoming successful thus far in her career. Having experience on the international pageant and being crowned Miss Culture World Canada title, Sheerin aims to accomplish her life long goal of representing Canada in the most unique way by becoming Miss Universe Canada!
Sponsors
Video
Q&A
What are your interests and what do you enjoy doing the most?
I love going on random adventures! I find myself always curious looking to find new ways to do things differently such as trying different food, exploring different parts of Alberta and just having fun. Since I was a little girl, my motto always been "Live each day like it's your last" nobody knows what will happen at any second of the day, and from that perspective I just enjoy what life has to offer! I I find that I am extremely lucky to be living in southern part of Alberta, where we have the most breath taking views of the mountains, it's just amazing to get away from the city and take an adventure to see the wilderness Alberta has to offer. I also am a big food lover, I would often try to recreate restaurant meals but I would never look at any recipes, quite surprisingly most of my recreate meals turns out well!
Apart from that I enjoy utilizing my time giving back to the community, such as volunteering as a mentor. I believe that giving youth the opportunity to reach their full potential can bring a huge difference in their life specially because they are our future, we must show them how to be confident in their ability to be successful, to not suffer from peer pressure, and stand up from bullying. It's amazing to see how much impact an individual makes on the youth and I for one am so proud to be a pat of this community!
List any special training you have had (music, art, drama, dance, etc.) 
Throughout my childhood I was passionate about art, and took art in my high school career. I enjoyed the fact that art gave me a chance to boost up my self-esteem, it is an activity with a tangible result and that result has helped in my ability to be confident.
In what sports, if any, have you participated?
Growing up I took part mostly in all sports but couple of my favorite sports were swimming, track and field, cross country running and badminton. I also participated running for a marathon for breast cancer awareness. Growing up I found that I always had the "muscular arms" because I used to love weight lifting and I always challenged myself to join weight lifting class in high school, another advantage was having long legs which made me ambitious to complete for 400M run (track and field) during my high school career.
I always enjoyed running and now it has became a part of my everyday routine, it helps me to stay healthy and fit! Apart from that I also enjoy spending my time at the gym with my personal trainer, trying to challenge myself each day and to push my limits farther. Healthy body and a proper diet are two of the most important things for me, it helps me feel great about myself and motivates me to try harder each day!
Name one person, other than your parents, who has had the most influence on your life. Why? 
Family plays a huge role in my life but apart from that one of my closest friend is my biggest influence in my life. Being able to show me the importance of following my dreams, by helping me step out of my comfort zone and helping me do something that I'd never imagined I would do. I believe he played a unique part in my life, showed me that anything can be accomplished by establishing a plan, being determined and more importantly setting reasonable goals!
What is your proudest personal accomplishment (other than participating in this pageant)? 
My personal accomplishment are that I have established a path for my career as well as I'm proud of the person I am today. I have always been ambitious about my career and for me it wasn't always a straight path as to what I wanted to become or wanted to do in life. I was managing full time school as well as work and it felt like a never ending story. There goes a lot being a full time student, from maintaining grades to working on team projects the list continues…. But for me all I did was held my head high, at times it go so overwhelming but I kept saying to myself "You can do it!", its easier said then done but having that positive thinking can really affect on your success. And being able to stay positive throughout it, I found that the thing that used to keep me motivated was my goals. I always prioritize my goals and set a plan to reach them by an expected date. Once I graduated from Sait, I felt a sense of accomplishment knowing what I wanted to do. Being a financial service representative now after varies roles in the bank is like a stepping stone into my career path, I find that helping people financially is a sense of accomplishment for me. The ability to give them financial advise, as well as to get to know them on another level is something I find fascinating.
What is the most interesting or unique thing that has ever happened to you and/or what is the most interesting thing about you? 
I concurred my fear of heights! I was always fascinated about jumping out of a plane, never did I imagine that the day I turned 18 I had signed my life away to skydive! I made a tandem skydive from 9'500 ft! It felt unreal, but amazing that I wasn't afraid of heights anymore.
What is your career ambition and what are you doing or plan to do to accomplish that goal? 
I have a passion to further my career in my banking role as a certified financial planner, throughout varies roles in my bank I am determined to see how I develop my ability to a board range of network as well as gain the clients confidence in helping them accomplish varies steps in their life. I always found my motivation in quotes, and one of my favorite quote is "If passion drives you, let reason hold the reins"- Benjamin Franklin. It is just a unique way of stating that having the passion to do what you want but also do it with a reason!
I feel in order to reach any goal in your life no matter how big or small that goal is, you need to write that goal, have a plan for it, be determined, have courage, be faithful and most importantly don't give up!
What would be your "dream job" in life?
I don't know how to categorized my "dream job" because at the end of the day it's only a part of my life, I would hope that I work hard enough to accomplish my goal to become a certified financial planner, but being optimistic I would absolutely consider establishing my own makeup brand and really use the branding opportunity to influence our youth by explaining that beauty comes from the inside and that you can look and feel good with how you define yourself as beautiful. It should be based on each individual person belief rather than feeling intimated by the social media. For me personally its something I enjoy wearing and it defines a part of who I am.
Describe where you were raised and what your childhood was like.
I came to Canada at a very young age, living in Calgary, Alberta my entire life has formed the person I am today. I love the fact that we are such a diversified multicultural country with great values and ethics. . My parents played a huge part in my childhood, they taught me great values but also such a valuable lesson of following my dreams. I always thought it was easy to get what you want, but my parents taught me to accomplish things on my own rather than being dependant on someone. I grew up knowing that in order to get what I want, I had to work for it and from a very young age I learned to do everything on my own. I always am grateful for having such great parents that pursued me to following my dreams, that have been there since day one for me.
List any interesting or unusual jobs you may have had. 
Interesting jobs that I had were that I always played a huge part in customer interaction on a daily basis, I once worked in retail selling high end merchandise clothes and I always was fascinated about how companies studied their consumers, by surveys, customer choice and specific voting.
I once was a manager of customer service at a bank when I was 22 and it got many people thinking when I mentioned my title how I ended up here so fast…I feel it was a big accomplishment for me at that age!
List any volunteering you have done.
Calgary Drop-In & Rehab Centre: Serving meals to homeless men and women, while creating a long lasting positive impact on the individuals.
Judge for Enactus Canada Regional Exposition Western Canada: Had the opportunity to meet post secondary students across the western provinces represent there business projects.
United Way Workplace Campaign Volunteer: Ran a campaign at my workplace to spread what the organization does and also successfully reached our savings target!
Additional Volunteering:
Recruiting Volunteer
Alberta Children's Hospital
Big Brothers Big Sisters
Run for the Cure
Reading buddies
Stuff a Backpack
The Art of Being a Woman
SAIT
What is your most unusual talent?
I don't know whether this would be categorized as unique or unusual but I can do squats balancing on Bosu ball and I mean not on the squishy side on the bosu ball!
Where is the most interesting place you have been to?
The most unique place I've been is Ice fields Parkway close Highway 93 North joins the hamlet of Lake Louise in Banff National Park. Growing up in Calgary I always had a passion for mountains and still enjoy the breathtaking views til this day. Its the most calm yet most beautiful place on earth, I love reading the history behind these mountains and exploring the nature Alberta has to offer!
What do you hope to be doing in ten years?
I got asked this question when I was in Junior High School, and back then I wrote to finish high school and get a job. But now being asked this question I would say accomplishing my career goals would be my biggest pursuit, at the end of the day we don't know what will happen or which direction life takes us but I know if you don't give up then reaching that goal in you life becomes easier. I would've hope to become a financial planner, build my dream home and may be purse my passion in Aviation career as being a charter pilot!
Is there anything you would like to add that we haven't asked?
Being a national delegate for Miss Universe Canada has been my greatest achievement, because I know that this experience is once in a lifetime! The one thing I would say about myself is I love to challenge myself each day and force myself to step out of my comfort zone.
I took a part in a pageant last year to see what it was like and it made me realize how much confidence I gained not to mention that I had the wonderful opportunity meeting such talented and unique people. It was a life changing event than anything else, I won the title of Miss Culture World 2017. My theory is no matter how hard something may seem at first, if you believe that you can do it , you can put yourself through anything!