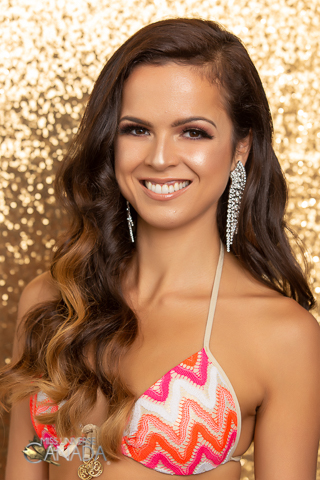 Height: 5'6
Hometown: Toronto, ON
Languages: English, French
Occupation: Public interest attorney
Yamina Sara Chekroun is an attorney and first generation immigrant of North Africa. She graduated with honors from the University of Toronto in Political Science and Sociology and holds a law degree from the City University of New York School of Law, a public interest law school dedicated to law in the service of human needs.
Yamina has worked with low-income and homeless populations since the age of sixteen, when she started as an outreach worker at a peer-led public health project in a downtown Toronto community center. Later, she served as the North American Representative of Youth RISE, an international youth-led organization dedicated to providing health care services and advocating for human rights for young people with substance abuse issues in addition to providing innovate, effective, and tailored solutions to preventing the spread of Hepatitis C and HIV/AIDS.
During her studies she spent two summers as a full time volunteer providing free legal services. She volunteered at the Door, a comprehensive youth development services center in SoHo Manhattan, where she worked with undocumented and unaccompanied immigrant youth to prove Special Juvenile Status and successfully obtained green cards for all of her young clients. Yamina also volunteered at The Drug Policy Alliance headquarters in Los Angeles, California, where she worked directly alongside the State Director in drafting proposed legislation aimed at reducing mass incarceration and promoting evidence-based policies to keep communities safe in alliance with local law enforcement agencies.
After law school, Yamina pursued her passion for social justice and landed a contract at a non-profit law firm in the South Bronx, the poorest Congressional District in the United States. As a lawyer, she represented families with children who were at risk of eviction by connecting them to life-changing social services and advocating for their rights in court. Currently, she helps young moms start their own businesses by providing them with the essential legal structures that forges their path to success.
She has travelled to the Middle East, Europe, and South America in the pursuit of learning from the beauty and wisdom of other cultures. When she is not exploring new fitness studios, practicing ballet barre or running by the water, you can find her in the kitchen cooking plant-based creations that even meat lovers adore. An avid and early investor in crypto-currencies, she keeps herself informed of developments in blockchain technology in hopes of pioneering a space for women in that emerging market.
Sponsors
Family and Friends
Video
Q&A
What are your interests and what do you enjoy doing the most?
My interests include reading non-fiction, cooking plant-based meals that even meat lovers adore, and participating in and exploring new exercises classes throughout the city.
We live in a very fortunate time and place where so much information is available to us at the tip of our fingers. I personally feel as if I have an obligation to take advantage of this privilege and as such I try to read as much about current events and other cultures as possible. I enjoy this because it gives me an opportunity to learn in a pressure-free environment.
Cooking has always been a passion of mine because it allows me to nourish my body in a way that promotes health and sustainability. I take a lot of pleasure in cooking for others because of my care-giving nature and because I think that cooking for others is an excellent opportunity to introduce them to foods they may not have otherwise considered. Plant-based cooking for me is a way to both combine and address my concerns for the environment, public health and animal welfare in the age of factory farming.
I love trying out new exercise classes. I like to challenge myself by finding new routines and new fitness methods. I enjoy it because it is a really great way to meet likeminded people, strengthen my body and explore new studios to see what they have offer!
List any special training you have had (music, art, drama, dance, etc.)
I have over a decade of guitar training and took two years of singing classes at the arts high school I attended in downtown Toronto.
In addition to this, I have also been trained in multiple harm reduction and public health strategies. This includes training in overdose prevention, crisis intervention, CPR/ First Aid and naloxone administration.
In what sports, if any, have you participated?
I was a part of soccer and basketball teams which played a large role in developing my self-confidence when it came to engaging in sport activities outside of an academic context. As a young woman, I take daily group fitness classes such as yoga, pilates and ballet barre. Although not competitive in nature, they have been great tools for cultivating discipline and commitment to personal health and well-being.
Name one person, other than your parents, who has had the most influence on your life. Why?
Barack Obama changed the way I saw myself and who I could become. While in college, I read two of his books, "The Audacity of Hope" and "Dreams from My Father". As a first-generation immigrant myself with a father from Africa and a mother from North America, I felt like I could relate to the unique challenges of a multicultural upbringing. At my age, both he and I had never gone to Africa before nor connected with what was a very important heritage. Like me, he worked as a community organizer with low-income and marginalized populations. In the books, he described how he ended up going to law school.
Despite the fact that I had always dreamt of being a lawyer, I did not personally know anyone who was a lawyer. My visions of what that meant and who was "good enough" to make it were limited. My ideas of myself were then still very limited. His dedication to making the world a fairer, more equitable place and his commitment to social leadership inspired me deeply. I thought to myself, "if he can do, then I can do- and I will". Every time I felt like I wanted to give up on my dream, I thought of how he had worked hard to achieve his dream and the immense impact that this had on the entire world.
He is a great speaker, a thoughtful advocate, and to me symbolizes the shifting nature of power towards a politics of inclusiveness. Without him as a role model, I don't think that I would have had as strong of a vision of what "somebody like me" could become.
What is your proudest personal accomplishment (other than participating in this pageant)?
Being admitted to practice law as an attorney was the hardest thing I had ever done and it is the thing I most proud of. Entwined with periods of self-doubt but overcome with a determination to succeed, I look at it as making my lifelong dream come true.
What is the most interesting or unique thing that has ever happened to you and/or what is the most interesting thing about you?
The most interest and unique things that has have ever happened to me are the conversations I have had with complete strangers on the subway who opened up to me about their lives and to whom I had the privilege of providing unexpected counselling. It is fascinating to hear people's stories of survival. I think that this is also the most interesting thing about me- my ability to connect with people immediately.
What is your career ambition and what are you doing or plan to do to accomplish that goal?
As a lawyer, it can seem like I have already reached my "career goal". However, I think they career goals are something more than just an occupation or a title. I want a career that I have played a role in shaping and which reflects my personal interests and values.
What would be your "dream job" in life?
I dream job would a private law practice where half of my time is dedicated to representing youth in the criminal justice system and the other half advocating for the humane treatment of animals.
Although these might seem like unrelated opposites, I believe that young people and nonhuman animals are vulnerable, under represented, and should receive special protections in order to preserve their rights.
Describe where you were raised and what your childhood was like.
I was raised in the east side of Toronto, in a semi-detached home that my parents renovated tirelessly throughout my childhood to make sure that my brother and I had a place that we were proud of.
My father was a street food vendor and my mom did secretarial work. During the summer, my brother and I would spend days outside with my dad, playing in corporate parks or coloring in his work van with the AC on when it got too hot outside. I spent a lot of time swimming in public pools and we took day trips to the Toronto Island where we had picnics and went to the beach. I have always loved the outdoors and the sunshine because of those early experiences.
I was bullied at school for as long as I can remember. I didn't always get invited to birthday parties. The few friends I did have changed my life and showed me what loyalty and friendship meant. I take a special concern with bullying today both in schools in the workplace because of this personal experience.
My family and I never went on a vacation because we were a working class family, but when I took my first trip at the age of 16 the degree to which I appreciated it was indescribably immense. In a way, not travelling as a child encouraged me even more to travel once I could and cultivated in me a deep appreciation for all the places I have been able to go since.
List any interesting or unusual jobs you may have had.
For four years, I worked as an outreach worker in downtown Toronto for a peer lead harm reduction project. The project was aimed at decreasing the transmission of HIV/AIDS and Hepatitis C through peer-based education and providing harm reduction trainings to at-risk youth.
Much of the work I did took place in spaces where young people were likely to engage in risky and unhealthy behavior. This included raves and festivals. It was interesting because it provided me with an opportunity to interact with the people we were trying to help in an environment that they felt comfortable and safe in which allowed us to connect with on a deeper level and thus made the work we did more effective than if it had been done in a clinical setting.
I also worked at a community health center in Bed-Stuy Brooklyn as a Hepatitis C patient navigator. The on-site outreach work I did required me to ride in a van that would stop in some of the poorest and underserved areas of Brooklyn and where we would provide free Hepatis C testing. It was challenging to be the bearer of bad news however the bright side was that I was able to connect people to essential services they needed such as lifesaving treatments and long-term care plans which meant they could live healthy lives with the disease but not die from it.
List any volunteering you have done.
Most recently I volunteered for Mercy for Animals which is an international nonprofit animal advocacy organization dedicated to preventing cruelty to animals and promoting compassionate food choices. I helped write memorandums of law in addition to phone banking in hopes of creating legislative change. For two years prior to that, I volunteered as the president of my law school's Animal Legal Defense Fund chapter. In this role I put in various free events such as panel discussions on laws affecting animals and movie screenings which served as tools to educate the public.
From 2011 to 2013 I volunteered for Youth RISE which is an international youth-led organization which envisions a world where society addresses the needs of young people who use drugs through innovate, humane, evidence-informed, harm reduction and public-health based perspectives. I served as the North American Representative and had the opportunity to present the work the organization was doing as a speaker at the AIDS 2012 conference which took place in Washington DC in front of local and global leaders.
In 2014 I volunteered at the Door in New York City, a community center for underprivileged teenagers whose mission is to empower young people to reach their potential by providing comprehensive youth development services in a diverse and caring environment. As a legal intern, I worked with undocumented immigrant youth who had come to the United States unaccompanied and needed a legal guardian in order to obtain Special Immigrant Juvenile Status. I successfully obtained green cards for the youth I worked with which had dramatic effects on their everyday lives and ability to work and go to school.
In 2015 I volunteered at the Drug Policy Alliance head office in Los Angeles California and worked directly with Lynn Lyman, the State Director, in drafting proposed legislation that would help diminish the collateral consequences of mass incarceration. I also worked on promoting evidence-based policies geared towards keeping communities safe in alliance with law enforcement agencies engaging in new methods of policing.
What is your most unusual talent?
An ability to often tell the current time down to the exact minute.
Where is the most interesting place you have been to?
The most interesting place I have ever been is "Jeita Grotto" situation near Beirut, Lebanon. It is a system of two separate, but interconnected,karstic limestone caves spanning nearly 9 kilometers. These solutional karst caves formed over millions of years due to the dissolution of limestone. The caves were inhabited in prehistoric times but not re-discovered until 1836. I visited them by boat and learned that they provide drinking water to people of that region.
What do you hope to be doing in ten years?
The most important thing in life is not where you are or what you are doing, but how you feel about it. Personal fulfilment is the key to happiness and a person that is happy is able to effectively dedicate themselves to social betterment. I hope that in ten years I am able to look back on the past decade and know that I walked through every open door, that I did my absolute best with every opportunity that was given to me, and that I never gave up or walked away when a mountain seemed too high to climb.
Is there anything you would like to add that we haven't asked?
I want every girl in Canada watching to know that they can be anyone they want to be and can do anything they want to do if they follow their passion, lead with perseverance, and find gratitude in the magic of everyday life.