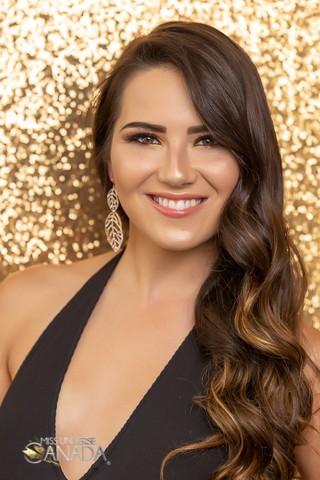 Height: 5'5
Hometown: Windsor, ON
Languages: English
Occupation: Self-employed
Powered by passion and purpose, twenty-four year old Cierra Bray is an entrepreneurship advocate, community catalyst and sustainable voyageur born and raised in Windsor, Ontario.
She is the founder of a social media marketing and event planning company called CGal Media, she is the creator of WE Rise, and entrepreneurial project which hosts quarterly events to support her city called YQG Talks and recently started another company that supports women entrepreneurs through events and workshops called Local Girl Gang Events. Cierra passionately volunteers with Girl Guides of Canada, Women's Enterprise Skills Training of Windsor, The Addolorata De Luca Leadership Scholarship, Moggy's Mission and a grass roots initiative that she recently cofounded with some friends called YQG Family Fun that hosts an annual event called Daughter Day with Dad and quarterly family events.
Cierra continues to empower youth to follow their dreams and believe that anything is possible through public speaking and mentoring. Her big goal is to provide more opportunities for all youth to learn about entrepreneurship and the skills that come along with running your own business.
Cierra has been awarded the Lieutenant Governor of Ontario Visionary Inclusive Prosperity Prize discussing entrepreneurship and education, and this fall she will be representing Canada at the G20 Young Entrepreneurs Summit in Argentina.
Her passion for entrepreneurship stems from her amazing parents who have showed her that dedication, ambition and drive is what makes you successful in life.
Cierra is incredibly grateful for the opportunity to compete in Miss Universe Canada and hopes to inspire 1 million youth to follow their dreams and know what career possibilities are available in Canada.
Sponsors
Family and Friends
Video
Q&A
What are your interests and what do you enjoy doing the most?
I love working on my businesses, volunteering, mentoring and helping my community. When I'm not busy working on my career or helping others, I love kayaking, biking and cooking vegan food. I also love to shop local and support artisans.
List any special training you have had (music, art, drama, dance, etc.)
4 years of dramatic arts and vocal training.
Public Relations Diploma
In what sports, if any, have you participated?
I used to figure skate & was on a bowling league.
Name one person, other than your parents, who has had the most influence on your life. Why?
One influential person I look up to is Sophia Amoruso, the founder of Nasty Gal and the #girlboss movement. I look up to her because she is extremely successful and started her career the way she wanted to. She is empowering, motivating, inspiring and isn't afraid to be different. She also hosts events that empower women to start their own business and/or figure out how they can land their perfect dream job.
What is your proudest personal accomplishment (other than participating in this pageant)?
My proudest moment is finding out that I will be representing Canada at the G20 Young Entrepreneurs Alliance Summit this fall in Argentina.
What is the most interesting or unique thing that has ever happened to you and/or what is the most interesting thing about you?
The most interesting and unique thing about me is the I founded 4 organizations and grass roots initiatives in the last two years. I think the most interesting thing about my is that I'm very passionate about entrepreneurship and education and just want to help so many people because I genuinely care.
What is your career ambition and what are you doing or plan to do to accomplish that goal?
My next big goals I'm visualizing myself accomplish is to finish writing a book and tour around the world helping youth and inspiring them to do what they love and are passionate about.
What would be your "dream job" in life?
I already have my dream job, I'm an entrepreneur.
Describe where you were raised and what your childhood was like.
I was raised in Windsor, Ontario. I had a wonderful childhood because I was encouraged to be creative, innovative and also was empowered to work hard for the things that I want. I always had entrepreneurship in my blood thanks to my parents, and kept very busy as a kid. I sold lemonade, cookie dough, girl guide cookies, and was a leader in my community and school. I was a part of safety patrol, bus and lunch monitoring and reading buddies. I was bullied a lot but these activities made me so happy and I loved helping others. This mentality I had as a young kid grew with me and now I try to help as many people as I can in my community and I'm ready to help Canadians nationally.
List any interesting or unusual jobs you may have had.
The most unusual job(s) I had were at hardware stores, I worked at 3 different companies. Most customers who came in assumed I didn't know anything about my department but I always proved them wrong. I sold lawn mowers, bbqs, grass seed, flowers, outdoor furniture and patio stones.
List any volunteering you have done.
I've been volunteering for many years, in the last two years I have done the following:
Leader with Girl Guides of Canada
Speaker and Coordinator at Women Enterprise Skills and Training of Windsor
Event Planner at the Addolorata De Luca Leadership Scholarship
PR and Event planner at YQG Family Fun
Volunteer at Moggys Mission
Model in the Windsor Fashion Festival
Speaker with Enactus of Windsor
Mentoring 4 entrepreneurs in the community
What is your most unusual talent?
I have monkey feet and can pick a lot of things up with them.
Where is the most interesting place you have been to?
My amazing dad took me to Europe in 2016 for graduating college after dropping out twice (none of my family went to college because they are all entrepreneurs) and my favourite place was Barcelona. The culture, food, weather was just perfect.
What do you hope to be doing in ten years?
Traveling the world with my family and speaking at large conferences, inspiring and empowering youth.
Is there anything you would like to add that we haven't asked?
Education and entrepreneurship is my passion. I live, eat and breath it.
My other growing passion is being more eco friendly and sustainable. I realized in January that we can make quite the impact if we choose different products and come prepared when we got out to certain places. I've learned a lot lately about how things are made and how we can continue to live our awesome lives and not be so harsh on our planet.