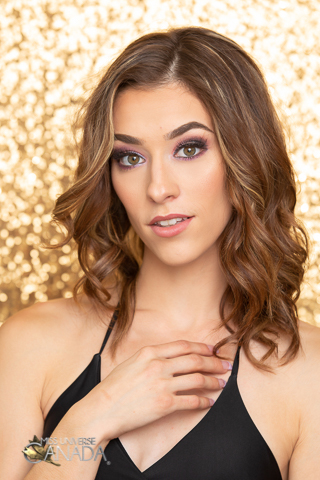 Height: 5'6
Hometown: , ON
Languages: English
Occupation: Student at Vancouver Island University (Tourism Management)
Gina was born in the beautiful Okanagan Valley and grew up in it's "warmest welcome" a small town called Osoyoos.
Eight months out of the year you can find Gina on Vancouver Island where she is currently enrolled in her third year of Tourism Management at the Vancouver Island University.
Some of her summer hobbies include challenging new hikes, playing beach volleyball, stand up paddling and surf boarding. During the winter, Gina enjoys snowboarding and trying as many new teas as possible.
The reason why she decided to run for the Miss Universe Canada was to try something new, something that will help her to make difference not just in her community but nationally. This pageant represents women who are trying to make a difference not only for themselves but for the world.
The Miss Universe Canada pageant works with and supports multiple charities and that's what sparked her interest to become part of the Miss Universe Canada Pageant.
Gina is excited to be part of this experience and cannot wait to meet all these other beautiful ladies from all over Canada!
Sponsors
Family and Friends
Video
Q&A
What are your interests and what do you enjoy doing the most?
Hiking, snowboard, surfing and volleyball.
List any special training you have had (music, art, drama, dance, etc.) 
Drama and Dance
In what sports, if any, have you participated?
Volleyball, Snowboarding, Baseball and Surfing
Name one person, other than your parents, who has had the most influence on your life. Why?
Andy Chantel – she is my role model and fashion icon.
What is your proudest personal accomplishment (other than participating in this pageant)? 
School
What is the most interesting or unique thing that has ever happened to you and/or what is the most interesting thing about you? 
I have traveled to five provinces as well as travelling around B.C.
What is your career ambition and what are you doing or plan to do to accomplish that goal?
Urban Planner. I am currently studying Tourism management at the Vancouver Island University.
What would be your "dream job" in life?
Planning events.
List any interesting or unusual jobs you may have had. 
Residents advisor at Vancouver University
List any volunteering you have done.
Osoyoos Ambassador Program, SPCA and Qualiaum Beach Family Day
What is your most unusual talent?
I can lick my elbow.
Where is the most interesting place you have been to?
Las Vegas
What do you hope to be doing in ten years?
Planning Events