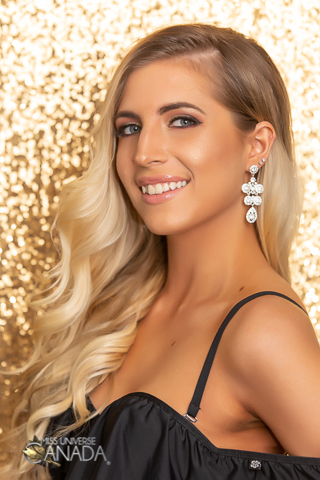 Height: 5'7
Hometown: Tecumseh, ON
Languages: English
Occupation: Student at St Clair College (Social Work in Gerontology)
Kallie Szarka is proudly from Tecumseh, Ontario and has lived there for her entire life. Kallie is 23 years old and is an energetic, caring, and outgoing St. Clair College alumni with a Diploma in Travel and Tourism and a Certificate in Office Administration.
Kallie takes pleasure in numerous hobbies like keeping fit, spending time with family and friends, scrapbooking and many more but ultimately, she loves giving back by volunteering amongst her community in her spare time. In the past she has volunteered for many organizations including the Heart and Stroke Foundation, Sick Kids Foundation, the Alzheimer's Society, Hospice, Make a Wish Foundation, the Windsor/Essex Humane Society and many more.
However, an immense part of her volunteering has been at the Village of Aspen Lake, a nursing home located in Tecumseh. Kallie believes elder wisdom is something that should be celebrated and understood by all because there is so much they can teach us. Each and every resident she has met, has made some sort of difference in her life.
Through volunteering at Aspen Lake she has become so passionate about giving back and impacting the residents lives that she has decided to go back to school to be a Social Service Worker in Gerontology.
Kallie loves making a difference in her community and hopes that Miss Universe Canada will help take her involvement to the next level.
Ultimately, Kallie believes she has all of the qualities that would make an amazing role model such as confidence, ambition, dependability, kind-hearted, hard working, and compassionate; and is ready to take on the honour of having the title of Miss Universe Canada.
Sponsors
Video
Q&A
What are your interests and what do you enjoy doing the most?
My interests include volunteering, spending time with my family and friends and staying fit and healthy. What I enjoy the most aside from spending time with family and friends would be volunteering, I love giving back especially to my own community and knowing that you're helping someone in need.
List any special training you have had (music, art, drama, dance, etc.) 
I've always enjoyed singing since I was a young girl, I was in the Saint Anne's High School choir, we traveled to Florida to perform at Downtown Disney and I still have a passion for it to this day.
In what sports, if any, have you participated?
I love watching sports, however I do not participate in any. I do love working out and staying active though.
Name one person, other than your parents, who has had the most influence on your life. Why? 
One person who has had a big influence on me has been Chelsae Durocher Miss Universe Canada 2011. I have had the honour of being trained by her before entering this pageant, she is one of the most confident, radiant, inspiring woman I have ever met. I look up to her like a big sister, and I am so happy to have had the chance to get to know her.
What is your proudest personal accomplishment (other than participating in this pageant)? 
My proudest personal accomplishment would be overcoming being bullied over a birthmark I had removed from my face. It takes a lot of mental strength and courage to move past something like that and to not let it affect you and your outlook on life. I made the decision to get it removed, and I think if women want to get cosmetic surgery to improve their confidence, they shouldn't be judged for it.
What is your career ambition and what are you doing or plan to do to accomplish that goal? 
One day I hope to be graduated from Social Work in Gerontology and working in health care at a nursing home. I believe that a persons' life is not over just because they are in a nursing home, and that they still deserve a quality life and definitely deserve our respect, because they are human beings too. What I plan to do to accomplish that goal would be doing what I do now as a current volunteer; spreading positivity to every resident I come in contact with and make sure their needs are taken care of.
What would be your "dream job" in life?
My dream job would be moving from volunteer to employee at the nursing home I currently volunteer at in my spare time, I would love to keep spreading positivity and improve the quality of life of the residents.
Describe where you were raised and what your childhood was like.  
I was born and raised in Tecumseh, Ontario. My childhood was filled with happy memories. When I was younger you could always find me with mother, I went everywhere she went. At the times I wasn't with her, I was with my two older sisters. These three women taught me so much about being confident, loving yourself, and not stressing about things I couldn't change in life.
List any interesting or unusual jobs you may have had. 
Last summer, we had a terrible flood happen in our community. I got a temporary job with a restoration company to help pitch in and help when my town needed help the most. I never thought I'd do any kind of demolition job where I'd get my hands dirty and have to buy a pair of steel toe shoes. It was a very interesting learning experience.
List any volunteering you have done.
I started volunteering when I was in high school, as a youth leader at our local church youth group. After high school, I got an internship at Walt Disney World, through that I had the opportunity to volunteer for the Make a Wish Foundation as well as the Give Kids the World Village. These experiences made me want to get more involved in my own community when I got back home from Florida. So I started volunteering at numerous events and with many different charities such as; the annual Transition to Betterness Gala, the annual triathlons for Hospice, the annual Corn Festival, the annual Miss Tecumseh charity of choice fundraisers(in the past they have supported the Sick Kids Foundation, the Alzheimer's Society, and Transition to Betterness), the annual Terry Fox run, the annual Princess ball supporting Cystic Fibrosis, the annual run for the cure supporting breast cancer research, I sold newspapers supporting Goodfellows Windsor, I was the mascot for the Heart and Stroke Foundation and also helped out at many different events they held, I currently volunteer once or twice a week at the Windsor/Essex Humane Society, and at a local nursing home.
What is your most unusual talent?
I would say my volunteering is unusual because many people nowadays do not have the compassion and selflessness to give up their days off to work for free. I love it, and it has become such a big part of my life to the point where some people do judge me for it and for being "too busy", but I think as long as I'm helping someone or something, my time is not wasted.
Where is the most interesting place you have been to? 
The most interesting place I've been to would be Athens, Greece. Learning about Greek history and going to the Acropolis museum as well as walking all the way to the top of the mountain where Acropolis sits was amazing. As well as experiencing their culture and their food was life changing.
What do you hope to be doing in ten years? 
In ten years I hope to still be working in the health care field at a nursing home, still actively volunteering in my community, have many more countries hopefully crossed off my bucket list, and still setting new goals for myself every day. I think as long as I am content wherever I end up, I'll count myself as lucky.
Is there anything you would like to add that we haven't asked?
I am so happy to be a part of this pageant. Previous pageants have brought me so much confidence, friends, and opportunities, I am so excited to see what Miss Universe Canada has to offer. As well as have the chance to represent my amazing country and to influence the youth of today in a positive way.