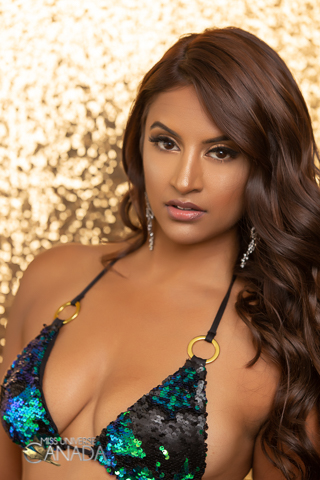 Height: 5'8
Hometown: Toronto, ON
Languages: English
Occupation: Student at York University
Priiya Singh was born and raised in Toronto, Ontario. She is very much a proud Canadian however is not shy to indulge in the vivacious festivities of her West Indian culture. She grew up with a large beautiful family that has always loved and supported her in every way.
Ever since she could remember, Priiya lives by the quote "Beauty may be dangerous but intelligence is lethal." She is a recent graduate in Business Management specializing in Fashion Management and strongly believes that constant learning is a necessity to her everyday life. Priiya plans on re-attending university to start her journey to becoming a paediatrician. She aspires to join forces with "Doctors without Boarders" to help those who may not otherwise receive the medical attention they need and deserve.
Priiya lives for adventure, adrenaline and lifelong memories! In accordance, she loves trotting the globe and seeking out the most ridiculous (most times dangerous) activities one can find. "Everything starts with some external stimulus which, like a liquid, penetrates and evolves in my mind. I start to create something which then continues to create itself. " Priiya engulfs herself in all creative aspects of life, however relishes in culinary. She find the excitement of experimentation completely satisfying.
Life can be so short that every moment should be beautiful and captured in the fullest. Priiya strongly affirms that anyone is capable of anything; one should never look back and regret any mistakes, decisions or learning curves. It's those mistakes that build an individual's character and morals, which evolves them into imperfectly flawless people.
Sponsors
Video
Q&A
What are your interests and what do you enjoy doing the most?
Growing up I was surrounded by so many amazing influencers; from my Mom, to my Grandmother, to my sisters and brothers, and a whole pack of cousins. This lead to a diversity of interests such as cooking, fashion and design, photography, kickboxing and fitness. However, naturally I love to seek out new opportunities for adrenaline, adventure and discovery. My parents raised me to appreciate and celebrate everyones differences as well as to travel down the path less ventured. The combination of both these qualities lead to falling in love with travel and culture. I love to immerse myself in new places and soak in all the different sites, cuisines, culture, and music. I find this so liberating and mentally stimulating which is extremely important to me as it empowers me to continue being confidently beautiful.
List any special training you have had (music, art, drama, dance, etc.)
Since the age of four, I was enrolled in traditional Indian/Bollywood style dance. From my first time stepping foot on stage, I established a comfort allowing myself to be vulnerable which further helped me develop my performance ability as well as catalyzed my self confidence. I am a graduate in Classical Odissi style dance and continue to passionately love dance!
Name one person, other than your parents, who has had the most influence on your life. Why?
The most influential person in my life, alongside from my Mom and sisters, has been my grandmother. She has been my rock when I feel defeated and has never allowed me to give up on my dreams and ambitions, regardless of how high in the stars they are. She has triumphed through her own adventures with her head held up and has been the glue to our very large family. Her ability to guide anyone from dark to the light is incredible. I aspire everyday just to be as half as strong and intellectual as she is. I will always look up to her as my hero.
What is your proudest personal accomplishment (other than participating in this pageant)?
My proudest personal accomplishment was discovering my true self. Happiness can be a challenging concept to grasp. It took the loss of everything I thought defined myself and created my happiness to truly realize that I didn't really know myself very well at all. When I began to pick up the pieces, I reflected on the things that I thought would make me happy. I may not be able to do those exact things, but once I knew what those true desires were, I expanded my thinking and began to develop a plan to work towards goals I may have never imagined possible. I then became limitless and unstoppable which is an accomplishment in itself.
What is the most interesting or unique thing that has ever happened to you and/or what is the most interesting thing about you?
The most interesting thing about me is my passion for the search of excellence in a broad range of endeavours. I have been solely blessed with the opportunities thus far to achieve some of my wildest dreams. It is my biggest goal in life, to become a renaissance woman and inspire other women to do the same. I have been given the opportunities to model worldwide, culinary training in Italy, explore my passion for photography, and become well on my way to being firearm licensed. I believe we can achieve anything we put our minds to, regardless of the title or career you may already have. Who says your dreams have a limit?
What is your career ambition and what are you doing or plan to do to accomplish that goal?
My goal is to ensure the legacy I create constitutes empowerment to women and leaves a lasting positive impact on the world. I have always found the greatest joy in helping others achieve their goals, reach their maximum potential or just simply finding a smile. This drew me to exploring options where I can maximize my efforts. Growing up in such a large family as my own, you were always surrounded by incredible people from all walks of life, however I have always been weak for the babies and toddlers. This fascination lead to my curiosity in the fundamentals of child development. I plan to have my own practise as a paediatrician that incorporates the importance and enjoyment of making healthier choices, staying active and giving back to the world.
What would be your "dream job" in life?
My dream job in life is more of the impact I leave behind as opposed to a title. I would love to empower the up and coming generations to create a future for our world that consists of kindness, the courage to be anything they want despite what old societal rules my entail, lastly the importance of community and family.
Describe where you were raised and what your childhood was like.
My childhood turned out to be everything I would have ever wanted it to be considering the unfortunate turn of events. My father passed away when I was four from a heart attack, leaving my mother with three young girls to take care of. Throughout my childhood, two strong and smart women (my mother and grandmother) taught me how to stand on my own two feet. They spoiled me with the best things in life, such as travelling to many remote countries, teaching me how to cook, supporting every dance recital and being there to just love me. My childhood is filled with sweet unforgettable memories and lessons that make me who I am today.
List any interesting or unusual jobs you may have had.
All the jobs I have had thus far, have been so crucial to determining and building the confident and strong woman I am today. I have always had so much fun and enjoyed the multiple establishments I have been employed, from The Royal Bank of Canada to Marciano Clothing to Jackastor's Bar and Grill. However the most interesting, was Supervising at Jackastor's in Vaughan. I had the wonderful opportunity to meet so many amazing guests, plan patio parties, giveback to the community and help lead everyone to greatness. I give so much praise to the entire team for their continuous effort to create an unforgettable experience for all employees and it was absolute honour to help manage the team.
List any volunteering you have done.
Volunteering can sometimes be viewed as an entirely selfless act, with the assumption that you're sacrificing your time and resources to help others without any benefit to yourself. But, as many of us know by now, this is far from the truth. Although our primary goal through volunteering may be to help others, we also know that the experience feels awesome!
Just to name a few I have volunteered at:
Golden Age (Senior's Club)
St. Mary's Church – Soup Kitchen
Million Dollar Smiles
Princess Margaret Fashion Shows
Sick Kids Foundation
Operation Smile
Scotiabank Walk for Aids
Canadian Cancer Society
Free the Children
What is your most unusual talent?
My most unusual talent is signing my name upside down in cursive. As a child being left handed, I could never figure out how to write comfortably until one day I decided to turn the page upside. The rest is history!
Where is the most interesting place you have been to?
The most interesting place I have been to so far is Italy. I was absolutely memorized by the culture, history, art and of course the food and wine. Italy is so majestic in that each region has a distinct opposing lifestyles to the other. Rome I would classify as a journey into the past in an organized chaos fashion. However Tuscany is so relaxing and laid back ; I often described it as stepping foot into your favourite Disney fairytale as every direction you look is covered in old stone chateau's and beautiful floral landscaping.
My happy place nonetheless is known as one of the most beautiful itineraries in Italy: the Costiera Amalfitana (the Amalfi Coast). The blue of the sea, the green of the Mediterranean maquis and the hues of citrus fruits spreading out over terraced cultivations blended with typical Italian architecture. This place is absolute perfection!
What do you hope to be doing in ten years?
In ten years, I hope to keep living my best life and exploring the beautiful wonders of the world. As the future is composed of an unpredictable nature, I hope that I would be able to join forces with "Doctors without Boarders" and contribute my abilities to servicing those who can not otherwise receive the treatment they require and deserve. I strongly believe that anything is possible in the future when the right preparation meets opportunity and fight.
Is there anything you would like to add that we haven't asked?
I have failed many times, however what is success without failure? Failure allows you to elevate your thoughts, being and entire persona which allows you to learn and strive to be the best person you can be. As many of the beautiful women competing in MUC 2018 have discovered : a woman who has overcome many fears, is able to empower other women to overcome their fears. Congratulations to all the amazing women competing tonight, it was truly an honour just to be in a room filled with so much promise, empowerment, success and role models.