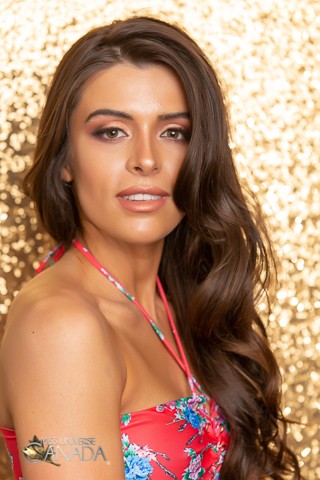 Height: 5'8
Hometown: Lakeshore, ON
Languages: English
Occupation: Student at University of Windsor (Business)
Sara Pizzicaroli is 21 years old and born and raised in Windsor, Ontario. She is a public relations and marketing graduate and is currently working towards receiving a business degree from the University of Windsor. Sara is a well-travelled model, entrepreneur and the current Miss Swimsuit Canada. Sara is passionate about pursuing a career in the fashion and modelling industry and enjoys every aspect of what the industry has to offer. By applying her knowledge in marketing and business, Sara has been able to build her brand and is continually working on new projects with local and international businesses. Everyone who meets Sara notices how truly genuine and honest she is.
Described as a warm and joyful personality, Sara allows everyone around her feel her positive energy and would say she is a kind hearted, resilient and ambitious young woman. She is passionate about influencing those around her to believe that they can accomplish anything in this lifetime and to channel their energies to pursuing a life that they love. Sara wants to use her platform to inspire not only youth, but all of her peers that with determination and hard work, nothing is unattainable for them.
Sponsors
Elle Couture
,
Movement Health
,
T-ERA Cosmetics
,
Dry Parlour
,
Jacobs Boutique
,
Heathers Tangled Threads
,
Shayenna Nolan Photography
,
Tina Bablusha Makeup
,
Shop My Clementine
,
Maison Pascale Swim
, Family and Friends
Video
Q&A
What are your interests and what do you enjoy doing the most?
I believe making a difference in the world, even if it's for just one person, is what brings me the most enjoyment .I am constantly trying to educate myself of things I do not understand or have not experienced in my 21 years. There's an enormous world where people of all walks of life experience various struggles and achievements. I venture in my lifetime to sympathize and celebrate with others to gain intellectual knowledge.
I believe part of our beauty as people is to appreciate each individuals existence in this great world and I enjoy learning about people and what makes us all so different and unique.
List any special training you have had (music, art, drama, dance, etc.)
Through out my childhood, I was always involved in public speaking competitions and was trained on speaking confidently in front of a crowd. I have never had formal training in music, but it is a huge part of my life and who I am.
In what sports, if any, have you participated?
Throughout my life, sports always played a very significant role in my life. I began playing competitive sports from a very young age. Throughout my childhood and into my late teens, sports consumed most of my time. I started gymnastics at 3 and a half years old and played every sport that I could. From soccer to triathlons to volleyball, I tried it. My main focus and love was for basketball. The teams I played on were very successful and we won many many championships throughout the years. I was planning on playing college basketball but my interests began to shift with age and I wanted to experience new things aside from sports. Though i don't play sports anymore, physical fitness and activity still plays a tremendous role in my life.
I credit my involvement in sports to my resilience, strong work ethic and ability to overcome failure and conquer challenges.
Name one person, other than your parents, who has had the most influence on your life. Why?
One person that has been extremely influential in my life was my high school english teacher Mrs. Cavallin. To me, she is the epitome of what it means to be a beautiful person. Her warmth and positive energy is so radiant and contagious. She speaks with such kindness in her voice and is respected by of all of her students, peers, and especially myself. She truly cares about the well being of others and to bettering the lives of those around her. The biggest realization I her influence caused me to have is the importance of not only being a good person, but being good to the people around me. I learned from her that you never know the impact your actions can have on a person, whether they are big or small. And just like she did to me,everyone has the ability to better the lives of those around them.
What is your proudest personal accomplishment (other than participating in this pageant)?
It is difficult for me to choose a specific accomplishment in my life that stands out amongst the rest. i feel that the accomplishments i am proud of are all so unique and significant to my life in their own way. Each major accomplishment has brought me a great feeling of reward and pride but there is a very recent one that was extremely special to me. I attended a model search and was told by someone who was very influential to me that I wasn't going to have a modelling career because I was over weight. Standing 5'8 and a size 4, it was not only a very confusing but overly hurtful thing to be told. Two months after that experience I competed for the title of Miss Swimsuit (SUSA) Canada, and I won. I felt so empowered when I won because I didn't allow someone opinion and negativity stop me from believing myself and reaching my goal.
What is your career ambition and what are you doing or plan to do to accomplish that goal?
I always looked up to my Auntie Judy who was a model and an extremely beautiful person inside and out. Ten years ago, she was diagnosed with breast cancer. Though the illness had such a huge affect on her appearance, she still remained so beautiful as nothing, not even cancer, could dim her beauty that shined from within. Though she has now passed, she inspires me to follow my dreams and pursue a career in the modelling industry. I plan on accomplishing that by continuing to work hard, stay focused and let nothing deter me from my goals.
What would be your "dream job" in life?
My dream job is to be a model and advocate with the ability to influence and create change like Ashley Graham has. She has truly sparked a change in the way all body types are accepted and represented in society. She teaches young woman to love themselves and is a huge contributor to the success of the body positive movement. Having a job that would allow all of my passions to be aligned would be a dream for me.
Describe where you were raised and what your childhood was like.
I was raised in very close knit community in a small town 20 minutes outside of Windsor called Lakeshore. I was fortunate to have a very enjoyable and memorable childhood. I was a very energetic and curious child. I was always encouraged to take risks and make decisions on my own. I was raised to be adventurous and use my imagination. I was able to enjoy the simple pleasures of being a kid and I am grateful to have been able to grow up that way.
List any interesting or unusual jobs you may have had.
When I was 8 years old, I had my first job delivering news papers. My sister and I would deliver the news paper to houses in my neighbourhood every Friday morning. Though my mom came as a chaperone because we were young, having that job made me feel a sense of purpose and taught me responsibility and a strong work ethic from a young age. Rain or shine, there was no way our papers wouldn't be delivered!
List any volunteering you have done.
Windsor Police Foundation Summer Picnic volunteer (5 years)
Windsor Symphony Orchestra Non Profit Fashion Show model (15 years)
Windsor Fire Fighter Santa Claus Christmas Parade volunteer (5 years)
Camp Leader in Muskoka Woods for youth
Event Coordinator for Operation Smile charity event
Planned and coordinated multiple charity events as Vice President (and then the following year Co-President) of St Clair College's Public Relations Team with charities such as Royal Canadian Legion, Up About Down and the Women's Downtown Shelter.
Volunteered to help at events with multiple local charities such as Transition to Betterness and Stuff the Bus
Volunteered as a model for multiple charity fashion shows and galas
Founder of Level Playing Field , a non-profit charity for underprivileged children
Volunteered my time to referee youth basketball games and tournaments
What is your most unusual talent?
I can walk on my toes like a ballerina even though I have never taken a ballet class.
Where is the most interesting place you have been to?
The most interesting place that I have ever visited is the 9/11 museum in New York City. The reason it had such an impact on me is because it really showed me how precious life is and that it is not something that should ever be taken for granted. Seeing the faces of those who lost their lives at the memorial and reading their stories truly opened my eyes. I am a firm believer that we all have a purpose in life and visiting the memorial allowed me to further appreciate life and to never take it for granted. Life can change at any given moment and we should always remember to live each new day with passion, intention and love.
What do you hope to be doing in ten years?
In ten years I hope be in a career and living a life that makes me feel truly fulfilled and happy. Ten years is such a long time, and there are endless possibilities for my path to change. Doors will open and doors will close; I can't predict the future, nor would I ever want to. All I know is that I will not travel the path of least resistance, and I trust that my passion and zest for life will lead me in the right direction. I know that in ten years, I will be exactly where Im supposed to be on my path in life.
Is there anything you would like to add that we haven't asked?
I am passionate about influencing everyone around me to believe that they can accomplish anything in this lifetime and to channel their energies to pursuing a life that they love. I want to use my platform to inspire not only youth, but all of my peers that with determination and hard work, nothing is unattainable for them.