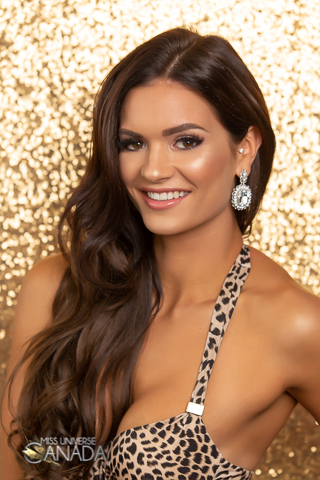 Height: 5'7
Hometown: Windsor, ON
Languages: English
Occupation: Student at OREA College (Real Estate)
Tessa Johnston is 22 years old and of the Italian descent. She was born and raised in the very diverse city of Windsor, Ontario, which has greatly impacted Tessa's passion to learn and experience other cultures.
Tessa completed two years at the University of Windsor finishing with a minor in Spanish, and is now pursuing the career of Real Estate.
Tessa's greatest passion in life is volunteering and giving back not only to her community in Windsor, but also around the world in third world countries. She has volunteered for over 8 charities in Windsor, and has led 4 international volunteer trips overseas to Latin and South America. On these trips Tessa's eyes were opened to the conditions and lives of those in third world countries, and this pushed her to help as much as she could. On these trips Tessa led and helped to build 4 schools and housing for teachers to increase the access to education for children in poverty. She also learned to live with more compassion, generosity, and happiness.
Tessa is very active in the fitness industry and includes fitness workouts into her every day life. As a registered yoga teacher Tessa also gives back by volunteering with a local organization in Windsor to teach yoga to young girls at risk for losing fitness or do not have the funds to do so. She can also be found helping people stretch in classes, or before her workouts at her local Crossfit gym which she attends every day.
Tessa's passion for pageants began when she was 16 and competed for the first time in Miss Teen Ontario. Although she did not place this did not stop her and she has since placed top 10 at Miss Globe Canada, 1st runner up at Miss Via Italia, and top 5 at Miss Universe Canada Western Ontario.
Tessa is described as a strong leader who exhibits an open mind and will always put her best effort forward. She strives to live a well-balanced life between work, fitness, family, and giving back.
Sponsors
Manal Hage Beauty Lounge
, Beautiful Lengths by Alex, My Beauty Room, Jacobs Boutique,
Vasiliki Collections
, Closet Cravings,
Eddy's Mediterranean Bistro
,
Nanci Johnston Real Estate
, Porrone Construction – Mary and Pino Porrone, Sidney Omorodion CIBC Mobile Mortgage Advisor,
Xaco Taco
, Dave Fischer Photography, Family and Friends
Video
Q&A
What are your interests and what do you enjoy doing the most?
My biggest interest is travelling the world. Through my travelling I have been able to experience new cultures, customs, and ways of living, whether it is through the lens of a third world country or first world country. This has opened my eyes and my heart to continue venturing around the world to reach every continent, and truly get to feel what living in this world is like.
I also enjoy volunteering and giving back to communities and people who are less fortunate than I am. Since I was a young girl I began volunteering for local charities including the Kidney Foundation, and Transition to Betterness, but as I got older I wanted to have a bigger hand so I began volunteering for SOS – Students Offering Support at the University of Windsor. I participated and led 4 international volunteer trips to help ease the access to education and improve the quality of living and this is where my passion blossomed.
In what sports, if any, have you participated?
I have been active and involved in sports ever since I was a young girl! Through grade school and high school I played travel basketball, baseball, and volleyball! I was then recruited to play travel beach volleyball in London where I played for 4 year and won many tournaments and titles along the way.
When I ended my travel sports I looked for new ventures and came across yoga and Crossfit. I fell deeply in love with yoga and was awarded a scholarship in my community to complete a 200-hour yoga teacher training! Currently I Crossfit 6 days a week, compete in Crossfit competitions, and also practice and teach yoga!
What is your proudest personal accomplishment (other than participating in this pageant)?
My proudest personal accomplishment would be in 2016 being picked as 1 of 3 people in all of North America by TOMS Shoes to work with them on an international giving trip. I was required to submit a video explaining the volunteer work I have completed and what the giving trip would mean to me, and a week later I was chosen! On this trip we visited Honduras for 1 week where we visited 5 schools and 1 orphanage to donate TOMS' shoes. We gave out 5000+ shoes to young children so they can have protection against diseases and injuries to their feet.
What is your career ambition and what are you doing or plan to do to accomplish that goal?
My career ambition and goal is to become a top producing real estate agent in my area making the Top 30 Under 30 list! My plan to accomplish this goal is to become a registered and working agent by Summer 2019, which will give me 7 years to work hard and build my career to get to the top of the list! I will use my social skills, dedication, and technology to work my way to success.
List any volunteering you have done.
Students Offering Support
2014 – Volunteer trip for 3 weeks in Nicaragua
2015 – Volunteer trip leader for 3 weeks in Bolivia
2016 – Volunteer trip for 1 week in Honduras
2017 – Volunteer trip for 3 weeks in Nicaragua
International Children's Games
2013 – Volunteer Coordinator
2014 – Game's Volunteer
LAWS Windsor
2017 – Volunteer yoga teacher
2018 – Volunteer yoga teacher
Transition to Betterness
2015 – Gala volunteer
2016 – Gala volunteer
Where is the most interesting place you have been to?
The most interesting place I have ever been is Iceland. During their summer months they experience midnight sun where there is daylight for 24 hours! Not only this but Iceland displays both hills of volcanic lava rocks, to frozen icy tundra. You can catch the stunning displays of the aurora borealis or bathe in the lush hot springs at Blue Lagoon. The experiences and uniqueness of Iceland make it the most interesting place I have visited!
Is there anything you would like to add that we haven't asked?
I would like to thank everyone who helped and got me to this point! My amazing sponsors, family, friends, the Miss Universe Canada Western Ontario Pageant, Sonny and Chelsea, and of course Denis and the entire Miss Universe Canada production.
In the Media