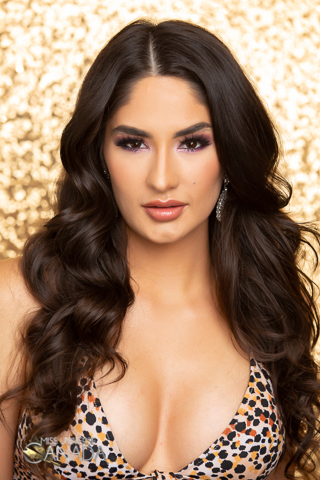 Height: 5'7
Hometown: Edmonton, AB
Languages: English
Occupation: TV Show Host & Project Manager
Keep your eyes on this beauty! Vanessa Chauhan is a TV show host, commercial and print model, award winning humanitarian, fitness enthusiast, and an ambassador for the United Na-tions Association of Canada. Graduating with a Bachelor of Commerce degree, her resume has far exceeded her expectations!
For her humanitarian work and global volunteerism, her mayor and city council awarded her the prestigious Citizen Recognition Award. Noting her passion for numerous causes and charities, work in the community and for helping Fort McMurray evacuees like herself during the 2016 wildfire. Recently she has been nominated for the Volunteer Medal Award from the Canadian Government and keeps charity work and volunteering at the top of her priorities.
Her TV show is all about charity and giving back! Galas and Giving has been Vanessa's crea-tive outlet to show her love for charity and public speaking! Each episode touches on a different charity and how people can give back and show support in their own way!
When she is not in front of the camera, you will find her at the gym, volunteering, planning chari-ty events and United Nations youth programs. Working for the UN has been a highlight and ac-complished goal that Vanessa is extremely proud of. Through focusing on eradicating racial dis-crimination and promoting inclusion in schools with sport programs, she has been able to speak with youth about anti-bullying, anti racism and confidence. Which she feels is a very timely cause in our society.
Vanessa's humanitarian heart, public speaking skills, experience as an ambassador and deter-mination show that there is nothing that she can't do! Vanessa hopes to utilize the Miss Universe Canada 2018 title as a larger platform to share her humanitarian work with the world and make Canada proud on the Miss Universe stage!
Sponsors
Family and Friends
Video
Q&A
What are your interests and what do you enjoy doing the most?
Recently I am spending a lot of time in front of the camera. Not just for my TV Show but also for print and commercial modelling. I really enjoy the free lance work and meeting new people. I love hosting my show the most though! Nothing makes me happier than seeing an episode come together and showcase how people can give back and help a charity. I think that I do best in an ambassador role, and the show really allows me the creative outlet to highlight charity and community.
List any special training you have had (music, art, drama, dance, etc.) 
I have been blessed with so many opportunities, one being able to work with the UN and landing my own show. Being in the public eye on a regular basis has really developed my improvisation and public speaking skills as well as camera etiquette. Hosting events, volunteering and being professionally trained for commercial and print modelling really helps me stay at ease in almost any situation. Recently I have been working with a vocal coach, as singing has always been my hidden passion.
In what sports, if any, have you participated?
My love for fitness was fostered purely from my love of sport. I played competitively in numerous sports. I primarily enjoyed volleyball, badminton, track and field placing both locally and provincially. I now love running and just getting myself to the gym for a good strength training session and I know that my involvement in sports brought me to the balanced lifestyle I lead now.
Name one person, other than your parents, who has had the most influence on your life. Why?
The female business owners in my close friend circle have had the most impact on my life in the past year. I love women in business. Coming from a commerce educational background, I know that they are truly fearless and can always use support but I also admire how determined they are. And it gives me faith that I can do that too. I know from competing for the title of Miss Universe Canada that I am determined, creative, giving and ambitious like they are. It really has helped me envision my path towards being a business owner and starting my first charity organization! I see big things in my future that I know the title of Miss Universe Canada would amplify!
What is your proudest personal accomplishment (other than participating in this pageant)? 
Landing my own show was definitely a huge moment for me in my career. And something I never thought I would do, but it makes sense for me and my personality. Charity work and public speaking are two things I truly enjoy. So I'm glad the network chose me for the job! But also for my humanitarian and volunteer work, I was awarded the Mayor and Council's Citizen Recognition Award. My MLA wrote me a personal letter thanking me for my work over the years and congratulating me on winning this award. I am really proud of this accomplishment because humanitarianism is a huge focus in my life and to be honoured by my city Council and Mayor is something I never dreamed of happening. Now being a nominee for the Volunteer Medal Award is huge and also something I never saw coming. I guess we will see what else I get up too in 2018!
What is your career ambition and what are you doing or plan to do to accomplish that goal? 
My career ambition is to eventually have my own charitable organization that would work along side of the United Nations and aid children in third world countries who do not have a stable home life or the proper amenities to be able to develop fully. It is one of my life goals to achieve this and I am already on the path to achieving this through working with the UN. My show and considerable volunteering have really shown me the ropes of what it takes to start and run a charitable organization. My education lines up perfectly and my charity event planning during my years competing will definitely come into play once I have my charitable organization off the ground!
What would be your "dream job" in life?
Of course one of my dream jobs is the position of Miss Universe Canada. The crown is the ultimate microphone for making a change. Becoming Miss Universe Canada is an unparalleled opportunity to draw attention to those who are do not have a voice for themselves. Through my ambassadorship, volunteerism, and charity involvement I know I embody all the attributes a great titleholder needs to have an impactful reign. They also will come in handy when I start my first business and charity organization. Which are my two other dream jobs.
Describe where you were raised and what your childhood was like.
I was raised in a small town called Stony Plain, Alberta. It's one of my favourite places in the world. Everyone is very friendly, and it is one of those places that everyone knows everyone. The school system and town placed a lot of emphasis on developing good citizens. Volunteerism, sportsmanship, mental toughness and manners were an integral part of our school curriculum. My parents both worked very hard and although I never struggled to have anything, they made sure I grew up understanding the value of a dollar, which lead me to understand how much I could give to my community and people suffering globally through volunteerism and charity work.
List any interesting or unusual jobs you may have had. 
The most unusual job I have had now is easily editing and producing my show. Even though I could just host and be fine with that portion of production, I get a great deal of happiness and entertainment from editing my own product. I have learned so much about television production, editing software and the tricks of the trade! I never had an interest in watching TV as an adult but a huge sense of accomplishment comes across me when I see my final product on a Television or a fan tells me that they enjoyed the episode!
List any volunteering you have done.
Over the past years I have been actively planning charitable fundraisers for Operation Smile Canada Foundation, SPCA, United Nations Children's Fund, and the Canadian Red Cross. And although I was a evacuee of the 2016 wildfire, I also raised funds and provided relief services for evacuees like myself when they settled down in my hometown of Edmonton.
Some other organizations I have volunteered with as well are:
Community Clean up 2014-2018
Canadian Breast Cancer Society
The Food Bank
Big Brothers Big Sisters
SOS Children's Villages
Sick Kids Foundation
Edmonton Hope Mission
Goodwill Industries of Alberta
2013 Calgary Flood Relief
RMWB- Culture Days
What is your most unusual talent?
I recently found out that I have a talent for remembering a song title and artist just from hearing one lyric of the song. It's been most useful when the title of the song is on the tip of someone else tongue!
Where is the most interesting place you have been to?
Normally I would answer this question with one of the many countries I enjoy visiting. But I must say that the most interesting place would be any SPCA I have been too. Its wonderful to go into your local animal shelter and give those animals love and care, even if you can for only a few hours. They appreciate it and maybe you will come out with a new friend to take home. But adoption is definitely the way to go when it comes to choosing a pet. There are so many deserving animals who need homes! And I always find it interesting and beautiful that animals who have been surrendered by their previous owners, can still have so much trust in humans and want to be adopted again! Animals are truly pure at heart!
What do you hope to be doing in ten years?
In ten years I would like to be coming back to congratulate the Miss Universe Canada 2028 as Miss Universe Canada 2018. (One can dream right?) I also hope to be running my own business and charitable organization. I hope that I can be an example to other women in business, that they can achieve their goals with confidence and determination!
Is there anything you would like to add that we haven't asked?
I would say that it is through competing for the title of Miss Universe Canada that I have achieved so many of my goals and have been blessed with the opportunities that I have been given. The competition has built me up and allowed me to build other women up as well in so many ways. It has allowed me to become a role model, ambassador and public figure, and nothing would make me happier than to make Canada proud on the 2018 Miss Universe stage.
Ruwix is the most popular website dedicated to online puzzle programs and tutorials.