Aiona Santana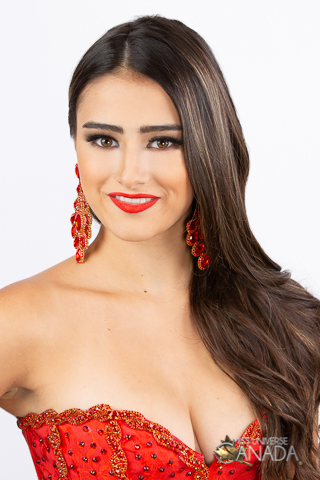 Height: 5'5
Hometown: Ottawa, ON
Languages: English, French, Spanish (Native), Dutch (Native)
Occupation: Student at Carleton University (Bachelor of Music and Minor in Arts Management)
Aiona Santana was born in Leuven, Belgium and moved to Ottawa, Ontario, Canada when she was 12 years old. Due to her parents being of Venezuelan descent, she spoke Spanish at home and Dutch at school, she considers both languages her mother tongue as she learned them at the same time. Being of such an international background allowed her to be integrated into different communities and learn about distinct cultures from a very young age. She has travelled all around the world and applies this knowledge into everything she does. Aiona is entering her third year at Carleton University where she is studying a Bachelor of Music and a Minor in Arts Management. She is very passionate about her studies and aspires to be an example for any young women pursuing a career in the entertainment industry. She hopes to show them that anything can be achieved if you work hard for it.
From an early age, Aiona Santana set out to become a performer and professional singer. Natural ability will only take a talented artist so far, but a strong will and determination has helped push this artist forward and continues to drive her development and success. She knows what hard work is and never hesitates to prove it. Her studies at Carleton University provide her with the knowledge she needs on every aspect of music. She is also studying a Minor in Arts Management which is the business side of the entertainment industry where she is pursuing her passion for marketing. With both these fields combined, Aiona is determined to create her own record label in the future where she will recruit different kinds of artists and produce their music. Throughout the course of her musical career, Aiona Santana has won over the hearts of music lovers from all walks of life. Performing at a variety of venues, making dozens of appearances, all the while recording new singles. She has performed at local events such as the Tulip Festival, participated and received trophies at the Kiwanis Festival, and many more. Aiona Santana has earned the admiration and affection of countless fans, serving as both an inspiration and role model.
She has also completed a lot of charity work with the following organizations: HOLAS (the Humanitarian Organization of Latin American Students), Relay for Life, the International Fund Initiative, UNICEF Canada, Peace of Mind Canada, and Anges D'Aide Humanitaire. These humanitarian initiatives have inspired Aiona to work on her own projects in order to raise funds for many charities, her goal in life is to use her art and platform to support different causes. Aiona believes that as humans it is our duty to help others in need and use our talents for a good cause.
Modeling and acting have always been an important part of Aiona's life, she was signed to AMTI (Angie's Models & Talent International) in 2018 and immediately her modelling career took off. She completed many photoshoots with different photographers around Ottawa and the GTA area which has not only given her experience in front of the camera, but it also allowed for her to completely step out of her comfort zone and embrace the person she is. Aiona has been acting since she was 7 years old, she followed acting classes from a very young age and studied in the dramatic arts program at a specialized arts high school in Ottawa, Ontario, Canada. Being at this school for four years, she performed in numerous theatrical plays and studied the dramatic arts in depth. Shyness in front of the camera is not something Aiona has, she has completely embraced her talents and is able to take on any challenges that come with it.
For being only 19 years old, Aiona Santana has worked very hard towards her goals and continues to do so. She competed at the Miss Canada Latina pageant last summer 2018 and placed as the fifth finalist, this not only sparked her love for pageants, but it also inspired her ability to make a change. Hard work ethic, passion, drive, and ability are all attributes Aiona possesses. Her combination of knowledge of the world, passion for humanitarian aid, and performance experience are all aspects that will help her succeed. She is ready to take on the Miss Universe stage, proudly represent Canada, and give it her all.
Sponsors
Video
Q&A
What are your interests and what do you enjoy doing the most?
I'm a singer and performer, I love to sing anything from Classical music, R&B, Popular music, Jazz, Musical Theatre, Latin music and more. I also enjoy dancing very much, basically anything that has to do with music. I love cars and driving them, I just learned to drive standard and it has truly changed my driving experience!
I'm very into humanitarian work as well and organizing events for it, I was the Vice President of a Humanitarian Organization on my campus and we would organize events to raise funds for different causes. I really enjoy travelling, learning different languages and hanging out with my family and friends. To me life is all about doing what you love most, helping others, and making each moment count.
List any special training you have had (music, art, drama, dance, etc.)
I'm currently studying a Bachelor of Music in Voice at Carleton University in Ottawa and a Minor in Arts Management which is the business side of the entertainment industry. In my music program I study music performance, music theory, music history, and much more. However, I've been in voice and music lessons since I was 9 years old. I studied at an arts oriented high school where I followed both the dramatic arts program and academics for four years. I was in Ballet when I was younger which gave me the technique and basis in order for me to follow other dance styles such as Modern dance, Hip Hop, and Latin dance which is the style that I am currently focused on.
In what sports, if any, have you participated?
I've participated in many different sports but mainly Field Hockey, I was on a team for about three years and really enjoyed it, not just the exercising aspect of it but also the teamwork. Currently I've been very busy with my dance classes and music so my way of exercising now is going to the gym. I go five times a week because I find that it makes me feel healthier and it is very important to prioritize my physical health.
Name one person, other than your parents, who has had the most influence on your life. Why?
My sister has been very influential all throughout my life, we've moved around a lot during our lives and she has always been there by my side to support me. She's very smart, driven, and kind, she loves travelling and is currently in Vietnam working in her field which is communications. She has always inspired me to be the best version of myself that I can be and to open my mind to different mentalities and people. Her knowledge of the world is mesmerizing, her drive is inspiring and her support in everything I do makes me the luckiest person in the world!
What is your proudest personal accomplishment (other than participating in this pageant)?
My proudest personal accomplishment is releasing my first single last year. I was always shy about sharing my music with others, but I realized last summer that it was time for me to put my music out there and not be afraid. I released my first two singles and immediately people started inviting me to their events to perform and singing my songs. I feel so proud after all the hard work I put into those songs that I've decided to record an album that will be released at the end of this year. I'm no longer afraid, I'm excited and very proud of myself for taking that next step in my career.
What is the most interesting or unique thing that has ever happened to you and/or what is the most interesting thing about you?
I find my background pretty interesting, I'm originally Venezuelan, both my parents were born there, my whole family is Venezuelan, and Spanish is my mother tongue, however I was born in Belgium. I learnt both Dutch and Spanish at the same time and was integrated into different communities constantly as my family and I would often go back to Venezuela to visit our family there. I went to school in Belgium where the educational system is completely different from the Canadian one. Once I moved to Canada when I was 12 due to my father's career, I learned about Canadian culture and immediately fell in love with it. I felt accepted for who I am.
The Venezuelan culture was always very present in my childhood and so was the Belgian culture of course, but now the Canadian one was added as well so I find it pretty interesting how I am a mix of all three. Without these experiences I wouldn't be the person I am today.
What is your career ambition and what are you doing or plan to do to accomplish that goal?
I know my career path is in music and marketing. My end goal is to create a record label where I can recruit unique artists and produce their music. I will create a space for young artists to express themselves and inspire others. I also want to continue singing and performing for the rest of my life and I don't have a doubt that I will.
I aspire to be an example for young women pursuing a career in the entertainment industry or anywhere else for that matter. I want to show them that we are just as powerful as anyone else and can achieve our goal if we set our mind to it and work hard.
My plan to complete this is to educate myself as much as I can on music and marketing in my years of study at Carleton University. I'm also planning on taking on an internship within my area of study in order to get some hands-on experience in the music business. I'm going to prepare myself as much as possible for my end goal, by meeting different experienced individuals, by collaborating with others on specific projects such as songs or performances in order to create relationships and learn from each other.
Lastly, once my record label is set, my plan is to host many benefit concerts for different charities, perhaps even my own, so that we don't just use our art for our own pleasure but also for the benefit of others. Coming from a Venezuelan background I have watched many people there suffer because they don't have the resources that we have here in Canada, and I want to help those individuals out. At the end of the day I think helping others is our duty as humans and I will continue to do so through everything I do.
What would be your "dream job" in life?
My dream job is to be the owner and producer of my own record label as well as my own charity. As I mentioned in the previous question, I am preparing myself as much as possible for this and know that I will achieve it. I believe combining my passion for the arts, marketing, and my passion for humanitarian aid is the complete reflection of who I am and being able to achieve this would make me feel whole as a person.
Describe where you were raised and what your childhood was like.
I was raised in Leuven, Belgium. My parents were born in Venezuela and immigrated to Belgium when they got married. I spoke Spanish at home and Dutch at school, both cultures were very present in my childhood. My mother is an activist and works very hard, she taught me about standing up for what I believe in and being who I am. My father is an architect and civil engineer, he has travelled all around the world and taught me about different cultures and customs. I have an older sister who is also my best friend, she supports me in everything I do and is always there for me when I need her. Family is the most important thing to us; we stick together and always support each other, which is why it was so hard to live so far away from the rest of my family in Venezuela. When I turned 12, I moved to Ottawa, Canada because of my father's career. It was a hard transition for me because I had just started middle school in Belgium and went into grade 8 here in Ottawa. I learned a lot from this experience, migrating to a different country, learning about the differences in culture, and meeting different people. I was so impressed at how each person I met in Canada was unique and different. During this transition my family and I became even closer and we're very happy, it was a big change in our lives, but it was a blessing to move to a country of so many opportunities like Canada.
List any interesting or unusual jobs you may have had.
The most interesting job I have had would be when I acted in a movie last year. My character was one of the Prom contestants in the movie and I got to go to an actual set here in Ottawa and film it. The experience was amazing, I was surrounded by so much talent and it is something I will never forget.
List any volunteering you have done.
I've been part of the Humanitarian Organization of Latin American Students (HOLAS) at Carleton University ever since I was in high school. This year I was the Vice President of HOLAS and my team and I organized many humanitarian initiatives to raise funds for different causes in Latin America. It was a great experience to be able to help others in that way and work together as a team in order to achieve the most donations.
I also sing and perform voluntarily at many benefit concerts and events; I love donating my passion towards a cause and using my platform to promote these causes. I'm often asked to perform at them and always do it with all the pleasure in the world.
When I was in high school, I participated in Relay for Life every year and helped organize it as well. I would be in charge of getting the teams together and meeting all the deadlines for team submissions.
What is your most unusual talent?
I can sing whistle tones, they're really high-pitched notes in my vocal register that not a lot of people can hit! It's really interesting because the pitch is so high that it sounds like a whistle.
Where is the most interesting place you have been to?
The most interesting place I've been to is Pompeii, it's an ancient Roman city in Italy. The reason why it's so interesting is because of the history that it has, this city was buried with volcanic ash due to the eruption of a volcano nearby. The city was completely covered but over time it was excavated and when I visited it, I got a glimpse of what Roman life was like since natural molds developed from the ash. It's a world heritage site and I strongly recommend everyone to visit it.
What do you hope to be doing in ten years?
In 10 years, I'll be graduated from both my Bachelor and Master's degree. I hope to have my record label and charity started and I want to be travelling around the world, finding different artists and volunteering for different causes. I hope to also be reunited with my whole family that is all spread around the world right now due to the humanitarian crisis in Venezuela.