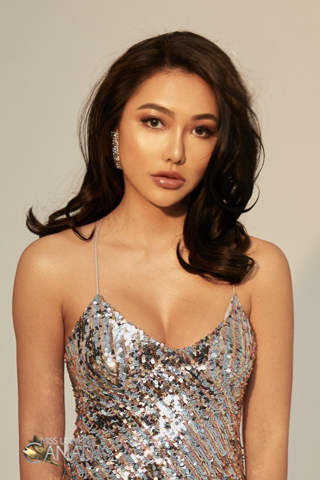 Height: 5'7
Hometown: Vancouver, BC
Languages: English, Mandarin
Occupation: Entrepreneur
Alexandra was born in China and moved to Vancouver, BC with her family when she was 16. She graduated from the University of British Columbia with a major in Economics in May of 2019. As a model, beauty blogger and an aspiring fashion designer, Alexandra has traveled across the globe, meeting and learning from a myriad of both diverse and likeminded people. Her travel has opened her eyes to not only the wonders of the world but also the plight and peril of those less privileged.
Having studied in a high school for girls in Victoria, BC, Alexandra learned the importance of feminism and the need to promote and defend women's rights, not just at home but abroad. She has grown to understand the difficulty of being a woman in the modern world and has strived to make use of her reach and influence, particularly on social media, to defy social standards and demonstrate proudly that women can be whatever they want to be. She wholeheartedly believes that participating in a pageant can serve as a platform for a young woman to amplify her voice, to speak her mind, and to empower others like her.
Alexandra's core values of empowerment have underlain all aspects of her life. This is why she majored in Economics and plans to pursue a Master's Degree, hoping that greater knowledge of financial and monetary policies can equip her with the skills to directly address the issues of the gender pay gap. It is for these reasons too that she has been an active community member, working for the Mount Pleasant Business team to help out local businesses. She has also volunteered for many different humanitarian groups, setting out on various outings. She believes in the need to proactively dedicate one's time to pay it forward. Furthermore, she has worked for the Federal Liberal Party during the election years and have taken the opportunity to get the vote out by motivating young people to participate in civic engagement because she believes that social change starts often with the action one takes at the ballot box.
She is most humbled to have been able to work with different brands and attending many fashion events, such as Cle De Peau, Jimmy Choo, and local fashion boutiques Secret Location and Kokko. Being a lifelong artist too, Alexandra has developed a unique aesthetic through studying painting and drawing. Coupled with her professional experience as a model, she is making use of her artistic and entrepreneurial skills to develop her own clothing brand that aims to help women find new ways to discover true and inner beauty. Regardless of what she is doing or what adventure she is on, Alexandra always seeks to express herself genuinely and empower those to believe that they can be whatever they want to be. Creative, caring, compassionate and courage, Alexandra knows she epitomizes the spirit of Canada and can proudly represent Canada on the Miss Universe stage.
Sponsors
Family and Friends
Q&A
What are your interests and what do you enjoy doing the most?
I enjoy anything art related, such as painting, designing and photography. Another thing I am passionate about is traveling. I like to see the world, which really opens up my eyes and brings me lots of inspirations for my art creation.
List any special training you have had (music, art, drama, dance, etc.)
Painting and drawing
Leadership
Photography
In what sports, if any, have you participated?
Swimming and Diving. I also go to gym on a daily basis.
Name one person, other than your parents, who has had the most influence on your life. Why?
I always look up to my cousin when I grow up. She has always been the perfect role model for me, from fashion styles to her outstanding academic and work experience. She is the one taught me to dream big and set a high goal for myself. With the motivation, I become the fearless and confident woman I am today and have the courage to believe that I can make an impact in this world through Miss Universe Canada and many more challenges in the future.
What is your proudest personal accomplishment (other than participating in this pageant)?
I am really proud of myself for being independent since I was 15. I went to boarding schools and then live by myself. This experience makes me the independent woman I am today. One of my recent accomplishment is that I just graduated from the University of British Columbia.
What is the most interesting or unique thing that has ever happened to you and/or what is the most interesting thing about you?
I was invited to the opening party of Simone art district owned by the famous director Joe Russo where I met the Avengers cast. It is a huge surprise for a marvel fan like me.
What is your career ambition and what are you doing or plan to do to accomplish that goal?
I am a blogger on many platforms and currently working on my personal clothing brand. My ambition is to bring attention to what I truly care through my platforms. My brand would also send the message about being strong, confident and embracing one's true selves.
What would be your "dream job" in life?
My ambition is so big that I don't want to define myself with one label. My dream job is being an "influencer" and sending messages to the world through my brand, my social media platforms and my art work. My job would give me the opportunity to meet many people and travel around the world, and most importantly, being a voice for my generation.
Describe where you were raised and what your childhood was like.
I was born in China, where the culture background is very different than here in Canada. My mother set high expectation on me and support every dream I have. She built my confidence and strong heart.
List any interesting or unusual jobs you may have had.
I was an Airbnb host. I get to design my condos using my aesthetic taste and meet people with different backgrounds. I get to have the opportunities to introduce my beautiful hometown Vancouver to these visitors and be really proud of my city and my country.
List any volunteering you have done.
Vancouver Sun Run
Election team for Federal Liberal party
Math tutor
Mount Pleasant Business Improve Area
What is your most unusual talent?
I can do anything with super long nails.
Where is the most interesting place you have been to?
The most interesting place I have even been to is some islands near Victoria. I remember my high school organized a kayak trip for five days. In the morning we went kayaking to the next destination and found a camping place before the sun went down. There was no any kind of distractions from the outside world and I really felt the connection with nature. I saw so many incredible things such as wales jumping out of the sea besides our kayak, and the most beautiful starry sky.
What do you hope to be doing in ten years?
I don't like to label myself, but I would see myself accomplish not only one, but a few dreams on my list. I would see my brand growing very big and have an impact on the young generation. Furthermore, I want to be a part time artist and have my own art exhibitions.
Is there anything you would like to add that we haven't asked?
This is the first time I compete in a beauty pageant, and I always believe in the power of pageant because it offers a platform for me to bring a voice to the world. If I win the title, I hope I can set an example for young women to put no limit on their dreams and work for it.