Alice Li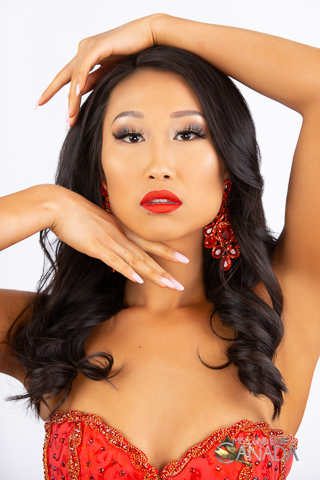 Height: 5'9
Hometown: Toronto, ON
Languages: English, Mandarin Chinese
Occupation: Chartered Professional Accountant
Alice Li is an entrepreneur, businesswoman, and a believer in dreams. She currently works as a Senior Associate in audit at PwC Canada, specializing in the asset management industry. Alice graduated from the University of Toronto as the Class Valedictorian and has completed both her undergraduate and graduate studies in accounting. She recently qualified for her CPA CA professional designation this year, and looks forward to using it as a tool of empowerment. Her goal is to show other women that there is a seat for them in the boardroom too.
When Alice is not crunching numbers at the office, you can find her busking on the streets of Toronto and performing to raise funds for charity. What started as a childhood dream has now turned into an established charity project, making headlines all over the world. For Alice, this was a perfect way to continue doing what she loved, while giving back to children in need.
An entrepreneur, she founded a nonprofit jewelry brand that donates all proceeds to charity. She named it the "Modern Princess" to exhibit that beauty is both inside and out. Not only will you look beautiful wearing her jewelry, but you will also feel beautiful for supporting a good cause! Alice is also a strong advocate in the healthcare industry and passionate about improving the lives of others. She serves as a board member on the William Osler Health Foundation's Future Leaders Board, which oversees the Etobicoke General, Peel Memorial, and Brampton Civic hospitals.
Alice wants to demonstrate the difference one person can make and inspire others to be their best selves. With 9 years of pageant experience behind her, Alice represented Canada internationally at Miss Intercontinental 2018, where she won the talent category. Today, she comes ready not only for Miss Universe Canada, but ready for Miss Universe.
Sponsors
Video
Q&A
What are your interests and what do you enjoy doing the most?
I love being in front of an audience and I love to perform! Whether it's an audience of 1 or one million, I feel like my heart belongs on the stage. It is the driving passion behind all my interests, such as dance, music, modeling, and public speaking.
List any special training you have had (music, art, drama, dance, etc.)
When I was 5 years old, I fell in love with the art of dance and I decided to train for a professional career in classical ballet. I persuaded my parents to let me audition for Beijing's most prestigious ballet school and I decided to move away for boarding school in Grade 1, in order to focus on my career.
The experience was a dream come true and I was immersed in an intensive curriculum of ballet and academics. Although dance did not end up being my main career path, the training taught me the importance of discipline no matter where I go in life. I learned that no dream is too big, and that nothing is impossible if you work hard.
In what sports, if any, have you participated?
I grew up with a huge passion for track and field and competed every single year of school. I loved the challenge of training for such a wide range of events and developing very versatile athletic abilities. There are very different strategies, and I was keen on mastering every single event. My favorite event was the 400m run. It happens so quickly in 1 minute, yet it's also long enough to fall behind if you do not strategize your pace well.
Name one person, other than your parents, who has had the most influence on your life. Why?
I have been most influenced by my brother and sister, who are 15 years and 9 years my junior, respectively. Although they are younger in age, they are wise beyond their years and have taught me a lot of important personal values. My siblings remind me to enjoy all the little moments in life and to not take things too seriously. Life should be about all the people you love and sharing happiness everyday.
They once told me that white milk comes from white cows and chocolate milk comes from chocolate cows. With these two little jokesters around, I'll never need a doctor because laughter is the best medicine!
I could not pick one sibling over the other, so despite the question, I had to say two people instead of one!
What is your proudest personal accomplishment (other than participating in this pageant)?
My proudest accomplishment is graduating from the University of Toronto as the Class Valedictorian. Every year, the Class Valedictorian is selected by a panel of University staff who evaluates students based on a criteria of academics, student leadership, and campus involvement.
I began my journey to post-secondary education with big dreams of attending Harvard but after my interview with Harvard, I was notified of my rejection. At the time, I felt like I had failed. However, looking back, I do not consider it a failure anymore. I consider it an accomplishment because I picked myself back up from that rejection and arrived at the University of Toronto with a positive attitude to learn and improve.
Although UofT was my backup school, I was grateful for every opportunity, and I still made the most out of my 4 years there. During my 4 years at the University of Toronto, I was elected to the highest level of student governance, President of numerous nonprofit organizations, an advocate for mental health.
The experience of almost failing taught me the true meaning of success: nothing is considered a failure unless you gave up.
What is the most interesting or unique thing that has ever happened to you and/or what is the most interesting thing about you?
Something interesting about me is that I graduated high school from the Ontario Science Centre! Behind the scenes of all the exhibits, the Ontario Science Centre actually has a publicly funded high school program. It only accepts 30 students and the curriculum immerses its students into a world of science.
It was such a unique program because I got to experience being at the forefront of scientific research and innovation. It opened my eyes to a completely new horizon and I am so grateful for the amazing opportunity!
Fun fact: I also met my best friend through the program!
What is your career ambition and what are you doing or plan to do to accomplish that goal?
My career ambition is to work in corporate social responsibility, which combines my two areas of interest: business and humanitarianism. I want to lead a career that is meaningful and that will create a long-term impact.
I have completed both my undergraduate and graduate studies in accounting and just finished my CPA CA professional designation this year. Fluent in the language of business, I am determined to use it as a tool of empowerment in order to create greater contributions to society.
What would be your "dream job" in life?
My dream job would be a motivational speaker that travels across the country, inspiring others to be their best selves. I want to utilize my voice, make a positive impact, and keep breaking boundaries. I have already been very active with speaking at local public schools, universities, and conferences, but my aspiration is to reach a wider audience.
I believe there is always room for improvement and I am keen to keep developing my skills and reaching larger platforms.
Describe where you were raised and what your childhood was like.
Although I grew up in Canada, I moved around a lot as a child and actually attended 13 different schools! My childhood was defined by always being the new student in class, followed by emotional goodbyes. It taught me a lot of interpersonal skills and the ability to adapt to any situation. Now that I look back on everything, I see the silver lining because I am grateful for the huge network of friends that I have!
List any interesting or unusual jobs you may have had.
I currently work as the lead instructor for Toronto Kids Modelling Academy, where I train children ages 3-16. It is such an interesting experience, curating customized curriculums for such a wide range of age groups. When I ask the parents why they sent their kids to modelling school, all the parents say it's for building their children's confidence. Confidence is so critical to self-development. With 9 years of modelling experience behind me, my goal is for every student to not only walk into my classroom strong, but to walk out stronger.
List any volunteering you have done.
Some of my most notable charity projects:
Sickkids Foundation
Princess Margaret Cancer Foundation
Free The Children
Breast Cancer Society of Canada
Children's Wish Foundation
SOS Children's Villages
What is your most unusual talent?
I have a heightened sense of smell and I'm a bit of an aspiring perfume connoisseur! I love exploring the art of perfumery!
Where is the most interesting place you have been to?
One of the most interesting places I have been to is not from any sort of world traveling. It is actually just a few blocks away from where I live: the Good Shepherd Ministries, a local charity that provides services to the homeless. I visited for the first time when I was volunteering for their lunch program, serving hot meals to those in need.
It was a very humbling experience and I had the opportunity to chat with many of the individuals to hear about their stories. Despite all the challenges they were each facing, they still showed up with a smile, lined up patiently to wait for their turn, and thanked me politely for my service. Their positive attitude spoke volumes and it really reminded me about the importance of grace and humility.
What do you hope to be doing in ten years?
In 10 years, I hope to be a Ted Talk speaker and publish a book on time management. Something I have always been interested in since I was 5 years old is the concept of time. You do not know how much time you have left and we are all faced with a race against the unknown. We all compete against the same 24 hour clock and it really intrigues me to explore the notion of time maximization.
I want to pass down all the lessons I've learned in my life to the next generation and keep looking for new ways to contribute to society.
Is there anything you would like to add that we haven't asked?
I come ready not only for Miss Universe Canada, but ready for Miss Universe.