Alysha Ortiz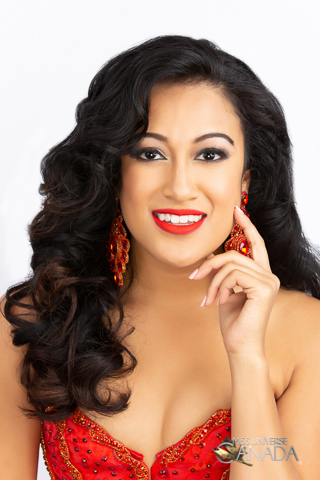 Height: 5'7
Hometown: Chestermere, AB
Languages: English, Hindi, Spanish
Occupation: Registered Nurse
Alysha Ortiz was born in Calgary, Alberta and currently lives in Chestermere, Alberta. She graduated from Mount Royal University with a Baccalaureate degree in Registered Nursing and additional studies in Arts and Business. She is presently working as a Registered Nurse at a local hospital. Her passion and drive to help others through health promotion and health care have her employed on a unit focused on medical and palliative care patients. She has worked closely with interdisciplinary teams in the healthcare field and continues to integrate holistic approaches to patient care. She works towards advocating on behalf of her patients and families. Her satisfaction of providing emotional support by merely holding hands of family members and patients experiencing tragedy and being of presence brings inner peace knowing everyday she is helping make a difference in somebody's life. Palliative care nursing has engraved her with the mindset of "Life is too short, time is too precious, and the stakes are too high to dwell on what might have been" – H.C. Working with individuals in our society fighting for their lives and living with terminal illnesses makes understanding quality of life in high importance. She works towards making a meaningful difference to peoples' lives when they are at their most vulnerable states.
Alysha is currently in pursuit of completing her Real Estate License, her avid motivation to strive to new successes and educate herself consecutively has inspired her to pursue additional career ambitions alongside her most rewarded career selection in healthcare.
As an avid humanitarian, Alysha continues to engage in volunteerism opportunities and currently works alongside a young adolescent in the community as a mentor. She has actively engaged herself in a variety of organizations stemming from educating, advocating, and participating with local charities. She actively seeks new challenges and opportunities through her desire to help others and bring change.
Alysha looks forward to bringing her confidence, determination, and passion to the Miss Universe Canada stage this year. Through her drive to make a change, and help others, she hopes to use this opportunity to shine light on a variety of issues happening in our country, and our world today. Most importantly she hopes that winning your hearts and support will encourage other women from different cultural backgrounds and from many walks of life to gain the courage to see that real beauty is inner beauty, and you do not need previous titles in order to gain confidence to put yourself on a national stage. Everybody starts from somewhere, and anyone can be a Miss Universe Canada, because no beauty shines bright than that of a good heart.
Sponsors
Robina Ortiz – Bank of Montreal Mortgage Specialist
,
Paul Kushwaha Law office
,
LV Nails & Spa
,
Forge Fitness Bootcamp
,
NIWE Academy
,
Psi Corp
,
Kensington Fitness
,
Designerz Den by Esha
,
Make me over Calgary – Anu Sarpal
,
Canadian Beauties – Lisa Harrigan
,
Laser Towne
,
Vinay Vashisht of Paradox Entertainment
, Family and Friends
Video
Q&A
What are your interests and what do you enjoy doing the most?
I have a myriad of interests and enjoyments that stem from simple activities to adventurous experiences and volunteerism. I enjoy dancing, whether it is performing on stage, playing music at home and getting into my groove, or going out with friends to hit the dance floor. I enjoy trying out new experiences such as axe throwing, white water rafting, zip-lining, horseback riding, exploring caves and hiking up mountains.
Travelling has been a key importance in my life these past years from experiencing new cultures, cuisines, and historical sites. Exploring various countries has opened my eyes to a world outside of my own, and has provided me with the opportunity to engage in new friendships and lifetime memories.
Overall, I always look forward to new challenges and experiences. There is always a new interest at heart, and a new enjoyment to pursue.
List any special training you have had (music, art, drama, dance, etc.)
My parents enrolled me in many new activities growing up as an adolescent and motivated me to try countless sports. The training sessions allowed me to be well rounded and encouraged me to gain new skill sets.
I was enrolled in dance classes at the age of 5 and performed on countless stages as a solo dancer & as part of a team. I trained in tap, jazz and bollywood growing up and even participated in my school hip-hop dance teams. I continue to dance bollywood in forms of traditional to modern style dance infusions. The art of self defence as a young girl encouraged my parents to enroll me in karate classes.
My love of art continued into drama, acting and theatre work. I was enrolled in studio classes involving modelling where I learned how to formally walk the runway and pose. Acting and theatre work became a key part in my confidence with performing among a large audience. I also participated in musicals and worked on sets of short films & television series.
In what sports, if any, have you participated?
My experience with sports have not always been pleasantry, my parents were really hoping I would come out as a professional athlete, needless to say my fears did not present me as the best athlete on the field when it came to basketball and soccer. They also encouraged me to try gymnastics and figure skating.
Along the way my dad encouraged me to learn how to swim, by nudging me into the water where I gradually learned how to tread. I was enrolled in swimming classes shortly afterwards, and managed to skip levels due to my experience. The love of diving and swimming has not ceased to stop to this day.
I currently enjoy keeping myself active by going to the gym and working on mind and soul
with yoga. I also participate in kickboxing workouts whenever I have the chance.
Name one person, other than your parents, who has had the most influence on your life. Why?
Growing up I always felt mentored by a selected duo of powerful figures in the entertainment industry and the two most influential women that have continued to inspire me consecutively throughout the years apart from my beautiful parents, have been Angelina Jolie and Oprah Winfrey.
Angelina Jolie through her impressive humanitarian work and in honor of her philanthropic efforts, by helping others through working with a variety of organizations,r and acting as an ambassador has truly inspired me to hopefully be as accomplished and as successful as herself one day. Her will to adopt children and raise them as her own has inspired me to one day have the ability to hopefully help a child in need and raise them as my own. Her passion for humanitarian work and making a difference has motivated me to give back and help in any way I can.
Oprah Winfrey encouraged me that "anything is possible". She faced hardships in her early life and poverty, and today she is one of the most influential woman worth billions. She is a strong willed women who managed to defy age, gender, ethnicity and become, successful. She used television as a medium to make her voice known and aid others with speaking and sharing their feelings to the world. She leads by action and continues to be a true leader in the work she does.
These two women have inspired me to be fierce, passionate, dedicated with my goals and to strive for success. They have influenced me to want to use the platform provided by Miss Universe Canada to have a voice for women in our nation today.
What is your proudest personal accomplishment (other than participating in this pageant)?
I am proudest of my acts of volunteerism and the opportunities and lessons it has engraved me with, in addition to past pageantries through crown succession and Beauty for a Cause winner at Miss Earth Canada.
Some of my greatest accomplishments have come from involving myself with an amazing student body organization at the university. I participated with local schools and educated young adolescents about the importance of our environment and methods on how to respect and treat it. We encouraged the children to learn how to upcycle items in their households, and educated them on how to start a small business. In addition, we worked with former sex trade workers at a local non-profit organization and taught the women basic financial skills and motivated career and educational goals. Lastly, the most prized experience was visiting an orphanage in Guatemala. It taught me "less is most valuable". These children had poor living conditions, yet the smile on their faces never ceased to disappear. We taught these kids and the orphanage on how to run a "business" through creating items for monetary gain in hopes to obtain a better livelihood.
I am gratified that during my education, I was given immense opportunities to continue to make a difference and work with an incredible student body all striving to make a positive change. It garnered immense opportunities, skills and further understanding in the world we live in today. Although it was hectic maintaining a busy schedule with work, school, and extracurricular activities, I am proud of my accomplishments.
What is the most interesting or unique thing that has ever happened to you and/or what is the most interesting thing about you?
Through my travel experiences, I had my very first backpacking experience in Guatemala. The experience was adventurous and enjoyable. I learned about the culture, the people and important traditions. It was amazing to immerse myself fully into the culture by staying in hostels and listening to the lives of individuals living on the road. Apart from visiting local non- profit organizations, I hiked a recently erupted volcano and roasted marshmallows on the lava rocks. The experience was extraordinary.
I am very grateful for the experience because it taught me another side of travelling apart from regular hotels and resorts. It showed me a method of truly engaging yourself in a foreign country and consistently travelling from one side of the country to the next. I became more confident, open-minded, strong and independent with my travelling experiences.
What is your career ambition and what are you doing or plan to do to accomplish that goal?
I am currently working as a Registered Nurse at a local hospital. I have always wanted a career that allowed me to help enrich the lives of others through compassion, care, human dignity, integrity, and social justice. As a nurse I work towards providing my patients with the best quality of care, empathy and effective nursing processes through critical thinking, problem solving, and decision making. I look forward to working as a Public Health Nurse in the future and providing a wide variety of nursing services to patients, families, communities, and populations. After further years of nursing experience, Nurse Practitioner has been a keen interest for my future.
I have also taken a pursuit with business, and am currently enrolled with obtaining my license in Real Estate. The new pursuit in career selection is due to the motivation of involving myself in the world of home ownership, and rewarding individuals of a place to call "home". My mom has inspired me through her work with mortgages at a well known financial institution to seek other opportunities outside of my current path from working by her side as a Mortgage Specialist Assistant. Needless to say, there is no stopping what the future holds.
What would be your "dream job" in life?
My dream job would be incorporating my experience as a nurse and becoming a public ambassador for health organizations and speaking about current case events happening in our world today, and striving to work towards resolutions. A goal of mine growing up has always been to hopefully one day work with "Doctors without Borders", and has been a driven force for my current career ambition.
In addition to pursuing and conquering roles in the healthcare, my end dream would be to run a successful business, and prove myself as a role model to others.
I consider my dream job as a career that does not pertain itself as "work" or a "paycheque", but a position to help me touch as many lives as I can and make a difference not only for myself … but to others as well.
Describe where you were raised and what your childhood was like.
I am born and raised in the beautiful city of Calgary, Alberta. Having lived there most of my life, I have only recently moved to Chestermere, Alberta within the past 4 years. My parents have been a key factor in my life, and have been married for over 28 years, blessing me with a younger brother.
Growing up wasn't always so easy financially. My parents had a difficult time coming into Canada as immigrants. My mom came alone with a small suitcase from Fiji Island and my dad ventured into the country hoping for a better future from El Salvador. They had no immediate family members and friends in Canada. My parents explained the hardships they had first coming into the country, and having to work multiple jobs to make ends meet. Living arrangements didn't make it any easier when my brother and I were born. I remember helping my parents during times of difficulties, when most kids would be heading to sleep, I helped my parents pick up coffee mugs and wipe down counters at various office buildings as cleaners. I remember my mom having great difficulty finding an affordable babysitter, there were times where it wasn't feasible and I would be given the responsibility to care for my brother at the tender age of 8 while my parents worked nearby. When we were both in our primal years of schooling, my mom would sacrafice her lunch hours to pick up my brother and I from school, because we had no other transportation to get home.
My life was filled with ups and downs, but through the hardships came the good times. My parents worked hard, long hours and multiple jobs to not only make ends meet, but to make our lives better for the future. They enrolled my brother and I in extracurricular activities, they worked hard to allow us to experience a life they never had growing up. We were blessed with a roof over our head, food on our table and a close knit family of four. We experienced life's waves, and my parents continued to support our dreams. Encouraging us to make worth of a country of "opportunities" and to become successful in our pursuits of happiness.
Today, they have amazing employments and my mom runs a successful business of her own. My parents have built their dream estate home and proved anything is possible when you set your mind to it. From a small suitcase, from two completely different cultures, they have created a life of endless accomplishments. My childhood has envisioned me to believe anything is possible, and when others "put you down" or say "you can't", remember there is a will inside of you to say "I CAN".
List any interesting or unusual jobs you may have had.
Some of my most interesting jobs have been working as a promo model and being involved with a variety of different companies. It gave me the opportunity to have a unique role all the time, including sampling beverages at local stores, product sampling and speaking in behalf of companies. I had the advantage of meeting many individuals and learning something new all the time.
List any volunteering you have done.
Run for Woman
Village Square Leisure Center
Molson Canadian Red Leaf Project
Run for Women
Mustard Seed Foundation
Breast Cancer Awareness
Salvation Army
Casa Guatemala
Earth Canada
Calgary Opera – Studio 54
Enactus Mount Royal
Sun & Salsa Festival
Free the Children
Big Brother & Big Sisters Calgary
… among others
What is your most unusual talent?
I have the odd tendency to imitate accents unintentionally when engaging in conversation with individuals. My most common imitation would be an English accent.
Where is the most interesting place you have been to?
My recent trip to Cuba has left an everlasting memory of experience. I spent time in Old Havana, a beautiful city portraying an amalgam of the past and present times. It truly felt like "being lost in time" admiring the exquisite colonial architecture. The city is engulfed with colour, scenic areas, historical sites and beautiful vintage vehicles. In Cuba, you can really experience "living truly off the grid" due to lack of internet access and requiring wifi card purchases in areas of wifi access only. It was refreshing to take a break from social media, and solely enjoy a trip outside of constant posts. The mixture of beaches, landscapes, music, food and culture has listed Cuba as one of my favourite destinations.
What do you hope to be doing in ten years?
Ten years from now I hope I have accomplished most if not all my goals. I hope to have a successful business, and empower others to reach their dreams. To embody myself as a successful independent woman that is "happy" and an entrepreneur.
Aside from career and ambitions, I hope to be married and have a beautiful family of my own. Children biologically and adopted, to raise and to share with them the best life I can provide.
Is there anything you would like to add that we haven't asked?
I would like to commend my sincerest gratitude to the Miss Universe Canada family for selecting me to venture onto the national stage among countless strong and influential women all across Canada. I am grateful to be given the opportunity to represent Latin and Fijian communities, as well as my home Canada in hopes to make everyone proud and potentially represent us internationally.