Cailyn Prins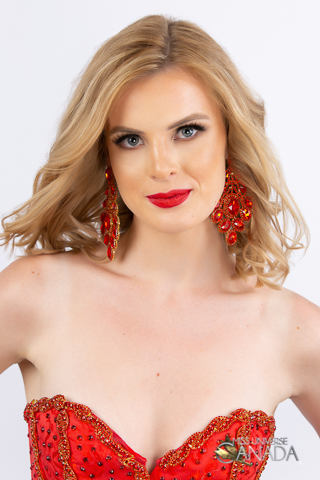 Height: 5'7
Hometown: Durham, ON
Languages: English
Occupation: Student at University of Toronto (Faculty of Law)
Cailyn Prins grew up in the small town of Durham, Ontario. Cailyn is 23 years old and has dual citizenship with Canada and the Netherlands. Her desire to experience more of her Dutch heritage inspired her to attain her bachelor's degree in Politics, Psychology, Law and Economics at the University of Amsterdam. Currently, Cailyn is pursuing her J.D. in law at the University of Toronto. Education is a priority for Cailyn, and one day she hopes become a lawyer working within the field of human rights.
One of Cailyn's interests is traveling the world and experiencing new cultures. She has visited a number of different countries and hopes to see many more in the future. While studying abroad, Cailyn travelled to areas such as France, Denmark, Greece, Germany and Ireland. One of her favourite experiences was visiting China in high school. Cailyn was impressed by China's welcoming people, incredible food and beautiful mountains. Cailyn believes travelling is an exciting way to learn about other parts of the world in an experiential format. Her passion for travel and exploration has fueled her desire to work in international law and focus on legal practices that transcend national boundaries.
Cailyn's other interests include practicing violin, sketching, painting, and staying active. Striking a balance between health and studies is very important to her, and she tries to make time for physical activity five times a week. Cailyn is a strong believer in the positive effects that healthy eating and physical fitness can have on a person's confidence and mental health. She enjoys participating in a number of physical activities such as pilates, yoga, jogging, skipping and dance. She is always willing to try new physical activities and loves a new way to challenge herself. A goal of Cailyn's is to participate in a half marathon this summer.
Volunteerism represents another important component of Cailyn's life. In furtherance of her interest in human rights law, Cailyn has worked with organizations such as Amnesty International and Free the Children. She also works as a member of the International Human Rights Program at her university, which allows her to conduct legal research and update reports on human rights violations pertaining to sexual orientation and gender identity. Volunteering represents to Cailyn an opportunity to participate in the community and to make a difference, however large or small.
Cailyn is very proud to be participating in the Miss Universe Canada pageant this year. She has enjoyed preparing for the pageant and is excited to be among the many other qualified and diverse delegates on the Miss Universe Canada stage this year.
Sponsors
Video
Q&A
What are your interests and what do you enjoy doing the most?
I love activities which facilitate creativity. I enjoy painting and sketching, and have started taking pottery classes, which is a new and developing area of interest for me. I find creative past-times to be immensely relaxing and a nice way to take a break from studying when I need it. I think it activates different areas of the brain, and I find it really rewarding.
I'm additionally passionate about music. I took all kinds of music lessons when I was younger, but as I have grown, the violin has become my focus. I still take lessons and love to learn new techniques. Practicing the violin is an activity which I could do for hours because it makes me really happy.
I am very interested in the law, which is good, because I am currently pursuing my J.D. There are so many different areas of law, and I love learning the foundational legal concepts. I am particularly interested in international human rights law. This field is comparatively new and still developing, which is incredibly fascinating to me. I hope to be able to pursue my interests in human rights law after I finish my education.
The activity I enjoy most is travel. I love experiencing different cultures and environments. A goal of mine is to see as much of the world as I reasonably can in my lifetime. I was very fortunate to study at the University of Amsterdam for my undergraduate degree and I had the opportunity to visit many areas of Europe while concurrently completing my education. Travelling is a privilege, and I hope to be fortunate enough to continue exploring new areas of the world.
List any special training you have had (music, art, drama, dance, etc.)
I participated in drama club as an extracurricular both in high school and during my undergraduate years and have received training in areas such as improvisation and sketch comedy. Additionally, I love music and have taken a variety of lessons including violin, singing, guitar and piano lessons. I continue to receive violin lessons to this day. I have recently taken up dance lessons, and it is a hobby of mine that I enjoy pursuing outside of my studies.
In what sports, if any, have you participated?
I participated in track and field, cross country running, and tennis while I was in high school. After leaving high school, I began taking boxing lessons at university, and I really enjoyed the intensity of the workouts!
I no longer box, but physical activity remains very important to me, and I work out regularly during the week. To stay active, I enjoy activities like yoga, pilates, skipping, and jogging. I try to mix it up, so that my workouts are always fun. I'm always open to trying new physical activities since I love to move and challenge my body. Balancing my health and my studies is a priority for me.
Name one person, other than your parents, who has had the most influence on your life. Why?
My Oma (Oma is the Dutch name for grandmother) has had a big influence on my life. When I was growing up, I did not get to see her often, owing to the fact that I lived in Canada, and my Dad's side of the family lived in the Netherlands. When I moved to the Netherlands for university, I was able to live with my grandparents and this allowed me to spend more time with both of them. My Oma is incredibly inspiring to me. She is so kind-natured that many neighbors within her community will often stop by just to say hello. She is also very passionate about gardening. My Oma is able to grow amazing flowers and sustain them in a way that is far beyond my own capabilities. I learned a lot from her unending kindness and passion for the hobbies that she loves.
What is your proudest personal accomplishment (other than participating in this pageant)?
One of my proudest accomplishments was writing and defending my thesis on the Me Too movement and human rights. My goal with my thesis was to examine the relationship sexual assault has to international human rights and to delineate how international human rights could serve the goals of the movement. I felt very compelled by my topic, and I put a lot of work into the research and writing process.
I was a little intimidated to defend my thesis in front of important individuals such as the dean of my program, but because I cared so much about the topic, speaking about it came fairly naturally. My thesis project won my program's thesis award for 2018, and it felt really nice to have something that I cared about and worked hard on be recognized.
What is the most interesting or unique thing that has ever happened to you and/or what is the most interesting thing about you?
The most unique thing that has ever happened to me was being accepted to study my undergraduate degree in Amsterdam. Moving abroad, starting a new program, and adjusting to a different culture was challenging, but it was the best choice of my life. In the three years I lived abroad, I grew immensely as an individual and learned a lot about myself. I participated in an international program and made friends with people from all around the world. The memories and close bonds that I developed while in Amsterdam are very close to my heart. I would love to go back to the Netherlands at some point.
What is your career ambition and what are you doing or plan to do to accomplish that goal?
My career ambition is to practice international human rights law in some capacity. I would like to use my law degree to help people who are lacking access to justice in the most fundamental sense. Ideally, my career would allow me to help people deprived of their human rights by learning what is most important to them and how the law can most efficiently serve their needs.
To accomplish my goal, I need to acquire my J.D. degree, which I am in the process of doing. In addition to pursuing my law degree, I take any opportunity I can to participate in international or public-law oriented activities. I try to take advantage of networking opportunities, participate in extracurriculars which are oriented to international law, and learn as much as I can about subjects of international law which compel me.
Additionally, I volunteer with organizations such as Amnesty International, which allows me to experience international human rights law in practice.
What would be your "dream job" in life?
When I think of a dream job, I don't think of a specific title or duties, but instead of key qualities that I would like my future career to hold. Careers take up a large portion of one's lifespan, so it is important to me that I do something I love, and something that makes a difference to other people. I know that I am best suited to make a difference when I harness my particular passions and capabilities and put them into my work. Ideally, I would like to use my passion for human rights and my capabilities as a student of law to help others and make a real impact on peoples' lives.
Describe where you were raised and what your childhood was like.
I was raised close to a very small town in Midwestern Ontario. My family had a house right outside of town in the country where my sisters and I had lots of room to run around and explore the outdoors. I spent a lot of time tending to horses with my older sister and inventing all sorts of creative games with my younger sister. My childhood was pretty great; I have very fond memories of the time I spent with my family as well as the close friendships I developed with my peers. I enjoyed growing up in a small-town setting, as it taught me the value of having a close-knit community for support.
I am very grateful for my upbringing. I have two loving and supportive parents, I am close to my sisters, and I never had to go without as a child. Many people are not so lucky. It is a goal of mine to help others who are less fortunate in terms of family, education, or resources be able to pursue their goals.
List any interesting or unusual jobs you may have had.
I worked as an intern at College Fashionista, which was an online company devoted to creating fashion content for college and university-based students. The job was enjoyable because I got to wander around my campus in Amsterdam, take pictures of students who I thought had a good sense of style and then write articles based on their outfit choices. The internship was a great opportunity to work in a creative capacity, which I loved.
Another interesting job I had was working as a respite relief provider. As a respite worker, I was able to work with children with disabilities and together we would engage in various activities such as playing games, making crafts or exploring the outdoors. I had a lot of fun in my capacity as a respite relief provider.
List any volunteering you have done.
Volunteering has provided me with some of my fondest experiences. It is a great way to give back to the community, while also putting time into causes that I care about. To date, I have volunteered with:
Amnesty International letter writing campaigns
Free the Children
Geneva Centre for Autism
Best Buddies
International Human Rights Program working group member at the University of Toronto Faculty of Law
Critical Analysis of Law volunteer student editor
ACT Toronto—SNAP Gala volunteer
What is your most unusual talent?
I'm pretty good at organizing and keeping my belongings tidy. I'm no Marie Kondo, but it is a useful skill.
Where is the most interesting place you have been to?
I really loved visiting China. I had never been to any part of Asia before that time, and I was struck by how different Chinese culture is from anywhere else I'd been. Everything was an adventure: the food, the shops, the environment, and the people were all incredible. One of the highlights of my trip was walking along the Great Wall of China. Some parts of the wall are actually incredibly steep! I was surprised by the incline. It really is an amazing physical structure, and I'd love to go back sometime.
What do you hope to be doing in ten years?
In ten years, I hope to be practicing law, ideally in the field of international human rights law. I also hope that I am able to travel more and experience parts of the world that I have yet to see. I really hope to have strong positive relationships with my friends and family, and to have a healthy balance between my loved ones and my career. It is a further goal of mine that I continue to push myself outside of my comfort zone and do things that scare me. I hope to always take opportunities to grow as a person and learn about the world around me, whether that be tomorrow, ten years down the road or further on. I do not want to become passive about my life.
Is there anything you would like to add that we haven't asked?
It's been a personal goal of mine to compete at Miss Universe Canada for a while, and I am so excited to fulfill this dream. I am proud to be among the many qualified and engaging women who are competing for the title of Miss Universe Canada this year.