Carmelle Martinez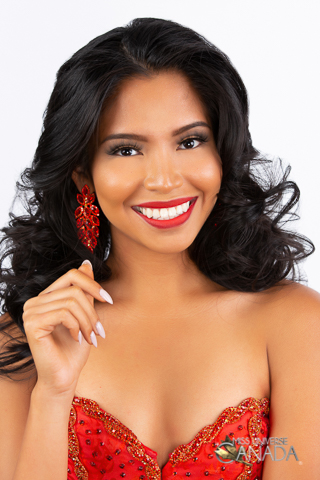 Height: 5'9
Hometown: Brampton, ON
Languages: English, Filipino (Tagalog), Filipino (Bisaya)
Occupation: Audit and Tax Reporting Professional
Carmelle Nathalie Martinez was born and raised in Tago, Surigao del Sur, Philippines and moved to Brampton, ON when she was 14 years old. She graduated in June 2018 with a degree in Bachelor of Business Administration; with a specialization in Accounting, from the University of Guelph-Humber in Toronto, ON. She was the recipient of the Gold Medallion for Leadership Excellence Award for her ongoing leadership contributions within her campus community during her undergraduate studies. Carmelle currently works for Deloitte Canada in London, ON, which was her dream company, because she has always wanted to work for a global leading firm that would effectively support her professional development while also making an impact within her community. Carmelle is analytical, deliberate, and passionate about gender equality, anti-discrimination, inclusivity, and female empowerment. These strengths have helped her succeed in her current role as an Audit and Tax Reporting Professional, and other previous roles within the finance department as well as being a mentor in her alma mater's community. She hopes to attain her Chartered Professional Accounting designation in the near future.
Since moving to Canada, she has met so many inspiring individuals who have motivated her in every aspect of her life. Canada has helped her become open-minded, because of its incredibly diverse community. Her passion for cultural integration derives from her experience working with people with different cultures. Hearing stories of first-generation Canadians with the same goal as her and her family inspired her to expand her network, so she can reach out to others to offer mutually beneficial support. The hardships that her parents went through while struggling to find their first jobs to simply be able to financially support her family motivated her to aim high professionally, and to also be kind and generous to others. Carmelle hopes to one day be in a position where she can provide equal opportunities, especially to new Canadian immigrants.
In countries like Canada, every citizen can make opportunities happen by simply supporting one another. Her educational background in business has allowed her to find unique and creative ways to improve situations that deserve attention. She believes that by making use of Canada's diverse community, it will help inspire others to build a strong sense of open-mindedness. She was extremely involved in all the schools that she attended, but now Carmelle wants to take it to another level by being involved in her community through different platforms including beauty pageants. In 2016, she competed at the Miss Progress International 2016 in Puglia, Italy and represented Canada with her advocacy on aboriginal women's rights. Carmelle realized that by participating in beauty pageants, it provides women like her to have a platform where she can start dialogue about situations that deserves society's attention. By driving awareness to topics such as gender quality, anti-discrimination, inclusivity, mental health, and female empowerment, the community will continue to strive to become more progressive.
Carmelle's passion for the various societal issues and drive to make a difference in the world has made her into the independent and confident woman that she is today. She hopes that with her participation in Miss Universe Canada 2019, she will inspire others to continue pursuing their dreams, while also making a difference in the world. Her extracurricular activities, previous pageant experience, community involvement, and leadership experiences motivate and strengthen her to continue pursuing her own dream of becoming the next Miss Universe Canada.
Sponsors
Ekaj
,
Sparadise Therapeutic Centre Inc.
,
Kenny Ladaga Couture
,
Nami's Skinful Wishes
,
Vien's Beauty and Wellness
,
Silky Smooth Hair Care
,
The Booth 1201
,
KCI Portraits
,
International Professional Entertainment Network
,
Celestine Style
,
Yaser and Mayasa Co.
, Family and Friends
Video
Q&A
What are your interests and what do you enjoy doing the most?
I absolutely enjoy mentoring. When I finished preschool, we were asked about our dream job, and I remember proudly saying I wanted to become a teacher. As years flew by, my goals changed, but I have always been determined to take every opportunity possible that enabled me to help other students through mentorship or tutoring. In fact, up until my undergraduate years at the University of Guelph-Humber, I was highly involved in variety of leadership programs where I was able to mentor prospective and current students to help them succeed throughout their years in their respective program. I have always believed in the importance of paying it forward, and am extremely grateful to have so many incredible mentors throughout my life, who motivate and inspire me to continue to pay it forward through mentorship.
Aside from mentoring, I also enjoy painting, calligraphy, cooking, traveling, exploring outdoor scenes, photography, going to the gym, makeup, learning about the animal kingdom, watching TV shows that relate to different professions (hello to all my fellow Grey's Anatomy, the Office, the Good Wife, and Suits fans), and my most random interest, which is analytics.
List any special training you have had (music, art, drama, dance, etc.)
Piano lessons
Guitar lessons
Runway and personality development training
In what sports, if any, have you participated?
I participated in badminton, lawn tennis, and table tennis. When I was in high school, I received the Coaches Award and MVP Award for our table tennis team. Although I have always participated in different sports, these were the ones that I excelled in the most. I realized that these sports effectively tested and strengthened my ability to analyze, focus, and be a team player. I was mostly competing as a single player, but I always had the rest of my high school team who supported one another.
Name one person, other than your parents, who has had the most influence on your life. Why?
One of my colleagues at my previous job who is also one of my mentors, Dave Thiru, has definitely had the most influence on my life other than my parents. He has taught me the value of hard work, staying positive, dedication, and appreciation of the journey towards my goals. He has made me realize that it is okay to make mistakes, because it allows me to identify my areas of improvement and use them to motivate me to continue wanting to learn, grow, and prosper. Most especially, he has supported me throughout all my endeavours and always reminded me that when things seem to be falling apart, I should never let my emotions get the best of me and to simply think of my next steps.
Until this day, I share these lessons to my mentees, because having this kind of mindset is a key to success. Although I am nowhere near where I want to be, I know that I can get there as long as I continue to apply these lessons throughout my journey.
What is your proudest personal accomplishment (other than participating in this pageant)?
I was very fortunate to receive the Gold Medallion for Leadership Excellence Award for my ongoing leadership contributions in the Bachelor of Business Administration Program at the University of Guelph-Humber. Mentorship is one of the many things that I am extremely passionate about, so when I was recognized for my dedication in supporting the future students, it made me realize how kindness and good leadership can go a long way. Today, I look at the medallion as a reminder of the importance of helping each other become the best versions of themselves.
What is the most interesting or unique thing that has ever happened to you and/or what is the most interesting thing about you?
I was an extremely clumsy child. I have two scars on my right elbow that I refuse to surgically remove, because I want the world to see that blemishes are okay (and being clumsy is also okay sometimes). I got my first scar from an accidental fall. A family friend's daughter, who was older and taller than I was at that time, offered to give me a piggyback ride. I believe she was caught off guard by my weight, so after she took her first step, she got out of balance, fell on me, and then I landed on my right elbow. I remember people freaked out and started looking for my mom, because my elbow was gushing blood. My next scar came to be when I tried racing with some kids in the street while riding a bike. I accidentally hit a rock that put my bike out of balance, landed on my right elbow again, and then apparently fainted for a while. My friends had to wake me up after finally deciding to look for me since I was gone for a while. I also accidentally hit my head on a faucet, which resulted in an E.R. visit and a few stitches on the back of my head. I was in our old bathroom that did not have a shower, so I remember pretending using the faucet as if it was an actual shower while I was sitting on the floor. I still have a bald spot in the same area to this day.
What is your career ambition and what are you doing or plan to do to accomplish that goal?
My career ambition has been changing over the span of 5 years, but my aspirations to make a difference in the world has remained the same. I am currently an aspiring Chartered Professional Accountant (CPA). I plan to accomplish my goal by learning from CPAs, while finding ways to use the leadership skills, which I will eventually attain from becoming a CPA, to make a positive impact within my community. In a competitive economy that is drastically changing, I found CPA as one of the designations that I could use as a competitive advantage. Through its esteemed and rigorous process, I will become a better world leader with the knowledge needed to have a different perspective when analyzing different situations.
What would be your "dream job" in life?
I have never been a "one job at a time" type of person, because even for my dream job, I would want to become a Forensic Accountant while also working in the tourism industry to promote different countries by using their culture in addition to the amazing vacation spots that they may have. I realized that I have interests that may not be so alike, but the intentions I have for both jobs are always for good. The thrill that I would get from the Forensic Accountant position will continue to develop my professional career and interests in analytics, while the tourism aspect would allow me to connect with other cultures and hopefully inspire others to do the same.
Describe where you were raised and what your childhood was like.
I was born and raised in Tago, Surigao del Sur, Philippines. It is a very small town in the southeast side of the country, close to the Pacific Ocean. We knew most of the people who lived in our town, and we love celebrating anything for the sake of having get-togethers. We had annual fiesta (festival), and parades that happened almost every month. I was actually the parade lead majorette for two years at my elementary school. The streets are normally empty when there is an international competition happening that had Filipino participants; this is especially the case for boxing and beauty pageants.
Most of my weekends consisted of travelling to different cities or going to the beach, hence my love for outdoor activities. I was a very clumsy child, but that did not stop me from playing games in the streets with my younger brother and friends. Some of my favourite games are Piko, Patintero, Chinese Garter, Tumbang Preso, and Luksong Baka. I remember we would play until late in the evening, especially when it is full moon, because it would be so bright at night. I had a lot of cuts, bruises, and scars growing up, but on the contrary, my childhood taught me the importance of friendship, value of life, and happiness.
The close bond that my family had with our extended family made me the family-oriented person I am today. During holidays, we normally have big celebrations that was almost like a family reunion, because everyone would come back to our small town. I was especially close to my grandparents in my father's side who were very religious. They were the ones who introduced me to my Catholic faith. Whenever it is someone's birthday, or it is a special day in the Catholic religion, you could always find me at church, sitting next to my grandmother and grandfather close to the front of the alter.
I have so much passion when it comes to supporting our posterity, because I believe that childhood plays a big role in finding ourselves. I have become the well-disciplined, independent, and ambitious woman I am today, because of my experiences growing up.
List any interesting or unusual jobs you may have had.
Working as an Accounts Receivable Specialist at the age of 18 years old for a Fortune 500 company was definitely an interesting job to me at that time. I have always been the type to feel uncomfortable asking people to pay me back, but this position certainly got me out of my comfort zone. Most especially, it improved my communication skills and certainly supported my professional growth.
List any volunteering you have done.
Heart and Stroke Foundation
Children's Aid Society of Toronto
Peel Children's Water Festival
DECA Ontario
DECA University of Guelph-Humber
Humber College ITAL (IGNITE Student Union)
University of Guelph-Humber
Guelph-Humber Accounting Council
What is your most unusual talent?
I can countdown from 100 to 0 without stopping, and I can do tongue tricks. I can make my tongue look like a flower, and twist it to the left or right.
Where is the most interesting place you have been to?
The most interesting place that I have been to would definitely be Duma-Duma in Tago, Surigao del Sur, Philippines. Many of the houses are made out of wood and nipa huts; they are also known as stilt houses. For the most part, the only way to get from one house to another was through narrow bridges that are also made out of wood. I remember seeing children running and playing freely and happily in that area of my town despite the risk of possibly falling in the water, and the limited space. The area has been through a lot of catastrophes, including some of the houses being burned down. Duma-Duma has left a huge mark in my life, because regardless of the obstacles that they have faced, they have taught me to be grateful. At the end of the day, life is all about what you make out of it; the people of Duma-Duma certainly made sure happiness was what they got out of it.
What do you hope to be doing in ten years?
In 10 years, I hope to have been able to attain my Chartered Professional Accountant designation, and remain as passionate about cultural integration through tourism initiatives as I am today. I hope to be in a position where I am able to help my mentees with advice and provide opportunities that could open doors for them. I would also love to travel, so I can experience how it is like to live in different countries. Essentially, I would want to get to know the locals and bring the values I learn from them back in Canada. I enjoy experiencing cultures more than simply taking pictures of the tourist spots in different areas, because that is how we can preserve a strong sense of open-mindedness. I also truly believe that when people continue to have an open mind, they remain positive and enthusiastic about life.
Is there anything you would like to add that we haven't asked?
I would just like to thank the Miss Universe Canada organization for giving me the opportunity to compete at one of the most prestigious pageants nationwide. I have plenty of things planned that will hopefully make Canadians more proud of being Canadian, and I hope to be able to wear the Canadian sash once again at an international stage. This pageant has not only disciplined me physically, emotionally, and mentally, but it has motivated me to continue getting involved in my community. I truly believe that I am prepared to fulfill the responsibilities associated with the title, and show the universe that Canada deserves the crown.
I am also grateful for the organization to be emphasizing the need to have their beauty queens to have humanitarian works. I am excited to launch my Unite for Posterity campaign to support the SOS Children's Village, and I look forward to meeting everyone in the team.