Cephra Hasfal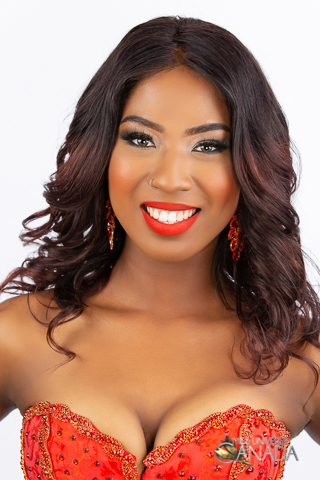 Height: 5'6
Hometown: Brampton, ON
Languages: English
Occupation: Business Marketing Student
Cephra Rose was born and raised in Brampton, Ontario to Jamaican / Chinese parents into a family of seven. Growing up in a large and diverse family, she has always felt a deep longing for her own sense of individualism amidst an extremely talented family. With interests that were fairly foreign and out of the box, Cephra was always seeking new and exciting life experiences and tended to surrounded herself with a wide circle of friends from various backgrounds and walks of life.
Cephra currently resides in Windsor, Ontario, where she is pursuing a degree in Business Marketing.
Battling anxiety and depression through most of her teenage years up into young adulthood, she struggled with finding a sense of purpose and identity in the world. Through rooting her identity in her Christian faith, she was able to overcome both, also coming to the understanding that this life wasn't simply about her, but a greater purpose, bigger than she could ever imagine. This sparked the desire to want to reach others with similar mental struggles by encouragement through a living hope. Cephra has always strived to apply these principals by getting involved firstly in her home, inner circles, and community before furthering that outreach.
Since the age of 21, Cephra felt it was on her heart to begin an online ministry in order to be more proactive about her vision. She is currently in the process of launching her own ministry that will focus on the everyday vain pursuits of this generation that deprive them of finding true identity fulfillment. Through the ministry, she hopes to inspire young girls and women to be the best versions of themselves in order to sustain beauty from the inside out. Other causes that are near and dear to her heart include issues of poverty, mental health, human sex trafficking and social & religious persecutions.
Cephra is extremely grateful for the opportunity to be part of this year's Miss Universe Canada competition, as it brings her one step closer to bringing her vision to life. She hopes this platform will enable her to partner with organizations that have a similar vision, allowing her to be a voice for those who don't have one.
In a society that promotes self-indulgence, she wants to be a reminder that it is okay to love ourselves and strive to be better, but let's make sure our souls are beautiful, too.
Sponsors
Charm's Bar and Cafe, St. Clair College, Family and Friends
Video
Q&A
What are your interests and what do you enjoy doing the most?
I love creating things and being creative; all of my hobbies are pretty isolated, but mostly because I get very consumed by self-projects, whether that be editing photos, videos, or writing, etc.
I also like going to the gym, challenging myself with new fitness goals and trying out new recipes. I love "feeling productive" so I enjoy doing a lot of planning and goal setting centered on who I am and how I can make new lifestyle changes.
I also love studying—I'm a closeted nerd. I love topics like history, religion, language and geography, because I genuinely love learning about people, and why the world is the way it is.
On a more leisurely level, I'm pretty much open to anything. I love trying new things. I also like just hanging out with friends or family, reading, watching anime, or getting good sleep.
List any special training you have had (music, art, drama, dance, etc.)
Music: Guitar / Piano / Vocal
Language: French / Korean / Spanish
Dance: Bachata
In what sports, if any, have you participated?
None professionally, but I do workout. I've always been attracted to football/rugby, boxing/kickboxing and gymnastics.
Name one person, other than your parents, who has had the most influence on your life. Why?
Jesus has had the utmost influence on my life because he brought me out of a life of darkness. I've found so much purpose through his grace, and he's the reason I strive to be better, love better and serve better. I'm nowhere near a perfect person, so I'm eternally grateful that he's made a way for me when there really was no other way.
What is your proudest personal accomplishment (other than participating in this pageant)?
My speech got accepted into the Toronto Korean Speech Competition this year.
What is the most interesting or unique thing that has ever happened to you and/or what is the most interesting thing about you?
I think the most interesting thing about me is that I love learning. If I'm interested in a topic, I get really consumed by it and go a little crazy trying to get better. I've self-taught myself guitar, piano, graphic editing, video editing, sewing, and also self-taught myself how to speak Spanish and Korean (all of which I later took classes for to hone my skills).
What is your career ambition and what are you doing or plan to do to accomplish that goal?
My career ambition is to combine my education, skills and passions into some sort of ministry/business, supported by my desire to serve the Lord. I want my character to be reflective of what I believe so I can love and serve on a better level. I want my influence to be global and effective and able to reach people of all backgrounds, social groups and languages with a message of unity, hope and encouragement. Ideally, I'd love to collaborate with organizations with a heart to support similar causes to mine, so I can serve and witness change firsthand.
I also want to inspire young girls to find their individuality early, and not conform to the patterns of society. Being yourself and actually believing in yourself is so important if you want to be confident and effective in anything that you do. I also want to help the youth, male or female, to keep and maintain healthy mental patterns and better deal with their emotions. Mental health is such a growing issue in this day and age and I believe that no person should have to live a life full of darkness. I want to help people find an escape and I want them to always feel like they can talk about what's keeping them down, without fear of judgment.
And lastly, I want to start a dialogue about global issues that are easily overpowered by Western social issues or deemed less important due to ignorance and lack of conversation. I've never believed that any particular issue deserves more light than any other.
I plan to accomplish my goals through educating myself and others throughout the duration of this competition. Also through my writing and social media platforms. I think it's all about simply taking advantage of whatever opportunities I'm given, and playing my cards accordingly.
What would be your "dream job" in life?
Honestly, I'd love to just be a content creator or an author. Paid or unpaid, I love the idea of being able to produce something to put out into the world for others to enjoy and benefit from. Winning Miss Universe would definitely give me the tools and platform to see change both in myself, and in the world.
Describe where you were raised and what your childhood was like.
I won't go into detail too much about personal life, because I feel like I'm always growing and evolving and I don't like to look back on too many experiences, really, whether good or bad. I'm all about learning and moving forward, and more focused on what I put out rather than what I take in.
I was born and raised in Brampton, Ontario with parents and siblings. Six to be exact. Having a big family was always fun, and it was always inspiring to have such talented siblings. There were always things to do, places to go, food on the table. I spent a lot of time outside, riding bikes with friends, watched some Dragon Ball Z. It was a pretty average life.
I always remember wanting to be involved in anything art or music related in school. I did all the reading programs, a few talent shows, and high school choir. I was involved in various clubs and activities and even tutored the ESL students while I was there because I loved being the teacher's second hand.
But I always remember being very quiet and observant of family and peers. I was also very observant of the issues in the community and the world around me, which heavily influenced the person I am today. As a kid, I never had a very strong sense of identity, so I did a lot of watching and internalized thinking. I now know exactly who I am and where I want to be.
List any interesting or unusual jobs you may have had.
I've had about 15 part-time jobs that I've worked throughout college, which is unusual in itself. At least 13 of those were pretty usual.
My favourite summer job I ever had was working as a breakfast show cook for a company contracted under Sunwing Airlines. I got to meet so many different people every day and was challenged on so many levels, in terms of handling myself under pressure and stress management.
List any volunteering you have done.
Church Involvement
Toronto WeDay Festival
United Way
Ronald McDonald House Charities
Salvation Army
Operation Smile
What is your most unusual talent?
I can teach myself how to do anything I put my mind to.
Where is the most interesting place you have been to?
Spain was fun. It was my first independent travel overseas and really helped me to get to know myself better. I studied a TEFL course while I was there to get certified to teach English overseas.
I love, love, love learning about new cultures, foods, and languages, so all of my travels have always been super educational experiences. Fun fact: I never use a hotel when I travel, because I prefer to live like a native. I'll do a homestay or a private residence and do my own groceries, explore the cities, join a class, integrate—I'm always finding different things to do as if I lived there.
Other places I've been to include France, Dominican Republic, Jamaica, and about seven states across the US of A.
What do you hope to be doing in ten years?
In ten years, I hope to see the fruits of my labour. I hope to have established some sort of ministry that is actually impactful on a global scale. I want to inspire others to seek truth, love themselves and serve/love others while still maintaining their individuality.
In ten years, I also hope to have had travelled a bit more, and have had my book series I created published. I'd like to hope that I'm married by then, too, with a few pets and actual, solid cooking skills. I definitely want a family someday—I've always considered kids and/or adoption, but it's hard to predict where life will take you.