Christina Logan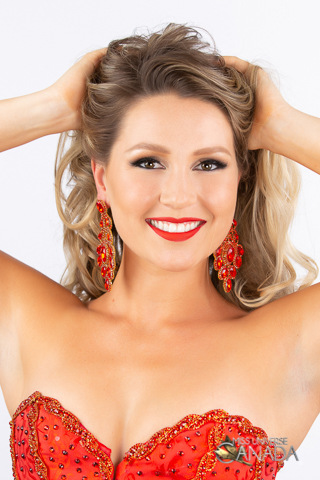 Height: 5'7
Hometown: Keswick, ON
Languages: English
Occupation: Sales Associate
Christina Logan is a 24-year-old Toronto resident who grew up in Georgina, Ontario. She strives to live an active lifestyle filled with creativity, adventure and friendships. While pursuing a career as a professional dancer, Christina is currently employed as a sales associate at Fresh Home and Garden.
Christina is devoted to promoting the Arts in Canada. As an engaged patron of the Toronto Arts community, she volunteers in local dance organizations and contributes monetarily to dance start-ups. Recognizing a shortfall in the industry, Christina advocates for funding the Arts by encouraging voters to ensure the community's needs are met at all levels of government. She attended a government-sponsored specialized arts high school, and then completed her Honors Bachelor of Fine Arts in Performance Dance at York University. These opportunities allowed Christina to study under Toronto's leading dance professionals, and offered extensive performance opportunities. Establishing herself as a choreographer, her pieces were praised by audiences and professionals alike. She was a member of the York Dance Ensemble, and participated in shows across the Toronto area. During her third year of University, she completed a year abroad at Towson University in Baltimore, Maryland, one of the top dance programs in the USA. During her tenure, she was offered a role in a dance short film, "It Goes Without Saying," which has been featured at the California ISFF, winning Best Experimental Short, and more recently was accepted to the Paris Short Film Festival.
Christina is an avid independent world traveler who recently backpacked for eight months, cherishing the sights and amazing cultures this world has to offer. This adventure taught her to be independent, self-sufficient and curious. Traveling made the concept of environmental conservation and one's environmental footprint important to Christina. In every job she holds, she has instated recycling programs which she would like to develop further.
Pageants have assisted Christina to develop personally and professionally. During her initial competition as a teenager, she discovered that a title was more than a crown. Fundraising for passion projects and advocating for bullying legislation made her a leader in her community. This encouraged her to pursue other pageants to expand her outreach and sponsorships, at one point representing ONEnergy – a Toronto-based company dedicated to providing corporations with renewable energy resources. Their initiative was a lesson in the importance of protecting our environment and living greener. Most recently, she participated in a pageant in China, where she improved her modeling skills, experienced the fascinating Chinese and Inner Mongolian cultures, and made wonderful life-long friendships.
Christina believes in education, awareness, and compassion. She continually challenges herself by staying on top of current events, and gets involved locally. In her youth, Christina volunteered at her church, and was a volunteer dance instructor. Faith allowed her to develop a deep love for service, and she became a leader at a Christian camp, volunteering her summers for three years. Mini-Yo-We was where she learned to guide young women from all walks of life, and to encourage kindness, empathy and service in youth. While dealing with her own past abuse, she found that connecting with children helped heal her trauma. This made Christina a feminist, speaking out for equality and women's rights, while advocating for victims. Christina strives to live a healthy, pure lifestyle, respecting her body through nutrition and fitness and her soul through strong moral values and convictions. Miss Universe Canada 2019 is a platform where Christina hopes to share her life experience and her talents, to further engage in community service in Canada and abroad. Christina feels blessed and humbled to represent her family and community on the Miss Universe Canada stage.
Sponsors
Video
Q&A
What are your interests and what do you enjoy doing the most?
In my life I have been fortunate to explore plenty of hobbies and interests. I love to move and dance, and I have found a wonderful home that allows me to do both while getting great exercise. I spend much of my free time training at the Extension Room, enjoying ballet-based fitness classes and Pilates workouts, which provide me with an outlet for my passion while maintaining a healthy lifestyle.
Travel is my second passion and I take off every chance I get. Whether my travels take me close to home or across oceans, I love to experience different parts of the world and meet new people. This summer I will see my favourite band the Spice Girls in London, England, and later in the year I will travel to Spain to watch my best friend get married. The balance of my free time is spent with my family and friends, enjoying great conversation, cooking, and playing games. It is very important for me to also set aside personal time for reading because I believe it encourages the mind and the heart.
List any special training you have had (music, art, drama, dance, etc.) 
I began dancing at the age of three and have extensively trained in ballet, jazz, tap, pointe, modern, partnering, contact improvisation and contemporary styles. This training came from multiple studio settings, an arts high school, and two top tier university programs including York University in Toronto, Ontario and Towson University in Baltimore, Maryland. I spent so much time dancing growing up that I had to set specific hours to finish homework and eat meals. In addition, I took music lessons and had the opportunity to perform at fairs and competitions. Although this was out of my comfort zone, I believe it is important to show vulnerability while on stage. Having a passion for acting, I studied camera and stage performance at both Second City and Towson University.
In what sports, if any, have you participated?
I began cheerleading competitively at the age of 12 and dedicated much of my time to this exciting, team-oriented sport. I competed on two all-star teams, and was the captain of my high school team. Following this I cheered for the York University Lions at level six – the highest level of cheerleading in North America. Our team won several competitions and were provincial champions multiple times throughout my years as a Lion.
In my younger years I enjoyed playing recreational sports such as baseball and hockey. My teammates fondly nick-named me Ballerina, as I always seemed to be leaping around the baseball diamond, or gliding around the ice with no hockey stick. This is why I ultimately chose to stick to dancing.
Name one person, other than your parents, who has had the most influence on your life. Why?
Several years ago, my mother and I were introduced to a woman named Francesca through a mutual friend. Francesca became someone very important to us due to her vivacious personality and genuine kindness. She was my role model, confidant, friend, and a second mother (a title she gave herself, but I gladly accepted). She embodied compassion and her smile lit up any room. Even though she had been through many trials and struggles throughout her life, she attacked each challenge head on with a positive outlook. Francesca inspired me have fun in every aspect of my life, to pursue my goals, and taught me the importance of genuine friendship that transcends age or circumstance.
In May 2017, while I was traveling the Gold Coast of Australia, I received a phone call from my mom informing me that Francesca had gone missing. She spent her winters in Belize, her second home, which she always spoke of so fondly. Francesca never made her return flight to Toronto; she had vanished hours before. After a horrible, helpless week, Francesca was found deceased and we discovered her life had been taken from her. I will never understand how someone who exuded so much light and life could be stolen away so prematurely. I grieved for her, her young sons and family, and my own loss. Once the shock wore off, I wished to immediately return home to my family but I knew Francesca would have wanted me to continue my journey. Although grieving, I invested in my friendships that were developing, I continued seeking adventures that she would have loved, challenging myself to emulate her zest for life. I still think of Francesca every day, remembering how lucky I am to be alive and to never take things for granted. Every morning I read a note she wrote me saying "To the daughter I never had, but get to enjoy", which reminds me how blessed I am that I got to enjoy her as my second mother for a short while, and I do my best to make her proud.
What is your proudest personal accomplishment (other than participating in this pageant)? 
After I graduated from University, I began working two jobs for a period of six months, averaging sixty hours per week. I dreamt of leaving home and traveling on my own for an extended period of time but needed the financial stability to support myself. During those six grueling months, I also began plans to invest my earnings to help provide for my future. With the financial advice of my mother and colleagues, I purchased my first home at the age of 22. The house is solely in my name, and I run it as an income property. The deal closed in September, 2016, and by October I was venturing out into the world with my backpack. I spent eight months on my own traveling from country to country, visiting landmarks and meeting wonderful people along the way. I am so proud that I was able to focus, set my goals, and achieve them at a young age. I am so appreciative that both my financial and experiential investments have served me well in the years since.
What is the most interesting or unique thing that has ever happened to you and/or what is the most interesting thing about you?
I think the most interesting or unique thing that has happened to me is having the chance to perform in a music video. In 2013, I was selected to be featured in the music video "Anything" performed by the Canadian band Hedley. I danced, acted, and had a lot of fun on the set filming up close to the members of the band. That year, the music video broke records for the most nominations for a Canadian Music Video award. It was a unique opportunity that also offered great exposure. It is ironic that the message of the song is "I can do anything," and that is a goal I try to exemplify in all I do.
What is your career ambition and what are you doing or plan to do to accomplish that goal?
As an artist, our careers are ever-evolving and offer new challenges around every corner. My career goal is to find a way to incorporate my love of dance into every job I hold. As an independent dancer and choreographer my goals are consistently shifting. I hope to be able to perform in both Toronto and internationally in the near future. I am currently auditioning for local contemporary productions and international cruise lines. Further down the road, I would like to pursue choreographing my own piece for an arts festival like the Toronto Fringe. I have already begun researching grant opportunities, as well as coming up with proposals for future works. My most distant career ambition is to open my own dance studio complex. Over the past several years I have been working on a business plan that I believe would be successful, by focusing on the needs of dancers and their families, while inspiring youth to pursue artistic careers. This complex would hold several dance studios, a cheerleading gym with equipment, a nutritional café, and finally an exercise facility for the parents to use while their children are rehearsing. I believe that by encouraging a healthy lifestyle within the family unit, we can create a stronger, healthier future. In order to achieve these goals, I am continually training, attending dance shows, volunteering, and have recently commenced plans to pursue my Master's degree. I hope to attain my Masters in Performance Dance in the U.K commencing in the fall of 2020.
What would be your "dream job" in life?
My ultimate career goal and dream job has always been to be a performing dancer, who gets to travel. This career covers my two biggest passions, while also encompassing various intriguing opportunities. So far, I have managed to travel the world and dance at different times; my next step is to combine them as a career. One way I see this happening is by dancing on a cruise ship. Ever since I was young, I dreamed of dancing as a princess on the Disney Cruise line. This job would allow me to see the world, make art, be a princess, and spend time with children. I cannot imagine a better job for me.
Describe where you were raised and what your childhood was like.
I was raised in a small town called Keswick, Ontario, an hour outside of Toronto on the shores of Lake Simcoe. My mother and I moved there when I was a baby to be closer to my extended family. As an only child growing up, my cousins were like my brothers and I was the baby of the family. I am close with my entire family, but my mother especially as it was just the two of us at home. She took me on amazing trips at a young age, teaching me the importance of travel and culture. My parents provided for me in the best ways, always letting me experiment in new activities, even though it was difficult financially. I tried sports, horseback riding, figure skating, cheerleading, local theatre, but ultimately fell in love with dancing. My dance studio was my home away from home, and I spent much of my life there.
The ages of 12-13 was a particularly rough period because I was bullied at school, and the only two places that brought me solace was my home and the dance studio. I was lucky to have so much love and support in my life, that I was able to persevere and focus on my goals. I was a straight-A student in school and academia has always been a joy for me. The most important parts of my childhood have stayed with me: my love of the arts, my determination in school, the joys of traveling, and the importance of family. I am so lucky that my family has expanded to add nine new children, and I have the best nieces, nephews and cousins to love. Each of these relationships is special, and I am grateful every day that I can be a present and loving figure in their childhood.
List any interesting or unusual jobs you may have had.
My first job as a cheerleading coach at a young age was challenging because it required dedication, time commitment and lots of enthusiasm. I loved working with children and getting to teach them about one of my favourite hobbies. This was a great start to a wide range of unusual jobs that offered unique tests, like the unconventional job of being a landlady. When I purchased my first home, I had no idea what the upkeep of a house entailed. Apart from managing tenants and finances, I also managed large renovations on the house requiring a whole different set of skills. Occupying a position of seniority as a young woman was hard for me as my tenants have always been older. I have learned now how to be confident in my position of authority, while maintaining a respectful working relationship.
My most unusual job was working as a housekeeper in Byron Bay, Australia. When I traveled Australia, I had the joy of living in a camper van with a close girlfriend, and in order to experience life in this gorgeous beach town, we needed to find a place to park. We kept our van in the parking lot of a hostel and volunteered our time cleaning in exchange for use of the facility. It was fun meeting other travelers every day, blending pleasure with work. It also helped being in such a naturally beautiful location and getting to surf every day.
List any volunteering you have done.
I have had the pleasure of volunteering for many different organizations, events, and causes over the years including:
Fall For Dance North – assistant for Patron's Circle events (Toronto, ON)
The Georgina Animal Centre – held a fundraiser for the local animal shelter (Keswick, ON)
Bless Fest – director's assistant (Newmarket, ON)
ONEnergy – volunteer spokesperson and green ambassador (Toronto, ON)
North Gwillimbury Forest Alliance – petition assistant and spokesperson (Georgina, ON)
Free The Children – fund-raiser (Keswick, ON)
Camp Mini-Yo-We – volunteer cabin leader and program assistant (Muskoka, ON)
I have performed in many dance programs as a volunteer for varying causes including bullying awareness, and physical activity promotion for children.
Although it is not technically a volunteer position, I believe it is vital to donate blood and I give as often as I can. As they say, "It's in you to give." I use the blood donation mission statement to inspire my volunteer work.
What is your most unusual talent?
My most unusual talent is that I offer very good advice to others. Although this may not seem like a typical answer, I have found that it has become a skill I am frequently called upon to use. I have a knack of deciphering complicated situations when I can externally analyze a problem. Many friends and family members have told me that I missed my calling as a counselor or therapist. I believe this talent stems from the importance of empathy which was instilled in me at a young age. My earliest career ambition was to become a Judge, because I wanted to help people make decisions when it was too hard to do so on their own. For now, I will settle for being a voice of reason among friends and family.
Where is the most interesting place you have been to?
I have been blessed to travel around the world, but Cambodia has stayed with me because of the beauty of the culture and the history that shaped its people. I knew very little of this country nestled in Southeast Asia before arriving, but I was curious to go to the home of Angkor Wat. This temple in Siem Reap, one of the largest religious monuments in the world, was rediscovered in the 1800's by the French after centuries. The grandeur of Angkor Wat cannot be described and I enjoyed every minute taking in the history, architecture, and gorgeous views. I also had an unforgettable, joyous encounter with a wild monkey who wanted to swing in my hair.
The main reason I found this country to be so memorable is the resilience of their people after the atrocities they suffered in the 1970's. History class never taught me about the Cambodians suffering at the hands of the Khmer Rouge, and the distant effects of the Vietnam war. The Khmer Rouge was responsible for the deaths of a quarter of the Cambodian population during that time, and I had the opportunity to visit the locations that marked their sacrifice. It is worth researching this piece of history to truly understand what the Cambodians survived, and the effects it still has on the country. Regardless of this, the people are kind, hopeful and welcoming. The country has prospered as a tourist destination and is a wonderful place to be welcomed. I will never forget the time I spent in this beautiful country, and I will always remember how lucky I am to have been born and raised in a safe country, free of persecution.
What do you hope to be doing in ten years?
I imagine my life in the future to be full of dance, travel and family. In ten years, I will be 35 and I really hope I have kids by then to nurture and love. I have a very strong maternal instinct and I look forward to this chapter of my life. I also hope to demonstrate the joys of having a successful career, and the importance of working hard. I want my children to witness me as a strong female leader, who shows no fear in terms of goal achievement and who breaks down any barriers that may lie ahead. Although I look forward to having a family, I have chosen to pursue my career goals and passions before transitioning to that point in life. When my mother had me, she had already traveled the world, lived her dreams and experienced life. She was a positive role model for me, and I am glad she took the time to be herself before she became my mom.
Is there anything you would like to add that we haven't asked?
Over the last year I had some significant health concerns, that forced me to focus on my goals. Last summer after suffering through several bouts of severe abdominal pain and nausea over the course of two months, I finally went to the hospital. I was diagnosed with gallstones, that were causing gallbladder attacks and inflammation in other organs. I was facing emergency gallbladder removal and I felt so helpless in my own body. I was lucky enough to be treated by great doctors and nurses and was able to leave the hospital with surgery pending instead of immediate. My diagnosis meant I needed to completely restrict my diet and to be cautious with my body. It was a very tough four months trying to avoid surgery while my body fought against me. It eventually became completely necessary to have my gallbladder removed, and it did not come without its complications. Once again, my body didn't function as I needed it to, causing sickness and exhaustion for weeks. For a long while I felt confined and exasperated, but I also came to realize that I was not ready to let this defeat me. I wanted more than ever to be in my best shape, and I wanted to dance. With much perseverance I began to get back into shape and I continued to make positive choices in my diet, using food as fuel and eating what does not hurt my body.
All of my experiences have led me to competing for Miss Universe Canada because I want to be the best version of myself. This has been a dream of mine for many years and facing my life challenges head-on has made me a stronger woman, teaching me to trust my inner strength to pursue and achieve my dreams.