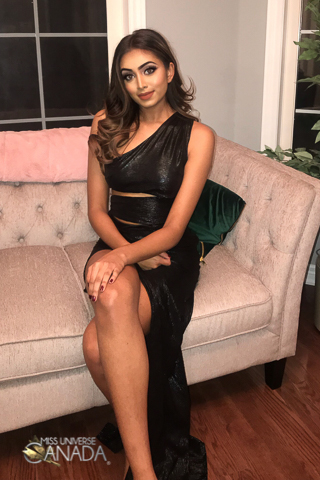 Height: 5'8
Hometown: Toronto, ON
Languages: English, Tamil
Occupation: Student at UOIT (Criminology and Justice)
Daphne was born to Tamil Canadians and raised in Toronto, Ontario. She is currently pursuing a degree in Criminology and Justice at UOIT, and dreams of becoming a lawyer in the future. From unforgettable childhood memories growing up to possessing a unique talent of dancing eyebrows to wanting to be Formula 1 racer, Daphne has a zest for life in its entirety at such a tender age. Her deep passion for cars, painting and travelling in order to fulfill her curiosity of various cultures have helped shape her character into an entrancing and compassionate young woman. Her recent proudest personal accomplishment was being chosen as 2nd runner up for Canada's Top Choice pageant in 2017.
Her most memorable trip was to Cairo, Egypt where she learned to appreciate their history and developed her love for unique architecture. Her hobbies are painting and playing volleyball, as well her keeping up with her passion for Barathanatyam, a form of Indian classical dance instilled in her since she was 5 years old. She has further developed this form of art by teaching older women cultural dance. She has also invested her time to teach children with special needs and helped clean up the city via numerous environmental work.
Despite her deep-rooted love for her family and friends, she believes that "God has placed gifts, talents and ability in each one of us. When you entrust yourself, and believe you have a purpose and are a person of great influence, I believe you can rise up out of any situation."
Sponsors
Family and Friends
Q&A
What are your interests and what do you enjoy doing the most?
I love to paint, it helps me keep my mind off of things and is a good stress relief.
List any special training you have had (music, art, drama, dance, etc.)
I have been learning Bharatanatyam since I was 5, and still continuing with it.
In what sports, if any, have you participated?
Volleyball
Name one person, other than your parents, who has had the most influence on your life. Why?
I believe that God has put the most influence on my life. God has put gifts, talents and ability on the inside of every one of us. When you develop that you believe in yourself and believe that you're a person of purpose and a person of influence, I believe you can rise up out of any situation.
What is your proudest personal accomplishment (other than participating in this pageant)?
My proudest accomplishment was winning second runner up in Miss teen, Canada's top choice 2017.
What is the most interesting or unique thing that has ever happened to you and/or what is the most interesting thing about you?
I loved cars ever since I was young, cars have always been my passion.
What is your career ambition and what are you doing or plan to do to accomplish that goal?
My career ambition is to become a lawyer, and I am currently studying criminology in the process of becoming one.
What would be your "dream job" in life?
My dream job was to become a Formula 1 racecar driver ever since I was a child.
Describe where you were raised and what your childhood was like.
I was born and raised in Toronto Ontario. My childhood was amazing, if I could go back I would. I have amazing memories with my family and friends.
List any interesting or unusual jobs you may have had.
I taught older women cultural dance. It was an unforgettable experience and I enjoyed working with such nice women.
List any volunteering you have done.
I did a lot of volunteering during high school. I participated in a lot of charity work. I also participated in keeping the environment clean and helping children with special needs.
What is your most unusual talent?
Eyebrow dancing.
Where is the most interesting place you have been to?
The most interesting place I've been to is Cairo, Egypt. I love to travel and that was one of my favorite places. The history itself is amazing and the city was beautiful. Out of the 24 countries I've been to, this place caught my attention the most.
What do you hope to be doing in ten years?
In ten years from now I see myself as a lawyer and I hope to achieve more as I go along.