Hajaratu Jalloh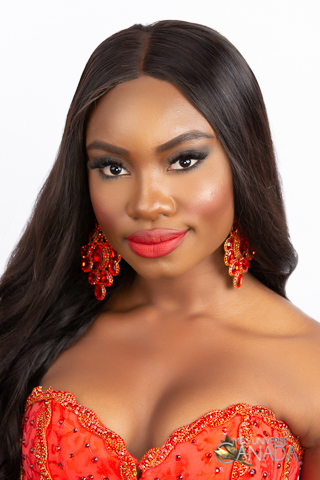 Height: 5'5
Hometown: North Burnaby, BC
Languages: English
Occupation: Legal Assistant
Hajaratu Jalloh was born in Sierra Leone, West Africa to a Muslim father and Christian mother. Growing up her parents gave the freedom to decide on which religion she wanted to follow. As she is now 23 years old, she follows the values of Christianity in her everyday life. She recently graduated from Douglas College and received her Legal Assistant Certificate. Hajaratu plans to start her Paralegal studies in Fall 2019. Currently she is working as a Legal Assistant for a personal injury firm. People find Hajaratu very approachable, outgoing and funny. She enjoys meeting new people and making use of her excellent communication skills that she developed during her experience in background acting, working in a call centre and the retail industry. Growing up, Hajaratu won Athlete of the Year and participated in a variety of sports such as Track and Field, Volleyball, Badminton, Basketball and Ping Pong. Not only was she into Athletics, she also took acting classes from the age of 10 – 15 years old and has been in musicals such as Grease and Guys and Dolls. When Hajaratu is not working her full time job as a Legal Assistant, you can find her window shopping, modelling for Instagram brands/online brands, local photographers and being in music videos.
Growing up in Vancouver, Canada has made Hajaratu realize the privilege that she has compared to some of her family that is still back home in Sierra Leone. Hajaratu's mom who is one of her role models in her life, has taught Hajaratu to give back to her family back home because they don't have the opportunities we have here in Vancouver. When it comes to conflict, Hajaratu understands that humans make mistakes and we should react with love instead of hate. One thing that coworkers of Hajaratu say is that she makes the office environment not feel like work because she is always in a good mood and has fun as she does her daily task. She is independent and believes in woman empowerment, one of her dreams is to have an organization or club where young girls can meet and learn how to be confident, how to love themselves, how to not compare themselves to anyone and to be open to all types of people.
Sponsors
Capital Hill Dental Clinic, Dean Bennett, Paul Stephens and Somar Al-Khatab, Dermabella Clinic, Family and Friends
Video
Q&A
What are your interests and what do you enjoy doing the most?
My lifestyle interest are modelling, shopping, photography, fashion and playing sports. I enjoy modelling the most because when I am in front of the camera I feel that I can be myself and really show my confidence. Some people assume modeling is easy and doesn't take much work. However, modeling is a skill that is learned and you get better with practice as of anything you want to do. Every time I have a photoshoot I want to create a story and a message and that's one of the main reasons why modeling is what I enjoy the most. What interest me mentally is people who want to help other people, intellectual conversations, and feminism.
List any special training you have had (music, art, drama, dance, etc.)
Growing up I was always the child that was vocal and loved getting attention. Due to that fact, my parents placed me in acting school from the age of 10-15. After acting school I joined Musical Theatre and Dance. Being in musical theatre was an amazing experience for me, it didn't matter if my role was small or big, my energy on the stage brought light into the room. When I was involved in dance I was open to ballet, and many other types of dances. My dance program taught me how so many of the dance moves we have in each culture all having meaning and a lot of them are very similar.
In what sports, if any, have you participated?
I grew up doing Track & Field and competed in the BC Olympics from age 10 to 15. My elementary school in Surrey, British Columbia invested their time and money for me to become a track star and I will forever be grateful for that. Outside of track I also participated in Volleyball, Rugby and Basketball. People are very surprised when I say I participated in rugby as I am considered small. However, one thing about girl power and women empowerment is that you can do anything you put your mind to! There should never be any obstacles.
Name one person, other than your parents, who has had the most influence on your life. Why?
Lise Gaudreault, I met this woman when I was 19 years old and she has been an inspiration to me ever since. She is not only a paralegal but also a Life Coach for men and women. Lise has been through so much than the average person but she comes to work every day with a smile on her face and motivates people to stay strong and live life in the healthiest ways. I recently went to one of Lise's life coaching classes about creating/attracting healthy relationships and learned that so many of us women strong or weak are way more alike than we think. We as a society have conditioned all women to think and be a certain way and people like Lise Gaudreault are changing those labels and stereotypes every day! I want to be like Lise Gaudreault when I grow up.
What is your proudest personal accomplishment (other than participating in this pageant)?
At the age of 19, which is the age that most people have no idea what to do with their lives..I walked into a law firm with no experience and no knowledge about the legal world and I ended up getting the job! My parents were not surprised but many people my age were surprised that I had the confidence to show a company that I was worth hiring. I am very proud of this moment because all I did was be myself. To this day I go to each interview and new opportunities in life with the same confidence.
What is the most interesting or unique thing that has ever happened to you and/or what is the most interesting thing about you?
My family and I moved from Sierra Leone to escape the civil war and while travelling to Vancouver we travelled the same day as the 911 attacks.
What is your career ambition and what are you doing or plan to do to accomplish that goal?
My first career ambition is to have an organization or youth club where young girls can have a safe place to connect with each other and relate to each other. My young club will also teach young girls on how to be accepting of each other and themselves, how to use social media in a positive way and to feel confident in their own skin. It is easy to tell young girls these things but it is way easier if they are reminded frequently by having a safe club that they can be a part of. I plan on having an app and also meet ups with my future organization. My second career ambition is to own my own fashion business on Instagram, my style is going to be modern African printed clothing, I love my culture and I want to share it with other people. As of right now I am starting my own website and fashion account on Instagram. I want to be the next Fashionova!
What would be your "dream job" in life?
Paralegal/ Fashion Influencer/Life Coach for young women
Describe where you were raised and what your childhood was like.
I was raised in Richmond, BC and North Burnaby BC. My childhood was very active as I played every sport. Being raised by a Muslim father and a Christian mother, people would assume that it was hard and confusing to decide which religion I wanted to follow. However, because of my parents being open I have learned to accept all other types of religions and different type of people. One of the strongest qualities a human can have is acceptance and I believe it takes you far in life. I was also a very friendly child and I had way too many friends as I was very talkative, our house was always home to many children.
List any interesting or unusual jobs you may have had.
I worked at Claire's for 2 weeks with no training and was put on to cash! Even though this was a challenge, it made me realize that a good challenge can make anyone grow as a person. I am more selective about the jobs I choose now, however, if any job doesn't give me proper training I know how to handle the situation. I think every unusual or bad job experience is a good life lesson.
List any volunteering you have done.
Elderly homes
Setting up sports days for kids
Helping kids prepare for High school
Setting up playrooms and activities are carnivals
What is your most unusual talent?
I can make dolphin noises!
Where is the most interesting place you have been to?
I would say the Dominican Republic! I have never been to a country with bad poverty before. I know that Vancouver has a poverty problem in our downtown East Side neighborhood. However, I have never experienced poverty where children are chasing me down the street for a dollar. Being in the Dominican was amazing because it was of course beautiful but it made me realize that people have very little but they still go to work and live their lives as if they are not going through a lot. Being in Vancouver, I see so many people complaining about things that don't matter. I have caught myself complaining about the small things as well but ever since my trip to the Dominican, I am very careful with what I complain about.
What do you hope to be doing in ten years?
I want to be an experienced paralegal, I want my fashion business to be doing very well and I want my own girls club called (Be Who You Want to Be).
Is there anything you would like to add that we haven't asked?
This is my first time being a part of the pageant world, everything here is new to me and I can't wait to see what doors will be opened for me next. The main reason why I am doing this pageant is because I want to be more involved in volunteer work and I want my life to have purpose and actually affect many people in a positive way. Being Miss Universe Canada will give me the platform to vocalize my feminist values and to teach young women that they can do anything! Be who you want to be!