Jamie Pfiefer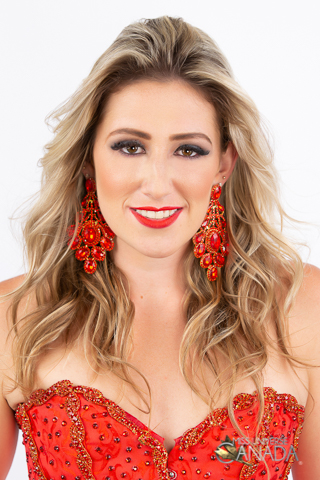 Height: 5'8
Hometown: Cottam, ON
Languages: English
Occupation: Early Childhood Educator
Jamie is a confident, strong, independent 22 year old who was born in Windsor Ontario. She was raised in the country in a small town called Cottam. Growing up in the country Jamie spent most of her time riding four wheeler's, and spending time with her family. When she was 18 she developed a passion for modeling and discovered the world of pageants. She competed in the Miss Galaxy Canada Pageant and placed 7th in all of Canada in 2019. Education has also been a very important factor in Jamie's life. Being on the honor roll through high school and getting her pre health science has led her to her current achievements. She has her diploma in Early Childhood Education and works as a preschool teacher at a child learning center. Jamie is very passionate about her job and has always loved working with children. In her spare time Jamie enjoys volunteering in her community for those in need. Through her travels, Jamie has had the opportunity to experience many different cultures and ways of life. This has allowed Jamie to appreciate the privileges she has been given living in Canada. Jamie has always been very passionate about working out and keeping a healthy life style. She loves to stay fit and do activities that help her keep a positive state of mind. Jamie enjoys traveling, singing, modeling and spending time with her friends and family. Jamie has always had a very supportive loving family that has helped shape her into the woman she is today. Jamie enjoys going to schools to talk to children about following their dreams and being a good person. She truly believes that teaching the youth about confidence, respect and following their dreams is the key to a brighter future. It is also important to her to show children what true beauty really means and encourage them through her involvement. Jamie strives to make a difference in our world. Working with many charities has opened Jamie's eyes, and has helped her recognize all the problems in the world that we need to be aware of. Jamie's platform, cystic fibrous is one of the problems she hopes to make a difference with. Every year Jamie helps out at the Princess Ball for cystic fibrous hoping to make a change. Having a friend with the illness has made her have an endearment for the charity. As Miss Universe Canada Jamie hopes to raise awareness to this charity along with others and make a difference in her beautiful country.
Sponsors
Family and Friends
Video
Q&A
What are your interests and what do you enjoy doing the most?
I am interested in volunteering and helping out in my community. I also enjoy spending time with my family and keeping a healthy life style by working out and taking time for my mental and physical state. One thing I enjoy to keep a healthy mind set is traveling. It's something I really love and hope to continue doing throughout this journey.
List any special training you have had (music, art, drama, dance, etc.)
I have always loved to be a part of the music industry. I was very involved in acting and sing from an early age. When I was 12 I took piano lessons which had lead me to singing lessons and a rock band. It also led me to live theater and dance.
In what sports, if any, have you participated?
I have participated in sports all though out grade school and high school. I really enjoyed soccer, volleyball, track and field and basketball.
Name one person, other than your parents, who has had the most influence on your life. Why?
One person, who has had the most influence on me other than my parents, would be Jillian Parent. She is a beautiful person inside and out and has taught me so much throughout my years. She helped me in the pageant world and gave me amazing opportunities to help my community.
What is your proudest personal accomplishment (other than participating in this pageant)?
One of my proudest moments was graduating my program in College as an Early Childhood Educator. It took me a lot of work to get to where I am today and being able to reach my goals of working with children has made me feel honoured and proud.
What is the most interesting or unique thing that has ever happened to you and/or what is the most interesting thing about you?
The most unique thing that has happened to me was getting to travel all over Europe and see many different styles of life. The most interesting thing about me is that I am an Early Childhood Educator and go around to several schools talking to children about bullying, respect, and following their dreams.
What is your career ambition and what are you doing or plan to do to accomplish that goal?
My career ambition is to be a teacher. I have already completed my Early Childhood Education and plan on going back to school to get my degree.
What would be your "dream job" in life?
My dream job is to be a teacher that travels around the world helping the less fortunate children. Working with children is a passion of mine and being able to make a difference in their world would be very heart warming. Traveling is also something I enjoy. Being able to do the two things I love the most at the same time would be the perfect job for me.
Describe where you were raised and what your childhood was like.
My childhood was very loving and supportive. Raised in the country, I was always outside playing on the four wheelers and dirt bikes. I had great parents and an older brother who were always there when needed. I grew up doing many family vacations and spending lots of time with the people I love. My Grandparents were also a huge part of my childhood as I spent a lot of time on the farm with them. My childhood has shaped me into the woman I am today and it is all due to a great supportive family. From an early age they have taught me to be a good person and always stand up for what you believe in. My parents taught me to never give up on opportunities and always put 110 percent into everything you do.
List any interesting or unusual jobs you may have had.
I worked at a Greek Restaurant for 8 years and was a nanny for 6 years. I now work at a child care center and I still continue to nanny on the side.
List any volunteering you have done.
Traffic Control for a runathon for charity
Yard sale for sick kids
Bikini show for charity
Dragon boat for cancer
Fire prevention week (2017, 2019)
Hospice Charity (2016, 2017)
Pasta dinner and Car wash for Alzheimer's and Sick Kids hospital (2016, 2018)
Princess Ball for cystitis fibrous (2017, 2019)
Glow ride for Charity
Terry fox run
Christmas in Tecumseh & Santa Parade
CIBC run Princess Ball for Cystic fibrosis (2018)
Gosfield North presentation about bullying (2019)
Jack Minor School presentation for Diversity (2019)
St John's Catholic School presentation (2019)
Queen Elizabeth School Presentation (2019)
Kingsville Public School presentation (2019)
Easter egg hunt (2019)
Volunteer appreciation night (2019)
Run for Rocky (2019)
Kindergarten welcoming night (2019)
Daffodils for cancer (2019)
Canada day in Tecumseh (2019)
Yard work for the elder (2016-2019) etc.
What is your most unusual talent?
My unusual talent would be singing.
Where is the most interesting place you have been to?
The most interesting place I have ever been to was Jamaica. Although it's a poor country everyone is still very happy. They are grateful for the things they do have in life. Something that made this place so interesting is that everyone would rather get together and play a game of soccer or basketball then sit and be on their phones. It really made me open my eyes and see how much people are missing out in life by being on their phones and not enjoying the moment.
What do you hope to be doing in ten years?
I hope that in 10 years I will be traveling the world, and also becoming a teacher in the school board. I would like to help the children that are less fortunate and be able to make a difference in their world.
Is there anything you would like to add that we haven't asked?
I would like to add the reason why I feel that I would make a good Miss Universe Canada. I am a strong confident independent woman. I always put 110 percent into everything that I do. Although I am a confident woman, I am still very kind and respectful to everyone's thoughts and opinions. I never put people down and I believe that I am a good role model. I try to be mindful of everyone and I know that I can make a difference in our country.