Jennifer Chirola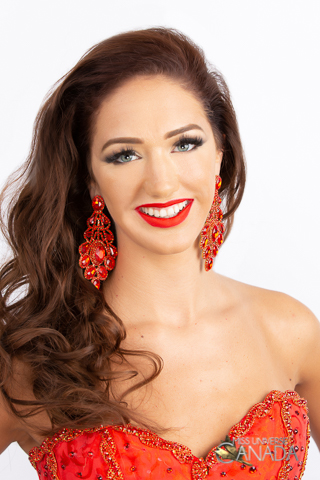 Height: 5'9
Hometown: Laval, QC
Languages: English, French, Italian
Occupation: Human Resources
Jennifer Chirola was born and raised in the lively city of Montreal to an Italian father and French-Canadian mother. She grew up in a family of five in a modest two-bedroom apartment in one of the lowest income neighbourhoods in Canada, Park Extension. Through perseverance and hard work, Jennifer became a first-generation University Graduate studying at both the University of Ottawa and McGill University in Montreal, concentrating her studies in the fields of Women Studies and Human Resources. She aspires to use her knowledge gained, along with her experience through her career in Human Resources, to help educate and inspire future younger generations of strong women. Jennifer is dedicated to demonstrating to younger women the importance of self esteem, believing in yourself, and empowerment of all women in today's society.
From a young age, her parents instilled in her the importance of altruism and of taking care of others. As a child she was involved with a local non-profit organization, P.E.Y.O, whose main mission was to improve the lives of young families. Currently, Jennifer is involved with the Big Brothers Big Sisters of Greater Montreal organization as well as the Montreal Children's Hospital Foundation. Being a strong, independent and ambitious twenty-six-year-old, Jennifer hopes to use the Miss Universe Canada platform to help her continue to help our future generations of strong and beautiful women.
Sponsors
Video
Q&A
What are your interests and what do you enjoy doing most?
Two of my greatest passions are traveling and participating in sports. I've been fortunate enough to travel to over twenty countries. It has given me a perspective on the world that only visiting other countries can do. Connecting with the local people is my favorite part of traveling; I get to learn about their journeys and cultures. It has allowed me to realize how similar we all are. We all want to feel safe and loved. Through my travels I've learned that in some countries that isn't always an easy thing to have and I am very lucky to have grown up in Canada. Traveling has taught me lessons that no school or other life experience could, and I am so grateful for that. My other passion was instilled in me as a young girl. Growing up with two older brothers I was never made to feel I was different because I was female. I was encouraged to try any sport I wanted, and I did. I was one of the only girls on my hockey and baseball teams. Being active was always an important part of my life. It keeps me fit physically as well as mentally. These days I love going to the gym and playing tennis whenever I get the chance. Nothing takes the sting off a bad day like hitting the tennis court and getting out all your frustrations on the ball.
In what sport if any have you participated in?
I was raised to never shy away from a challenge. I grew up playing baseball and hockey often being one of the only girls on the team. If I wanted to do something, I went for it and nothing was going to stop me. I also enjoy snowboarding and my favorite sport at the moment is tennis.
List any special training you have had (music, art, drama, dance, etc.)
Having many interests and always wanting to learn from the best, I've never passed up the chance to learn something new or perfect a skill I already had. Being in the modeling industry for over ten years, I've taken many Runway Workshops and worked with several different trainers. I love being infront of the camera, but I enjoy being behind it as well. I've taken many photography courses over the years, so I feel comfortable on either side of the lens.
I've also attended some intensive mediator workshops and studied in Woman Studies at the University of Ottawa.
Name one person, other than your parents, who has had the most influence on your life. Why?
It is hard to choose one person, given how close my family is and how much I owe them for who I am today, but if I had to choose just one, it would be my nonno (grandfather). He left Italy in the '60s to come to Canada to build a better life for his family, but in doing so he had to leave the people he loved most behind, his wife and four kids. His sacrifice paid off though. After several years of hard work and determination, he was able to make his dream come true and they were able to join him in Canada.
He gave up those years with his family so that they, and every generation that followed, could have a better life. Thanks to his sacrifice, I got to start my life in Canada. Knowing the story of how my family came to be here has set in me a fierce determination to accomplish all my goals and to always remember, respect, and love those who helped me along the way. To pay it forward as my grandfather did.
What is your proudest personal accomplishment (other than participating in this pageant)?
My greatest accomplishment to date is to be part of the first generation in my family to graduate from university. I studied at both the University of Ottawa and McGill University, studying Woman's Studies and Human Resources. This allowed me to get my dream job in human resources and, more importantly, it positioned me to be able to mentor younger women. I want to share my experience and determination, to empower other young women to be the best they can be. I've had so many amazing mentors in my life and I want to be able to be that for others whenever I can.
What is the most interesting or unique thing that has ever happened to you and/or what is the most interesting thing about you?
While most people who are into photography are into digital manipulation and the immediate gratification of digital photography, I love the elegance and simplicity of using a manual camera. Using film makes me feel connected to what I'm photographing. Being able to take that film cartridge from a little cannister to a beautiful photograph is a passion of mine. Seeing the image appear like magic on the photo paper and knowing that I was responsible for the creation of that from start to finish brings a smile to my face every time. I know in a way it's a dying art, but I think there will always be a place in this world for the simplistic beauty of this old-fashioned process.
What is your career ambition and what are you doing or plan to do to accomplish that goal?
The most obvious answer is I want to continue to push myself to advance, with hard work and diligence, but that isn't the only goal I have for my career. I also want to feel fulfilled and rewarded. I want to come to work with a skip in my step and know I am making a difference.
What would be your "dream job" in life?
My dream job would be to combine my love of travel and my passion for making a difference. I don't just want to go somewhere and lie on a beach; I want to make a difference. I want to go somewhere and leave it better than before I got there. Whatever is needed I am willing to roll up my sleeves and get the job done.
Describe where you were raised and what your childhood was like.
I was born and raised in the city of Montreal in a family of five. My family made me who I am today. Family was and is so important to me, it was always rich in support and love. I watched my parents work hard inside and outside the home. No matter how tired they were, they always had time for us kids. Feeling safe and supported gave me the courage to take chances and do all the things I've accomplished so far.
List any interesting or unusual jobs you may have had.
When I was young, I used to pick berries with my mom during summer vacation. I won't lie. It was hard, hot work. I didn't always appreciate it at the time but, looking back, I know it taught me a lot. I got to experience how hard it was to assist in supporting a family. Learning that hard work could be its own reward was one of the best lessons I've ever received. Plus working and spending one-on-one time with my mom was, in hind-sight, pretty special.
List any volunteering you have done.
Long Term Care Facility Volunteering
Math and Science Center Volunteering at Vanier College
Breast Cancer Walk
Diabetes Walkathon
It has always been important to me to give back to the community. I feel I've had such a blessed life, that giving back to those in need is something I feel compelled to do.
What is your most unusual talent?
This one is a little embarrassing. I think I got it from my mom, but I never pay full price for anything. I am the queen of the bargain. I always make sure that whatever I'm purchasing is the best deal I can get. I collect coupons, search through flyers and check the internet before I am willing to part with my money.
Where is the most interesting place you have been to?
This question was a hard one to answer. I've travelled to so many incredible places. One place that kept calling to me, that I had to return to three times, is Mexico. The rich culture, the warm, open people and the history made it hard to leave each time I was there.
I visited Chichen Itza and was in awe of the ancient pyramids. During one of my trips to Mexico, I immersed myself in their culture. While connecting with locals I had the opportunity to participate in a Temazcal ceremony. It's a purification ceremony set in a sweat lodge that cleanses the mind, body, and spirit. I was grateful for the opportunity to be a part of this sacred ceremony.
What do you hope to be doing in ten years?
I feel like I'm already on the right path. I am working in my field of choice (human resources) and I love the challenge of it. I strive to improve myself every day and I know that will mean constant learning. I also want to have a family at some point. What is most important to me is that in ten years I don't have any regrets, that I did all I wanted to do and accomplished all my goals.
Is there anything you would like to add that we haven't asked?
I want you to know that I am a positive person. Whatever challenges or blessings that come my way, I react to them with a "let's get this done" attitude. I will take that view on life and use the Miss Universe Canada platform to continue spreading positivity to lift others up and feel good about themselves, so they can accomplish their own goals.