Kaitlyn Pecaski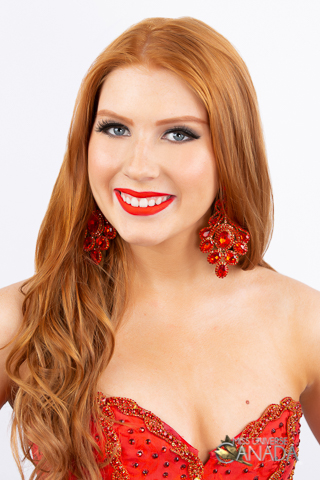 Height: 5'6
Hometown: Tecumseh, ON
Languages: English
Occupation: Student at St. Clair College (Business Administration – Finance)
Kaitlyn Pecaski, age 18, was born and raised in Tecumseh, Ontario. Kaitlyn graduated high school with honours, over 800 volunteer hours, and held a strong position in student parliament. She received many awards, not only academically for honour roll yearly, but she also won the overall dance award at her graduation, a district award of distinctive merit for her choreography at the National Theatre School Drama Competition (Formerly SEARS Festival), and first place in her category for her dance solo at the Ontario Secondary School Dance Festival. She is now pursuing a post secondary advanced diploma at St. Clair College in Business Administration – Finance. She has a goal to further her education to receive a Bachelor's Degree and a Master's Degree to follow.
Kaitlyn loves to volunteer in her spare time. Not only did she volunteer by choreographing for children at a Lakeshore theatre school, the Windsor Pride Festival fashion show, and local photography and modelling with companies such as Milestone, but she also loves to volunteer at local foundations. She has fundraised for W.E. Care For Kids, Fight Like Mason, the Windsor Regional Cancer Centre, Transition to Betterness, and The Hospice of Windsor and Essex County. Kaitlyn has high hopes of taking her fundraising to an international level as well. She began her journey in pageants last year with strong determination of placing at the Miss Universe Canada Pageant.
Kaitlyn is an advocate for mental illness, and she strives to spread awareness of her two platforms, CanLyme, the Canadian Lyme Disease Association, and the Canadian Cancer Society. Kaitlyn has personally been influenced by mental illness. Her brother, who was once a professional dancer, at age 26 has been suffering from Lyme Disease for the past 6 years. She hopes to represent all sufferers of Lyme Disease and speak for what they cannot due to their illnesses, such as making people aware of the disease, signs and treatments, as well as effective testing and treatment in Canada. Kaitlyn has multiple family members affected by cancer. Her Grandmother has been diagnosed with Breast Cancer and her Uncle with Leukemia, as they are undergoing treatments. Her mother (care giver an advocate of her brother) has recently been diagnosed with late stage Ovarian Cancer that has spread, currently undergoing treatments as the cancer is known to reoccur. After her surgery, unfortunately not all of the tumours were removed. Her mom is her greatest inspiration. She constantly battles daily with her illness and her personality continues to light up a room as if she was not facing the challenges she continues with today.
As Kaitlyn has ambition of placing at Miss Universe Canada, she believes that every woman deserves to fight their mental illnesses as you can perceive beauty in anything you look at, including oneself. Instagram "likes" do not define beauty, confidence and happiness come from within. Self-worth is very important for positive mental health, and it can strive towards individuals developing their best life possible. Kaitlyn has strong belief that as a delegate for Miss Universe Canada, she will use her platforms to not only support beautiful women nationally, but advocate and fundraise for all Canadians affected by Cancer and Lyme Disease.
Sponsors
Video
Q&A
What are your interests and what do you enjoy doing the most?
My interests include the creative arts, as well as volunteering in my community. I absolutely love local theatre, I have participated in many musicals in Windsor, Ontario, such as A Chorus Line, the Guys and Dolls Workshop, and Fame. I also love playing the guitar in my spare time. I have been playing since I was about 13 years old, once I picked up my first guitar, I could never put one down. I started volunteering at companies of the creative arts, making what I love doing the most.
List any special training you have had (music, art, drama, dance, etc.) 
Special training I have had includes the arts under a previous talent agent and other educational sources. This includes small-town award winning Musical Theatre (acting, choreography, dancing, singing), as well as Instrumental (guitar, percussion, musical theory). I also have training in first aid, CPR, self-defense, and as a health care provider. Other training I have acquired is in business, regarding customer service, interviewer training, and my red seal.
In what sports, if any, have you participated?
Sports I have participated in when I was younger include badminton, basketball, cross country curling, gymnastics, soccer, squash, swimming, track and field, and volleyball. I still love to keep an active lifestyle, especially by dancing or training at the gym.
Name one person, other than your parents, who has had the most influence on your life. Why?
One person, other than my parents who has had the most influence in my life is my brother, Kurtis Colman. Kurtis started dancing when he was 12 years old, and carried me around with him when he started competing around North America. He landed live events, magazines, and appeared on ABC's Once Upon a Time. 6 years ago, he caught Lyme Disease. He continues to struggle from the disease as we are searching and fundraising for the proper cure. Without Kurtis, I would not be where I am today. He inspired me to start dancing, which lead me to my love for the arts. Without him, I would not be on the life path I am on today. Thanks to him, I continue to pursue my dreams as he role modelled for me as a child, inspiring me to never give up. I am so grateful for the opportunities he has brought me to today, especially as I am on my journey to Miss Universe Canada.
What is your proudest personal accomplishment (other than participating in this pageant)?
My proudest personal accomplishment is how many hours I have spent involved in my community. With just under 900 volunteer hours, I feel I have bettered those around me, in hopes to travel Canada to impact not only my community, but the whole country.
What is the most interesting or unique thing that has ever happened to you and/or what is the most interesting thing about you? 
The most interesting thing about me is that I was born with naturally red hair as you can catch from my hundreds of freckles. As we are now just about 2% of the global population, I carry myself with pride. Known as a mutant gene, I react to pain more sensitively and react to temperature quicker. I genetically have the least common traits in a red head, which include being right handed and having blue eyes. What makes you different is what makes you beautiful.
What is your career ambition and what are you doing or plan to do to accomplish that goal?
My career ambition is to receive my Master's Degree. I am currently in college expected to receive my advanced diploma. In my fourth year, I plan to receive my Bachelor's Degree, later following my Masters. In order to accomplish that goal, I work very hard towards my education, making it my top priority.
What would be your "dream job" in life?
My dream job in life is opening my own business. I will have a background in finance. I feel very confident being in leadership position. Although I don't know what kind of business It will be, I know that I want it to benefit the community, no matter how large or small it may be. I am trying new things, like pageants, to find my greatest passion in order to decide what I would love to spend my life doing.
Describe where you were raised and what your childhood was like.
I was raised in Tecumseh, Ontario. Growing up I had an amazing, supportive family. I have two brothers, Kurtis (Age 25), and Kris (Age 30). My brothers were my best friends and continue to be to this day. My family has a very strong bond, no matter what we go through, we always come together when one of us struggles. Every one of my family members know we are not alone, and never will be.
When I was younger, we were always running on a tight schedule. Dance, school, theatre, repeat. My childhood was always very active. I was involved at everything possible inside and outside of school. I went to every event, joined every team, and worked very hard for my grades. My parents taught me not to reach for the stars, but to land amongst the moon instead. My parents always arranged for us to live our lives to the fullest, whether it was through giving us rides or packing us a lunch so we were ready to go.
About 10 years ago, my brother Kris struggled with alcoholism and drug abuse. He completed rehab 2 years ago, and he is stronger and more successful than ever. I am so inspired by him, life only throws you the obstacles you can handle, and he is one of the strongest fighters I know. He was very oblivious to the amazing life he could have without alcohol dependency, but now strives in his everyday life, not wasting a second.
My brother Kurtis was diagnosed with Lyme Disease 6 years ago, although that may have taken over his career in dance, he still battles every single day to gain back his health, and the lifestyle he used to live. Our bonds have never been broken no matter what life may throw our way. My mom was diagnosed with Ovarian Cancer 9 months ago, and she continues to fight her illness daily.
Growing up for me always had me ready to face the next challenge with confidence, and knowing I had a family behind my back supporting me, and our bond would never be broken. One thing I carry with me, is that life is never about the money, how big your house is, what names you wear. Life is about love, memories, the cherishment of others, and what you make of it. You only get one.
List any interesting or unusual jobs you may have had. 
An interesting or unusual job I have had was being a mascot at a movie release party, a local Windsor, Ontario film, called "The Birder". My brother Kurtis and I were opposing birds, we danced our hearts out and showed all our pride to be from Windsor. I will never forget that experience, not only did we have a lot of fun, but the energy we carried made the whole place beam with joy and laughter.
List any volunteering you have done.
Fundraising for different organizations:
Fight Like Mason
The Hospice of Windsor and Essex County
Operation Smile
SOS Children's Villages
Transition to Betterness
E. Care For Kids
The Windsor Regional Cancer Centre
Volunteer (Artist, choreographer):
Arts Collective Theatre
Lakeshore Academy of Fine Arts
What is your most unusual talent?
My most unusual talent is that I can make a weird popping noise with my mouth, so my teeth stick out afterwards like a very happy child with no lips. It is very entertaining and never fails to make others smile. It even inspires others to try it, leaving them with one question, "How?". Only few people have figured it out, however, it is not the most flattering talent.
Where is the most interesting place you have been to?
The most interesting place I have been to is Squamish, BC. The atmosphere is absolutely beautiful, surrounded by the cleanest crystal blue waters. The air is so fresh due to the extravagant trees; it brings a feeling of absolute peace and serenity. The moments I spent hiking there made me feel like life is short, and I need to spend it doing what I love. Travelling, sharing my love with friends and family, as well as constantly giving. I am exactly where I am supposed to be in my life, every breath counts, and everything happens for a reason.
What do you hope to be doing in ten years?
In the next ten years, I would love to be running my own business that benefits multiple communities so I can stay involved and help others reach their goals. I hope to continuously change the lives of others, for the better. I also want to complete my Master's Degree, as I am working very hard for my education. One of my biggest goals is that I aspire to have held the title of Miss Universe Canada, to have competed in Miss Universe for the title.
Is there anything you would like to add that we haven't asked?
I would like to add how grateful I am for this experience on my journey to Miss Universe Canada. I am thankful for the opportunity to be able to represent Canada and my platforms nationally. This is the opportunity of a lifetime. I am so excited to develop relationships with some of the most beautiful women in the country inside and out. I am also very grateful that my mother is able to support me on my pageant journey. Although her cancer is a hard battle, she strives daily and lives to her fullest. Thank you.