Kara Granger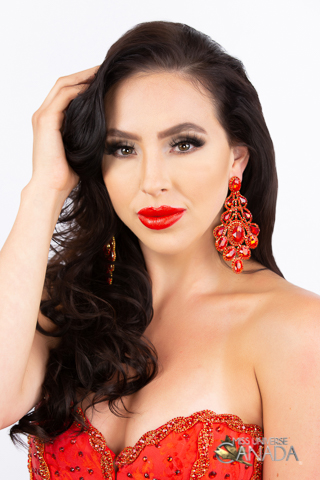 Height: 5'9
Hometown: Chilliwack, BC
Languages: English
Occupation: Self-employed
Kara Granger is a self-made, entrepreneur and philanthropist from Vancouver with a passion for beauty and fashion. She owns and operates a luxury power women's suit line " Kara Louise Collection " and recently expanded her in store beauty line " Duchess Luxury". Her passion project is her 6 year old charity group "The Karebear Community " which raises awareness and funds for existing non for profits across Canada as well as creating worldwide giving initiatives. Kara has travelled to China 11 times and recently finished up her global reign in Beijing as Miss Globe. This year Kara's platform will be focused towards inspiring others to find their charitable passion as well as focusing on resources that help people move on from their traumatic past.
Sponsors
Toronto Clinic, Family and Friends
Video
Q&A
What are your interests and what do you enjoy doing the most?
I am interested in travelling, education, reading giving back, psychology, health and fitness and business. I love living a very active healthy lifestyle and continuously educating myself along the way.
List any special training you have had (music, art, drama, dance, etc.)
I have ballet, jazz and tap dance experience as a child as well as acting classes.
In what sports, if any, have you participated?
I grew up playing soccer, swimming, I was a gymnast and I was a professional cheerleader that travelled to multiple cities to compete.
Name one person, other than your parents, who has had the most influence on your life. Why?
I feel that because I am a very independent person I read a lot of books and find motivation and positive influence though other people's stories. I really enjoy Timothy Ferris as an author because he writes about business theory and fitness.
What is your proudest personal accomplishment (other than participating in this pageant)?
Up to date one of my proudest accomplishments has been raising $12,700 for 6 non-for profits around Canada and donating 10 laptop computers to 2 local shelters all in the year of 2018 while obtaining a global title and travelling to China each month. It makes me so happy to successfully raise awareness and funds for multiple causes while getting other people involved and inspired to give back.
What is the most interesting or unique thing that has ever happened to you and/or what is the most interesting thing about you?
The most interesting thing about me would have to be my "story "of what I personally accomplished amongst the cards I was dealt with. When I was 16, I was a witness to a horrific altercation which lead to a young man dying. It was a terrifying experience and I suffered from PTSD for years after the fact. I was dragged into supreme court from 16-18 and had to constantly relive what I went through and unfortunately never received the proper counselling which lead to other issues down the road as well as entering an abusive 3-year relationship at my most vulnerable state. By the time I was 20 years old I made the decision to start my life over in Toronto alone, so I packed up 2 suitcases and moved across the country with nothing. It was a decision based on survival and recovery at that point and I was so determined to recover from PTSD an eating disorder and depression and I wasn't going to let what happened to be dictate my future of the person I could become. I spent 2 years dedicated to self-help books, courses and counselling and managed to completely turn my life around while also starting my first clothing line "Kara Louise Collection" and my charity group "The Karebear Community". I know that going through all I went through was what made me the strong, independent, compassionate person I am today.
What is your career ambition and what are you doing or plan to do to accomplish that goal?
As of right now I am still developing both of my brands as well as teaching modelling classes on the side to children. I am in the process of expanding "Duchess Luxury" into a full cosmetics line and will be launching that initiative in the next month. I also strive to further develop my business model as tailoring custom suits for women as I feel every woman should own a power suit. I don't think of life as a 9-5, I think of creating balance between family, work, fitness and personal time and when you need to work harder and longer to accomplish something then you should just do it.
What would be your "dream job" in life?
My dream job is to have the opportunity to be Miss Universe Canada and then win Miss Universe. My dream job is to travel the world while helping multiple causes and making an impact everywhere I go.
Describe where you were raised and what your childhood was like.
I was raised in a small town, Chilliwack BC. I was an extremely active kid and took tap dance, jazz, ballet, singing and acting classes. I had my first agent by the time I was 11 and spent a lot of time attending auditions and staring in every school play. I was always a leader in school, very energetic, enthusiastic and volunteered my summers at a local children's daycare. I was a very happy child, I struggled with a lot of bullying throughout my school years, but I never let it affect my passion for life. I grew up with a close family bond and would spend a lot of time camping and having fun at our local lake and river.
List any interesting or unusual jobs you may have had.
I used to work as Steven Segal's secretary while we were filming a pilot in Vancouver. I met him while on set for the show and I ended up applying to work directly for him. It was such a great experience as I was able to film the rest of the show behind the scenes. I also got to meet other actors who I looked up to and watch other actors demo reels who were applying for certain roles in the show.
List any volunteering you have done.
I started volunteering at the YMCA when I was a kid and then moved on to volunteering with the SPCA, Animal Safe haven, Variety Children's Charity, operation Smile, Interval House, Sistering shelter, Free Them, CNOY, the Remar Orphanage and I host annual events to raise money for existing non -for profits around Canada. I also staff volunteers at two local shelters and fund street mission initiatives around the world specifically in 3rd world countries. So far, I have hosted street missions in Vancouver, Toronto, Paris, Shanghai, El Salvador, Nicaragua, Mexico City, Peru and New York.
What is your most unusual talent?
I can blow bubbles off my tongue and whistle with my hands.
Where is the most interesting place you have been to?
One of my favorite places to travel is Shanghai, the city is filled with so much energy and excitement. I have been to China 11 times and currently obtain a business visa as I have manufacturing out there.
What do you hope to be doing in ten years?
In 10 years I will be 37 and at that point in my life I hope to have marriage, a few children as well as I hope to still be travelling, making a difference with my charity group and still running both of my brands "Kara Louise Collection" and "Duchess Luxury".
Is there anything you would like to add that we haven't asked?
I recently finished up my reign as Miss Globe and Miss Globe Canada which had me travelling back and forth to China each month. It was a wonderful experience and I hope to be able to represent Canada at the Miss Universe world finals and take home another global title! This year I want to focus on encouraging even more people to get involved and give back within their communities and overseas and I also want to be fully transparent with my history and overcoming obstacles.