Karema Batotele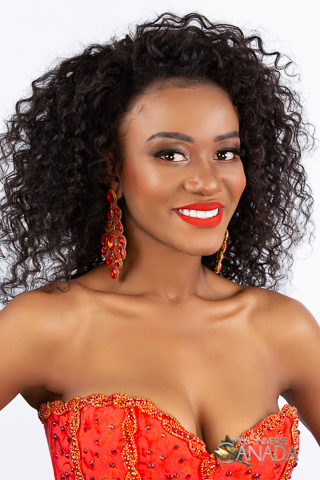 Height: 5'9
Hometown: Ottawa, ON
Languages: English, French, Swahili
Occupation: Engagement and Communication Officer
Karema Batotele is an Engagement and Communication Officer working for the federal government of Canada. She was born in the Democratic Republic of Congo during a period of war that killed over 60 000 people. Karema understands what it means to be a child and to have no control over the things that are happening around you, especially in the midst of violence. Miss Batotele wants to work with children in order to transform this generation and the ones to come through education in hopes that the future generations will not repeat the atrocities of violence, whether that is violence against those who are different or even violence against themselves.
Her passion for children's education lead her to create her Own Organisation. Karema Batotele is the Founder and CEO of Education Beyond Limitation (EBL), a Canadian based organization that helps children around who come from low income families have easier access to their education. Her Organisation travels to developing countries and provides a range of support such as, school supplies, classroom renovations, furniture and much more. Karema's organisation helped over 200 children in the world in school supplies. Her passion for the education of the youth is also reflected in the art of writing. She is also the Author of Limitless, a children's book that aims to inspires and educate children, promoting self-identity and self-esteem, reminding children that they are limitless and can accomplish anything, regardless of their race, gender or culture.
Karema's dedication and efforts have been recognised by the Former Governor General of Canada David Johnston, Mayor of Ottawa Jim Watson as well as Ottawa's Deputy Mona Fortier. Karema has also been cited by Radio-Canada as a role model for the youth.
Sponsors
Video
Q&A
What are your interests and what do you enjoy doing the most?
I enjoy spending time improving the wellbeing of my community by volunteering, raising money for different causes, participating and organizing seminars on the issues that are occurring in my community and that could be affecting the rest of the world (ex. Volunteering for organisations that promote the education of our youth i.e Millennium project). As the founder of Education Beyond Limitation (EBL), I organise several fundraisings, meet with community leaders to make sure the objectives of EBL in terms of school supplies is reached.
I love writing. It could be a short story or even a poem. I am the author of "Limitless", it is a book catered for children, it aims to teach children that they can accomplish anything, regardless of their gender, economical or cultural differences.
I have a great passion for cooking, I absolutely love cooking. I love creating my own dishes and recreating dishes from famous chefs around the world. For me cooking is an art, it is a way to give also, because above receiving there is a great delight in giving and most importantly in serving others.
List any special training you have had (music, art, drama, dance, etc.)
Public Speaking

Training

Leadership

training
Training on how to

Change my Community

Debate

Training
Professional

modeling

training

Pageant

training (walk, Q&A and presentation)

Communication

Training

Media

training

Mediation and negotiation

training

Dance

(hip-hop, ballet, contemporary and jazz)
In what sports, if any, have you participated?
I had dance training in elementary school and in high school; Jazz, ballet and contemporary.
Name one person, other than your parents, who has had the most influence on your life. Why?
here are so many people who made a positive contribution to the world and whose actions have positively impacted my life; I think of Mother Theresa, Nelson Mandala, Terry Fox just to name a few. The person who has inspired me the most would be Malala Yousafzai, in her fight for girl's education.
The education of the youth is extremely important to me, I started an organisation called Education Beyond Limitation, in 2017, dedicated to promote the education of young children in remote areas. Malala Yousafzai defied the Taliban as a young girl in Pakistan, and I have been inspired by the courage to travel around the world to listen to children, meet with teachers and school principals and to listen to their educational needs in order to make a difference.
Just Like Malala Yousafzai, I believe that education is a right and not a privilege and no one should be denied that right regardless of their gender, economical or cultural differences.
What is your proudest personal accomplishment (other than participating in this pageant)?
Starting my own charitable organization; Education Beyond Limitation. EBL, it is an organization that helps children around who come from low income families have easier access to their education. Education Beyond Limitation provides a range of support, such as school supplies, classroom renovations, furniture and much more. EBL reduces the impact poverty has on children in order to make their level of education limitless and break the cycle of poverty.
I have always wanted to help others, I truly believe that, that is my purpose. I help children because I know that they are fragile and often victims in chaotic situations. I am a war survivor, I survived a war that killed over 60,000 people, during war children and women are often the first target. I am one of the rare ones to have survived. I know what it means to be a child and to have no control over the things that are happening around you, especially in the midst of violence. When I started this organization I didn't know how impactful it would be, all I knew is that I wanted to help children. Starting Education Beyond Limitation is my proudest accomplishment because I was able to transform something so negative, war, into something so beautiful; an organization that helps children have easier access their education, in hopes that the future generations won't repeat the atrocities of violence, whether it is violence against those who are different or even worst violence against themselves. I have succeeded to surpass the traumas of war, thereafter succeeded to transform the desires I had in my heart to help children, into concrete actions, into a strong functional organization. That is my proudest accomplishment.
What is the most interesting or unique thing that has ever happened to you and/or what is the most interesting thing about you?
I think the most interesting thing about me, is truly the fact that I was able to turn something extremely negative into an organization that helps others. It is challenging to transform traumatic events into positive actions, and I was able to do that as a survivor and help others rise from their own difficulties. I was able to transform my experience of war into love, compassion and understanding for others. I have a heart that can rise from challenging situations but not only rise from difficulties but rise and lift others, because for me we rise when we uplift others.
What is your career ambition and what are you doing or plan to do to accomplish that goal?
I am currently a student in Communication Media and I work for the federal government in communication which is an amazing and humbling experience to be able to work and serve the people of this great nation and to work amongst the biggest Canadian leaders. I want to continue to serve people in everything that I do, I want to continue my charity in providing a better education to children coming from economically challenged families.
My ultimate goal is to build a Canadian school for girls in a third world country, the school will be called Beyond Limitation High School. That school will be based on the Canadian curriculum. They will have acquired throughout their time in the Canadian school their country's values as well as Canadian values. Globally, 65 million girls are not in school and for that reason my school will be for girls: I want to lower this number as much as I can. My ultimate goal is to have a Beyond Limitation Schools in each continent, but focus in continents where the rate of girl's education is lower.
The building of Beyond Limit High School
1.Start an educational based organisation and travel to economically challenged countries to see how their educational system works and how they can benefit from the Canadian education curriculum. –Completed, Education Beyond Limitation September, 2018
2. Create a communication plan this plan will be used as a guide and tracker to make sure we are in track (ex. It will include a timeline of all the activities to come). – I already took a course of Communication Planning to make sure I know how to correctly create a communication plan in regards to charitable projects.
3. Raise awareness/Contact the stakeholders (Ex. people who have built Canadian schools abroad, City Deputy, Mayor, the Ministry of Education in Canada and in the country where the school will be built)
Contact Stakeholders
Contact people who have built Canadian schools abroad
Speak to my city's Deputy/Mayor about my project and what resources may be available to me, in order to build the Canadian school.
Find people in the educational system who would be willing to work with me (Teachers, Professors, and Principals Etc.)
Meet with the Mister of Education to learn more about our educational system and present my project
Etc
Raise awareness
Go on TV/Radio to raise awareness channels – and ask for donations (old school material, money) and volunteers
Go in high schools and elementary schools to raise awareness on the lack of education of young girls and ask students to donate anything that could help in the education of a child/teenager (Money, Old backpacks, pencil case, old laptops etc.)
Etc
I already met the Mayor of Ottawa and the deputy of my city.
I have the contact information of Dr. Hélène H. Leone who is the director and creator of the Canadian Bilingual School of Paris
A University Professor has accepted to work with me in the project
4. Do 4 fundraisings on a period of 4 months, however we will still be accepting donations online throughout the year.
5. Build the school – Travel to the given destination and build the school and have media coverage.
6. Open school!
7. Lessons learned – A reflection on what went well step 1-7.
What would be your "dream job" in life?
I love this question. My biggest ambition is to be a strong women of positive influence in the world. I want to change the world through the education of the youth, doing so in ways that I can inspire and transform masses positively. I want, I will become an ambassador of change. A leader, I want my name to be remembered not for the person I am but for the actions I have made, for the people I have helped and for the lives I have changed. That is my dream. That is why I love pageants because it gives the platform and it allows me to uplift others and to positively have an influence, it allows me to give but most important to learn from those I can inspire.
Describe where you were raised and what your childhood was like.
I consider myself citizen of the world because I have lived in 4 different countries; Congo, Burundi, Kenya, Canada.
My childhood was amazing, I was raised in stable and loving home. My mother is in the medical field working in Physiotherapy and my father is a University Professor. I have siblings who are amazing enough to have made my childhood great and funny enough to keep my feet on the ground!
I was involved in different activities that I completely loved, dance classes, modeling and volunteering in my local community with my parents. I was a kid full of joy and energy.
Before living in Canada I lived in Kenya and before Kenya it was Burundi and I was born in Congo (DRC). My parents had a very stable life in Africa, My father was a school principal and my mother was a school teacher. Unfortunately shortly after my birth, war started, killing over 60 000 people, my family and I survived and found refuge in Burundi, a peaceful country. Thereafter we moved to Kenya, my parents wanted us to attend English schools and be bilingual. I arrived in Canada at 8 years old and up in Canada. After losing our family pictures, house, and material wealth during the war, as a child I quietly understood that family and community is the most important thing. As a child, I volunteered in my father's charity (Millennium Project) and learned the importance of helping others.
I believe I grew up mentally very fast, given my life circumstances, but amongst all I have always kept a positive attitude and a desire to help others.
List any interesting or unusual jobs you may have had.
Bilingual Tour Guide For Rideau Hall – The residence of the Governor General
Conduct tours in both official languages to help visitors learn more about the duties carried out by the governor general of Canada and teach the history of Canada.
I had the chance to meet different national and international dignitaries
List any volunteering you have done.
Breast cancer foundation (2016 –Today)
Cheo foundation (2014 –Today)
Creation of Education Beyond Limitation (2017 – Today)
Shashamane Sunrise – Jamaica, Motivate underprivileged children (2018 –Today)
Millennium Project – Bake sale (2005 –Today)
Children's wish foundation 2017
Ottawa's Seniors Residence 2015
La marche contre la pauvreté (2005 –Today)
What is your most unusual talent?
Body contortion; I can bring both of my arms from the front of my body to the back of my body while my arms are tied together, I can do that repeatedly.
Where is the most interesting place you have been to?
Poland, Europe. Poland is a beautiful country covered in snow most the year. For me it was a very interesting place to visit because the country has kept many of their historical sites. For example, Barbican and City Wall which was built around 1300 or even Wawel Castle and Cathedral from the 12th century. It was amazing to truly walk through history when I was in Poland.
What do you hope to be doing in ten years?
I want to continue to work for the government of Canada, because I want to continue to serve this country and Canadians as much as I can. I want to be an ambassador of the education of the Youth through my organisation Education beyond Limitation. In ten years, I want my organisation to have reached thousands of children. Most importantly I want to have built a school for girls in Pakistan, El Salvador or Kenya a school named "Beyond Limits". When it comes to my great passion in modeling and pageantry, I want to continue to be a pageant coach.
Is there anything you would like to add that we haven't asked?
I wanted to say thank you for allowing me to participate in this competition. In completing this form I have opened my heart with sincerity, and shared a little bit more of who I am and how far I have come. I say thank you to anyone who will read this and thank you to MUC org, for allowing me to share my passion to help others and the reason behind my passion. It is a great privilege.