Lesley Seitz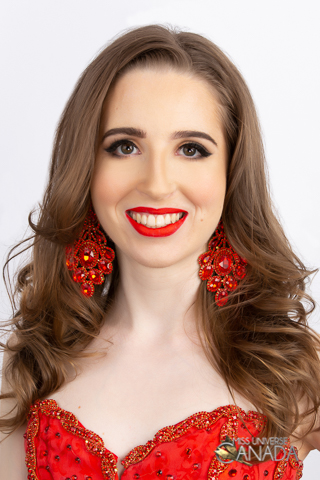 Height: 5'4
Hometown: Surrey, BC
Languages: English
Occupation: Library Assistant
Lesley Seitz is a passionate tennis player, baker, singer, and charcoal artist who enjoys reading books by J. R. R. Tolkien, J. K. Rowling, and Kiera Cass. She has achieved a Library and Information Technology diploma from the University of the Fraser Valley in Abbotsford, BC, and now works as a Library Technician at Kwantlen Polytechnic University. Lesley has lived in British Columbia her entire life and is interested in pursuing an education towards Teacher Librarianship, which will lead to a full-time Teacher Librarian position within an elementary school library.
Lesley believes the lack of proper libraries in Canadian education systems needs to be addressed. Participating in Miss Universe Canada 2019 offers Lesley the opportunity to bring awareness to this important initiative. After visiting, and volunteering, at several schools and comparing the libraries within these schools, she has come to realize that access to knowledge entirely depends on budget. Schools with limited budgets are unable to provide students with certain experiences, which can only be achieved through a proper library.
Lesley is a passionate supporter towards the Love of Reading Foundation, which provides aid to elementary school libraries across Canada, and is focused on drawing awareness to the work the Love of Reading Foundation is currently doing in Canadian communities. To be able to assist with aiding elementary schools across Canada, is an honor for Lesley since books, and other forms of information access, have had a positive impact on her life.
Lesley hopes to enhance the lives of young people by providing them with the ability to access books within their school systems, and to improve access to education and literature for Canadian students.
Sponsors
Lisa's School of Dance
,
The Tennis Centre – Surrey
,
Langley Orthodontics
,
Natalia Jewellers
,
Tricia's Gems
,
House of Vienna
,
Dylaina Gollub Photography
,
Ronsons Shoes
,
Lolë
,
OPI
,
Ted Baker
,
West Coast Optical
,
Northview Golf and Country Club
,
Real Canadian Superstore
,
Party Dreams
,
Sport Chek
,
Vera's Burgers
,
Milestones
,
Everything Wine
,
Toy Traders
,
Kernels Popcorn
,
After Five Fashion
, Family and Friends
Video
Q&A
What are your interests and what do you enjoy doing the most? 
One of my greatest interests is reading and research. As a Library Assistant, I'm constantly researching a variety of different topics for university students. I find this to be extremely important for development because it helps solidify what it means to have freedom of speech, expression, and literary freedom. These freedoms are beneficial for progress, and help us to make informed decisions based on the knowledge of those who came before us.
My other greatest joy is singing. I have formal training, and I am still constantly trying to improve on this talent, and have taken the time to practice my vocals almost every day for most of my life. I always try to progress in developing my vocal range, which has allowed me to advance in this ability.
My other interests include charcoal art, sports, and baking. Charcoal art has been a huge part of my life for the last several years. The art mostly consists of flowers I have taken photos of then re-created with charcoal. Along with being a relaxing hobby, it has also helped me to see the world in a more personal light.
Apart from the artistic aspects of my life, sports (particularly tennis) has had a central impact. Tennis has a way of making me feel relaxed and focused, which then provides life lessons that I use off the court. I have played competitive tennis for over two years, but it has been a passion for almost ten years. In 2018 I won second place in the Delta Open Women's 3.0 Singles, which is one of my greatest achievements. Some of my best memories have been on the tennis court. These memories continue to bring me joy even after I have finished playing. Other sports I enjoy include soccer, horseback riding, and swimming.
Baking is one of my best artistic talents, and one of my favorite things to do on a rainy day. Though self taught, I have reached the level in which I can bake almost anything to perfection and precisely decorate the most beautiful confections.
List any special training you have had (music, art, drama, dance, etc.)
Special training I have had:
Singing
Art
Tap dance
Tennis
Horseback riding
Drama
Cooking
Public Speaking
Runway walking
In what sports, if any, have you participated?
The sports I have had the opportunity to participate in are:
Tennis
Baseball
Horseback riding
Soccer
Swimming
Name one person, other than your parents, who has had the most influence on your life. Why?
One person, apart from family members, who has had the most impact on my life was my tennis coach, Jon. Jon taught me more than just tennis, he taught me how to be my best self during stressful situations, and how to remain "in the moment" when those situations arise. His teaching has helped me become who I am today, and has helped me to see what potential I have for the future through becoming skilled at staying focused. This is a skill I also pass on to others in my everyday life because it is important to be able to remain in the moment when life is constantly changing around you.
What is your proudest personal accomplishment (other than participating in this pageant)?
My proudest personal accomplishment, apart from participating in Miss Universe Canada, was receiving the position of Library Assistant at Kwantlen Polytechnic University. This position came through years of hard work, dedication and perseverance. There were times during the program that made me think I would never reach the finish line, but I did. This shows how perseverance through hard work can achieve life changing results, and create a hopeful future. Every bit of education is relevant, no matter how long it takes to achieve your goal.
What is the most interesting or unique thing that has ever happened to you and/or what is the most interesting thing about you?
The most unique thing about me is my emotional intelligence. I am very aware of other people's feelings and emotions, and I try to put myself in other people's shoes to better understand the world around me. This has been an excellent skill set for me because it helps me to comfort and encourage others. Being there for people emotionally is a very important ability to have and I consider being a sensitive individual to be an asset rather than a weakness because it permits people to look outside of themselves to see the needs of others.
What is your career ambition and what are you doing or plan to do to accomplish that goal?
Due to my love of reading, research, and aiding others with their intellectual goals, my career ambition is to become a full-time Teacher Librarian at an elementary school library. Through my past experiences, sensitivity, and being able to remain focused, I believe that I have the capability to help children pursue their love of reading in an environment that encourages both the latest methods of information searching and the traditional methods. In order to achieve this goal, I hope to go for my Bachelor's of Education, then go on to study Teacher Librarianship.
What would be your "dream job" in life?
My dream job in life would be to become a singer, and to go through the intense work and training that comes with the job along the way. I feel that going through the training and struggles along the way, is relevant to what kind of performer you will eventually become. I have never had the opportunity to pursue singing as a career, but it is something I have a strong passion for. Through singing and music, a person is able to express their emotions in a way that resonates internationally because music is a universal language in which everyone can relate to.
Describe where you were raised and what your childhood was like.
I was raised in Surrey, British Columbia by my mom, dad, and older sister. My family made growing up the best experience I could have had because of our memories we created along the way.
Not every memory we made was happy, there are many that I wish we never had to make, but these experiences are what made us strong. This strength is what allowed me to manage the complex situations I have come across in my life.
We could never afford to go on family vacations during the summer, or have the latest technologies, but we were happy. Instead of going to tropical countries, watching cable, and driving with the sunroof open, we had family campfires, VHS tapes, and playing "eye spy" in the car.
We never needed to keep up with others materialistically, we had other priorities, which mainly consisted of education and making sure to put others first.
My childhood was difficult at times, but those difficulties were made easier by the support of my extended family. My aunts, uncles, cousins, and grandparents were a constant in my life and made every year a joy to live and remember.
List any interesting or unusual jobs you may have had.
The most unusual job I've ever had was working at Sympli, in the clothing factory. This was located in Burnaby, B.C. and I was an order picker. My job was to climb ladders and grab garments from warehouse-high racks full of clothing. This job was physically taxing and grueling, but this place is where I have some of the best memories, which is what makes it unusual. I met so many people from different backgrounds, cultures, ages, and religions during this time. Their kindness is what made the experience worth the labor.
List any volunteering you have done.
Most of the volunteering I have accomplished does not have a name or organization attached to it, but are as equally important because it has helped people every day just go through their regular lives.
This kind of volunteering makes everyone feel loved, cared for, and valued.
Volunteering I have done for organizations:
The Love of Reading Foundation: While working at Indigo I helped to advertise this charity and collect funds for the schools in need. This organization is very close to my heart due to my university training, and is one of the organizations which I have chosen to aid as my Miss Universe Canada 2019 Platform.
The Adams Road Elementary School Library: I helped assist the Teacher Librarian with shelving, checking in and out books, and watching over the students during library time.
The Holy Cross Regional High School Library: Organized the AV closet, and general cleaning of the library.
The University of the Fraser Valley Fashion Design Department: Block-fusing fabrics, moving fabric bundles, and notching patterns.
My additional volunteering includes:
Opening doors.
Giving up my seat.
Offering to help carry items when people are in need of an extra hand.
Taking care of ill, or disabled family members.
Making people smile.
Asking people how their day was.
Providing complements to boost someone's confidence and self-esteem.
…and more
What is your most unusual talent?
My most unusual talent is being able to quickly adapt to a situation or environment by maintaining a calm demeanor. I can keep a level head in almost any circumstance, which allows me to provide aid to those who need the help at the time.
I also have incredible balancing skills. I can balance almost anything literally (from pencils to stacks of books), and figuratively (multitasking with whatever life throws at me).
However, the absolute most unusual talent I possess is being able to understand the warning calls of crows. I have lived constantly around nature my entire life, and that nature included a vast quantity of crows. Due to the fact that I have lived around them for so long, I know exactly when there is something amiss in our yard. Countless times when the crows started calling, there has been a dangerous animal around, and we knew not to go outside.
Where is the most interesting place you have been to?
The most interesting place I have been to is Agassiz, British Columbia. This place is the true embodiment of the beauty British Columbia has to offer the rest of the world. The lakes, the mountains, the variety of wildlife, and the general nature shows a purity that is hard to find anywhere else. What makes Agassiz a truly special place to go is the peace and quiet found there.
What do you hope to be doing in ten years?
In ten years I hope to be providing more elementary schools across Canada (and potentially worldwide) with the chance at having information access through libraries better suited to their needs. There are over 600 elementary schools across Canada alone who are unable to provide students with a proper library and are only able to purchase 1 new book for every 3 students each year. The books and materials within some of these schools are extremely damaged and out of sync with the present time.
Also, I hope to be able to stress the significance that libraries still hold within both elementary and high schools. This is a priority because of the rising development of technologies. Due to this increase, some schools have decided to phase out their libraries, but the benefits libraries provide are still relevant in today's day and age.
Is there anything you would like to add that we haven't asked?
I would like to thank the Miss Universe Canada 2019 Organization for this incredible opportunity to have a chance at competing for the honor of representing Canada at Miss Universe. If I was given the blessing to become Miss Universe Canada 2019 I would represent all the love and happiness our beautiful country has to offer.