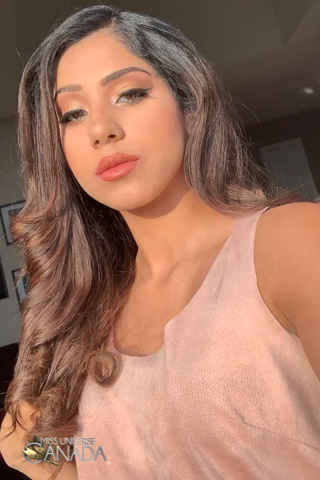 Height: 5'8
Hometown: Brampton, ON
Languages: English, Punjabi, Hindi
Occupation: Student at Wilfrid Laurier University (Political Science, Honours)
Lovepreet Sidhu was born and raised in Brampton, Ontario. She will be entering her fourth year as an Honours Political Science student at Wilfrid Laurier University. Currently, she works as a receptionist/administrative assistant at Sidhu Traffic Tickets. She also models part-time and has worked with several photographers, shops/boutiques, and has walked in fashion shows in Toronto.
Political Science is a program that Lovepreet holds dear because she is constantly learning about various political affairs taking place across the world. She is very passionate about voicing political concerns that are often neglected due to the lack of awareness and interest shown by the general population. Aside from modelling, she is looking to pursue a career in law as either a paralegal or lawyer to help those facing injustice or difficult situations receive the aid they need. As a component of one of her courses, she was required to volunteer her time in an organization that demonstrates crime prevention strategies. The organization she chose was St. John's Kitchen in Kitchener, Ontario. During her time there she interacted with several individuals who were victims of poverty, crime, and inadequacies within the criminal justice system. This opened her eyes to the importance of educating herself and others about such prevalent issues occurring in the community.
Becoming a successful model would a dream come true for Lovepreet. She is grateful for the opportunities she has received thus far and only hopes to grow from there! She has walked in fashion shows in Toronto and has done commercial work for local stores and businesses. Lovepreet has worked with renowned Bollywood designers including Payal Singhal, Dinesh Ramsay, Rajat Tangri, and Nupur Kanoi. She was also a part of the University of Toronto's 'Back to School' campaign in 2018.
Miss Universe Canada is Lovepreet's first pageant and though that comes with new challenges, she is certain that this opportunity will only catalyze her dreams and ambitions. She hopes to make the most of this pageant and open doors for other girls who want to pursue their dreams in this industry but just need a little push!
Sponsors
Family and Friends
Q&A
What are your interests and what do you enjoy doing the most?
My interests include playing sports, modelling, hanging out with my friends, reading, and researching about current political issues.
List any special training you have had (music, art, drama, dance, etc.)
As a kid and teenager, I attended "Gurmat Camp" to learn more about my religion (Sikhism) and to learn to read and write in Punjabi.
In what sports, if any, have you participated?
I have participated in volleyball, basketball, flag football, softball, and swimming.
Name one person, other than your parents, who has had the most influence on your life. Why?
It is honestly difficult to name only one person who has had a tremendous influence on my life. My sisters have been my rock throughout all the highs and lows I have experienced. I have never known what it felt like to have someone believe in me and push me to achieve my fullest potential the way they do. They believe in me more than I do and are constantly helping me grow as an individual. Watching them work as hard as they do and persevere to be the best versions of themselves is truly inspiring.
What is your proudest personal accomplishment (other than participating in this pageant)?
My proudest personal accomplishment was when I received my first big paycheque. I will always cherish that moment because it taught me the importance of responsibility, ownership, and maturity.
What is the most interesting or unique thing that has ever happened to you and/or what is the most interesting thing about you?
One of the most interesting things that have ever happened to me was when I was asked to walk in New York Fashion Week. It was totally unexpected because I thought I would be too short! Sadly, I was unable to attend the show due to a medical emergency.
What is your career ambition and what are you doing or plan to do to accomplish that goal?
Aside from modelling, I am working towards a career in law (either as a lawyer or paralegal) which is why I like to volunteer or find work in a related field to enhance my experience and skills. Sidhu Traffic Tickets has truly provided me with a lot of insight on what a paralegal does on a day-to-day basis.
What would be your "dream job" in life?
My "dream job" in life would definitely be to become a successful model because aside from being a passion of mine, I feel that the industry should be more diverse and if this were to become reality, I would be setting an example for so many young Indian girls to become icons in such a tough industry.
Describe where you were raised and what your childhood was like.
I was raised in Brampton, Ontario. My childhood was full of sports and late-night adventures with my friends. However, my mom was keen on making sure I was also focusing on my education so she would often lead strenuous study sessions to ensure I was doing well in school. She made sure I was well-rounded in my life even as a child/teenager.
List any interesting or unusual jobs you may have had.
An interesting job I had was at the Region of Peel. I was the Administrative Assistant to the Director of Long-Term Care. This was a very interesting job because part of it required me to interact with seniors at long term care centers and they ALWAYS had interesting stories to share about their lives (including stories of war, love, and running away).
List any volunteering you have done.
Summer camp counsellor
Facilitator at Heart & Stroke Foundation
Facilitator at Cystic Fibrosis Canada
Volunteer at a local day care
Volunteer at St. John's Kitchen.
What is your most unusual talent?
An unusual talent of mine is that I can put my thumbs in a weird position.
Where is the most interesting place you have been to?
The most interesting place I've been to is the scenic conservation area called "End of the World" in Edmonton, Alberta. The view from the cliff of the lake, green hills, and the horizon is breathtaking.
What do you hope to be doing in ten years?
I hope to be retiring as a model to focus on helping young girls pursue their dreams in this industry. Another option I would hope for is to have my own successful practice as a paralegal or lawyer.
Is there anything you would like to add that we haven't asked?
I would like to thank my family and friends for pushing me to participate in the pageant. I'm so grateful for the love and support they have constantly shown me and I hope to make them proud!