Medina Bandalli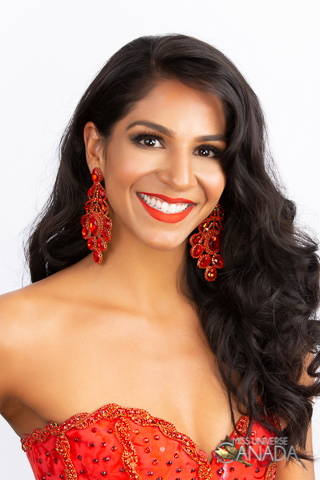 Height: 5'6
Hometown: Edmonton, AB
Languages: English
Occupation: Masters of Psychology Student
Completing her Masters Degree in Psychology and having over seven years of education at the Undergraduate and Graduate level, Medina is working towards her registration as a Psychologist and is ready to represent Canada on the National and International stage. Her first goal and main priority has been completing her educational and occupational aspirations by age 25. Now, that Medina is achieving that goal, she is ready to take on her next goal of Miss Universe Canada.
When she isn't working with clients, Medina instructs spin classes at a local cycling studio. Her passion for fitness, coaching, and helping people led her into what the studio calls a "Motivator". it has encouraged her to lean in opportunities that challenge her and has given her the platform to help improve her communities self esteem, physical fitness, and wellbeing. She thrives off being a leader in her community and continues her work because of the direct impact she sees and believes she is making.
Having been an elite athlete in competitive gymnastics for eleven years, her passion for athletics has continued to be a central aspect in her life. Growing up Medina played on her volleyball, soccer, and basketball team, and was a sprinter and jumper on her track and field team. Now, she continues to feed her fitness passion through basketball, spin, and yoga. Not only has fitness and athletics been her safe space, it has also provided her with the experience of being in the public eye. Competing athletically and instructing fitness classes has made public speaking and engaging with audiences her norm.
With her parents migrating from East Africa to Canada, Medina was always encouraged to not only travel and experience the world, but to learn about, appreciate, and immerse herself in other cultures. Medina had the opportunity to live and study in Australia for a year, and travel to Brazil, Costa Rica, Uganda, and Kenya (to name a few). Competing in Miss Universe Canada gives her the opportunity to share with others, what living in Canada has given and taught her.
Having worked and volunteered for non-profit organizations, donating time and knowledge by sitting on boards, and being a representative and brand ambassador for foundations, Medina advocates for the importance of contributing to causes greater than yourself. She values inclusivity, empowerment, positive change, and is determined to represent these values on an international stage.
Although her ambition has pushed her to seek out opportunities to continuously grow, her friends, family, and community, and the support and encouragement they provide is what has helped her to succeed. Connection, people, and community play a large role in Medina's life, which is she values her her friends, family, and community above anything else.
Medina believes that life will continuously happen around us- the good and the bad. Although we don't always have control over what happens, we can control a few things that can shift our world dramatically: our reaction, our mindset, and who we choose to surround ourselves with. It is with this mindset that Medina has succeeded academically and professionally with her education and career, physically during her elite athletic career, and personally with friends, family, and strangers that she connects with. Her intention with participating at Miss Universe Canada is to be her authentic and genuine self to show how far you can go by just being yourself. Proving that although hard work and drive are two ingredients in success, being kind to yourself and others will make the success worth it. Through her involvement with the Miss Universe Canada pageant, she hopes that by leading by example of being authentic, it can help advocate similar values in others. She hopes to advocate on behalf of mental health awareness, specifically reducing shame associated with seeking support from friends and family or from a professional.
With her confidence, her drive, and her ability to connect, along with her education, experience, and values – Medina is determined to represent Canada as Miss Universe Canada 2019.
Sponsors
Family and Friends
Q&A
What are your interests and what do you enjoy doing the most?
My mom tells me that my fear of missing out started very early on in life. Home videos of baby Medina features a really sleepy child struggling to keep her eyes open but doesn't want to fall asleep and miss out on all the action. Starting young I was always on the move- exploring my environment and interacting with anyone I could. Since then, not much has changed! Now it's feeding my curiosity through exploring new countries and hearing about people's stories through my career in Psychology.
Since a young age athletics has been a central aspect to my identity. I have played most major sports whether for fun or competitively. I currently play basketball, practice yoga, and am a spin instructor. Not only does sports and fitness play a large role in the way that I take care of myself both mentally and physically, but I would also say it is a large part of who I am.
I am a big supporter of the idea that we will always find or make time for the things and people that matter to us-which for me is travelling, friends and family, and my health. When I am not working at the clinic or teaching at the studio, you probably won't be able to find me in Edmonton. I take any chance I get to travel, or I make the time. Some of the time, I try to make it an intentional trip whether I am traveling for conferences and workshops, otherwise I am going with the pure intention of exploring.
List any special training you have had (music, art, drama, dance, etc.)
Having been a competitive gymnast for eleven years, my training centered on strength, performance, and artistry. I was training for four hours a day, five days a week during our competition season. During off-season, I would condition for similar hours with additional ballet, flexibility, and visualization training. Training in this manner forced me to consciously have the same on season off-season mentality as an adult- prepare and train all year round and then execute.
During my eight-week instructor training to become a spin instructor, our training focused on building performance confidence and showcasing your personality. Although there was the obvious physical training to be a cycling instructor, our training mainly focused on bringing who you are to the bike, engaging and conducting a crowd, and leaving a lasting impression.
During University, I signed with a modeling agency where I was trained as a commercial model. Modeling taught me to appreciate the attributes that I have that make me unique, and to use my originality as my strength.
In what sports, if any, have you participated?
Growing up I was encouraged to try most sports. Throughout Junior High and High School I played soccer, basketball, volleyball, and was a provincial competitor in track and field. I played provincial level volleyball and basketball, and competed in Gymnastics for eleven years In High School, I was recruited into the elite athletics program, which allowed me to balance my gymnastics career and my high school academics. I managed to balance International Baccalaureate classes with a full time gymnastics career and graduated with honours.
Now, I teach spin classes and play basketball, regularly practice yoga, and have a strength/resistance training plan that I consistently follow.
Name one person, other than your parents, who has had the most influence on your life. Why?
Being a Shai Ismaili Muslim, the one individual other than my parents who has had the most influence on my life is the Aga Khan. At age twenty in 1957, Prince Shah Karim Al Hussaini was appointed as the spiritual leader of the entire Shai Ismaili community. Since his time he has promoted equality, pluralism, education, and humanitarianism. His philanthropic goals include eliminating global poverty and the promotion of pluralism. With over 28 International Honours awarded to him, 15 honorary degrees (10 being from Canadian Universities), and 40 International Awards, I can easily say that the Aga Khan has had the most influence on my life, other than my parents.
In 1972 all South Asians living in East Africa were expelled, however because of Prince Karim's grandfathers relationship to Pierre Trudeau, the Canadian government granted access to thousands of Ismailis to immigrate to Canada. It is because of Trudeau and the Aga Khan that I have the opportunities that I have, and am the proud Canadian that I am.
Not only did the Aga Khan influence my current career, but he ingrained the mindset of continual humanitarianism into my everyday life. Every year I give back to the Aga Khan Foundation through my involvement with various boards (education board, health board, and social welfare board) in order to build their capacity to continue to support the community.
What is your proudest personal accomplishment (other than participating in this pageant)?
My proudest personal accomplishment was being accepted into my Masters of Counselling Psychology. During my Undergraduate degree in Linguistics and Psychology, I was constantly questioned as to what I was going to do with that degree. Of course, the doubt would occasionally creep its way in and I would question my ability to make it into one of the most competitive fields. I would let arbitrary factors convince me that I wouldn't make it. Being accepted meant that my hard work paid off and that I accomplished exactly what I intended to. What made it feel even better was that of course academics played a major role in being accepted into the program, however they were interested in the person behind the grades. They looked at who the applicant was as a person, what they stand for, and what they intend to do with the Masters- similar to Miss Universe Canada.
Reflecting on my graduate experience, not only am I proud to be graduating from one of the most competitive graduate programs, but I balanced that with still making time for the things that I love- friends, family, travel, and athletics. Now, I work in a field where I am challenged everyday and I have the ability to have a direct impact on the individuals that I interact with.
What is the most interesting or unique thing that has ever happened to you and/or what is the most interesting thing about you?
Two things that I am very proud of:
1. People are often surprised/impressed with my ability to eat as much as I do without getting full
2. People are often surprised/impressed with how much Netflix I watch with the schedule I have
What is your career ambition and what are you doing or plan to do to accomplish that goal?
For the past seven years I have been working towards the goal of being a Psychologist. After two degrees, a Masters, thousands of hours spent volunteering and learning, several amazing mentors, and the most unconditional group of friends and family later, I have finally reached that goal.
I am a firm believer in constant growth and learning, which means that there is still so much I want to accomplish. Eventually, I would like to get my PhD in Psychology. However, for now I am excited to put the textbooks away for a little bit! I work with various demographics and presenting concerns, however my focus is on trauma, grief, addictions, and attachment work.
What would be your "dream job" in life?
Being someone who has several passions and is a big picture thinker, my "dream job" changes with my growth. I have always considered myself a "multi-hyphenate" when it comes to what I do and what I want to do. I never want to be defined and limited by a box or a title, but rather have multiple facets that define me. I am passionate about several things and need to feed all aspects of who I am- my compassionate side, my athletic side, my leader side, my curious side, and my entrepreneurial side. I am a firm believer in taking an opportunity and running with it and trusting the process. If an opportunity falls in my lap and it aligns with my values and goals, then I am probably running with it.
Describe where you were raised and what your childhood was like.
Born and raised in Edmonton, Alberta, I was fortunate to grow up in a tight knit family, with a close group of friends that I consider family, and extended family that played a large role in my life. I grew up in a safe community, with ample access to education and opportunity, and had support and guidance from my loved ones. It is really important for me to recognize my privilege in having these things, as this is not the reality for most.
Not much has changed since my childhood- I lived in the same house my entire childhood, still have the same group of friends that I had growing up, and I enjoy similar activities that I enjoyed in my childhood- eating and playing. As I have expressed, my friends, family, athletics, and education have all been central to my identity both growing up and now as an adult. Everything I can remember about my childhood are things that make me happy as an adult.
I grew up in a small family with my older brother, parents, grandmother and aunt being central figures in my life. Although my family was small, our house never felt empty. My childhood was lively and exciting- there was always music playing in my home and always had friends and family in and out of the house like a revolving door. If I wasn't constantly surrounded by people in my home, I was outside or at school playing sports.
I spent most summers either away camps or away for competitions, which makes sense why traveling is a normal constant in my life. Something really interesting that has shaped who I am today is my parent's encouragement to be involved with different cultures and religions. I was raised as Muslim and grew up going to religion school every Saturday morning from kindergarten to grade 12. However, I was fortunate to have friends with different religions who were open to bringing me into their world. I remember going to church on Sundays and attending Sunday School occasionally. I went to Synagogue and Temple, and had very open dialogue in my household around spirituality and acceptance of diversity. Now as an adult, I can see how similar most religions are, which shaped my understanding that we are all the same regardless of our identification.
List any interesting or unusual jobs you may have had.
I would say that my current job as a spin instructor is nothing short of interesting everyday. You can imagine how riding a bike in front of 40 people with a microphone, while controlling music and strobe lights can be.
List any volunteering you have done.
Operation Smile
Alberta Health Services: Alberta Hospital
Center of Cognitive Behavioral Therapy
Institute for Stuttering Treatment and Research (ISTAR)
University of Alberta Open House – Department of Linguistics
Center for Comparative Psycholinguistics
Ismaili Student Association- Executive Position: Lieutenant
Ismaili Student Association- Executive Position: External Representative
Youth Advisory Council: Canadian Breast Cancer Foundation
World Partnership Walk – Corporate Engagement Team
One Match- Stem Cell Donation Clinic
Canadian Blood Services
Human Integrated Performance – Practicum
Shift Psychological – Practicum
Ranchers Support Group Addition Services
What is your most unusual talent?
My ability to squeeze in a nap in for short amounts of time
Where is the most interesting place you have been to?
It's hard to choose the most interesting place. I can't limit it to the single most interesting location that I have traveled to, but there have been moments, sights, and experiences that stand out. I recently traveled to Rio De Janeiro in Brazil where I spent one of my days there traveling to the favela of Vidigal. I believe that when you visit a city, you should educate yourself on the reality of where you are visiting. Seeing the city from the perspective of how a majority of Brazil actually lives was a humbling experience. I also had the opportunity to visit East Africa where my parents grew up. My parents brought my brother and I to my mom's hometown in Kampala, Uganda where we saw her childhood home and how she grew up. Again, an extremely humbling experience that grounds me in my privilege.
What do you hope to be doing in ten years?
I hope to continue to live a life surrounded by the people I love doing what I love. I hope to continue to lead a meaningful life, setting and reaching goals. I was raised to not work for money and status but for impact and fulfillment. That means that the next ten years of my life will be spent continuing to contribute to the betterment of my community, my society, and myself. The humanitarian and Psychotherapist in me says that success will continue to be measured by my own growth the growth of those I work with, not by recognition and compensation. The creative and entrepreneurial Medina says that in ten years I will be doing something completely different than what I think I will be doing. What I do know is that in the next 10 years I will have a family, my PhD, and the Miss Universe crown added to the list. I will have literature published in my name, and will have worked for and alongside organizations that align with my values and goals. Above all, "they may forget what you said – but they will never forget how you made them feel" – Carl W. Buehner.
Is there anything you would like to add that we haven't asked?
I just want to express my gratitude for having the opportunity to participate. I recognize my privilege and intend on using this as an opportunity to not only represent my personal values but the values of the organization. I believe that the Miss Universe Canada pageant is an amazing opportunity that allows women to showcase their hard work, passion, and intelligence and should be a very intentional experience. I wouldn't be competing if I didn't think that I had something worth saying. My intention for participating in the pageant is to serve as an example that you can achieve your goals by being authentic and genuine to who you are. You don't need to change who you are, what you believe in, or what has happened to you in your life in order to succeed.
As your next Miss Universe Canada, I want to represent an educated female who works hard to accomplish her goals who can empower others to do the same. I represent someone who is not limited by boxes, but rather finds identity as a woman who holds multiple roles. I am someone who recognizes her privilege in identifying as middle class and straight but also finds her beauty and strength in being a minority, Muslim, female. Lastly, I am a contestant that represents the values of both Canada and the Miss Universe Canada pageant, and intend on succeeded by being the best representation of those values.