Megha Sandhu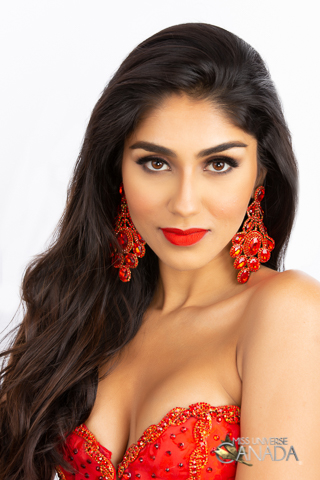 Height: 5'9
Hometown: Montréal, QC
Languages: English, French, Hindi
Occupation: Actor, Model, Entrepreneur, Digital Marketing Coordinator
Megha Sandhu is a versatile Canadian actress and model best known for winning Miss Teenage Canada 2012 and for her 3rd runner up placement at Miss Universe Canada 2018. 

Megha grew up in Montreal, Quebec speaking both English and French. Growing up with a special needs brother she learnt early on to accept that everyone has a combination of both strengths and weaknesses and that compassion and patience go a long way in speaking across our differences. She graduated from Villa Maria High School in May 2011 and was named Top Athlete in her graduating year for her participation in soccer, basketball, flag football, track & field and cross country.
Sandhu is of Indian descent on both her mother and father's side and is fluent in Hindi. She was instrumental in the creation of the Montreal based VIVO Fund, which organizes an annual charity fundraiser for the Neonatal Intensive Care Unit (NICU) of the Jewish General Hospital to help fund and facilitate acute care and follow-up of premature newborns. Empowered as Miss Teenage Canada 2012, she spoke in front of 20,000 youth at We Day Vancouver. She then travelled to Kenya, Africa with Free the Children to help build a primary school for young girls. She realized then that pageants are a platform to not only achieve your own personal dreams but are a gateway to genuinely help and inspire others in need.
A graduate of Concordia University, she majored in Behavioural Neuroscience,
to fully understand the intricacies of the human mind and behaviour with the need to better understand her younger sibling. Shortly after, she went on to compete at Miss Universe Canada 2018 and Miss Model of the World 2019 in China.
Megha was trained at Straeon Acting Studios where she was coached in acting for film/television, camera and scene studies. Her recent work includes; a stint at 24 Hour Plays where she co-wrote and conducted comedy skits for local audiences and featured in a commercial for VICHY Cosmetics and Apple.
In March 2019, it was announced that Sandhu was cast as the lead role of Kamali in the feature film Arranged Marriage which is set for release in Fall 2019.
Megha is also a well-being and fitness advocate and enjoys surfing, hiking and especially boxing for its confidence enhancing abilities.
Megha's education, acting, modeling, volunteering, drive and humanity supplement her previous pageant experiences including; Miss Teenage Canada, Miss Teen World Top 10, Miss Universe Canada 2018 3rd Runner Up, Miss Model of the World 2018. Becoming Miss Universe Canada has been a lifelong dream of Megha's and one that she would be honoured to accomplish so she can make her country and young women of visible minorities proud on the Miss Universe Stage.
Sponsors
Family and Friends
Video
Q&A
What are your interests and what do you enjoy doing the most?
I enjoy traveling, visiting new places and immersing myself in new cultures. I benefit from working out, be it from hiking, surfing or boxing. These help me to remain both physically and cognitively alert. I am also not afraid to take on challenges in the form of adventure sports and enjoyed launching off a mountain top while getting a bird's-eye view of the Gulf of St. Lawrence and cliff diving in British Columbia. I also have a passion for the dramatic arts and enjoy acting, comedy and modelling.
List any special training you have had (music, art, drama, dance, etc.)
I was classically trained for 10 years in the Indian dance form called Bharatanatyam, spent 3 years training in classical western ballet and 2 years of jazz ballet/hip-hop. I grew up playing the piano for 7 years. In my final year of high school, I shifted gears slightly and developed a liking for acting and the dramatic arts. Shortly after, I partook in a few local comedy shows in Montreal and trained at Straeon Acting Studios where I was coached in acting for film/television, camera and scene studies.
In what sports, if any, have you participated?
Sport have had a prominent and motivating role in my life. I was involved in a little bit of everything growing up including; soccer, basketball, flag football, swimming, figure skating, track & field and cross country. While I really enjoyed playing football, running gave me an opportunity to de-stress and focus on the important things in my life. This led to a memorable experience of representing my University on the Varsity Cross Country team, representing my district across Quebec and meeting wonderful, inspiring people along the way. Staying fit and active is an extremely important part of my life. While I enjoy changing up my training program to include new challenges, one sport I have come to love is boxing! Self-defense and physical resistance skills in the form of boxing helps in building my confidence and allows me to feel more capable if I were to ever be in a potentially dangerous situation. Not to mention, boxing helps to build lean muscle, develops stamina and can ramp up your metabolism!
Name one person, other than your parents, who has had the most influence on your life. Why?
My younger brother continues to be the person with the most influence on my life. When he was 3 years old, he was diagnosed with the autistic spectrum disorder. Growing up alongside him made me realize that he may never get to experience the things I easily take for granted, such as making friends, fostering relationships and going to University. However, despite these setbacks, he continues to wake up every morning with a smile on his face and the determination and willingness to give every day his best shot. It has therefore become my life long mission to aid in his development and all those who are vulnerable.
What is your proudest personal accomplishment (other than participating in this pageant)?
Graduating with my degree in Behavioural Neuroscience. Despite the long hours of studying, early mornings, late nights and the uncertainty and anxiety that often accompany meeting strict deadlines, my degree has taught me some critical life lessons. It has instilled in me that one's goals can be accomplished primarily through hard work, dedication and consistency. One needs to be willing to sacrifice and be disciplined to persevere through any challenges that life presents. To be able to rise above and hold it down even when everything is falling apart is a skill I believe I have acquired through my degree and it therefore remains one of my proudest personal accomplishments.
Additionally, in 2012-2013, I was introduced to We Charity, formerly known as Free the Children, a non-profit organization that addresses the root causes of poverty by removing the barriers to children's education in the developing world. I travelled to Kenya with We Charity and helped build a primary school alongside a group of motivated young adults who also wanted to be a part of positive change for the community. Knowing that my hard work was going to help a young girl get a primary school education is what kept me going through this strenuous venture. It is for these reasons that my trip to Kenya alongside my University degree, remain my proudest personal accomplishments.
What is the most interesting or unique thing that has ever happened to you and/or what is the most interesting thing about you?
As of one year, I made the decision to adopt a plant based diet. Transitioning and changing my diet and lifestyle has had life altering effects on both my mind and body. It was vital that I educate myself on what I consumed, to question my morals and to choose a lifestyle that spoke to and worked for me. Knowing that type 2 diabetes, cardiovascular disease and hypertension runs in my family, I chose to adopt an eating habit that would environmentally decrease my chances of developing these ailments, despite genetic predispositions. I am also a strong advocate for preserving our now increasingly depleted natural resources and through research I have learned that breeding, raising and feeding animals can be extremely taxing on these fragile resources. I seek to live a life where I can shrink my carbon footprint so that generations after me may continue to enjoy the resources and sites that I do today.
What is your career ambition and what are you doing or plan to do to accomplish that goal?
I have many thoughts for my future career but am not set on just one plan yet. As someone who is passionate about health, mental wellness and psychology, I focused my attention of academia, where I earned my degree in Behavioural Neuroscience, learning about the brain and its many intricacies. Here, I was fortunate to have met many influential psychologists and neuroscientists from around the world and to learn about their research. I also love fashion and all things to do with the beauty industry and very much enjoy acting and content creation as well. While this may sound like a mouthful, it signifies my multi-faceted personality and many interests and I believe that I can accomplish these goals step by step in a meticulous manner.
What would be your "dream job" in life?
My ultimate dream job cannot be defined by a single title but rather it is to acquire a position and life that is meaningful to both myself and to those around me. I hope to live out my dreams and be a source of inspiration to those younger than me and to show them that they too can accomplish their goals. It also remains my life long mission to help my brother in his development as a special needs adult.
Describe where you were raised and what your childhood was like.
I grew up in a family of four in downtown Montreal, Quebec. As a first-generation Canadian, to parents who emigrated from India, I learnt first-hand the importance of hard work and perseverance as vital tools one needs to flourish in life. Growing up was not always easy, my mother, whom I respect dearly, is a foreign medical graduate, who continued to pursue her medical career in order to financially provide for the family. However, this was at the expense of separating herself from us for seven years while in the United States. While a lack of a mother's presence was at times challenging and scary, it provided me with the opportunity to take care of my dad and brother and instilled in me a sense of responsibility from a very young age, for which I am forever grateful. When I was five years old, my younger brother was diagnosed with the autistic spectrum disorder. Growing up with a sibling who has a learning and behavioural disability like autism has provided me with an innate empathy towards those struggling to be heard and understood. It has taught me that not everyone confines to societal norms of behaviour and that this is perfectly alright. People have different ways of communicating and being heard. Despite these slight nuances in my upbringing, my parents always encouraged that I remain involved in my community. I was therefore encouraged to partake in piano lessons, Bharatanatyam; a sacred Indian classical dance form, ballet, soccer and figure skating growing up.
List any interesting or unusual jobs you may have had.
Being a speaker at We Day Vancouver was an unusual and life changing job I never thought I would acquire. I got to speak in front of 20,000 youth about my journey as Miss Teen Canada. What was most interesting was that every child and teen who was present had earned their spot at the convention by undertaking one local and or global action for change during the duration of one year. While speaking to an audience of that size was nerve wracking, it was also immensely inspiring and uplifting to know that our generation is headed in a positive direction. It was here that I met inspiring individuals like Demi Lovato and Magic Johnson. I had to pinch myself and realize that I was actually in the presence of such determined and established professionals!
I also worked alongside a very well respected surgical oncologist in a multidisciplinary surgical oncology breast cancer clinic. Here, I developed proficiency with GE Logiq 9 Ultrasound Units to provide extremely detailed views of breast cancer tissue. Being surrounded by breast cancer patients was genuinely an eye opening and inspiring experience. Helping women to cope through their adversities taught me a lot about how fragile life can be. However, knowing that the expertise of doctors and technology would help them in every step of the way inspired my faith in the process.
List any volunteering you have done.
Lab Assistant– Meakins-Christie Laboratories McGill University
Student Services Note Taker– Marianopolis College
Took detailed and easy to read notes for students with learning disabilities from the Access Centre for Students with Disabilities (ACSD)
Co-President-Co-chair– VIVO Fund
Organized a charity fashion show towards the Neonatal Intensive Care Unit (NICU) of the Jewish General Hospital to help fund and facilitate acute care and follow-up of premature newborns
Talent/Speaker Acquisitionat BMW Montreal
Patient Volunteer– Royal Victoria Hospital
Visited post-surgical patients to engage in meaningful conversations in order to promote improved patient care and healing through communication and understanding
Girls for the Cure Representative
Collected funds for Breast Cancer Awareness Week
Free the Children
Travelled to Kenya, Africa to help build a primary school for young girls
Speaker at We Day Vancouver
Organized multiple fundraisers for Free the Children
Global Volunteer
Travelled to central India at the Baal Niketan orphanage, facilitated play time activities and helped teach English to young children
SOS Children's Villages
Travelled to South America with the goal of educating myself on SOS Children's Villages, an organization focused on assisting children who lack parental care.
What is your most unusual talent?
My most unusual talent is my ability to randomly switch into accents while talking. My strongest and most common ones are; British, Chinese, Indian and Australian. Weird, but true.
Where is the most interesting place you have been to?
I got to do a mountain biking expedition in the Khardung La mountain pass in the Ladakh region of the state of Jammu and Kashmir, India. Besides being deeply influenced by Tibetan Buddhism, this place is also famously known as being one of the world's highest vehicle-accessible passes in the world, with a 17,582 ft. elevation. Despite having taken necessary precautions to ensure physiological acclimatisation to the low oxygen environment, upon driving through the mountains, my body curiously gave out and I started experiencing acute mountain sickness (headache and intense nausea). I learned here that things sometimes become a mental game in life and that the psychology of fear is a real thing. I had to focus my mind on small, specific tasks, such as opening a water bottle, sipping water, taking a pill…Despite this small mishap, we made it through to the summit to watch the sunset and I wouldn't have had this experience any other way. Sometimes it's the most challenging trips that end up being the most memorable and worth it in the end!
What do you hope to be doing in ten years?
This is a hard one…because I can barely tell you where I predict I will be in a years' time, as things in life are often subject to change. However, the more I think about it, by 35, I hope to have found success and comfort in a career I am eager to wake up to every morning. I would like to have travelled to multiple countries around the world and have been an inspiration for youth from varying social, political and ethnic backgrounds.
Is there anything you would like to add that we haven't asked?
To young women, I wish to advise you to never be ashamed of wanting to have it all. Many of us will face the skepticism that femininity and ambition are mutually exclusive, and I want to re-iterate that they are not. For instance, I can be involved with both science & business and modeling and acting. Frankly, the key to my happiness is balance. This message along with the patience and compassion I have acquired through my personal family situation are what I hope to bring with me to the Miss Universe Canada stage.