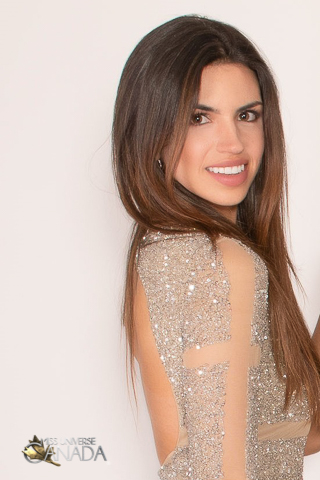 Height: 5'7
Hometown: Mississauga, ON
Languages: English, French, Portuguese
Occupation: Fulltime Geotechnical Engineering Consultant and M.Eng. Student at University of British Columbia
Melanie has completed a degree in Civil Engineering from the University of Waterloo and is currently working towards her Master of Engineering at the University of British Columbia. Working in the mining and construction industry for the past 7 years, Melanie has been able to travel across Canada, growing a deep sense of Canadian pride and love for the uniqueness of each Province. Reflecting Canadian values, she is an advocate for embracing cultures, and for the cultural mosaic that is Canada, with herself being second generation Portuguese.
Anybody who knew Melanie growing up, would know her as the hilariously nerdy but loveable kid; nose in the books, listening to classical music with untamed hair and braces. Although, seeming lightyears away, some things never die, and her quirkiness and ability to dominate a chess match if given the chance are sure remnants of her illustrious past. Having experienced so much, and having multifaceted sides to her widespread personality, she can connect to almost anyone, and has developed a deep and genuine compassion for other people, including volunteering in an anti-bullying campaign. Melanie knows the importance of understanding history and culture and has travelled to over 20 countries around the world.
Working in a male dominated field, Melanie is proud to break the gender stereotype in engineering and loves to encourage young woman to pursue careers in STEM and support one another in any way possible. She has talked to high school classes about her experiences, and volunteers as a Waterloo alumnus to shed further light on her experiences.
Sustainable engineering, and incorporation of green energy into design are very important to her, and she is currently taking a course in LEED (Leadership in Energy and Environmental Design), so that these concepts can be applied in her practice. Additionally, she looks at sustainability at a global scale too, and is currently working with Engineers Without Borders to invest in communities of the developing world and provide them with tools to combat poverty. A famous quote in engineering, "Earthquakes don't kill people, buildings do", shows the importance of providing responsible engineering practices to communities around the world.
Though she has never done a pageant, Melanie is as comfortable in her work boots as a pair of heels and is excited to embrace her femininity and generate meaningful discussions about important topics.
Sponsors
Q&A
What are your interests and what do you enjoy doing the most?
I absolutely love exploring my surroundings and am so thrilled to be able to discover so many parts of Canada. I recently spent time hiking in breathtaking Kewlona, BC, however I can go on equally so about the cultural and artistic hub that is Winnipeg, MB. This world is such a gift and stopping to admire it is my favourite thing! My favourite hobbies include taking out my rod and finding a good fishing spot or swimming long distances in natural waters. In the summer you will find me hiking outdoors, or at the trailer. In the winter I figure skate, cross country and downhill ski, and snowboard. Beyond that I am always down for playing strategic boardgames, and a good cup of black coffee. I play classical piano, have a budding comic book collection and love to oil paint!
List any special training you have had (music, art, drama, dance, etc.)
I have graduated from the Royal Conservatory of music for classical piano. I also was taught figure skating, life guarding, and ski jumping (although I just recently had a second reconstructive knee surgery and like to think maybe this time I have learned my lesson). I always love taking new classes and have recently enjoyed taking classes with the City of Mississauga, including recently completing and Oil Painting Class and a Belly Dancing Class.
In what sports, if any, have you participated?
I used to figure skate and life guard. I love to downhill ski and snowboard, while in another life I was even involved in doing ski jumps and jibs. Giving up ski jumping has not saved me, as I still had to have a second knee surgery due to a ski related accident last March which put a damper on ski season for me this year. I love yoga, and actually won a yoga award back in high school for being so committed. Yoga is one of those exercises you can perform anywhere, you just need yourself and a clear mind. Also, if you consider fishing a sport, then I am also an avid fisher-woman!
Name one person, other than your parents, who has had the most influence on your life. Why?
Most definitely my grandmother would be the most inspiring person to me. If I can be half the woman she is, then I know I am doing something right. My grandmother emigrated from Portugal to Canada for a better life, and at the time came knowing very little English and having almost no money with the hope to create a better future for herself and her family. She worked hard and was able to get a job as a bank teller in a high-class neighborhood, becoming so close to some of her long-time patrons, she was often gifted very interesting things, which as a kid I would be mesmerized by. My grandmother is incredibly smart, witty and kind. When she was in school, she was the youngest in her classes because she had skipped a few grades due to her incredible ability to learn. She graduated from teacher's college in Portugal, which at the time was a big feat. Nowadays you can find her reading constantly, and although English is not her first language, I can guarantee she has a bigger vocabulary than 99% of the English-speaking population.
What is your proudest personal accomplishment (other than participating in this pageant)?
My proudest accomplishment is definitely graduating from University of Waterloo in the top twenty-five percentile of my class and never getting below a 70% in a course in my university career! Getting that little iron ring was a lot of blood, sweat and tears packed in a short amount of time and I can honestly say us Waterloo Engineers graduated with crazy respect for one another after having gone through that together. I will never forget the first term when I talked to the amazing, and wise Dr. Robert Mckillop, P.Eng. (A.K.A "Bob") who had us look to the person on our left and right, and then told us "one of you, three would likely not make it through this". Likewise, I carpooled every day from Mississauga to Waterloo in order to save money and was told carpooling put me at a huge disadvantage. Well I played the odds and here I am!
What is the most interesting or unique thing that has ever happened to you and/or what is the most interesting thing about you?
I once got wheeled down the frozen Rideau Canal in Ottawa, dressed up as Barbie for the annual Accora Village Bed Race. It was so crazy, we built a fake hot pink convertible shell and turned our bedframe into a stylish pink dream car. It is probably not one of the safest things I have done, but it is definitely one of the most fun!
What is your career ambition and what are you doing or plan to do to accomplish that goal?
I want to be technically very strong in my field so that I can create good and resilient designs and develop into a confident, technical engineering consultant. I have worked in the field and office, and I am trying constantly to learn and grow and add to my engineering toolbox. I am currently doing my Master of Engineering and taking a LEED (leadership in Energy and Environmental Design) course.
What would be your "dream job" in life?
I am currently living my dream job! Engineering, conceptualizing and creating has always been so fascinating to me. People who tell you engineers are only left brained are lying! Engineering takes innovation, and creativity. There is nothing more satisfying then seeing something on paper, constructed in real life.
Describe where you were raised and what your childhood was like.
I was raised in Mississauga, Ontario and was quite an offbeat little individual. Everything a normal kid would do, I would probably do the opposite: if you asked me my favourite food, I would say salad. If you asked me what I did for fun, I would say homework. Of course, you can imagine I was not winning any popularity contests anytime soon; and I kept a Harry Potter journal in which I use to go on hilariously nerdy little rants. I inherited the very coveted Pinto, family unibrow, and that paired with my braces, made me of course even more popular! It was so funny, that a lot of my long-time friends are always laughing about it with me today. But I had so much tenacity, and unapologetically went by the beat of my own drum, that I could not have cared less about fitting in. I really like "that Melanie", although now I am quite different, I can tell you to this day, I stay true to myself.
List any interesting or unusual jobs you may have had.
A combination of never being given spending money and having "ants in my pants" as my dad loved to say, caused me to have a plethora of part-time and unusual jobs. I worked as a lifeguard, in retail at Abercrombie and Fitch, as a server at East Side Mario's and more. Back in high school I worked at this little Indian pizza joint on the corner of my street, and between making pizzas I would hold a sign at the corner. Well one time these kids thought it was a good idea to throw an orange while driving 50 km/hr down the street. Well let me tell you something about physics, impact is proportional to the speed, so even for a tiny orange it broke through my sign and knocked me right over. So kids, no throwing oranges please! Nowadays I still have not dropped my habit of picking up odd jobs and have actually been doing background work in Vancouver "AKA Hollywood of the north". One job involved playing with puppies on set all day, and another involved being a post-apocalyptic nurse. I also have been in Supergirl, so next time you watch a TV show filmed in Vancouver, that smudgy out of focus person in the background could very well be me!
List any volunteering you have done.
Engineers Without Borders
4 years of participating in Dragon Boating for CardiacKids in support of Sick Kids at the Mississauga Dragon Boating Festival
Kerr Street Mission
Waterloo Alumni talks
Visiting my old high school to talk to the class about my post high school experiences
Link Leaders
Skating and swimming volunteer to teach children in the Mississauga community
Operation Smile
Feed It Forward
What is your most unusual talent?
I have incredibly fast reflexes. I had noticed here and there growing up but had never really understood the extent of it up until I started playing arcade games. There is this one button-pressing, Kung-Fu game at my local arcade, and I have a 1 in 3 play success rate of winning the jackpot. It almost feels like cheating, and I can usually walk away with any prize I want. I have some very athletic friends, and yet nobody understands (least of all me), where it comes from. Does this mean my life's calling might be being a goalie!?
Where is the most interesting place you have been to?
I love travelling and am very fortunate to have been able to travel to over 20 countries. All have been so special in their own way, but the one that left the most impact on me was my time spent in Krakow Poland. My best friend is Polish, so I had a private tour guide, and was shown beautiful parts like the Tatra mountains, Wawel castle, and an underground chapel carved out of salt in the amazing Wieliczka Salt Mine. However, I also stayed in the Jewish quarter, and visited the German concentration camp, Auschwitz-Birkenau and learned about the sad and terrible history during World War II. It is one of those things, that it is not enough to just learn about it in school, and it really had a large impact on me. Kindness and respect for one another in this world is so important.
What do you hope to be doing in ten years?
In ten years, I want to be a confident and reliable practicing engineer. I want to also really continue to reach out to the community and be a role model for women and put myself in a position of power so that I can make a meaningful contribution towards issues which are close to me.
Is there anything you would like to add that we haven't asked?
Working in construction and spending so much time on construction sites you tend to go months without make up, and resort to a wardrobe of baggy sweaters and muddy work boots. It is definitely easy to forget your feminine side. Joining a competition like this to me is almost like being a Julia Roberts in Pretty Woman. The thought of competing in Miss Universe Canada had merely been a pipe dream or seemed like an impossible feat. I think someone like me would embrace the title and focus on kindness to others, and embracing people of all races, and religions. Afterall kindness is love with its work boots on and trust me when I say I have enough of those!