Miriam Mattova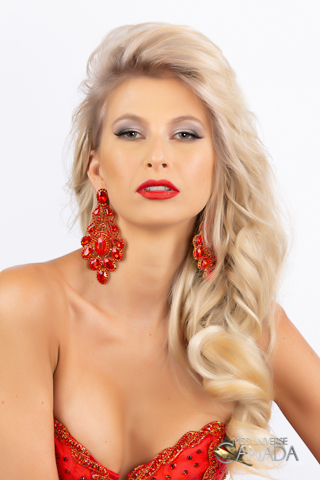 Height: 5'9
Hometown: Toronto, ON
Languages: English, Czech, Slovak
Occupation: Student City University Of Seattle (PhD. in Business Management)
Miriam believes that this contest gives big opportunities to women all over Canada. They give them the chance to present their beauty, personality, potential and intelligence. To take on the key role in the society by engaging in social issues and problems is very important in a national setting.
Miriam is a very hard-working person she has graduated from an international high school with honors and managed to finish her bachelors and masters degree while perusing her modeling career. She is currently the youngest student completing her doctorate degree in business and management.
Growing up with great support from her family, she was blessed with a strong voice that she had used as a news reporter.
She was always a very ambitious person, which helped her address problems in the health care system to the wide public through her work in the TV.
She is not only ambitious, but also very optimistic and driven. She looks at ways to succeed, which means she always sees a glass half full, not half empty.
Trusting herself was always the best thing she could have done because that's what made her reach her goals when she won Miss Bikini Universe 2013 and got her dream job as a news reporter. Hopefully this will also help her win the title of Miss Universe Canada 2019.
As she has decided to move back to Canada from Europe, the title of Miss Universe Canada would be a great start into a new chapter of her life.
Her experience from Miss Slovakia and Miss Universe Bikini gave her a lot of knowledge, which made her stronger, widened her social horizon and helped her understand the importance of things.
It would be a great honour for her to represent her country in the world and make her fathers roots proud.
Sponsors
Video
Q&A
What are your interests and what do you enjoy doing the most?
I have many interests and hobbies, but at this stage of my life my family and my work take up most of my time.
In my spare time I love to exercise and take care of my body as it keeps me in good health, which is very important to me. I mostly love to exercise in the outdoors when I horse ride. It gives me a sense of freedom and gives me time to relax my mind. It is very important to me to be in good health physically and mentally because if I am not in a good place I am not able to help others around me.
List any special training you have had (music, art, drama, dance, etc.)
By being a part of other national and international beauty pageants since an early age, I gained an opportunity to discover my strengths in multiple different aspects. Thanks to these competitions I have walked many fashion weeks all around the world, which built my self-confidence. I had an opportunity to travel to countries worldwide and get to know new cultures, which helped me learn many new things about others and myself, learn my weaknesses and transform them into strengths.
In what sports, if any, have you participated?
I'm fortunate enough to come from the land of opportunity, which gave me a chance to try different sports from an early age. I have quickly realized that in life, we are all tied to more than one dream. This belief inspired me to try tennis, horse-riding, volleyball and many more. The older I got I realized that it is important to give all your effort into one thing and give it your all, therefore I have decided to focus on education to further my future career.
Name one person, other than your parents, who has had the most influence on your life. Why?
The most influential person in my life is my mom. My mother is exactly who I want to be like in the future. She is an inspiration and a blessing for me and for others who have come in contact with her.
If I wouldn't be able to choose my mother as my inspiration, as I have grown older, I have put a lot more meaning behind that response as I've realized how much of an inspiration my grandmother is to me.
My grandmother has taught me the importance of family value, and to always stand up for what you believe in. She has shaped my life in more ways than I can explain, and I am forever grateful for all she has taught me.
What is your proudest personal accomplishment (other than participating in this pageant)?
Growing up with great support from my family, I was blessed with a strong voice. My parents always told me about the importance of education, which is why I am proud to have completed a Master's Degree in Business and Marketing. I was the youngest at my school to enroll in the PhD program, and while studying I still managed to work as a news reporter and fulfil my last years in my modelling career.
What is the most interesting or unique thing that has ever happened to you and/or what is the most interesting thing about you?
I am very thankful for the way my family has shaped me into the person I am today. I am a very softhearted person and even though some people may think it's a disadvantage and might want to abuse it, I am always here to help others.
I managed to win an International contest of Miss Universe Bikini, which opened many doors. Such success keeps me driven and helps me aspire to reach higher goals.
What is your career ambition and what are you doing or plan to do to accomplish that goal?
My career ambition was always to be an inspiration to others and help people in need, which I have worked my whole life on. Thanks to the opportunity given to me as a news reporter, I was able to use my voice to bring attention to many social issues and help people in need.
In order to be a role model it is very important to fuel every goal and keep pushing towards it. In other words, ambition is enthusiasm with a purpose.
What would be your "dream job" in life?
My dream job is one that combines my creativity, my leadership skills and lets me use my strong voice. Making a difference in the world and getting a chance to share them with as many people as possible. Being a news reporter is something that fulfills all the criteria of my dream job.
Describe where you were raised and what your childhood was like.
I was raised in a small but very loving family. My parents gave me a great international education and shaped me very well into the person I am today. I went to an International high school where I was taught multiple languages, which showed me the great importance of education.
My parents always taught me to be humble and grateful for all the opportunities I was given. I am very thankful to them for the person I am today.
List any interesting or unusual jobs you may have had.
I would say that being a News reporter can often be an unusual job because you never know where it may take you. During my career I had an opportunity to talk to people from many different backgrounds: doctors, politicians, but also patients suffering from many serious diseases. It is difficult because you have to be curious to get all the information, but are often put into difficult situations where you have to be supportive and empathetic. One day you are talking to cancer patients trying to understand their struggles, the next you are interviewing politicians and doctors about the healthcare system and how it works. The job can be unpredictable and you have to adapt quickly to the person you are speaking to and the environment you are in. It is a job that will teach you a lot.
List any volunteering you have done.
My parents have always taught me the importance of helping other and giving back. I have taken part in a number of volunteer projects:
Organizing adoption event from an animal rescue shelter
Raising money for children in orphanages – we have helped local orphanages to have Christmas holidays filled with presents and joy like we had.
After high School I was a part of the top 12 girls in Miss Slovakia where we have raised money for cancer patients during different events, which we do until now.
I have also participated in planting flowers around Slovakia where we have made our city center nicer and cleaner to the public.
While working as a news reporter I was able to bring attention to issues in the healthcare system and its effects on patients as well as doctors.
I am currently on board of the Sick Kids charity , and my biggest goal is to currently raise as much awareness for a organisation that touched my heart (Operation Smile).
Where is the most interesting place you have been to?
I have been to many interesting places all around the world thanks to my modeling career, but I have to admit my home, Toronto is the most beautiful and interesting place to me because its my home and it means the world to me.
What do you hope to be doing in ten years?
In 10 years I hope to have advanced in many aspects, and I will hopefully have a successful career behind me. For me it was always important to have a loving family and in 10 years I will want to be passing my experience, and raising my children into being successful and well educated people. It is important for me to raise children that will not only be successful, but will also be caring and helping others in need.
Is there anything you would like to add that we haven't asked?
Beauty pageants are a great platform for women all around the world to acknowledge their beauty and other assets. It is an opportunity for me to present my experience and skills in front of the world. I want to represent my country and bring pride to my nation.
I am very thankful to be given this opportunity to be a part of the Miss Universe Canada Team. It is a great opportunity for me and I promise I will give it my all to represent this organization as best as I can.
This platform is one of my steps towards reaching my goal.