Raman Sawhney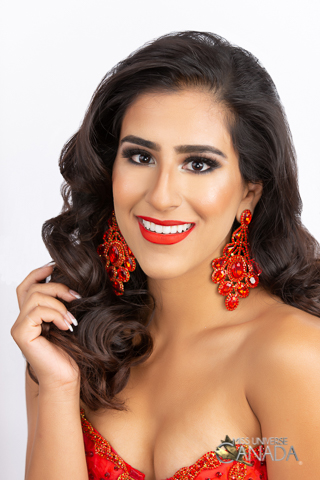 Height: 5'4
Hometown: Calgary, AB
Languages: English, Punjabi, Hindi
Occupation: Reservoir Engineer, EIT and Project Manager
Raman Sawhney is from Calgary, AB and graduated from Queen's University with a Bachelor of Applied Science in Chemical Engineering. Following graduation in 2017, Raman began a career with an international E&P company that exploited reserves from the largest onshore oilfield in continental Europe. Working in both the head office and in the oilfield in Albania as the only woman, she quickly learned about the different areas of the business from production to sales. She is current working as a Reservoir Engineer, EIT and a Project Manager for Fracture Modeling Inc. (FRACMOD), a start-up consulting firm aimed to help companies with technical decision-making and reservoir characterization. As an entrepreneur, she is continuing to build her technical skills while also deepening her business acumen through client interaction, marketing, and customer satisfaction.
Raman is a huge advocate for women and STEM education. As Miss Calgary 2019 and the director of her non-profit organization, Apar Initiative, she believes that empowering young women to explore different opportunities without limits or bounds is important in our growing and evolving world. Furthermore, her work as the Acumen Manager of Young Women in Energy, Engineers Without Borders, and Engineering for Kids solidifies her commitment to the cause. She takes opportunities to speak at conferences and career development symposiums to help spread awareness and learn through these experiences.
Knowing the importance of a good work-life balance, Raman builds health and wellness into her life through different activities. She is an avid runner has played basketball and soccer competitively growing up. She also does Bhangra dance – a high energy Punjabi folk dance – and spent time as a choreographer and instructor with her university team and her own business, respectively. Raman is a committed community leader who has a vision to inspire, influence positive change, and be a role model for people from all different backgrounds and walks of life.
Sponsors
AAA Precision Industries
,
Webber Academy
, Evolution Properties Inc.,
Skin Renewal Medspa
,
Big Blue Bins BC
,
Canadian Beauties
,
Kensington Fitness
,
Younique by Jen Gerace
,
Aesthetic Dental Studio
,
Aydin Nails and Spa
,
Bonita Runway
,
June Valdez Gowns and Rentals
,
Diva Salon and Spa
,
Urban Hair and Laser Tanning
,
Younten Hair and Makeup Artist
,
West Hillhurst Community Association
,
AAA Precision Industries
,
Kismet Clothing
,
Videogenic
, Family and Friends
Q&A
What are your interests and what do you enjoy doing the most?
I am very interested in health/wellness along with personal/professional development. Growing up, I have always been active. I spend a lot of time in the gym and going on runs and I am also an athlete and love participating in different sporting events. In addition to physical fitness, I know that mental wellness is important, so I build mediation into my daily routine and focus on setting goals to help improve my productivity.
I also take part in on-going development, both personally and professionally. To do this, I take on different initiatives in the community to move out of my comfort zone, try something new and learn through experiences. One recent professional example is that I moderated the keynote presentation at a career and professional development symposium. A recent personal example was me participating in the Miss Calgary 2019 pageant. I really position myself to be open-minded, and by exploring different opportunities I have really learned to love many things that all tie back to these two categories.
List any special training you have had (music, art, drama, dance, etc.)
I am trained in Indian classical dance, Bhangra, and Bollywood with Urvashi Kala Kender, Kauran Di Taur, and QISA Dance Team. Furthermore, I decided to take what I learned and pay it forward by teaching classes with Anytime Fitness, Calgary West Springs and I also started a business called Chak De Stars Dance Academy designed as a fitness inspired workout for adults and classes for children wanting to learn the fundamentals. I have also been taking modelling classes with Patti Falconer Agencies.
In what sports, if any, have you participated?
Sports have been very big in my life. Basketball is the sport that I have dedicated the most time to. I played at the varsity level, for several different club teams, won provincials twice and captained teams multiple times throughout my life. I also am a soccer player, and I did cross country running and track and field (100m, 4x100m, hurdles, and long jump) all through junior and senior high school. I still play co-ed basketball and soccer year-round to keep up my skills while also coaching my sisters basketball team and I took them to the city finals last season!
Name one person, other than your parents, who has had the most influence on your life. Why?
One of the most influential people in my life is one of my best friends from Queen's University. We studied together in the Faculty of Engineering and Applied Science, and later we became roommates. She is one of the most genuine and authentic individuals I have ever met with a diligent and focused work ethic. Having completed her high school in Doha, Qatar, she provided me with a unique perspective and different worldview, while being very culturally sensitive and open-minded as a Canadian citizen. Her positivity and kind nature made it very easy for me to adapt to university and her contagious laughter and witty sense of humor helped us get through the long hours we spent studying together. She is selfless and puts others first – this is something I noticed from her taking time out to help me personally, as well as most recently she coached me when I was preparing for my PwC case interview. She is a great friend who helped me grow, increase my focus, while also having fun during the process. In Sikhism, and in the Punjabi language, we say that "Sangat" is very important in shaping your identity, values, and beliefs – the meaning of this word is translates to the people you surround yourself by. Much like other people, I do have global leaders who I aspire to be like, but I have learned that the people in my immediate circle are the ones who have the greatest impact on my life and shaping me to be the woman I am today.
What is your proudest personal accomplishment (other than participating in this pageant)?
Last September, I was asked to be a speaker at the Montney and Duvernay Artificial Lift and Production Conference with Canadian Business Conferences. I was 22 at the time and was required to make a technical presentation to a room of experts on the importance of Polymer Flooding and Enhanced Oil Recovery mechanisms in a mature field. Initially, I was a bit hesitant because of the experienced audience, and as a new grad I knew I still had a lot to learn. However, I took on the responsibility, did my research and spent countless hours preparing for the presentation. I spoke very well and answered the questions from the audience seamlessly. This was a proud moment for me professionally because I took a big step in my career, grew my network, and learned a lot through it. However, it was an even bigger personal accomplishment because I put myself out of my comfort zone and proved that if I set my mind to something, I can accomplish anything I want to.
What is the most interesting or unique thing that has ever happened to you and/or what is the most interesting thing about you?
One of the most interesting things about is that I am multi-faceted. From focusing on my academics, working as a professional, being a dancer, an athlete, and recently a titleholder, I have tapped into many different networks to learn and grow while also developing transferable skills. What makes this unique is that I can easily connect with so many people from different cultures, backgrounds, and ethnicities because I have a wide-spread of experiences that I draw upon to find common grounds with others. Along with my balanced worldview, I am very culturally sensitive and this shows my authenticity while allowing me to establish meaningful and long-lasting relationships with others.
What is your career ambition and what are you doing or plan to do to accomplish that goal?
My short-term career ambition is to position myself to learn as much about different industries and sectors as possible, while growing my business acumen, technical skills, and critical analytical abilities. After working internationally in a technical role for almost three years, I will be joining a globally renowned firm, PricewaterouseCoopers (PwC) in September. As a Management Consultant, I will use the opportunity to pursue my ambition and guide where I would like to settle down in the long run.
After having more exposure to different sectors, I will pursue a Master of Business Administration (MBA) in the USA at an Ivey league university. I would then like to return to PwC or industry at a higher level where I can be a decision-maker, mentor and a leader. I would like to incorporate all of this into becoming a motivational speaker where I can bridge the gap between social issues in our world to technology and innovation. I have taken the necessary steps to begin guiding this process and I am determined to work hard to see it through fruition.
What would be your "dream job" in life?
My dream job would be to own a business where I work across several countries educating women and children about science, technology, engineering and mathematics. I am passionate about STEM but I also feel that I have a very strong entrepreneurial and business mindset so having my own company is what would give me that creative freedom to influence change. By speaking at conferences and seminars worldwide, I would be an influential and motivational figure to help share my message on inclusivity, diversity, the power of knowledge, and the integration of technical roles in the social sector. We are going to see a big wave of change in our global workforce with the integration of machine learning, so I am making it my responsibility to help prepare the next generation of decision-makers to be equipped with the skills to be competitive in our workforce.
Describe where you were raised and what your childhood was like.
I was born and raised in Calgary and lived in a multi-generational household where I was provided with a safe environment full of love and nurture. Ever since I was young, my parents told me that there is no substitute for hard work. I went to the Science School that was an hour drive away from our home, but even through I had a long commute, I worked hard every day because of this investment. Growing up, this message continued to resonate with me as I got into a university preparatory school, Webber Academy, and then one of the best engineering programs in the country. Aside from academics, my family has been integral in shaping the woman I am today. I live with my grandparents and love spending time with them. They taught me Punjabi and Hindi, aspects of our culture and religion, while also helping raise me. My parents, who are both being very busy professionals, always took the time to spend time with me, coach my sports teams growing up, and teaching me the importance of volunteering through different organization and activities. After being an only child for 10 years, I was blessed with a sister then 4 years following that, two more younger siblings. Being the oldest child by over 14 years, I have a lot of responsibility in the house. Aside from babysitting, I drive them to school and sporting events, mentor them, and organize extra-curricular activities because I am a second mother to these kids, as my mom puts it. I have very strong family values and have always put them first.
List any interesting or unusual jobs you may have had.
One of the most interesting jobs I have had was being a part of a political campaign for my mom, who is now the Honorable Minister of Community and Social Services in Alberta. Spanning over 9 months, I was a consistent "door-knocker", helped with campaign strategy, planned events and fundraisers, did volunteer recruitment and much, much more behind-the-scenes work. This job, which was on a volunteer basis, helped me learn more about provincial issues, our government structure and I got a chance to work with family and friends to achieve a common goal. It was a big responsibility that forced me to manage my time well as I was working full-time and had several other volunteer engagements. But it was great having the chance to meet Premier Jason Kenney, past and current MLA's and ministers alongside influential business professionals in Calgary.
List any volunteering you have done.
Sikh Society of Calgary Punjabi School:

language teacher, office administrator

Queen's Indian Students Association:

Bhangra choreographer, Bollywood choreographer, Dance Team Chair

Women in Science and Engineering, Queen's University:

classroom volunteer

Bankers Petroleum Ltd:

Worked with the Community Relations department in Albania to do some outreach work with children in the rural community I lived in

Engineers Without Borders:

professional chapter mentor for the University of Calgary mentorship program, fellowship program volunteer

Engineering For Kids:

classroom volunteer and teacher

Young Women in Energy:

Acumen series Manager (we put together events with executives from the energy industry for our members to help develop leadership and business acumen skills)

United Way, Calgary and Area:

fundraiser event volunteer, GenNext "theNEXT" Leadership Development Program Delegate

Miss Calgary Responsibilities:

pageant interviews, Willow Creek High School prom

Apar Initiative:

my non-profit organization where I speak at schools about STEM education
What is your most unusual talent?
I can wiggle my ears without using my hands! Seriously, I can! Not sure if you classify this as a talent though… 🙂
Where is the most interesting place you have been to?
The most interesting place I have travelled to is Berat, Albania. I spent some time working in the country and took day trips with my friends to explore the beautiful country. During my weeks off in my secondment, I also travelled to many different countries in Europe such as Austria, France, UK, Germany, Greece, Italy, Netherlands, and Belgium. However, Berat is a hidden gem was truly one of the most magnificent places I went during my entire time overseas.
Berat is a beautiful city in the south of the country and is designated as a UNESCO World Heritage Site. It has beautiful architecture and the most authentic and raw medieval castle I have ever seen. The beauty and the ruins make for an interesting sight, while the people of the castle have the most wonderful stories about the history and civilization. Albania does not have much tourism as I was told from taking to locals, but some of the other beautiful cities I visited include Tirana, Vlore, and Saranda. I would encourage people to go see this gorgeous country one day.
What do you hope to be doing in ten years?
I have different ambitions both personally and professionally, but I also know that it is important to be flexible and have room for uncertainty because you never know what path you may end up on.
From a personal side, having strong values for family I will be married with children. I will have travelled more of the world, grown my non-profit and have found some more well establish causes to support that have a similar vision as me. I will continue to pursue my interests, spend time with the family and raise my children in a balanced life-style focused on health, happiness, and education.
Professionally, I will have received my MBA and be an entrepreneur and business-women. I am an innovator and a disruptor, so I will use my creativity to add value to any business I begin or organization/company I support. I will continue to grow my reach in the global community and work to add to the economy here in Alberta or wherever I decide to settle down.
Finally, I will continue to serve my community, inspire others, and help those at need. You spend so much of your time focused on self-growth and discovery, but there comes a time when you need to focus your efforts on those who are more vulnerable. I have already started to incorporate this into my life, but I know I still have a lot to learn myself. In 10 years and as the year's progress, this will become more prevalent in how I live my life.
Is there anything you would like to add that we haven't asked?
I have spent a lot of time talking about my success stories but I want everyone reading this to remember that every human encounters obstacles. These moments must be used as opportunities to learn and grow. Having a growth mindset allows me to use each experience as an opportunity by being open to constructive criticism and valuing feedback, I stay true to my morals, stay confident in my skin, and display my integrity and sense of awareness in all realms of my life. Thank you to Miss Universe Canada for giving me this opportunity to continue my growth and inspire, innovate, and educate through the process.