Rita Houkayem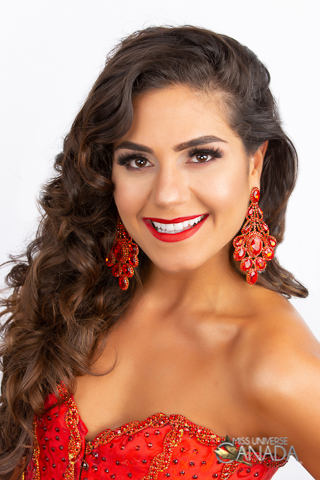 Height: 5'10
Hometown: Toronto, ON
Languages: English, French, Arabic, Spanish
Occupation: International Affairs Policy Analyst
Rita considers herself a global citizen, a public servant and a humanitarian. With a Master's Degree in International Affairs and a Bachelors in International Development Studies, French and Political Science, her continuous exposure to world issues have passionately driven her to make a difference in improving people's lives.
Her international student experience in Paris had exposed her to like-minded changemakers and current and future global leaders. She was also hired by the United Nations Educational, Scientific and Cultural Organization (UNESCO) as an international development consultant to provide support in programs and publications on gender equality and comprehensive sexuality education in schools, striving to achieve the UN's Sustainable Development Goal (SDG) 3, 4 and 5. As an intersectional feminist, Rita's experience with the UN has shaped her into a fierce advocate for gender equality and equity.
Rita is currently working for the Government of Canada as a Policy Analyst focusing on various themes and programs related to Internet governance and Information and Communications Technologies (ICT). She was also recently nominated as the Gender-Based Analysis Plus (GBA+) focal point for her Sector. She is responsible for helping ensure that Canadian policies and programs being drafted and implemented under her Sector must always consider all Canadians' needs (from all races, ethnicities, religions, genders, age etc.) and how they affect groups of Canadians differently to prevent inequity and ensure their empowerment. RIta recently co-led a government-organized event to participate in the United Nations GIRLS IN ICT DAY, encouraging high school girls to consider careers in ICTs and create social impact through digital technologies. She believes that technology is a powerful catalyst to driving inclusive and sustainable growth but women's participation is fundamental and hopes to help bridge the gender digital divide.
Rita's globetrotting nature, adventurous spirit and polyglot skills have been enriched through her constant encounters with dazzling cultures, remarkable people and astonishing places. She has explored over 25 countries and over 60 major cities but has never felt so proud to be Canadian. Rita is currently a Chin Radio Host, Canada's multicultural multilingual radio station, where she interviews influential individuals that are making an impact in her community. On a weekly basis, she highlights on CTV Morning Live Ottawa the various multicultural events taking place across the city. Rita believes that Canada's beauty and strength is characterized by its diversity and its cultural mosaic should always be celebrated!
In fact, Rita attributes her cosmopolitan identity to being born in Canada and raised in one of the most strikingly diverse cities in the world, Toronto, which has always allowed her to celebrate her dual heritage as a proud Canadian Lebanese. Rita is an active individual in her community, often found promoting her culture and connecting with her diasporic community through various community events, speaking opportunities and international trips. She is also the United Nations DPI/NGO Representative for her cultural organization and promotes its initiatives at the UN platform. Rita is fluent in English, French and Arabic and conversational Spanish.
Rita has had various opportunities to represent Canada at various pageants nationally and abroad. She recently represented Canada at Reinado Internacional del Cafe 2019 – Colombia's second largest pageant – and brought back the People's Choice award. Rita has also been on the other side of the pageant world. At only 22, she was the National Director for the Miss Emigrant Canada pageant where she mentored young beautiful ladies to proudly represent their heritage on stage and become active agents of their community. Besides volunteering and spending time with her loved ones, Rita maintains a healthy and active lifestyle through daily cycling, dancing, marathoning, hiking, martial arts and hot yoga.
A recipient of the Humanitarian Award and a global ambassador for SOS Children's VIllages – the largest charity organization for orphaned and abandoned children – Rita has managed to raise over $50,000 over the years for the aforementioned organization. Her recent trip to Lebanon and the important partnership she has built with SOS Lebanon will focus on empowering vulnerable mothers to help them meet the immediate needs of their children in the short term, while developing their capacity to meet the needs of their children independently over the long term. Rita is a firm believer that investing in the youth and women through education, tech and entrepreneurship is key to a peaceful just world.
"Never doubt that a small group of thoughtful, committed citizens can change the world; indeed, it's the only thing that ever has". With that in mind, Rita hopes to become an influential leader one day for her country and world.
Sponsors
Family and Friends
Video
Q&A
What are your interests and what do you enjoy doing the most?
I have a profound passion for travelling and will take any chance I can get to immerse myself into another world, connecting with locals and working on international development projects together. I really enjoy visiting exhibits, learning new languages and leading cultural initiatives by organizing events with my community. Amongst many other things, I love to read on international issues and self-development. I am physically active on the daily through cycling, dancing, martial arts, hot yoga and running. My favourite thing to do is spending time with my loved ones and connecting with strangers.
List any special training you have had (music, art, drama, dance, etc.)
Yoga
Martial Arts
Long-distance Running
Folk dancing
Rhythmic Gymnastics
First Aid
Policy Analysis
Translation
Smart Serve
"Investing in yourself can be your greatest accomplishment"
In what sports, if any, have you participated?
Running
Marathoning
Cycling
Basketball
Rhythmic and Artistic Gymnastics
Muay Thai
Hiking
Bungee Jumping
Skiing
Badminton
Canoeing
Rockclimbing
Name one person, other than your parents, who has had the most influence on your life. Why?
Other than my mother being the most influential person in my life, I would say my cousin. Ever since I was a little girl, I have looked up to her unapologetic eccentric spirit and ambitious bold character. Despite all the challenges she has faced, she is a talented successful singer who continues to follow her dreams and tackle every obstacle encountered. She has inspired me to realize that anything is possible with the right attitude and work ethic.
The world also inspires me on the daily. From the people I encounter, to the adventures I experience, to the stories I hear, I am continuously driven by my surrounding to uncover where I can leave my mark.
"Life shrinks or expands in proportion to one's courage."
What is your proudest personal accomplishment (other than participating in this pageant)?
One of my recent proudest accomplishments was uniting the Ottawa community to raise funds and awareness for vulnerable children and mothers in Lebanon. Within a short time frame and as a new resident to the city, I was able to raise over $30,000 for SOS Children's Villages and was only possible through the community and Embassy's support. For the first time, we have built a direct relationship between SOS Canada and SOS Lebanon and a long-term project that will empower vulnerable mothers and children towards reaching their dreams. As a devoted SOS Ambassador, I will continue working with my community and both countries and hopefully build another village one day!
"If you want to go fast, go alone. If you want to go far, go together."
What is the most interesting or unique thing that has ever happened to you and/or what is the most interesting thing about you?
I was once on the other side of the pageant world. I was the National Director for Miss Emigrant Canada and trained bright young women for months to compete for the title. From mentoring them, to hiring the judges, to designing the program for the competition night, it was incredible to see all the work it takes to create such a memorable and impactful experience for the participants and for the community.
An interesting thing about me is that I have endless amounts of energy, often compared to the energizer bunny (they say I often move like one too *eyeroll*)! I am always on the go, whether it is diving into my next adventure, or planning my next trip, I thrive in a dynamic environment and feel exhilarated when working on various initiatives.
"Optimism is the faith that leads to achievement. Nothing can be done without hope and confidence."
What is your career ambition and what are you doing or plan to do to accomplish that goal?
My career ambition is to work on educating young people into becoming the next generation of leaders and empowering women to reach far beyond the stars. Through my education and experiences, I aspire to climb up the ranks of the Government of Canada focusing on the education, innovation and development field and contribute to a righteous country and world. I also hope to return to the United Nations one day and lead the work on the aforementioned fields. I believe that my current work, my relentless determination and my constant exposure to these fields will allow me to fulfill these ambitions.
"Even the smallest act of caring for another person is like a drop of water –it will make ripples throughout the entire pond."
What would be your "dream job" in life?
I have various "dream jobs" I hope to achieve in my lifetime. One of them would be to represent my country on an international level as an Ambassador for a Canadian Embassy, promoting Canadian values to the world and forging fruitful relationships with different nations. I also dream of becoming the Director General of the United Nations Educational, Scientific and Cultural Organization (UNESCO). I want to continue to work towards advancing children and women's rights from the developing and developed world focusing on education and innovative solutions for development.
"Choose a job you love, and you will never have to work a day in your life."
Describe where you were raised and what your childhood was like.
My childhood was a humble one, but was always filled with love, happiness and support from my parents and brother. They raised us to be good humans and taught us to embrace everything life has to offer. They made every occasion, whether it was our birthday, Christmas or Easter, very special, characterized by delicious Lebanese feasts and lively family reunions! Growing up in Toronto with an immigrant family had given me the chance to enjoy my heritage and traditions while discovering and celebrating other cultures. The greatest gift my parents could have ever given me was being born and raised in Canada, a country which has offered me so many life-changing opportunities that don't exist in most parts of the world. That is a privilege I never take for granted and wish to devote my time to helping others access similar opportunities.
"One of the luckiest things that can happen to you in life is, I think, to have a happy childhood."
List any interesting or unusual jobs you may have had.
I promote multicultural events weekly on CTV Morning Live Ottawa and interview influential members of the community on CHIN Radio.
I was a traditional folk dancer performing at weddings and other large events with my dance team.
I once opened my own business where I sealed asphalt driveways and worked in interlocking.
When I worked at the UN last year, it was incredible being able to focus on influential education and gender equality projects for the developing world, while constantly encountering Activists, Directors, Ministers and Ambassadors when attending various events.
I worked at Global Affairs Canada in the International Education Division which was responsible for promoting Canada as the top destination for education and research around the world.
I was a substitute teacher for the French district school board in Toronto and GTA.
I was a Shift Manager at JOEY Restaurant.
List any volunteering you have done.
SOS Children's Villages
Operation Smile
United Nations Educational, Scientific, Cultural Organization
United Nations DPI/NGO
Cornerstone Housing for Women
Youth Assisting Youth Mentorship Program
Ashoka
The Opeduca Project
Assistance to the Integration of Demobilized Child Soldiers (AIDC)
Les Tremplins "Innovons pour l'éducation"
La Maison des Femmes in Paris
Children's centre in Costa Rica
SOS Children's Villages in Lebanon
Humanitarian relief for the Typhoon Haiyan in the Philippines
Montessori Schools
"Seniors' Centre Without Walls" with the Good Companion
Maison des Étudiants Canadiens in Paris
Bureau des Résidents at la Cité internationale universitaire de Paris
Lebanese Film Festival in Canada
World Lebanese Cultural Union
Our Lady of Lebanon
Terre-Liban in Lebanon
Taste of the Middle East Food Festival
What is your most unusual talent?
I have this weird ability to be able to sleep anywhere at any time.
Where is the most interesting place you have been to?
Studying and working in Paris for a year had allowed me to discover the most enchanting parts of Europe. After visiting 12 countries and over 25 major cities, I became so fascinated with Europe's rich diversity of cultures, languages, cuisines and histories, especially when the countries are only miles apart from one another.
I have also visited Lebanon numerous times and have fallen in love with it after every trip. It is one of the most intriguing places in the world as it has experienced centuries of conquest and turmoil but remains as one of the most vibrant places. Fun fact, it is the home of the Phoenicians, the civilization that created the foundation for the modern Alphabet and is characterized by charming ancient cities such as Byblos, which is the oldest continuously inhabited city in the world. To me, this little country conveys a message of hope and resiliency to the world, inhabiting people from eighteen different religious sects, coexisting peacefully despite all their differences.
"The real voyage of discovery consists not in seeking new landscapes, but in having new eyes."
What do you hope to be doing in ten years?
I aspire to become an influential national and international leader in the education and development field as well as a UN ambassador for youth and women. I want to have seen almost all the countries of the world and found a way to leave a positive impact and learn from every place visited. I hope to have my own family with many children and live a happy healthy life.
"It does not matter how long you are spending on the earth, how much money you have gathered or how much attention you have received. It is the amount of positive vibration you have radiated in life that matters."
Is there anything you would like to add that we haven't asked?
People are often confused at why I enjoy pageants so much! To me, a pageant is not a beauty competition between different women but a competition with oneself and a journey of self-growth. Pageants have allowed me to strengthen my character and have offered me eternal friendships. I know that I will be surrounded by inspiring, ambitious, intelligent, exceptional women who want to make a difference in the world in their own special way. How can you not want to be part of such a group!
"Our deepest fear is not that we are inadequate. Our deepest fear is that we are powerful beyond measure. It is our light, not our darkness that most frightens us. We ask ourselves who am I to be brilliant, gorgeous, talented, fabulous? Actually, who are you not to be? You are a child of God. Your playing small does not serve the world. There's nothing enlightened about shrinking so that other people won't feel insecure around you. We are all meant to shine, As children do. We were born to make manifest the glory of God that is within us. It's not just in some of us; It's in everyone. And as we let our own light shine, we unconsciously give other people permission to do the same. As we're liberated from our own fear, our presence automatically liberates others."