Sam Sing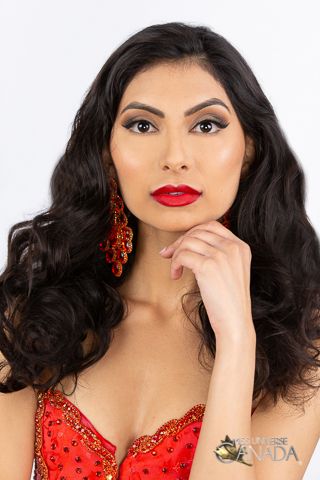 Height: 5'7
Hometown: Cambridge, ON
Languages: English
Occupation: Entrepreneur
Sam is a fierce magnetic force to be reckoned with! She likes to strike people with her energy! She has irrevocable unwavering faith in Jesus! She is the epitome of a powerful, confident, intelligent, successful, eloquent and sophisticated young woman. Her contagious laugh, witty sense of humour and extroverted personality illuminates every room she enters.
Sam is a 23 year old entrepreneur, philanthropist, environmentalist and animal rights activist. She was raised in Cambridge, Ontario and this South American born is an ethnic infusion of part Guyanese and Dutch. Her family migrated to Canada when she was two years old and received her citizenship subsequently. Sam feels that as a minority she is the sum of Canada's welcoming diversity and hopes to be a symbol of endless possibilities.
Sam has always had an avid love for business and established her first corporation at the age of 20 years old. She grew up with a single mother in low income housing and accounts her turbulent upbringing that has instilled in her a relentless drive to excel. She currently owns a marketing company and is a serial entrepreneur. She invests in real estate, forex and crypto currency. Only in her early 20's and she already owns a few properties under her belt. This little lady loves investing!
Sam is deeply passionate about philanthropy work. If there is one fact she would want anyone to know about her it would be that she loves Jesus! She is an audaciously faith filled woman of God who has a genuine heart postured to serve. She loves to encourage and pour into others, make them smile and laugh! A few times a year Sam leads missions trips with her church and volunteers in third world countries in extreme poverty. At that time they aid to serve the local community and orphanages in the vicinity with sufficient relief, build schools and teach English. She is also involved at home in local outreach programs in Waterloo Region and the GTA. Sam has travelled to near 20 countries now and it has taught her to view the world through an opulent lens of empathy. She is always fascinated at the immense need for provision in a world that is the wealthiest it has ever been. One thing she is frequently reminded of is the volume of blessings people take for granted. Sam feels many countries may have a surplus of finances however they are in an emotional famine. Being able to witness what depletion looks like has been one of the most humbling experiences she has had and has inspired her to cultivate a solution. Sam is currently in the process of launching her first non profit organization catered towards international humanitarian efforts. They will be known for:
1. Ministry Efforts – Building sustainable living environments for orphans while sharing Jesus' love.
2. Environmentalism – Implementing knowledge to the essential demand for urgent climate change.
3. Animal Rights Activism – Being a voice to the voiceless and infiltrate vast awareness regarding the unnecessary cruelty animals endure for human consumption and pleasure.
Winning the title of Miss Universe Canada 2019 would enable Sam to harness the resources and platform to establish her non profit on a global scale. She fearlessly looks forward to being an ambassador for Canada at the Miss Universe event.
Sam has been modelling professionally since her childhood. When she is not occupied with photo shoots Sam loves to cook. She is a self proclaimed master chef who cooks and bakes all her decadent meals from scratch. Sam would love to host a cooking show on Food Network someday! Sam has a pure charm for pranking her family and friends and will capitalize on every opportunity she has to hide and scare others and she is remarkably gifted at her jarring abilities. Sam was always a rambunctious little girl and channeled her exuberant spirit into dancing, lots of dancing, playing soccer and ice skating. For fun Sam enjoys, travelling, reading, working on personal development, deep house music, yoga, fireworks, sunsets and being outdoors surrounded by nature. She is immensely spontaneous and perpetually intrigued by adventure!
Sam hopes to invigorate others and generations to come that anything is possible if you have faith in yourself, focus and preserve. One of Sam's favourite quotes is "No one is you and that is your power – Dave Grohl." Her commitment is to continually evolve, become the best version of herself and contribute to orchestrating the world to be a better place. She is confident with or without a crown she will certainly achieve her goals. Sam will build and empire and be a global philanthropic catalyst.
Sponsors
Family and Friends
Video
Q&A
What are your interests and what do you enjoy doing the most?
I'm deeply passionate about ministry work, business, the environment and animals. I love encouraging others and making people smile and laugh! I love travelling, cooking, reading, deep house music, sunsets, fireworks, aliens and conspiracy theories!
List any special training you have had.
Sales Training – I'm a vehemently adroit business woman who can sell anything I believe in to any prospect
Leadership – I lead a copious company and team of sales agents and I train and engrave foundational principles such as personal development, self discipline, mastering emotions, relationship building and sales techniques
Dance – I took dance lessons as a little girl
In what sports, if any, have you participated?
I played soccer, volleyball, basketball and ran track.
Name one person other than your parents, who has had the most influence on your life. Why?
Jesus Christ has had the most influence in my life because I have learned that my life is not even about me, all I am is a vessel to edify His glory. Jesus is the perfect example of a forgiving, kind, generous and merciful love and His influence has developed me into exemplifying those traits. Knowing Jesus has changed me and accounted for being the anchor of my soul.
What is your proudest personal accomplishment?
The young woman I've become is my proudest accomplishment thus far. My internal value will always unanimously outweigh any exterior achievements. However, if I had to discern between my accolades it would be a tie between establishing my first corporation at the age of 20 becoming a CEO or helping to feed 1000 orphans and counting through ministry work. I am also proud that when I was the age of 19 years old I was blessed enough to be able to retire my mom who was the age of 46 at the time.
What is the most interesting or unique thing that has ever happened to you and/or what is the most interesting thing about you?
The most unique thing about me is certainly my extroverted and bold personality! I have a strong magnetic energy that people naturally gravitate towards. I have the ability to have strangers open up and connect with me on a deep genuine level. Another interesting factor about me is that I have one of the most elongated and eccentric laughs you will ever hear. I also haven't had my first boyfriend yet and I believe your relationship status shouldn't be constituent to your level of happiness.
What is your career ambition and what are you doing or plan to do to accomplish that goal?
I am building a multi-billion dollar empire and someday I will be a global philanthropic catalyst. I will launch my first nonprofit by the end of 2019. I plan on accomplishing my goals by continuing to put God first and trust Him, walk by faith and work harder on developing myself than anything else.
What would be your "dream job" in life?
I'm very blessed that I already in some ways live my dream job on a level 1 basis given I haven't even scratched the surface yet of what I'll be doing in the near future. I currently own business' however I would love to launch and invest into even more businesses, non profits, foundations, schools and mentorship programs. Aside from that someday I will be a Victoria's Secret Angel!
Describe where you were raised and what your childhood was like?
My brother and I grew up with a single mom in low income housing. My childhood consisted of numerous painful calamities and adversities however I'm grateful because it instilled in me a relentless drive to excel and built my resilient character.
List any interesting or unusual jobs you may have had.
I've always loved kids so I was a nanny from age 15-20 prior to endeavouring into business. By the cessation of my teenage years I did door to door sales and I absolutely loved it!
List any volunteering you have done.
I lead mission trips in third world countries.
I volunteer in day cares/orphanages
I volunteer at animal sanctuaries
I serve at my church
What is your most unusual talent?
My most unusual talent would be that I can do a funny English or Australian accent.
Where is the most interesting place you have been to?
I've travelled to almost 20 countries and so far my favourite place would be Nepal which also happens to be the third poorest country in the world. It's a special place because I served my first missions trip there which was a life changing experience for me.
What do you hope to be doing in ten years?
In 10 years I will be a successful CEO of a multi-billion dollar empire. I will also have a successful global ministry that will change the world significantly, share Jesus' love and have an effective revolutionary movement for climate change and animal rights. I will be happily married to my best friend whom I know will be a phenomenal man of God and together we will start a family and then raise our children along with our dogs, cats and zoo of pets we adopt!
Is there anything you would like to add that we haven't asked?
Dear Respected Judges,
Becoming Miss Universe Canada 2019 would be an honour and complete dream come true to be an ambassador for our country on a global scale! Diction would not convey how grateful I would be to be a minority representing Canada at Miss Universe 2019. I'm mixed with Guyanese and Dutch and I'm a prime example of how diverse our country is. Miss Universe Canada is the epitome of a strong, powerful, intellectual and confident young woman and I exemplify those traits in a high capacity. I hope to inspire anyone that anything is possible if you have faith in yourself, focus and persevere. My commitment is to continually grow and become the best version of myself and help make the world a better place. Winning the title of Miss Universe Canada 2019 would enable me with the resources and platform to establish a non profit that will help build a sustainable living environment for those in need globally and other humanitarian efforts. To anyone reading this keep smiling you have so much ahead of you. The darkest nights produce the brightest stars. God bless! 🙂