Samantha Stokes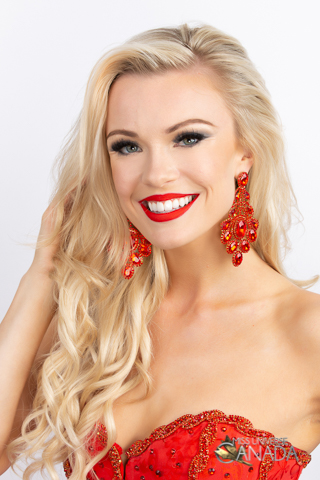 Height: 5'8
Hometown: High Prairie, AB
Languages: English
Occupation: Instructional Assistant
Born and raised on a cattle ranch near High Prairie, Alberta, Samantha Stokes has been immersed in the strong morals and values the western way of life has to offer for as long as she can remember. Her western roots and passion for agriculture opened many doors at a young age to this 23-year-old Alberta woman.
Samantha has currently completed two years of her Bachelor of Education Degree. She plans to complete her degree and further her studies in the fields of Equine Therapy and Animal Assisted Wellness. Samantha plans to open a facility to develop programs targeting children with disabilities, mental health and life coaching. Samantha actively works on educating herself in these areas and has recently completed the most widely used, acclaimed and researched suicide prevention training in the world.
By 19 years of age, Samantha had won three professional Rodeo Queen titles, including the coveted title of Miss Rodeo Canada in 2016. This small-town farm girl was one of the youngest to ever be crowned and completed over 1000 volunteer appearances across Canada, the United States, Australia and Holland during her three queen reigns. As the Official Ambassador for the Canadian Professional Rodeo Association, Samantha enjoyed representing her association and country with dignity and grace.
She thoroughly enjoys volunteering closely with organizations who promote the personal development of young women. For the last three years she has sat on the Board of Directors for the Miss Rodeo Canada Pageant encouraging young women to follow their dreams and become the best possible versions of themselves. This desire to motivate young women ignited early in her teenage years and has led to Samantha to her role as a pageant coach and motivational speaker to many young women and youth groups across Alberta. Her ambassador roles also led her to model for several different companies across Canada and the United States.
Always striving for a greater understanding of other cultures, Samantha has travelled to ten beautiful countries in pursuit of what sets her soul on fire. In 2018, she completed an International Business Tour across the Czech Republic, Austria, Slovakia and Hungary.
Samantha believes that becoming Miss Universe Canada is both an honor and a privilege to never be taken lightly. This patriotic, born and raised Canadian woman believes you would be granted a once in a life time opportunity to represent a strong country of freedom and acceptance. She looks forward to the endless opportunities to inspire youth while continuing to instill strong morals and values to all those her cross her path during this journey.
Sponsors
Grande Prairie Stompede
,
Sunstone Energy Ltd.
,
Town of High Prairie
,
Rodan & Fields
,
Montana Silversmiths
,
Park Lane Jewelry
,
Cross and Arrow Beauty
,
Glow Hair and Body Ltd
,
Designs by Tam Ltd.
,
Kensington Fitness-Personal Training and Wellness
,
Nicole Marie Photography
,
Canadian Beauties
, A-1 Western Wear Tack and Gifts, Smitties High Prairie, Mari's Bridal Alterations and Sewing, Audrey's Catering High Prairie, Don't Be Chy Photography, Nauticol Energy Services Ltd., A Thousand Words Photography Jodi Sware, Family and Friends
Video
Q&A
What are your interests and what do you enjoy doing the most?
I love being out on the ranch working cattle and training horses. I've enjoyed raising animals since I was a little girl, especially during the spring when all the new babies are arriving. I thoroughly enjoy my time in the great outdoors hiking and jogging. Another passion of mine is volunteering my time motivating youth to chase their dreams.
List any special training you have had (music, art, drama, dance, etc.)
Regarding pageants, I have completed several modelling workshops as well as clinics that cover each category in great detail. I immersed myself in an etiquette dinner session which this small-town farm girl truly found helpful! Through these workshops the public speaking sessions gave me the confidence I needed to pursue motivational speaking to youth. I have also completed a certification in "Applied Suicide Intervention Skills Training". This is an intensive, interactive and practice dominated course designed to help caregivers recognize, review risk, and intervene to prevent the immediate risk of suicide. This training is the most widely used, acclaimed and researched suicide prevention training in the world.
In what sports, if any, have you participated?
Growing up I participated in team sports such as Volleyball, Basketball and Soccer. I was also on the Cross-Country Running Team and enjoyed Track and Field. I have participated in several western related activities with my horse including 4H, Gymkhana, Barrel Racing, Reining and coaching Drill Teams.
Name one person, other than your parents, who has had the most influence on your life. Why?
My Grandmother Corinne Stokes has always been a driving force in my life and has been a huge inspiration to me. Although my time with her was not long enough she has truly left a lasting impact on my life to always strive for something more and chase after your dreams fearlessly. Her greatest contribution were her strong morals and values she left behind for me. I often find myself in a place of meditation and prayer asking for her loving guidance.
What is your proudest personal accomplishment (other than participating in this pageant)?
When I was a little girl, I set the goal of one day becoming the first lady of Professional Rodeo and holding the coveted title of Miss Rodeo Canada. After dedicating 5 years of being in the public eye and holding two professional rodeo queen titles, at 19 years of age I was crowned one of the youngest ladies to ever hold the title of Miss Rodeo Canada. I view this as one of my proudest personal accomplishments because I never gave up on my dream.
What is the most interesting or unique thing that has ever happened to you and/or what is the most interesting thing about you?
Something unique about me that sets me apart from the crowd is that I was born and raised with a passion for ranching but can easily transition to a world stage. I am very comfortable in these two separate worlds and I've always put great value on finding a balance between the two. It doesn't bother me to be in the cattle pens all day head to toe in mud but that doesn't stop me from catching the next flight to model or deliver a motivational speech to youth.
What is your career ambition and what are you doing or plan to do to accomplish that goal?
I have currently completed two years of my Bachelor of Education Degree. Once I complete my degree in Education and further my studies in a field of Animal Assisted Wellness, I plan to take educating into my own hands and design a program around Equine Therapy and Healing. I want to teach people of all ages about the healing properties animals can provide. This program would target a wide range of areas including a riding arena for children who possess special needs, equipped with the proper lifts to give them the freedom to ride their own horse. I would also design a program specifically to help adolescents struggling to find their way in life.
What would be your "dream job" in life?
My dream job would be to create a facility to actively work to help people find healing through the love of animals. I look forward to tackling this adventure while always working on self-growth in the process.
Describe where you were raised and what your childhood was like.
I was born and raised on a cattle ranch north of a small rural Alberta community called High Prairie. My western roots and this sweet home town truly shaped me into the woman I am today. I am so incredibly grateful to my parents for the simple country upbringing they provided to us through love as well as deep morals and values. The outdoors was our best entertainment and that's truly where my creative mind flourished. Who I am today can easily be linked back to my upbringing and for that I owe a great deal of gratitude.
List any interesting or unusual jobs you may have had.
A lot of my unusual or interesting jobs consist of hard work out in the sunshine. Whether it was wiring industrial buildings as an electrician assistant, calving cows out on the ranch, training horses, or weed whacking ditches as a summer student, I believe a long day of hard work helps you appreciate the meaning of a dollar.
List any volunteering you have done.
Make a Wish Foundation-I volunteered with the organization and fulfilled a little girl's dream to be a princess for a day as she joined me for my duties at a Rodeo.
Give Kids the World Village-I volunteered with this non-profit "storybook" resort in central Florida where children with critical illnesses and their families are treated to cost free vacations.
Official Rodeo Queen Pageant Judge Across Alberta.
Stollery Children's Hospital Corus Radiothon
Pageant coach at Miss Rodeo Canada Alumni Clinic
Coach for children's horse drill team for Rodeo Grand Entry.
4H Alberta
Official Ambassador- High Prairie Elks Pro Rodeo Queen 2012.
Official Ambassador- Miss Grande Prairie Stompede 2014.
Official Ambassador- Miss Rodeo Canada 2016. (600 volunteer events)
Miss Rodeo Canada Board of Directors- Member at large.
Miss Rodeo Canada Alumni Organization- Promote personal development of young women through scholarships and clinics.
Key note speaker at World of Choices Event.
Key Note Speaker at Mighty Peace Day's Youth Leadership Summit.
What is your most unusual talent?
I love horse reining competitions. Reining is a western horse-riding competition where the rider guides the horse through a precise pattern of circles, spins, and stops. I felt very accomplished to receive first place in the reining competition at Miss Rodeo Canada.
Where is the most interesting place you have been to?
Travelling is something I hold very close to my heart as I believe no one can ever take those memories away from you. In addition, the knowledge, understanding, and appreciation you gain from immersing yourself in other cultures is critical to gain a greater understanding of how the world works. After travelling across ten countries there is a specific place that stands out to me. When I was in Florida, I volunteered with an organization called "Give Kids the World Village". Give Kids the World Village is a non-profit "storybook" resort in central Florida where children with critical illnesses and their families are treated to cost free vacations.
What do you hope to be doing in ten years?
In 10 years, I hope to have my business of Equine Therapy and Healing thriving on my ranch in Alberta. I hope to have each day feel more fulfilling than the last, knowing that I am helping people to heal and find their true purpose. I hope to continue my platform in motivating youth and never stop volunteering my time to encourage children to never settle for a life less than they deserve and desire.
Is there anything you would like to add that we haven't asked?
As a born and raised Canadian woman, I am truly honored to receive the opportunity of a lifetime to compete for the title of Miss Universe Canada. I believe that becoming Miss Universe Canada is both an honor and a privilege. I want to thank the Miss Universe Canada Pageant for the endless opportunities to inspire youth, while continuing to instill strong morals and values to all those who cross my path during this journey.