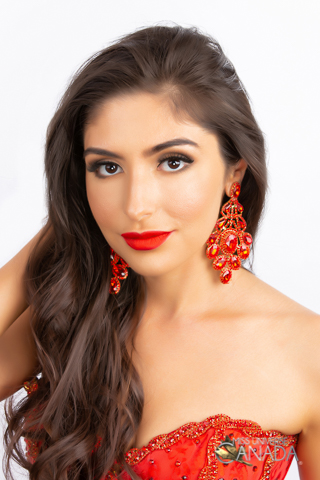 Height: 5'5
Hometown: Burnaby, BC
Languages: English, Farsi, Spanish
Occupation: Student at University of British Columbia (Electrical Engineering/Biomedical option)
Shawdi was born in Iran with her loving and supportive family, who guarded her against facing gender-based adversities. Ever since immigrating to Canada at the age of 15, she has experienced two vastly different societal states with regards to the way that women were treated. Witnessing these contrasting values inspired her to contribute to the emancipation of voiceless women through defying the female stereotypes and becoming successful in the technology field.
To Shawdi, education has always been a way of empowerment; therefore, she always puts a great emphasis on it. Her passion and enthusiasm for technology drew her towards the world of coding, circuits, physics, and engineering. She has decided to pursue Electrical engineering at the University of British Columbia. Because of her interest in the health care field, she then chose the option of Biomedical, just to get the best of both worlds: medicine and engineering. One of Shawdi's goals is to improve the health care system of Canada through her knowledge and devotion to technology. Because she believes that intention without action is pointless, she has decided to act and make an impact through research and design. Shawdi and her team started working on a neuroscience project at the University of British Columbia. They are working towards the development of a software app that can diagnose Attention Deficit Hyperactivity Disorder (ADHD).
Outside her busy schedule, meditating, fitness, dancing, modelling, and rollerblading, are the things that Shawdi enjoys doing. She has been belly-dancing for almost 10 years and has performed for different purposes; either for competitions or fundraising events. Fitness is also a passion of hers since it promotes health and discipline. Combined with modelling, fitness has enabled her confidence to flourish.
She believes that individuality is people's biggest assets and as a result, she always stays authentic to herself and her background. She understands that people are diverse in their own ways and she has embraced her own uniqueness and uses that as her strength in life. Her sense of ambition, courage, dedication, and fearlessness of failure are the things that keep her hungry for more achievements and accomplishments regardless of how arduous the experiences may be.
Despite having a great life with a lot of achievements, a year ago Shawdi felt that she was not living to her full potential. When exploring the ways in which she could have positive impacts in her society on a bigger scale, she realized that pageantry could be a great option, since it is a great way of empowerment and self-improvement. After winning the title of Miss Greater Vancouver in 2018, however, she realized that she needed a bigger platform to touch more people's lives through her own experiences. Therefore, by competing in Miss Universe Canada, she will not only have a bigger platform to share what she has in her heart with people but also make Canada proud.
Sponsors
Norgate Dental Centre, Saffron Palace, Caspian Hive, Café Harborside, Rosewood Photography, Family and Friends
Video
Q&A
What are your interests and what do you enjoy doing the most?
Aside from everything else that I do, I enjoy meditation the most. In the fast-paced society that we live in, it is very important to have a few minutes of the day to connect with yourself, relax, and explore your own strengths and weaknesses. I believe that meditation is not only one of the best forms of self-care, it is also very constructive because one can get a chance to understand themselves on a deeper level.
List any special training you have had (music, art, drama, dance, etc.)
Since the early ages I picked up belly dancing, rollerblading, and playing the guitar.
In what sports, if any, have you participated?
I have participated in swimming, rollerblading, ice-skating, weight lifting, and basketball. These sports include teamwork as well as individual effort; therefore, I've learned to adapt to work well with others and have developed my critical thinking skills in addition to gaining confidence.
Name one person, other than your parents, who has had the most influence on your life. Why?
The Canadian engineer and entrepreneur Elon Musk is one of the people who has influenced me the most. Aside from being tremendously intelligent, it seems like, to him, obstacles and hardships are meaningless, and he pursues what he desires. I aspire to be like him when it comes to achieving my goals.
What is your proudest personal accomplishment (other than participating in this pageant)?
Amongst all of my achievements, the one that I am most proud of is realizing the power of my thoughts and taking control of them to achieve what I desire. When a tree is just planted its roots are very weak and a simple wind might topple it over. As the roots are embedded, the tree eventually starts to grow, and the branches just open up beautifully. I believe that humans are the same way; we can ground ourselves by mastering our thoughts and overcoming our doubts and inner fears. By doing so we find our true purpose in life and grow into them despite how the storm rages on. We, just like trees continue to grow and get stronger than before.
What is the most interesting or unique thing that has ever happened to you and/or what is the most interesting thing about you?
Since helping out other people and lifting them up is what I aspire to do, sponsoring a child through the SOS Children Village at the age of 20 could be one of the most interesting things about me. Ever since I sponsored my little daughter my life has taken a huge turn. I may have never seen her but knowing that my contribution is the reason that a less fortunate kid, somewhere on the other side of the world is getting health care, a safe home, and education and is given the opportunity to grow to her potentials warms my heart every morning when I wake up.
What is your career ambition and what are you doing or plan to do to accomplish that goal?
In a few years from now, I am planning to be an entrepreneur and the CEO of my own Biomedical Company where we develop apps to improve diagnosis of various diseases. I am already doing this on a smaller scale at the University of British Columbia, where my team and I are developing an app to diagnose ADHD. We have been working on this project for eight months now and the amount of skills and experiences that I have earned so far is incredible. I am certain that the experience I am gaining from this project will significantly contribute to my own future goals.
What would be your "dream job" in life?
Aside from being a successful engineer, entrepreneur, and leader, I would love to be an influencer. I would love to travel to different parts of the world, meet with people with different backgrounds, and through various workshops remind them about their strengths and give them the confidence and courage they may need. I wish to motivate those who are pursuing their dreams, to push forward and follow their ambitions. Only then I can make an actual impact and be part of something great.
Describe where you were raised and what your childhood was like.
Despite living in a society where females were oppressed, and their values are undermined, I have been raised in a loving home where I was surrounded with respect, honesty, empathy, love, and integrity. My family has always supported me in every stage of my life. Even though my parents were in the middle socioeconomic class, they always tried their absolute best to provide comfort for my younger sister and I. Spending my childhood in Iran, I witnessed how women did not have any voice to themselves, no equal rights to their male counterparts, and were always underestimated, which has motivated me to raise my voice and stand for the ones who don't have their own.
List any interesting or unusual jobs you may have had.
Last summer, I used to provide assistance to different people to improve their quality of life. One of the people I got a chance to cross paths with was a young girl, around my age, who lost her physical abilities due to a horrible accident. Spending time with this young girl and getting to know her story touched my heart and taught me a very important lesson. Many things in life that we take for granted, such as our health, can be taken away in an instant, whereas one's kind heart and spirit cannot. It also reminded me to be grateful and appreciate all the things that I am blessed to have.
List any volunteering you have done.
Amongst the places that I have volunteered at, UBC Cancer association, Pay it Forward organization, and doing soup kitchens, stand out. However, my favorite has always been spending time with seniors at senior houses. Having their company, feeding them, and listening to their experiences and life stories, always puts a smile on my face. Losing my grandparents a few years ago was a big tragedy to me and left my heart with scars. Ever since I lost them, I decided to visit senior houses and spend time with senior people a few hours every week. By doing this I could fill the empty space in my heart and give a little bit of love and companionship to the marginal population who are being forgotten.
What is your most unusual talent?
Through my interaction with people I have noticed that when it comes to setting goals and achieving them, a lot of people go against themselves because of self-doubt and underestimating their potential. Usually the feeling of doubt and fear overcomes, and they give up on the dreams they worked hard for. However, when it comes to me, I feel like I have the natural ability to clearly envision my goals and desires that allows me to manifest them and focus my mind on my ambitions by disregarding all the obstacles that I may come across in my journey.
Where is the most interesting place you have been to?
Amongst all the beautiful and breathtaking places I have been to in different countries, the most interesting place to me has been Hastings Street in Vancouver. The people below the poverty street have habituated themselves to this street. Previously, I was always scared of this street and had the wrong idea that drug dealers and gangsters live there; however, a few years ago, I decided to put my stereotypic thinking aside and engage in their community. When I was distributing food to these homeless people I finally got the opportunity to talk to them and I realized underneath the "ugliest part of the city" lays the most beautiful untold stories of people who for various reasons lost their homes and ended up in the streets. I hold this street dear to my heart because I get to meet new beautiful souls and I visit this area regularly and distribute food for them alongside my friends.
What do you hope to be doing in ten years?
I would like to be an example of someone who went from nothing to who she dreamed of becoming; I want other people to look up to me and be inspired and motivated by my journey. My ultimate goal is to prove to people all around the world that achieving their goals is possible no matter how difficult it may seem, and I want to achieve this goal by being a great example of a woman who has done it. I will be working on the globalization of my biomedical company to improve the diagnosis process of certain diseases and disorders. In 10 years, I would want to have travelled to at least 20 countries to meet people, learn about their cultures, and motivate the women to speak up.
Is there anything you would like to add that we haven't asked?
My biggest values are discipline and hard work. I believe that achieving anything is possible by being passionate and dedicated about it. To me, the word "give up" is meaningless and it has been by this mindset that I was able to gain all my achievements and accomplishments. I am a goal-oriented person who loves challenging herself because she believes it is through new challenges and new experiences that she can mature and get to live to her full potential.