Silvia Morar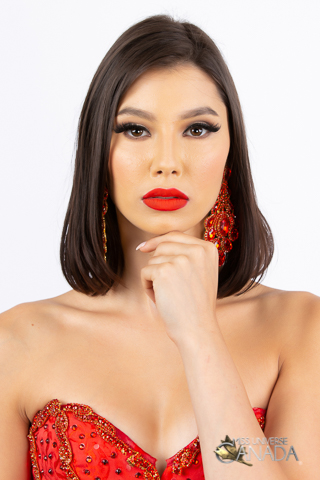 Height: 5'9
Hometown: Windsor, ON
Languages: English, Romanian
Occupation: Student at St. Clair College (Nursing)
At the beginning of Silvia's journey, she did not think she would end up competing in a pageant. Growing up she was a very outgoing girl but kept to herself. She took a long time to finally discover who she wanted to be in life, as many teens do. She has embraced her journey as a pageant delegate and wishes that through this pageant she can help impact society, her generation how to continue a path of success without letting technology negatively influence and distract people from the bigger causes in the world.
Silvia wishes to follow her own path by continuing her education from high school at Windsor's St. Clair College entering a Pre-Pathway to Health Sciences this fall 2019 and furthermore going into the BSCN program. Becoming a Nurse has been a vision of hers for very long. Silvia has travelled to her home country and grown up there for one and a half years when she was around the age of 6 and has seen the extents the health care has come to be. She wishes that people would be treated in cleaner, and less corrupt environments and she would want to help with that. Silvia would also like to start travel nursing and humanitarian excursions like her other family members, helping sick children and civilians who cannot afford to treat their wounds or health problems and as well as providing food. She would use her platform as Miss Universe Canada to furthering others knowledge on worldly problems. Such as World violence, corrupt western societies, Famine, global climate change and pollution damage. She feels as it is necessary to teach her generation cohort to be friendly and open-hearted stewards, as it is their job to keep this earth as one.
Silvia is of Romanian background born in 2001 in her hometown of Windsor, Ontario. She is first generation Canadian and has been through many obstacles growing up in both homes of Romania and Canada. Her family arrived to Canada In the year '99 with just one bag on their back. Coming in from a torn country after a harsh revolution her family being her mother, father, and sister came in search of better life. When she came into the world she had grown up in a very hardworking family who had always had intentions of teaching her the same. In her past 18 years Silvia has had many role models influencing her in her life. Such as her older sister. Her sister came from Romania knowing no English and she has since then become a very independent and strong woman.
As an independent Canadian emerging woman, she also is also a model and aspires to travel in her career of modeling and acting. She loves being on stage and being in front of a crowd. It would be her full duty and pleasure in taking this responsibility as she emerged into this lifelong path in helping others and making people feel confident, just as she has learned to be from her family's morals and values. She wishes nothing but to spread positive messages to others. Silvia was taught from her mother that the only way to achieve your goals is to depend on yourself and that it's not just about being beautiful on the outside, it first comes from within.
Sponsors
Video
Q&A
What are your interests and what do you enjoy doing the most?
As a young woman, I work retail and as a waitress and enjoy spending time with my loved ones on an average week. My interests have always been anything involved in art and nature. Working in modeling has placed me in a spot where I can still enjoy dressing up and putting together an outfit in a beautiful scene in nature and it gives me social skills in the industry. I also enjoy going on walks in forested areas, furthermore this is because I am able to free my mind and get grounded to nature. I believe that this takes me away from society and opens my realm of thinking and this is important every while to do so that I don't lose myself and get caught in the storm of social media. I can deeply express to myself what I am really here for. I tend to always ask myself "What task big or small in my future would help me better my community."
List any special training you have had (music, art, drama, dance, etc.)
Ever since I was young I always remembered dancing. I loved to do every kind of dance, however the most intense and impassioned genre of dance I fell in love doing was ballet. The classical music was my favourite part, I loved listening to it whilst gracefully dancing. My passion has stopped professionally, in 2008 I was recognized and had the opportunity to lead at the American Ballet Theatre in New York. Thinking about my life as a dancer was a hard decision. I unfortunately turned the offer down as I loved my passion, however it was not something I knew I was called to do. I continued dancing at my dance studio for the next 7 years to come and enjoyed every second of it. Sadly my passion for dance has ended due to moving onto work, school, modeling, and volunteerism, which had taken up my time.
In what sports, if any, have you participated?
Growing up in a beautiful country that provides free secondary education I joined many sports. Specifically my favourite one was soccer. Being of Romanian background this sport famously influenced my culture in Europe. My father was and still is a very big fan of our national team. He also played many long years in his adolescence and teenage years to adulthood. I picked it up watching soccer with him or attending games at my local sportsplex also known as the YMCA in my hometown of Windsor Ontario. Through this sport I gain a lot of exercise which helps me balance being active. Along with my other hobbies.
Name one person, other than your parents, who has had the most influence on your life. Why?
My sister has influenced me greatly growing up. Being my only other sibling my sister is my rock, my go to for any advice. She came to Canada at the age of 6. She taught me many great lessons from her harsh experiences growing up and told me life was not easy when nothing is given to you, that you have to work for what you have and become the best version of yourself. My sister has inspired me to pursue the medical field. She came from knowing no english. Being in ESL (English Secondary Language) classes in school she grew to become a very independent and knowledgeable woman with motivation to work harder everyday, she was also bullied in school which made her see that not every person is to be trusted in life. I love how selfless and loving she is to everyone. I thank Canada everyday for accepting my family into this country for she is now pursuing her masters in nursing. I believe that this has interested me greatly as she has taught me how to do many things, like injections and treatments. She has volunteered for local strangers and taken naturopathic treatments to their grace by offering free services to those Ill or cancer ridden. I, through her have grown a sympathy for these men and woman that are struggling and I realized to live everyday grateful for being brought into this world. For materialism is nothing but a mere distraction from the real problems in our world.
What is your proudest personal accomplishment (other than participating in this pageant)?
My proudest accomplishments have still to come. They may seem very small since being only 18. I have graduated high school and realized my true calling that is doing humanitarian excursions and entering in the medical field. My accomplishments are not a physical aspect but a moral one, and it is that I have learned to help others without needing anything in return. I'd love to help and spread awareness to things that drive people to become mentally down on themselves and struggling with mental health. It starts with your life struggles. And helping people become empowered is the best treatment to all because I believe you have to start loving yourself first. I treat everyone like my family that I meet. I think everyone deserves greatness no matter who they are we are all one placed in the world alike and this is an accomplishment to me because I have discovered this passion at a young age.
What is the most interesting or unique thing that has ever happened to you and/or what is the most interesting thing about you?
The most unique thing that has ever happened to me is when I was a very young girl, I was raised in Romania. I lived in Romania by my grandparent's side until the age of 5. My parents had not seen me for a long time and could only ever speak to me on the phone. They missed me however they needed to continue to work long hours back home in Canada since they hadn't had enough money to take me to early childhood care or hire someone to babysit me. Most of my family was all back in Romania. Growing up in Europe I was fortunate to always have 2 homes. My life revolved around my family. To this day I continue to travel every year back home to see my family. My family is spread worldwide and I will always continue to visit them no matter what or where they live in the world because to me having family by my side is the biggest gift from God, I count my blessings every day to still have most of my family members in my life that support me. A very big thing that no one knows about me is that I have been diagnosed with Hypothyroidism Hashimoto's Auto Immune Disease. This Autoimmune Disease controls your hormonal imbalances in your body. Growing up with this issue I have had many imbalances. I have learned to put up with my bad days and grow for the better ones. I control it to the best of my abilities. There are days that I wake up feeling like I am not myself sometimes and discouraged. We are all imperfect humans and because of that I learned to accept my flaws and imperfections. Every day is a surprise, however I get up and I try my hardest to push through the bad ones in hope that tomorrow is a better day.
What is your career ambition and what are you doing or plan to do to accomplish that goal?
My two main career ambitions are to model and to complete my nursing degree. I plan to accomplish that goal through my strong headed ambition and my independence. My drive to complete these two goals are only focused through positive energy from my family, my partner and my friends. I am also a determined person to change a lot of my generational cohorts problems in Canada. For example, I would like to focus on how I can help kids to be more driven in society so they can volunteer, promote good health and stop using technology and media for the wrong reasons, like attention towards celebrity drama, and socialites. This can aid their mental health in the wrong way and discourage youth by comparing themselves to others. It is important that we face the issues today and we look onto bettering tomorrow in a first world westernized country. Since I am at the exact age of most teens I can have a stronger impact. Being young will hinder my success for any future participation in any of these topics.
What would be your "dream job" in life?
My ultimate dream job in life would be to be a world traveler and see historical wonders of the world. Nursing and modeling are also in my dream jobs as they can both be relative to traveling. Through these two fields I can combine both my passions into one. It would be an ultimate goal to have been able to see the 7 wonders of the world and be able to travel and see places like cities in ruins to mountainous ranges to widespread beaches.
Describe where you were raised and what your childhood was like.
My parents come from a harsh revolution in Romania. At the time their lives were watched. Every move they made was controlled their looks, to their clothes were also controlled. Ceausescu reigned in the upmost dictatorist ways. He had caused shortages in agricultural production and lowered the economy leading people to protest. This led to his execution in 1989. Years later my parents fled the country for better life and arrived to Canada in 99'. I am so proud and grateful they chose to come to Canada. Here my parents worked everyday and were given the resources they needed to change my life forever. I was fortunate to grow up with such a strong minded and morally correct family. Currently I live in Windsor Ontario, the border city with great opportunity and amazing college and university in my backyard. My parents placed me in school thanks to free education that resulted in me being qualified to attend post-secondary when I chose I have finished my high school degree the summer June of 2019. My parents wish for me is to continue to teach and help people because I understand how hard it is to be an immigrant. Being first-generation Canadian, I've helped many children new to Canada, became their friend and showed them the path to becoming the best version they could be. I am so proud to be living in such a free country with every source available at my fingertips.
List any interesting or unusual jobs you may have had.
I started working at the age of 15. No job to me is unusual. I have worked as a server, in retail, and in beauty. I am grateful to have had such amazing jobs as a teen and now young adult. These jobs aided me to learn mannerisms when talking to people, organize myself in my workplace, keep track of any responsibilities, and work hard every single day and night to be able to pay things on my own. I thank my country for allowing work at 16. This helped to start the becoming of my independent self and gave me many lessons. I am strong thanks to my workplace and to specifically my mother who told me that if I want to chase my dreams that I'd have to go out and work for them at the bottom first.
List any volunteering you have done.
Working for my local church.
Fundraising at my school for international organizations.
Completing 60+ hours in my community for high school volunteerism.
Saving wildlife and placing them in a safe shelter.
What is your most unusual talent?
After dancing for many years, my feet are able to withstand any physical pain brought to them, therefore making me able to stand on my toes!
Where is the most interesting place you have been to?
As I said before, I love to walk in nature. Being able to travel is such a gift and I am so thankful that I am able to do so freely. Through the summer I go back to Romania frequently, in doing so I go to a beautiful lake in the mountains. I love walking through the steep forest and the only way to make your way to the lake is by reading markings made on the trees nearby. I travel to this lake every year so I have memorized my way to it. This lake is the cleanest blue in the winter and a light wash of green in the summer. This lake was formed from a natural crater in the mountain. It has to be one of the most unusual, and gorgeous places by far.
What do you hope to be doing in ten years?
In 10 years, I hope to be finished with my studies and be somewhere possibly around the world, even for a visit. I hope to have a beautiful family to call my own, so that they can learn all that I have from my own experiences. I plan to have established many connections with international organizations and have sponsored a child or two. Also, I really hope to see changes in the world. Our societies stronger and more connected. Our lives cleaner and healthier for our earth. And famine and poverty a closed subject. With the help of the stewards around the world, we may just see these changes start to come, and if they do I will know I've done my part to help.
Is there anything you would like to add that we haven't asked?
I would like to add in that at first I was a pageant skeptic. Through my advancing on to this pageant I have realized it's not just about beauty. I have realized that it is about empowering women and that it spreads worldwide to every young girl who watches. I have been amazed by how impacted a woman's life can become just by joining the pageant and how she can change someone's life. At the Western Ontario Preliminary Pageant, I had 3 little young girls come to me and ask for a picture. To think that I would be asked was a very funny thought in my head before. That is when I realized how girls and boys look up to a woman participating in such a beautiful experience, and I would love to be able to have a platform for all the children of today. I want to thank how the Pageant increased my drive and power. We can increase equality for women and make little girls feel confident that one day they can do the same. I would like everyone to know that you can accomplish your goals no matter how big or small. It can be done if you believe and go out there and try.