Svetlana Mamaeva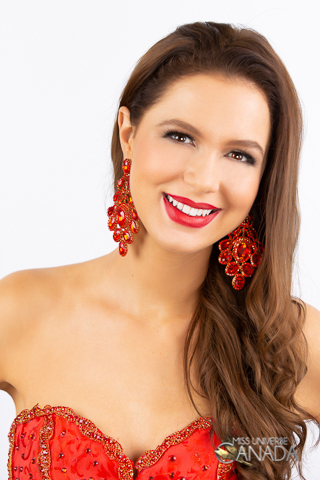 Height: 5'11
Hometown: Maple, ON
Languages: English, Romanian, Russian
Occupation: Associate Technical Account Manager
Svetlana is a recent business graduate, a model and a young professional in the energy industry. She was born in Republic of Moldova and moved to Canada to pursue her education. She recently graduated with honors from one of the leading business programs in Canada at Schulich School of Business. Svetlana is also completing a graduate certificate program in Business Communications at Harvard University. She balances her studies with working in the energy sector as an Associate Technical Account Manager.
In addition to her career and education, Svetlana volunteers her time for several charitable organizations. She has been involved with the Canadian Cancer Society for three years and held various leadership roles for the largest volunteer led breast cancer event in Canada. She also had several speaking engagements to promote awareness and community involvement for this cause.
Finally, Svetlana has over 15 years of modelling experience and participated in numerous fashion shows for Canadian and international designers. She also competed in pageants on the national and international level from a young age. Before moving to Canada, Svetlana successfully represented Republic of Moldova at an international pageant where she placed as the first runner up. She is working towards the opportunity to represent Canada with the same determination and passion.
Sponsors
Video
Q&A
What are your interests and what do you enjoy doing the most?
Some of my favourite activities include travelling, dancing, skiing, reading, and spending time with my four younger siblings. I have visited over 25 countries which helped me to better connect with people from different cultures and learn new languages. I am fluent in English, Russian, and Romanian. I have recently spent an exchange term in France learning my fourth language.
Additionally, one of my favourite activities has always been performing on stage. I have been a competitive dancer for several years and started modelling when I was only five years old. These experiences helped me to overcome stage fright from a young age and fueled my passion for performance.
List any special training you have had (music, art, drama, dance, etc.)
Public speaking: I am currently completing a certificate in Business Communications at Harvard University with a focus on public speaking. The first part of the program entails several on-campus presentations to help create and deliver impactful business speeches.
Dancing: I received professional training in hip-hop and competed within this category on a national and international level. I continue to take dance classes to explore different genres and further develop my dance fundamentals.
Modelling: I have over 15 years of modelling experience and received runway training in Canada and the US.
In what sports, if any, have you participated?
I received training in swimming, skiing and started going to the gym in my early teens. I received swimming training for six years and continue to leisurely swim every week. I also received ski training for seven years and was offered to train professionally to become a competitive skier.
Name one person, other than your parents, who has had the most influence on your life. Why?
One person who had the most influence on my life was my great-grandmother who passed away in 2005. She was a highly praised veteran from World War II and received countless awards for her service. She believed in my goals and inspired me to pursue them with the same fearlessness and passion. She has always been my role model and an example of a strong and accomplished woman in my life.
What is your proudest personal accomplishment (other than participating in this pageant)?
My proudest accomplishment is graduating with an honors degree in finance from Schulich School of Business. I was born and raised in one of the poorest countries in Europe where academic and professional opportunities were very limited. With hope and courage in my heart, I left my home country (and my mother!) to pursue my studies in Canada.
I dreamt of getting accepted into a highly competitive program at Schulich that required excellent academic performance and strong leadership capabilities. Alongside completing the program with a technical specialization, I was working in the banking and energy sector throughout all four years of my degree. In 2018, I proudly graduated and was featured in my school's success stories.
My convocation ceremony happened to be on the same day as my mother's birthday and we both shared happy tears as our dreams and sacrifices paid off. I am so grateful for all the opportunities that were presented to me in Canada and I hope to inspire other young women to pursue their dreams despite any obstacles they may face.
What is the most interesting or unique thing that has ever happened to you and/or what is the most interesting thing about you?
The most interesting thing about me is that I am the youngest employee in my office, a woman in a male dominated career and an associate account manager at only 23. Coincidentally, I have always been the youngest employee in all my jobs which shaped me to become a mature and responsible young woman. For instance, despite being the youngest member of the team in my banking job, I was entrusted to manage cash reserves for the entire branch and won an award as "Top 10% in Canada" for my sales performance. I had several speaking engagements focused on careers in business where my goal was to encourage young women to not let any conditions define the value that they can bring in career and society.
What is your career ambition and what are youdoing or plan to do to accomplish that goal?
My ambition is to build a successful career in the energy management industry. To accomplish this goal, I am building my professional experiences and progressing in my career with the short-term goal of becoming an international energy consultant. I started my career in energy while I was still a student and gained over two years of professional experience in the industry (as a Financial Analyst and an Associate Technical Account Manager). I intend on leveraging this experience alongside with my curiosity to better understand energy management issues faced by organizations around the world.
What would be your "dream job" in life?
My dream job is to become a Director of Consulting Practices in the energy management industry. The company that I work for has over 40 international locations and I am interested in the opportunity to travel and use my knowledge to solve complex business problems for our clients. Energy has always been a male-dominated field that typically attracted male hires from engineering and other technical backgrounds. I feel fortunate to have entered this industry to help promote gender equality and build my professional experiences to reach senior level positions.
Describe where you were raised and what your childhood was like.
I was born and raised in a small Eastern European country called Republic of Moldova. My parents separated when I was seven years old and my grandmother took an active role in raising me. She could see that I was taking my parent's divorce hard, but still hoped to give me a happy childhood. She knew that I loved to perform and signed me up for my favourite activities to help take my mind off my parents' split. Through my grandmother's influence, I was actively involved in pageantry, modelling, acting, singing and competitive dancing at a young age. I am forever grateful for my grandmother who developed my passion for performance that carried into my adult life.
List any interesting or unusual jobs you may have had.
The most unusual role that I had was representing my country at an international pageant at only nine years old. Even at such a young age, I considered this a job and understood the responsibility to represent my country well. I entered my first national pageant in 2004 and was selected to represent my country at Miss World for younger girls. I placed as the first runner up at Mini Miss World 2004 and made some of the most incredible memories during the two weeks spent in Latvia.
This experience fueled my interest for pageantry and showed me from a young age "what sets my soul on fire". Being an ambassador for my country was certainly one of the most interesting jobs that I had completed with a lot of interest and passion.
List any volunteering you have done.
I have been involved with the Canadian Cancer Society for several years. I held various leadership roles for "Run for the Cure" – the biggest volunteer led event for breast cancer awareness in Canada. My roles included: Information Team Leader (2016), Logistics Team Leader (2017), Breast Cancer Association Ambassador (2018). I also presented in front of high school students and promoted awareness and community involvement for this cause.
Breast cancer is one of the most common cancers for women in Canada. My volunteering experiences connected me with many remarkable women that inspired me with their strength and story. I hope to pass on the passion I have developed for community service to young women, and educate them about this cause.
My other volunteering experiences include working with organizations such as:
Anaphylaxis Canada
Richmond Hill Group of Artists
Scott Mission
What is your most unusual talent?
My unusual talent is that I can memorize large portions of text within a short-period of time. As a child I loved memorizing long poems and reciting them to my family members. This skill helped me to learn foreign languages and assisted with my academic achievements.
Where is the most interesting place you have been to?
The most interesting place I have been to was France because I got to explore this country beyond the touristic level. In my third year of studies, I took the opportunity to study abroad and spent a semester at NEOMA Business School. I fully immersed myself in the foreign culture as I went to school with French students, closely followed local news, travelled across the country and worked on improving my language skills. This opportunity helped me to create lasting friendships, influenced my outlook on life, and made me a more well-rounded person.
What do you hope to be doing in ten years?
In 10 years, I hope to be working on exciting professional projects, travel the world, and have a loving family. By that time, I hope to complete my Master's Degree and will work towards more senior positions in my career. I will continue to volunteer for the causes I am passionate about and empower young women through my charity work. I would also love to start my own charitable organization or a social venture to help tackle issues within my community.
Is there anything you would like to add that we haven't asked?
I am very grateful for the opportunity to be a national delegate at Miss Universe Canada 2019. As someone who was born abroad, I was inspired by numerous immigrant women who deservingly represented Canada on the Miss Universe stage. These women motivated me throughout my life and I hope to inspire other young women who can see themselves in me, as I follow my dreams in a new country.