Tanja Grubnic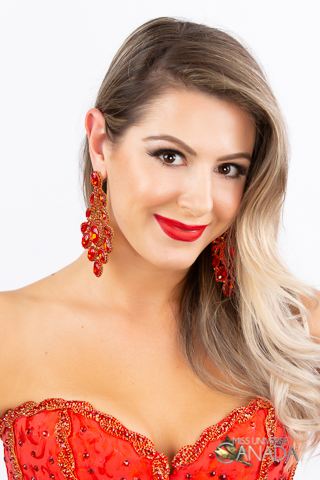 Height: 5'6
Hometown: Winona, ON
Languages: English, Serbian
Occupation: Analyst
Passionate about feminist research, Tanja Grubnic has her sights set high on completing her PhD and becoming a great professor. Her dissertation examines the devaluation of women's artistic work and cultural production in today's society, with an emphasis on women writers. Beginning her undergraduate studies in English Literature, she went on to graduate with a Masters in Cultural Studies and Critical Theory. She wrote her thesis on the power of popular culture, media, and celebrity in influencing the ways in which gender and national identity are experienced in society.
Driven to live life in its highest sense, this 28 year old has learned to embrace her open-minded, resourceful and curious nature to step outside of her comfort zone, challenge tradition and reach beyond perceived limits. Physical fitness, especially yoga, has helped Tanja gain the inner strength and patience necessary to creatively express her truest and greatest self. Off of her mat, Tanja loves to journal, collect inspiring quotations, travel, and spend time with loved ones.
Her mother, brother, and father have all lived with disease and disability. Though initially holding her back, bearing witness to their unique experiences has increasingly inspired Tanja to live a more open and positive life full of gratitude in her heart. Entering Miss Universe Canada stems from her desire to channel her personal story into a universal message that inspires people to see the true beauty in everyday life. No matter what life throws at you, she illustrates that you can be your own best self-advocate through practicing gratitude, sharing kindness, and honouring your dreams.
Using her passion for writing and public speaking, Tanja dreams of producing and hosting her own motivational documentary or talk show series one day. She has always felt a calling to publish a book, and hopes to leave an impact by exploring issues that are timely and relevant to Canadian society as well as the world at large. As a feminist spokesperson, Tanja is driven to spread a message that underlines the need for women to stop apologizing for their femininity, and to instead start feeling empowered in their feminine strengths while breaking down ideologies of gender and power in the workplace.
Above all, Tanja is looking forward to participating in this year's Miss Universe Canada competition, and is excited to experience all that this once in a lifetime opportunity has to offer.
Sponsors
Winona Vine Estates
,
Bert Pierre Photography
, Dr. Ilinka Ernjakovic Dental Office, Barton Auto Service,
The Diamond Boutique
,
Natural Beauty Lash and Tan
,
Mayuri's Beads
,
Gala Grocery
,
Star Pizza
,
Golden Grain Bakery
,
Silver Button Sewing and Alterations
,
The Energy Lab
, Family and Friends
Video
Q&A
What are your interests and what do you enjoy doing the most?
I have always felt this strong urge to express myself through writing. If you want to know yourself, I am a firm believer that you must keep a journal. Writing naturally forces us to slow down, listen to that little voice inside our heads, and visualize our goals and dreams. This is how I think you discover what your passion and purpose is. The way I see it, keeping a journal is a day-to-day celebration of your life.
As an extension of my passion for writing, I also love books—their earthy, woody smell, their aura, how they look and feel. For fun, I maintain two blogs: one showcases my favourite quotes, curated with photographs that together I hope convey a story, emotion, or inspiration, and the other is a personal creative outlet where I write about anything under the sun that interests me.
I do see myself publishing my own work one day, perhaps a memoir or collection of essays. Nonfiction writing can be just as creative, entertaining and artistic as fiction, and is something I am currently exploring.
Travel is another joy of mine. I am proud of my determination to see and know the world, especially ever since I began travelling alone. Taking a solo trip is not easy—it requires sacrifice, resourcefulness, vulnerability, and being okay with being lonely. But to highlight one of my favourite quotes, "travel is the only thing you buy that makes you richer."
Despite my fast-paced nature, I always make time for my health and fitness (both physical and mental). Cooking healthy, balanced meals, catching a yoga or spin class, or knowing when to relax are huge priorities and consistent sources of happiness in my life. I especially love hiking because it engages both body and mind.
And while I certainly do cherish the relationship I maintain with myself, above all, I treasure my friendship and connections with others. My friends and family mean absolutely everything to me. I am at my happiest when being a good friend or listener, and love meeting new people. Every person on this earth is different and unique, and has something to teach you.
List any special training you have had (music, art, drama, dance, etc.)
Growing up my calendar was booked with dance classes such as ballet, tap, jazz, and traditional Serbian folklore, as well as other extracurriculars such as karate and piano.
I started taking professional acting and improv classes in my twenties.
In what sports, if any, have you participated?
I was most heavily involved in gymnastics, however I also participated in volleyball, soccer, swim, basketball, cross-country and relay races.
Name one person, other than your parents, who has had the most influence on your life. Why?
My brother Aleks has had a huge impact on me. He was born with a severe disability. Growing up with an older sibling who has special needs shaped me into an incredibly grateful, empathetic, resilient and emotionally aware person. One thing I learned from him is how easy it is to make a positive impact in anyone's life just through being kind. He taught me so much, just like any big brother would.
What is your proudest personal accomplishment (other than participating in this pageant)?
My proudest personal achievement is twofold. It begins with me moving to Australia by myself for ten months. I was feeling stagnant in my career, and felt the need to distance myself from the situation, gain some clarity, and hopefully return with a stronger sense of purpose.
Moving to the complete opposite side of the world to work abroad taught me more than any other experience, but the most important lesson I learned was that no matter what, I could stand up on my own two feet, and depend on myself for absolutely anything. I developed unbreakable confidence in my ability to navigate the world around me.
Although I did not know it at the time, all of the personal traits I built in Australia were preparing me for what was going to be the most difficult chapter of my life. My journey in Australia was radically disrupted when my dad was diagnosed with cancer, and needed me to return sooner than expected to step in as a full-time caregiver while he underwent a stem cell transplant.
I truly believe that everything happens for a reason—If I never took the leap of faith, and moved to another country on my own, I would never have gained the inner strength or stability needed to support my dad through his treatment. Providing care for another person, especially at such a young age, is uncharted territory. I have never been more challenged in my life, and on that same continuum, never felt more accomplished.
My dad's cancer is now in remission, and I could not be more grateful.
What is the most interesting or unique thing that has ever happened to you and/or what is the most interesting thing about you?
My superpower is that I will never give up on my dreams or any goal that I want to pursue. I can fail numerous times, but I will always get back up and try again. Adversity is the best teacher, and every failure is a chance to learn, grow, and conquer your fears.
One experience that has had a particularly great impact on me was getting rejected from PhD school two years in a row. What makes me unique is that I always have the self-respect and determination necessary to try again. I refuse to abandon my dreams because of a setback; further preparation is the only option.
After much hard work, I am proud to say that this year, on my third attempt, I was offered admission into several PhD programs and will be attending one of my top choices in September. These previous rejections have only granted me character, life experience, and humility, and have made me an overall stronger person.
What is your career ambition and what are you doing or plan to do to accomplish that goal?
My ultimate career ambition has always been to become a university professor, which is why I am getting my PhD. I learned a lot about myself through university, mainly through the inspirational professors that taught me. I never realized the extent of my potential or capabilities until my professors showed me, and it has made me want to follow in their footsteps, and help others develop their purpose in life too.
What would be your "dream job" in life?
My dream job would be to become Miss Universe. I am passionate about giving back to life by looking for ways to blend my academic research into cultural work that I am doing outside of the university, inspiring positive change not just in a classroom but the world at large. Miss Universe is the ultimate platform to achieve that goal.
There is no limit to what a titleholder can achieve with Miss Universe, and I know that anything I pursue following a reign would be a dream within a dream.
Describe where you were raised and what your childhood was like.
My childhood was happy and adventurous. I was raised in Winona, a small town within the outskirts of Hamilton, and most famous for the "Winona Peach Festival." My favourite hobbies included riding my bike from dawn to dusk, and putting on imaginary concerts at the park behind my house. Sundays were reserved for grandparents and family time; I was really fortunate to be surrounded by so many people who loved and cared about me. As part of a larger Serbian community, I attended many cultural events that brought families together through church, food, music, dance, and sport. I am so grateful for my childhood.
List any interesting or unusual jobs you may have had.
I will begin with my very first job. I worked on a fruit farm for my godfather during my eighth grade summer. That summer seemed the sweetest—cherry picking, selling fruit to kind strangers, and counting down the days for high school to begin. Although farm work may not sound exciting, I remember this summer vividly because time passed by unusually slow. It was my first lesson in the value of slowing down, and how to preserve a moment. It was such a simple, yet wonderful experience.
Another interesting job I undertook was working as a research assistant for one of my favourite professors. I helped her execute a research project that revealed discrimination against women working in academia by examining university hiring patterns across Canada. Findings revealed there was still a lot of progress to be made, which further inspired me to pursue a career in that industry, and be part of the change.
I also worked with ESL students, helping them practice English outside of the classroom. What made it so interesting was not the work, but rather the relationships I built with the students. We really bonded; it was so special getting to know people from all over the world, and facilitate learning in non-traditional settings. On the last day of class, they surprised me with a slideshow they made capturing our best moments together. It was one of the nicest things anyone has ever done for me.
List any volunteering you have done.
I have volunteered with Walk for Muscular Dystrophy, the Hamilton Media Advisory Council, Hamilton Students' Community Initiative, as well as the Toronto Short International Film Festival.
I am beyond excited about creating my own humanitarian project with Miss Universe Canada, and look forward to working with charities such as SOS Children's Villages, Operation Smile, Feed it Forward, Walk With Heart, and many more.
What is your most unusual talent?
I am oddly gifted at parallel parking.
Where is the most interesting place you have been to?
New Zealand. I never really had a desire to visit New Zealand, but since I was living in Australia and already so close, I figured it would be a shame not to explore.
And I am so happy I did, because it turned out to be my favourite trip of all time. I was blown away by the South Island's natural beauty. Snow-capped mountains, lush green grass, turquoise lakes and lavender fields make for a sublime landscape. In Queenstown, I hiked to the top of my first mountain, the Ben Lomond, which is hands down the most interesting and physically exhausting activity I have ever done.
Everyone I met in New Zealand was unbelievably kind, especially in Christchurch—strangers would go out of their way to smile at you and wave hello. Christchurch is unique because it is still being rebuilt after experiencing a massive earthquake in 2011 that caused significant damage to the city, killing 185 people and injuring thousands.
While there is a lot of new development, many damaged, half-standing buildings and vacant lots still remain, and have not been touched since the earthquake. It was really eerie, but then there is this uplifting street art everywhere too, providing artistic distraction and telling the city's story of love, loss, and hope.
In my conversations with locals, I could see they were still very much affected by the loss. But the fact that they were all so happy, kind and welcoming despite their city still being under repair was so inspiring. It is a really beautiful part of the world, for reasons beyond than just what meets the eye.
My heart goes out to all of the victims of the recent Mosque attack. I have no doubt in my mind that they will be able to come together as a community and represent resilience against terrorism.
What do you hope to be doing in ten years?
I wish to be a voice with a purpose; a PhD holder with a multi-disciplinary career that narrows the gap between academia and everyday life. On the one hand, I want to research, write and lecture, but I want to do this not just for an academic audience within the "ivory tower," but for the global community, using my passion for writing and performing to inspire positive change in people. I would love to write, edit, and produce my own documentary series or talk show, and most definitely hope to have published my first book. Throughout all of this, I hope that I meet the right person; knowing that I will have my own little family one day makes me so happy.
Is there anything you would like to add that we haven't asked?
What I really want you to know about me is that I am grateful for this opportunity to represent what confidently beautiful means to me. Competing in Miss Universe Canada is about so much more than winning—it is about setting the bar high, discovering new goals, and achieving more than you ever thought possible. Thank you for allowing me to support Miss Universe and the Beauties of Canada organization. I hope to make myself, my friends and family proud.