Theodora Giovannelli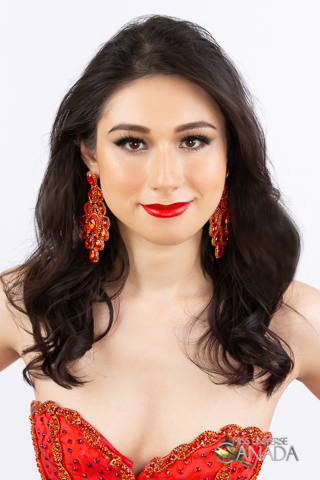 Height: 5'8
Hometown: Mississauga, ON
Languages: English, Chinese
Occupation: Student at University of British Columbia (BA Psychology)
Theodora has lived in China, South Africa, and Tunisia before moving to Canada at the age of 16. She is now a proud Canadian residing in Mississauga, Ontario. Growing up in three different countries and attending international schools before moving to Canada blessed Theodora with the opportunity to experience different cultures and become a global citizen. When she moved to Canada, her culturally diverse childhood allowed her to embrace and admire Canada's cultural diversity.
Education has been an extremely important aspect of Theodora's life as learning new knowledge and skills have been vital in allowing her to evolve herself both professionally and personally. She attended Appleby College in Oakville, Ontario and majored in BA Psychology at the University of British Columbia. Majoring in psychology taught Theodora that while it is important to take care of your physical health, your mental health is equally as important. She is pursuing an education in nursing and working as a registered nurse in the future because she wants to pursue a career that is stimulating, challenging, and makes a difference to people's lives on a daily basis. Theodora hopes to one day work as a nurse in pediatrics, as her interest in providing service and care for children stemmed from her volunteer work at the Brightpath Daycare in Oakville, Ontario.
Theodora avidly believes in giving back to the community because she wants to make an impact on people's lives, create change, and strengthen communities. Through her volunteering experiences with children, schools, and elders, she has had the opportunity to service low-socioeconomic communities, grow as a person, apply leadership, and collaborate with many inspiring individuals from a diverse range of backgrounds. Most importantly, volunteering has also allowed Theodora to develop compassion and empathy by seeing the world through the eyes of those around her which is extremely important because it fosters trust, teamwork, and a meaningful relationship with others.
In her spare time, Theodora loves to play the piano, read books, camp, hike, and travel around the world. Theodora has travelled to over 40 countries in 5 different continents. Traveling has expanded Theodora's horizon about the world and different cultures, allowed her to discover cultural diversity, increased her appreciation for her cultural identity, put her out of her comfort zone, and opened her eyes to the current world issues.
Besides volunteering and music, sports and fitness have also played a huge part in Theodora's life because they have helped her develop a healthy and disciplined lifestyle. Theodora was a member of her high school's swim team and a member of her university's recreational soccer team. She is an adventurous scuba diver and loves the sport because it allows her to discover marine species and biodiversity. Scuba diving has also made Theodora aware of the issues facing marine ecosystems and has inspired her to be accountable in conserving the ocean.
While in high school, Theodora was a victim of bullying. The experience shaped her life by teaching her to be strong, to love herself, and to be resilient towards new challenges. Theodora wants to become an advocate against bullying by using her personal experiences of how she overcame bullying through strength, the foundation of a positive support system, and the ability to promote mental health in order to inspire others who are also trying to overcome bullying. She wants to show others that a bad experience does not define who they are and that they are not alone.
By competing in Miss Universe Canada, Theodora appreciates the opportunity to grow as a person, strengthen confidence, develop effective communication skills, apply leadership, and support her platforms with passion. Theodora is extremely grateful, honoured, humbled, and proud to be given the opportunity to be a national finalist for Miss Universe Canada. Her ambitions, skills, diversity, academic background, extracurricular involvement, and volunteering experiences have given her the traits that are necessary to represent the country with pride as Miss Universe Canada. She is ambitiously and diligently working hard to becoming a role model for young people and the next Miss Universe Canada.
Sponsors
Video
Q&A
What are your interests and what do you enjoy doing the most?
The thing that I enjoy doing the most is travelling because the experiences that I have acquired from travelling are priceless and unforgettable. I have travelled to over 40 different countries and 5 continents. My most memorable travel destinations include Cambodia, China, Hungary, Thailand, and Turkey. Through travelling, I have been blessed with the opportunity to learn and immerse myself in different cultures, environments, cuisines, and languages. Travelling has also opened my eyes regarding current world issues.
I additionally have a keen interest in learning, whether it be about world history, people, cultures, literature, mathematics, or fun random facts, such as Canada being the top country to consume the most mac and cheese! I am like a detective where I have a strong desire and curiosity to find the answers to questions. I believe that every little detail I learn will help me in the future one way or another. For example, a few years ago I learned a random geography fact that Canada is the country with the most natural lakes in the world. Fast forward two years later, I participated in a trivia competition where the final question was: which country in the world has the most natural lakes? None of my teammates knew the answer but I did, and we won the contest because of this! I am confident that having an open mind and strong sense of curiosity shapes my future and who I am because it leads me to expand my knowledge and perspectives.
List any special training you have had (music, art, drama, dance, etc.)
I have been playing the piano since I was six years old. My classical training in piano has made me passionate about music. Piano has also helped me with my memorization and discipline, and it taught me that practice is the key ingredient to mastering any skill.
I have also had training in classical ballet which helped me with my posture, poise, grace, flexibility, and confidence. I also took dance classes back in high school where I learned a wide variety of dances such as contemporary, Bollywood, and hip-hop dancing.
In what sports, if any, have you participated?
Sports are an extremely important part of my life as it helps me stay active and maintain a healthy lifestyle. My fitness routine consists of a mix of cardio, weight training, and Latin dance class.
I have also been a member of the Appleby College swim team. I had a great time being on this team as it had a positive influence on my life by teaching me to lead a disciplined and diligent life while valuing team work. To this day, I still swim regularly and recreationally as it is a fantastic cardio workout.
My love for swimming stemmed my interest in trying out scuba diving, which has since then become a passion of mine. I love scuba diving because it allows me to witness the beauty of the underwater world which is so vast, diverse, and mysterious. Scuba diving also taught me about the current issues the ocean is facing, why the ocean's ecosystem is extremely important, and how to be a part of ocean conservation.
Name one person, other than your parents, who has had the most influence on your life. Why?
The person who has had the most influence on my life is JK Rowling because her story before her success of being a single mother, survivor of domestic violence, dealing with depression, unemployment, and many rejections from publishers taught me that perseverance and hard work are the keys to success in life. She inspired me to never give up on my dreams, no matter how rough the road is. Today, whenever I experience a challenge, I think about JK Rowling and remind myself not to give up.
JK Rowling has also taught me to pursue what I love regardless of the opinions of others. JK Rowling knew she wanted to be a writer for as long as she can remember but she faced some comments about how her ambition of becoming a writer was a pipe dream. However, she kept on pursuing her dream where it later came true. I remember vividly facing some comments regarding how my career goal of becoming a nurse is not worth it, too tiring, or a waste of time. At first, those comments made me question whether I should still chase my dream of becoming a nurse. However, I also began to think about JK Rowling and how she kept chasing her dream of becoming a writer, then I realized that I would rather pursue a career that I love which allows me to help others, rather than be influenced by the negative opinions of others.
What is your proudest personal accomplishment (other than participating in this pageant)?
My proudest personal accomplishment is when I was awarded a service pin by Appleby College for outstanding service leadership at Brightpath Daycare. It was both humbling and honorable to have made a positive impact, create change, and be a role model for young children while demonstrating leadership and hard work. This award taught me that anyone can make a difference in the world, and that you should never doubt yourself when it comes to making change and being a leader.
What is the most interesting or unique thing that has ever happened to you and/or what is the most interesting thing about you?
The most interesting thing that has ever happened to me was when I encountered eight-foot Caribbean reef sharks in the wild while scuba diving in the Bahamas three years ago. At first, I was scared and nervous because after watching Jaws as a child I had the impression that sharks were ruthless killing machines as portrayed by the media and in movies. I learned that instead of being ruthless killing machines, sharks are beautiful, interesting, and magnificent creatures that are crucial in the ocean's ecosystem. It was a lifechanging experience which taught me about the importance of overcoming my fears, the many issues that sharks are facing, and that what you see on the media is not always accurate.
The most interesting thing about me is that I am a biracial of Asian and European heritage. At first being biracial made me go through an identity crisis where I felt like an outsider who did not belong to either ethnicity. However, over time I learned that instead of feeling like I must choose a side of my mixture, I should celebrate my heritage and diversity because that is what makes me unique. Being biracial also made me appreciate other cultures, have an open mind, and be accepting of others.
What is your career ambition and what are you doing or plan to do to accomplish that goal?
My career ambition is to provide compassion and health care to patients and their families as a registered nurse. I plan to achieve this goal by completing my studies with full commitment.
I want to pursue a career that is challenging, makes a positive impact on the lives of others, reaches out to others, and creates meaningful relationships and connections with medically ill patients. Another reason why I want to pursue nursing is because it opens doors to many new fields that I am interested in such as specializing in pediatrics, geriatrics, anesthesia, emergency, or psychiatry medicine.
What would be your "dream job" in life?
My dream job in life would be to work as a nurse in the pediatric field because I love working with children and I want to be a part of the solution towards improving the issues that many Canadian children are facing. For example, UNICEF report found that the second-leading cause of death for Canadian children and youth between ages one to seventeen is suicide, and it also found that about 10% to 20% of Canadian children develop a mental health disorder at some point in their life. Because of issues like these, I want to make sure that every child is healthy and happy both physically and mentally. I believe that children are crucial to shaping our future generations, therefore their health and happiness are extremely important to me. It would be life changing and humbling for me to be able to help, support, and make a positive difference to the lives of children on a daily basis not only in my community, but also globally across the world.
Describe where you were raised and what your childhood was like.
I was raised in China, South Africa, and Tunisia before moving to Canada at the age of 16. Being raised in three different countries in two different continents made my childhood a very colorful and enriching experience because I was blessed with the opportunity to experience and learn about different cultures, which then made me really appreciate Canada's cultural diversity when I immigrated here. Growing up, I attended international schools which gave me the opportunity to make friends from all over the globe and learn about the importance of being a global citizen. I had an amazing childhood which helped shape me into the person that I am today.
List any interesting or unusual jobs you may have had.
An interesting job that I had was when I was simultaneously working as a hostess and cleaner at the Bella Roma restaurant in Vancouver. My tasks involved greeting customers, showing customers to their tables, handling bills, handling orders from the phone, helping the kitchen staff, and cleaning the restaurant. This job was interesting because although it was challenging it taught me how to work efficiently in a fast-paced environment, multitask, be assertive, and have a strong work ethic.
List any volunteering you have done.
BC Children's Hospital
Carmel Heights' Seniors Residence
Mississauga Fruit Tree
Appleby College afterschool volunteering at Kerr Street Ministries
Appleby College afterschool volunteering at Brightpath Daycare
I participated in the 2016 Vancouver Sun Run which is a 10k marathon that promotes "health, fitness, and community spirit and to support amateur athletics"
What is your most unusual talent?
My most unusual talent is my ability to speed read at a very fast pace where I can read close to 1000 words per minute.
Where is the most interesting place you have been to?
The most interesting place that have been to was the temple of Angkor Wat in Siem Reap, Cambodia. I visited Cambodia this January and was simply blown away by the sheer beauty, elegance, and magnificence of Angkor Wat. It is a Buddhist temple that was built in the early 12th century and is currently one of the largest religious monuments in the world. It is also considered to be the most important temple in Cambodia, along with being a symbol of Cambodia by appearing on its flag. The temple consists of beautiful architecture, sculptures, ancient scriptures, and detailed wooden carvings. Besides being amazed by the temple, I was also touched upon learning about the history of the Cambodian genocide and by the Cambodian people because they are some of the most welcoming, compassionate, peaceful, and kind people that I've ever met. My trip to Cambodia is a trip which I will remember and cherish forever in my heart.
What do you hope to be doing in ten years?
In ten years, I hope to become a pediatric nurse because I am passionate about working in the healthcare field. I also hope to visit all the seven continents of the world in ten years' time because I love to travel as it enriches my experiences and knowledge about the world. The travel destination at the top of my current bucket list is Antarctica because not only does it offer an abundance of natural beauty, spectacular wildlife, and a chance to go ice diving, but Antarctica could be entirely different in the future due to the impacts of climate change.
Besides achieving my career and travel ambitions, I also hope to start a family and become a mother because it is an absolute honor and privilege to bring another life into the world. I believe that our ability to give life to another human being as women makes us unique, in turn this ability also blesses women with the life changing opportunity to experience maternal love.
Is there anything you would like to add that we haven't asked?
I would like to thank the Miss Universe Canada and Beauties of Canada organization for giving me this opportunity. I am beyond grateful for this experience as it has provided me with an opportunity to be confident, well spoken, and empowered. I am certain that my experience this summer at Miss Universe Canada will bring me memories, friendships, and lessons which I will cherish forever. I look forward to meeting the rest of the inspiring and talented delegates from across Canada!